Whether you've heard of them or not, been on one, or know someone who has, wine and weed tours are a growing trend in Wine Country, drawing visitors from around the world to experience not just wine sipping, but weed smoking, too. With the excitement over California's recreational cannabis laws, the cannabis culture is evolving, with several entrepreneurs jumping on the opportunity to start a tour business. But strict regulations and many gray areas to work within can make for a confusing day of tasting.
According to Sonoma County's cannabis ordinance, permits for commercial cannabis activities are only issued when written permission from the property owner or landlord is provided, and tasting, promotional activities and events related to commercial cannabis activities are prohibited. However, several companies are navigating around the system to deliver insightful and memorable wine and weed tours. NorthBay biz reached out to the industry's trailblazers to find out what a day of wine-and-weed tasting is like, and how high people are getting.
Happy Travelers Tours
It's a sunny day in Wine Country, and a family of five from Minnesota is sitting in a black luxury SUV, heading up Mt. Veeder in Sonoma for a day of tasting. Mom, Dad, their two adult sons and daughter are celebrating the college graduation of the oldest son, Travis. They've made the trip from the midwest for a tasting experience like no other. They're in the North Bay not only for wine; They're here to taste cannabis.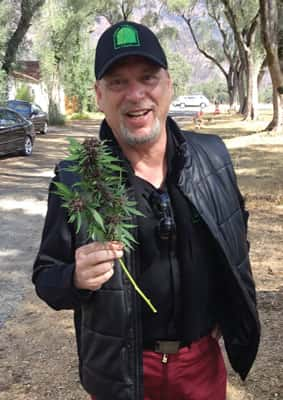 As the group makes their way up the mountain, tour guide and owner of Happy Travelers Tours, Van Solkov, leads the caravan, explaining that this is a terroir-driven experience––tasting wines from the same regions that the cannabis grows, and comparing tasting notes on the two. He's passionate and energetic, talking openly about why he started the business. "I was sitting in Sonoma Square one morning, watching the many wine tour busses drive by," says Solkov. "I wondered how many cannabis tour busses existed, and soon realized that this was going to be my niche." After a life-altering bicycle crash 26 years ago that injured his lower back, Solkov managed his pain without prescription drugs and other addictive medications. "It took three grams a day of cannabis for 26 years for me to keep my job and my family," he says. "My mission is to to educate and destigmatize consumption of this amazing plant."
But the pioneers trying to gain momentum in the industry are hitting a wall. With the county's overflow of permit requests, many growers can't grow commercially. "Permits aren't being updated due to the fires and the county being overloaded," Solkov says. "The county has been flooded with people wanting permits to grow cannabis. Then, the fire roared, and rebuild permits started coming in. It's more important to house people than to smoke weed."
Though permits are backed up, it doesn't stop Solkov from running successful tours visiting personal grows. His first tour was in August 2018, and since then, the demand for his weed and wine tours has only increased. "We're booked a lot from August to harvest, and we have more on the books to come," he says.
First stop: a grow site.
The group eventually stops at their destination––a cannabis grow site, 2,300 feet up Mt. Veeder. They're greeted by Doug Gardner, who lives on the more than 90-acre family property that his mother raised him on. "My mom discovered this property while she was out here, high on cannabis in 1976," he says.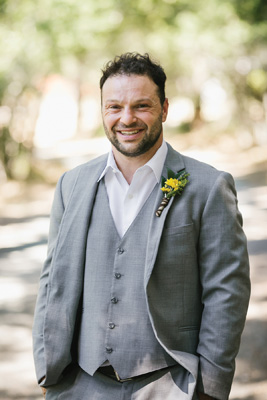 The property houses a five-bedroom lodge, often rented for bachelorette parties, a cabin, and Gardner's 3-acre cultivation site, which during this tour, had no grow to show. Gardner's site, like many grows, is not currently permitted by the county for commercial cannabis, making this a personal grow and a gray area for visitors and tour guides in regards to consumption. A heavy-hitter in the cannabis industry, Gardner was instrumental in helping launch CannaCraft, a Santa Rosa-based cannabis distributor and producer, and after years of suffering from epilepsy seizures, has found relief in CBD.
"I have a masters in business and studied for a law degree, but I stepped away four years ago to help with marketing initiatives and the sales program at CannaCraft," says Gardner. "I hope to create a future space here focused on helping children with epilepsy." Garner is currently forming A Gardner's Dream, a business that will provide CBD tinctures at no cost to parents with children that have epilepsy. If approved by the county, the program will allow people to sponsor a plant, follow its life cycle and even receive a piece of the plant after it's harvested, along with its authentication.
Sip and smoke
The group sits down to a table, covered by a canopy, next to a planter box housing six cannabis plants for tour members to touch and examine. But the group is eager to begin its tasting experience. Solkov displays wines sourced from grapes grown on Mt. Veeder. He pours a taste for everyone. The group compares tasting notes in the wines from the mountain, before Solkov brings out the bud. First, he passes around Cherry AK and Berry Punch, a classic indica strain. "This is a first," says the midwestern Mom. "It smells like Christmas," her Daughter says after cupping the nug (a term desribing cannabis bud in the form of nuggets of varying sizes) to her nose, taking a deep breath. Once the bud is placed in the grinder, the scent becomes more piney and earthy. Everyone is allowed to touch and smell, but to smoke, each person must purchase during the retail experience, where Solkov's licensed retailer on property sells different variations of cannabis to each individual. "I can't give out products with THC," he says. "It has to be purchased. We're in a gray area––cannabis permits are messed up right now."
Van then passes around a nug of the Mimosa strain to examine and smell. It's an indica and sativa hybrid and contains strong notes of citrus and orange peel.
After a visit with the retailer, a pipe is passed around the table, packed with the Berry Punch for those interested in smoking. "Nobody should be really high, just comfortable," says Solkov. The family finishes the Berry Punch and moves onto the next strain without a cough. Solkov points out the daughter's glazed look, as she giggles in response.
After a lunch provided by Sonoma's Sweet Pea Bakery, Solkov introduces the trimming experience. Each person is provided trimming scissors and an unmanicured piece of old, unsmokable cannabis. With 25 seconds on the clock, participants trim away, hoping to remove all the leaves and produce a nug that would be fit for distribution. Solkov next introduces the joint-rolling competition and they try to roll the perfect joint, hopefully looking something like a tightly rolled cigarette. A couple of joints were unsmokeable and fell apart. Another one, rolled by Travis, was heavily packed and in a cone shape. As it looked most desireable, Travis won the competition and received a pre-rolled CBD cone joint for his effort.
The group now has a more relaxed vibe, and many are wandering around the property soaking up the sun and devouring slices of Travis' German chocolate graduation cake, provided by Solkov. As the group says their goodbyes and secures a ride to their next destination, Solkov sends everyone home with a goodie bag, equipped with a small pipe, a plastic weed grinder, two CBD-infused honey sticks and a CBD gummy. "How many happy travelers do we have after today?" he asks. All hands go up.
Wine Country Weed Trips
When Fred Joyce began researching cannabis tourism two years ago, he focused on the Colorado market for his studies. "In the process of developing a business plan, I did a great deal of research for on cannabis tourism, primarily focused on the Denver market since Colorado was the first state to have recreational weed more than four years ago," says Joyce. "Since then, a whole new market segment opened up."
In October 2017, Joyce flew to Denver for his first cannabis tour. "I went on the most successful cannabis operator's tour. I joined a group of 25 adults from all over the U.S., who for the most part visited Denver as 'cannabis tourists' to experience and enjoy a fun three-hour trip to various dispensaries and grows in the metro area," he says. Seven months later, Joyce started his own Sonoma County cannabis and wine tour company, Wine Country Weed Trips.
"We provide door-to-door custom tours for groups of less than six people, and we first visit the largest cannabis dispensary in Northern California, which is generally an eye opener for our out-of-state guests," says Joyce. He explains that most of his guests are from outside of California. They're experienced cannabis consumers that don't have the luxury of stepping into a dispensary at home and legally purchase cannabis products. "They're looking for a fun trip that includes the best cannabis and wine, which are readily available here in western Sonoma County," he says.
Joyce then takes the group north, towards Healdsburg, for wine tasting at selected wineries. We reached out to one of Joyce's preferred wineries for a comment. Still, no word on their participation in weed and wine tours.
"If they prefer craft beer, we go to the brand new Russian River Brewery and Tap Room in Windsor," says Joyce. "You might call our four-hour guided tour a 'happy hour' with both cannabis and wine available for purchase along the way. We're facilitators helping out-of-state visitors enjoy the area even more by utilizing our local knowledge."
But it's not always a walk in the park for cannabis tour guides, and with the budding industry working out its kinks, there are still challenges to overcome.
Challenges and checking the box
"Last summer, our challenges were in the air with the nearby fires and the terrible smoke-filled skies which lasted until the rains in early November," says Joyce. "We found that out-of-state visitors were not booking due to what they were seeing on the nightly news regarding the fires in Northern California. You might say we are also dependent on good weather, and not having any major fires in order to keep our target market guests coming."
Incorporating edibles can also make for a challenging trip, depending on guests tolerance levels. "The edibles experience can oftentimes bring complaints about the staff on other tours not being sympathetic to guests," says Solkov, who explains that even the most experienced cannabis consumer can react strongly to CBD or THC edibles. Their safety and comfort is the No.1 priority for Solkov. "I always inform my guests to wait until later to consume their edibles," he says.
One of Solkov's largest challenges is the waiting game. "We're waiting on the county to simply check the box that allows commercial grow tours," he says. Permit Sonoma declined to speak on the record about cannabis permits and recreational grow tours, reiterating that commercial tasting and tours are currently not allowed.
The future of cannabis
The cannabis industry is still looking more like the wild west, and the pioneers of the industry are finding their place along the route. "This is the same model as the gold rush," says Solkov. "Gold rush millionaires were few and far between. The real millionaire was Levi Strauss, supplying jeans to those mining and trying to make it in the industry. Happy Travelers Tours is the Levi Strauss of the cannabis industry."
From gold rush to green rush, the budding business sector is sure to be lucrative. It just might take a while. The companies doing business in wine and weed now are helping to shape the industry. "At this point, cannabis tourism in Sonoma County is just getting started with a few 420-friendly bed and breakfasts, hotels, or short-term rental options," says Joyce. "I see this industry to be far more mature in just a few years when others realize that not everyone who comes to Wine Country is here for wine tasting. Today, we're just pioneers entering a brand-new vertical with lots of upside potential."