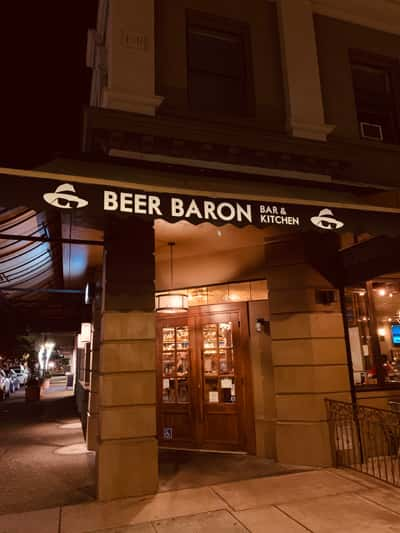 Located in the heart of downtown Santa Rosa on the square, Beer Baron Bar & Kitchen, owned by Chandi Hospitality, has become a popular hub for drinks and elevated bar food grub since opening in 2017. When Alex and I arrive on a dusky, cold Thursday evening, the square is lit up, and as soon as I walk through the front door, I can feel the stress of the day melt away. There's the low hum of patrons talking, the glow of a big screen TV, and the soft melody of new wave jazz in the background.
Though Beer Baron is clearly a haute spot for a cold brew, there's also an impressive display of spirits behind the bar, which includes exactly 731 options, 615 being bottles of whiskey. (The spirit of choice for the Chandi brothers, the male faction of this family-owned business.) "It's the most varied whiskey collection in Sonoma County," says general manager Chris Bowser. For whiskey lovers looking to indulge, Heaven Hill, a small-batch Kentucky straight bourbon whiskey, aged 27 years, is priced at $120 per shot. For beer drinkers, there's a first-rate selection of 21 craft beers on tap. The wine list offers a selection of Sonoma and Napa county wines, as well as a selection of specialty cocktails.
Deciding on cocktails, our server for the evening, Salena Diaz, recommends the Gold Rush, a concoction of Buffalo Trace bourbon and honey syrup, garnished with a dehydrated lemon slice and a paper straw, a nice touch signaling that the restaurant is doing its part to reduce single-use plastic. Simple, refreshing and lightly sweetened, I found it the perfect cocktail to sip at the end of the day.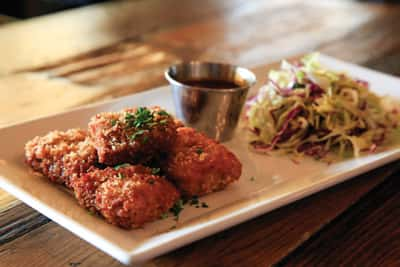 We begin with two starters that are popular with patrons—the Belgian-style duck fat fries and the pulled pork nuggets. The fries are perfectly crisp and salted and are served with a selection of three sauces—a garlic aioli, smoked ketchup and an Indian-style curry sauce, a unique and delicious nod to the owners' heritage. The pulled pork nuggets are sensational—crisp, savory morsels packed with flavor, which are served with a classic barbeque sauce that has both tang and heat. Paired on the plate with a finely shredded house slaw that's lightly dressed, it's the perfect sidekick to these delectable nuggets of deliciousness.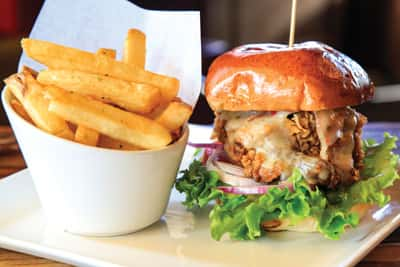 For our entrees, Alex ordered one of their signature dishes, the heat stroke club, which is a spicy buttermilk fried chicken sandwich with bacon, pepper jack cheese, lettuce and tomato, served on a Brioche-style bun. It's hearty plate of food, packed with flavor, and served with your choice of fries or greens. I opted for the Cajun mac and cheese, a spicy, kicked up version of the classic with andouille sausage, green peppers and crispy okra. Served in a bowl, it's a colorful, generous portion of comfort food, so there's plenty to share.
For dessert, we tried another signature dish, the churro waffle, a piping hot half waffle made churro-style with cinnamon and sugar, topped with a generous scoop of vanilla ice cream and drizzled with condensed milk. A fun, decadent end to our pub-style dining adventure.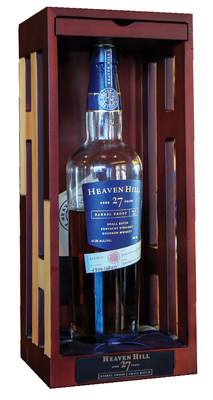 Beer Baron is a great place for date night, or casual gatherings with friends. And though it's not your usual family-style restaurant, there is a hidden children's menu with plain mac and cheese, chicken strips and other kid-friendly options. If you're downtown on St. Patrick's Day, celebrate at Beer Baron on the square for a classic Irish celebration with corned beef and cabbage, and where guests will be serenaded with bagpipes. (Be sure to call for a reservation.)
As downtown Santa Rosa continues to evolve with new life and vitality, Chandi Hospitality is a central player for the dining scene with its other popular must-try restaurant (Bollywood) and for celebrating in style, offering special-occasion events now and then. "The downtown has a lot of potential," says Bowser. "We're excited to see where it goes from here."