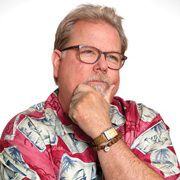 Normally, we have this issue off but considering the lack of media attention on COVID-19, the magazine sprang into action, scrapping its special issue and focusing on this thing that has us binge watching an unhinged President and a doctor with the largest collection of scarves in the free world.
All of us are being asked to sacrifice for the greater good. As a public service, I will share my secrets of working from home. While I've done my share of time in newsrooms filled with cubicles and break rooms with refrigerators hosting scientific experiments, I worked from my palatial office-gym-garage long before the toilet paper shortage took hold.
The first step in building a work routine is figuring your employment status. Are you laid off? If so, don't sit in a home office and think about your colleagues poking their heads over their cubicles like prairie dogs. Continue binging Netflix.
Are you furloughed? Then a home office will be where you can monitor work email while Tweeting under a pseudo handle, and playing solitaire while asking the eternal question, what's for lunch?
Are you officially working from home? If so, let's explore the challenges and joys that lay ahead. First task? Gauge the attitude and expectations rolling out of the home office, so you can produce the results they need while telling your cat to get off your keyboard.
My company's home office is in London, though my editors are in New York, the Coronavirus capital of the world. The folks in London send emails inquiring about both physical and mental health, while New York shoots me missives about deadlines and, well, deadlines. My fellow journalists are scattered throughout the five boroughs and are living in the scariest place on earth. They don't have time for small talk, bless them.
London has no shortage of online meetings, hardly any of which deal with editorial folk like me. While they politely send invites, the prospect of getting up at 5 am to watch sales folks complain about having to use Microsoft Teams or talk about "interactively harnessing efficiencies across platforms" has me hitting the delete button.
A word about online meetings. I had a NY colleague inquire during one of our recent digital gatherings about proper appearance for doing time on Teams, Zoom or webinars. He said that his hair would make Donald Trump cringe. The consensus was he should wear a hat. From there it plummeted into what sort of chapeau. I suggested a New York Knick cap, which was greeted with plenty of obscenities and threats of physical harm.
These are my people.
Zoom mania has taken hold at a ridiculous level and it must stop. I had two long-time sources suggest via email that the interview I had scheduled be carried out on Zoom, after speaking on the phone for years.
Fortunately, the London-office has put the kibosh on installing Zoom on company laptops because of security issues. This kept me from having to tell my sources the truth, putting pants on for them was a bridge too far.
One more thought on long-distance communication. The mute button is an invaluable tool that can keep you from sharing your true thoughts about the idea of moving deadlines up because "for most of us this wouldn't really be an issue."
The work from home thing has destroyed routines and launched questions. Do I need to get out of my pajamas? What about showering? Do I tip delivery people?
The answer to the first two queries is eventually. As to the third, a discrete envelope with cash enclosed on your doorstep does the trick. Our UPS guy now calls me bro and gives me air knuckle bumps through the window.
Many people worry about becoming distracted while working from home. Setting appropriate boundaries with family will help and also has the upside of not having your toddler wander into the room and ask if you want to see the poopy she just did "in the toilet this time," while you are on Zoom explaining the virtues of captive marketing.
The one thing to remember is we are all making this up as we go along, and we are at home because we are up against a virus that has taken the lives of thousands across the country—that seems like something that deserves some slack.
Working from our home offices has turned our abodes into casinos, where we are losing cash, we lack any sense of time and it's never too early to start drinking.
Maybe that's just me.
Bill Meagher is a contributing editor at NorthBay biz. He keeps the wolf from the door as a senior editor for The Deal, an international digital business news outlet based in Manhattan. He covers alternative investments as well as going public transactions, cannabis and the SEC.