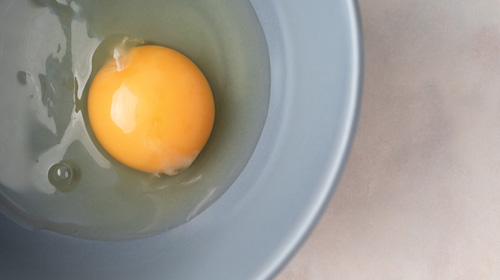 Eggs are one of nature's miracles. Low calorie but filled with nutrients, they're simple yet versatile with an impressive range of uses. Many of us couldn't do without them, so they're a staple in American kitchens, and while it's easy to take them for granted, local producers put a lot of care into ensuring that what we buy is top quality.
Egg basket
Sonoma County has long been known as a hub for the production of eggs. Lyman Byce and Isaac Dias developed the first incubator in Petaluma in the mid-1800s, and then Danish immigrant Christopher Nisson took advantage of the new invention to establish the Pioneer Hatchery, the first commercial hatchery in the country, at his ranch in Two Rock in the late 1800s. Petaluma became a leader in egg production, gaining the title of Egg Basket of the World, and today the area has developed a reputation for its organic eggs.
Steve and Judy Mahrt of Petaluma Egg Farm both come from farming families who have been in the egg business for generations. Judy's grandfather and great-grandfather founded a chicken hatchery and poultry farm in Calistoga in 1905, while Steve's Uncle, Johnny Mahrt, immigrated from Germany and started an egg ranch in Petaluma in the 1920s. Later, Johnny sponsored his Boyd Mahrt, Steve's father, to come work for him on the ranch. Steve grew up working with his parents, Boyd and Ingrid, every day on their egg ranch.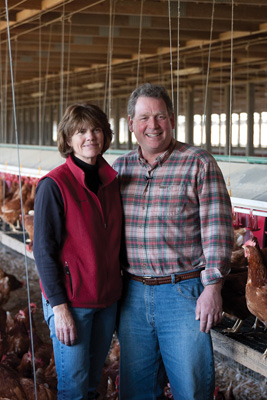 After earning a degree in Poultry Science from Cal Poly San Luis Obispo, Steve returned to Sonoma County and began processing, marketing and selling eggs for his father and other ranches before purchasing his own farm in Petaluma in 1986. The Mahrts are a chicken-and-egg family, and Steve and Judy's son, Jonathan, joined the business seven years ago, continuing the tradition. He describes himself as a jack-of-all-trades, handling everything after the egg is laid, including operations, sales and marketing. In addition, Jonathan works with his brothers, Jeremy and Jordan, who recently returned to the ranch as well.
Petaluma Egg Farm's first brand was Rock Island cage-free brown fertile eggs. While it was a holdover from the previous owner, it put Steve on the path to specializing in fresh, local, cage-free eggs. Jonathan explains that what distinguishes fertile eggs is the presence of roosters in the henhouse, which mate with the hens, giving the eggs the potential to hatch into chicks—the way nature intended. Judy's Family Farm was the first of the Mahrt's own brands, and Judy Mahrt was the inspiration. "My mom was starting to feed us healthier foods, and she asked why we didn't have an organic egg," Jonathan says. It was the impetus for organic production, and the brown eggs were one of the first to be certified organic in California.
Other new brands followed. Uncle Eddie's Wild Hen Farm is a cage-free white egg from hens that eat non-GMO feed, and Petaluma Pastures is an organic, pastured-raised egg that comes from hens that spend their days outdoors in the fields. "We have mobile chicken coops that are rotated out in the pastures," Jonathan explains. The birds eat grass, bugs and worms, as well as a regular grain diet with no animal by-products in the feed. The newest egg in the product line is the "Super Egg", which Mahrt describes as a multivitamin in an egg and completely natural. "My dad has always believed in functional foods," he says, explaining that Steve looked at areas where Americans tend to be nutritionally deficient. He then boosted the vitamins and minerals in the eggs by feeding the chickens a variety of nutrients, including folic acid and Vitamin D.
All of the farm's eggs are natural and cage-free, and its environment is free of pesticides and herbicides. In addition, the Mahrts use ozone—an oxidant that destroys bacteria and is also used in drinking water—to sanitize the eggs, rather than chlorine. Depending on the brand, the company's product line has several certifications, including Grown Local, Non-GMO Project Verified, Certified Humane and USDA Organic. The certifications appear on every carton, and they're important because they signal to consumers that the eggs are high quality and come from a local, humane farm. Jonathan observes that the certifications give people confidence in the farm's products, though Petaluma Egg Farms has always maintained high standards. "These are the brands we've worked hard to build," he says. The farm's reputation has grown by word-of-mouth, as has its presence in the Northern California marketplace.
In recent months, eggs became more popular than ever, as shoppers faced a shelter-in-place order resulting from the COVID-19 pandemic. People started stocking up on supplies and cleaned stores out of eggs. Petaluma Egg Farm, like other North Bay producers, couldn't meet the increased demand. "It takes six months from the day a chicken is hatched until you start getting eggs. You can't pivot quickly when something like this happens," says Mahrt. In addition, a retail packaging shortage was an issue and had more impact than the supply of eggs. Hens keep laying eggs, regardless of events in the world beyond the coop, however, and despite the challenges, the family continued working and taking care of their chickens, customers and employees.
Local focus
Clover Sonoma got its start as a distributor of dairy products in 1916, when Petaluma Cooperative Creamery began bottling and selling milk under the Clover brand. Eggs weren't initially in the lineup of dairy products, but they were a logical addition, and somewhere along the way, the creamery started selling them, too. Gene Benedetti and a group of partners bought the business in 1977, renamed it Clover Stornetta, and it grew, but with dairy products still the primary focus. Then in 2000, the company got into the egg business in a serious way and started offering organic specialty eggs in response to consumer demand.
To acquire the kind of high-quality eggs shoppers are seeking, Clover Sonoma works with about 10 different farms, according to Kristel Corson, vice president of sales and marketing. All of Clover's eggs are from California, says Corson, and locality is a source of pride. "We work with good farms. A lot of them are local, right here in Petaluma," she says. "They're experts at it." Many Petaluma farmers are from families who have been in the business for generations, and their eggs meet Clover's standards for quality, which include vegetarian feed and American Humane certification. The eggs are cage-free and organic, and most of the product line is fairly simple. An exception is Omega-3 eggs. They're the result of adding flax seed to the hens' feed to give their eggs a nutritional boost with Omega-3 fatty acid, which is beneficial for the body and brain. Organic, pasture-raised eggs are the newest egg product in the Clover lineup, supplied by Jessica McIsaac of Pasture Fresh Eggs in Tomales, who also co-owns one of Clover's independent dairy farms.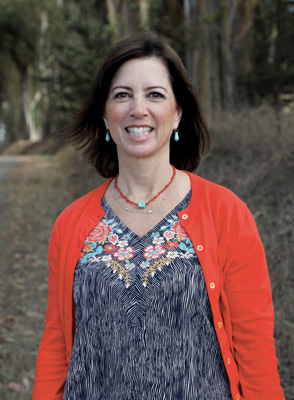 McIsaac and her husband, Neil McIsaac, are fifth-generation Marin County farmers, and their farm, Neil McIsaac & Son Dairy, was already supplying Clover with milk when the family ventured into the egg business. When the farm was transitioning to all-organic production, she became aware of the rising demand for pasture-raised eggs and decided to diversify and offer them, too. She didn't have any experience with poultry, but she has a dairy science degree from Cal Poly in San Luis Obispo. "I applied animal production and food production knowledge to the concept of raising hens," Jessica explains. She began in 2011, and today has 10,000 laying hens that are all certified organic as well as hormone and antibiotic-free. "Our birds get to enjoy the outdoors with grassy pastures to run and jump in and rich fields to dig. It's a good match for us because our cows are pasture-raised," she says, explaining that chickens and cows share the land but eat different things, and the chickens fertilize the fields, which results in rich pasture growth.
The family gathers eggs by hand each day, and washes and packages them to ensure freshness before sending them to vendors. While the McIsaacs run a Clover-producing farm, they also have two egg brands of their own. They sell Pasture Fresh Eggs to Whole Foods, and Organic Proud to some Northern California Safeway stores and online companies for home deliveries. With a young family and her responsibilities on the farm, "I do not have the staff or time to deal with marketing and distribution," McIsaac says. That's why working with a larger company such as Clover, which has widespread distribution and the trust of consumers, is a partnership that benefits both businesses.
Corson reports that the egg industry began to change several years ago, when issues involving cages brought a cultural change, with many consumers demanding cage-free eggs and better conditions for the animals. Clover sells cage-free eggs only, and while it's more expensive to raise them and they require more space, it's better for the hens. "California has been leading that, but we were already there," she says, adding that commodity eggs and specialty eggs are different, and Clover is positioned to be on the premium side. The company talks to consumers about the quality of its products, and Clo, the clever cow that is Clover's mascot, is its ambassador. She marched in the Petaluma Butter & Egg Days Parade in 2019 to celebrate her 50th birthday and appears on a billboard with pasture-raised eggs this summer.
"Egg consumption has been on the rise for us for over a year," Corson reports.
This is partly because they're an element of the ketogenic (keto) diet, a low-carbohydrate, high-fat diet that includes eggs for their nutritional qualities and ability to trigger hormones that increase the feeling of being full. Like most products, however, eggs have had their ups and downs. At one time, their cholesterol content was a concern. But once researchers found they don't increase blood cholesterol levels in most people, they regained favor.
With the demand for eggs increasing when shelter-in-place orders went into effect, Clover repackaged some of its eggs for food-service use and sent them to stores instead. They're the same eggs but in larger pack sizes that consumers don't typically buy, and they still didn't have enough. The demand spiked because children were home from school, says Corson, and lots of people were baking and using more eggs than usual. Case in point: her own daughter learned to make crème brûlée, which lists eggs as a major ingredient. "It's been so heartening to see all the different recipes that people are sharing."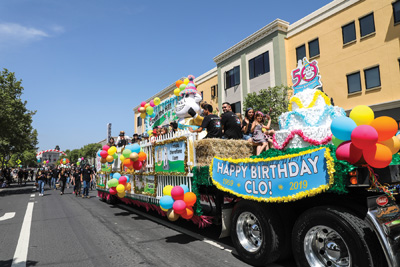 Staying small
Alongside the Golden Gate National Recreation Area in unincorporated Mill Valley, the Woolly Egg Ranch is one of the last small family-run farms in Marin County. Owner Ken Kirkland and his wife, Judith, offer a variety of farm products, including fruit and vegetables, honey and seasoned firewood—but eggs are their biggest seller. The farm was a dairy ranch until the 1950s. "My family is Portuguese, so we've been here forever," says Ken. The property deed for the ranch is written in Spanish, and its history dates back to land grant days. Though milk cows were primary, the family always raised chickens. "We had chickens when I was a kid," he recalls, adding that he embarked on producing eggs professionally 15 years ago.
They have a variety of hens and also some ducks, and all are raised humanely and cage-free in compliance with current guidelines, which grant each bird at least one square foot of ground space. Nine different chicken coops are built like houses, with real doors so people can go in and out, and they include ladders and resting bars for the hens with plenty of headroom. The coops also have a completely enclosed run to protect the birds from predators, and every morning the Kirklands open the doors so the hens can go outdoors at will, where each has five or six feet of space. The only downside, Ken reports, is that the hens get grumpy if it's raining, because they have to stay inside. Spring is prime time for them to enjoy the fresh air. "All this week, our girls have been getting tons and tons of grass," he says on a sunny day at the end of April, adding that the chlorophyll in the grass makes the egg yolks a deep, bright orange color, and fiber makes the whites thick and rich.
The ranch's 500 hens are a whole slew of different breeds, including 30 or 40 bantams, and hens for breeding are mated with a rooster and sit on nests to incubate the eggs naturally until they hatch. The eggs from laying hens come in a variety of colors, including green, pink and spotted, and they're sorted according to size, so the boxes that go to market contain a rainbow of colors. The ranch has 15 ducks, which lay an egg a day in the spring. Duck eggs are especially good for baking, because they're thicker and richer than chickens' eggs.
The Woolly Egg Ranch sells eggs at the weekly Golden Gate Farmers Market in Mill Valley and also to Mill Valley Market along with several local restaurants. In the beginning, it was a good day if Ken sold 20 dozen eggs. "It took about a year of word-of-mouth at the farmers market," he says. Now he usually has about 80 dozen and always sells out. When the COVID-19 pandemic kept people at home, the demand for eggs tripled. Though the Kirklands lost some business initially, Ken was dropping off a case at Mill Valley Market every other day, and his restaurant clients resumed ordering after two weeks.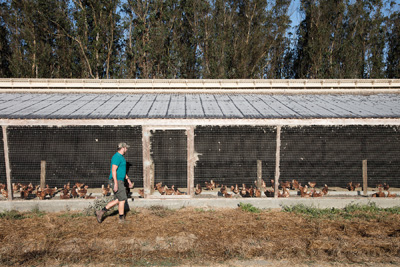 The Kirkland's' greatest challenge in running a small, independent farm is finding labor. Ken's tried hiring high school students, giving them a chance to make a little money, but they usually aren't interested in cleaning coops and bagging manure. He also finds that people often lack common sense. Visitors to the GGNRA venture onto the property to see the animals, treating it like a petting zoo, despite the signs explaining that it's a working farm. They wander everywhere, sometimes with their dogs. "Over the years, I've lost a lot of chickens to dogs," he says, explaining that the dogs chase the chickens, and the terrified birds die of heart attacks. He does like some visitors though, and he and Judith welcome kindergarten field trips, which give kids and the adults accompanying them a sense of where their food comes from.
The incredible egg
These days, more shoppers are knowledgeable about the sources of their food, and they no longer go to the store to pick up a dozen eggs without giving thought to their quality and origin. Simple in design, with just shell, white and yolk, eggs are more than meets the eye. The food birds eat, their living conditions and the care their owners give them all count, and the difference shows in flavor, texture and nutritional value. Eggs are incredible, and North Bay farmers are masters at producing the best — with a little help from some hens.