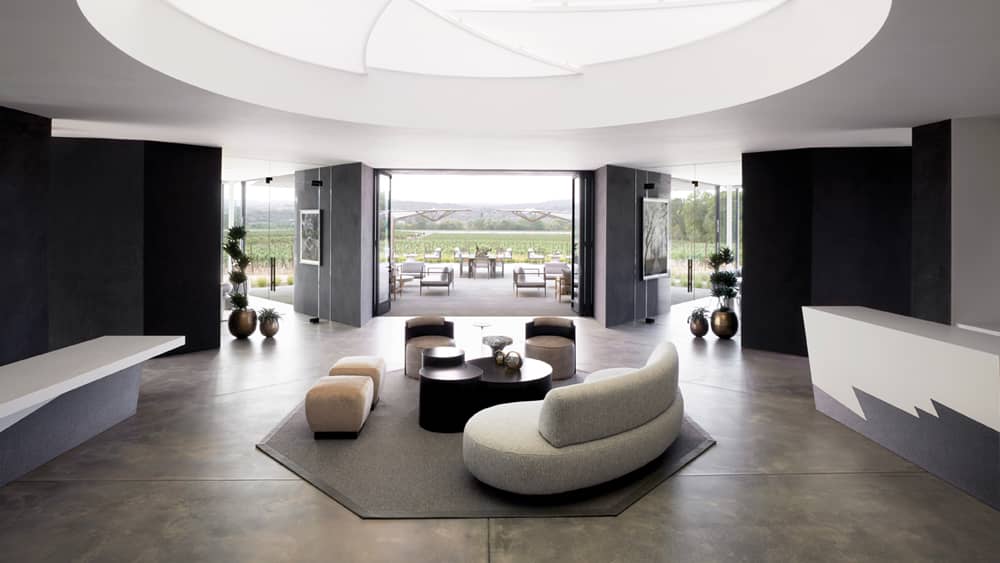 Thank goodness for virtual tastings in Wine Country. As the pandemic timeline stretches out further—slowly and easily approaching the one-year mark—life and commerce must continue, and that certainly includes tasting world-class varietals within this wonderful region.
Without my virtual visit to Aperture Cellars in Healdsburg, for example, I'd know far less about the artistry of winemaker Jesse Katz and his new, hip and architecturally-intriguing tasting room.
While enjoying the winery's Soil Series virtual tasting flight (which came with a virtual tour), hosted by Lauryn Mitrovich, director of hospitality, it became clear that Katz has a long-term vision for his winery, established in 2009 in the Russian River Valley. Katz adores varietals from the famous Bordeaux region in France, and he sought a cool climate for his own creations to thrive in, utilizing what he considers an exceptional winemaking advantage within Sonoma County: Old-world elegance with new-world fruit.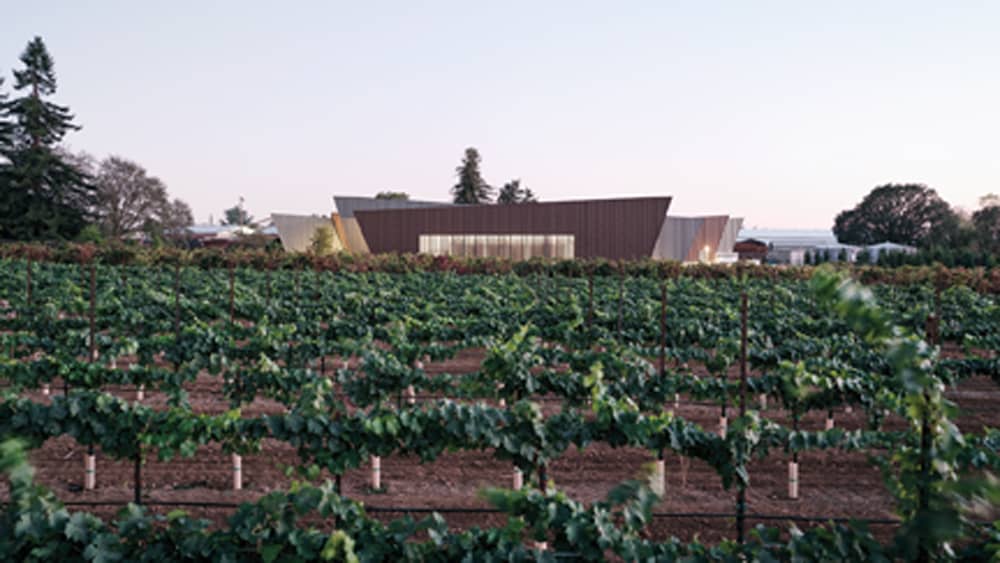 First, some more background on Katz. He was the first winemaker recognized on Forbes' 30 Under 30 list, and he's also a Wine Enthusiast 40 Under 40 tastemaker. Not to be outdone, Wine Spectator lists Katz on its Rising Star list. His love for wine started as an even younger man, when he traveled the globe with his father, the world-renowned photographer, Andy Katz.
Notably, they spent time in Bordeaux, rubbing elbows with famed French winemaker Oliver Leflaive and his family and exploring the wine cellar at Château Cheval Blanc, among other adventures. He went on to further hone his craft at Château Pétrus in Bordeaux, Screaming Eagle in Napa and Argentina's Bodega Noemia, among other world-class wineries.
For his Soil Series, Katz created a set of blends and single-origin wines crafted for their specific soil types, whether the winegrapes are grown on Aperture's 40-acre estate, which boasts 32 acres of fruit, or elsewhere.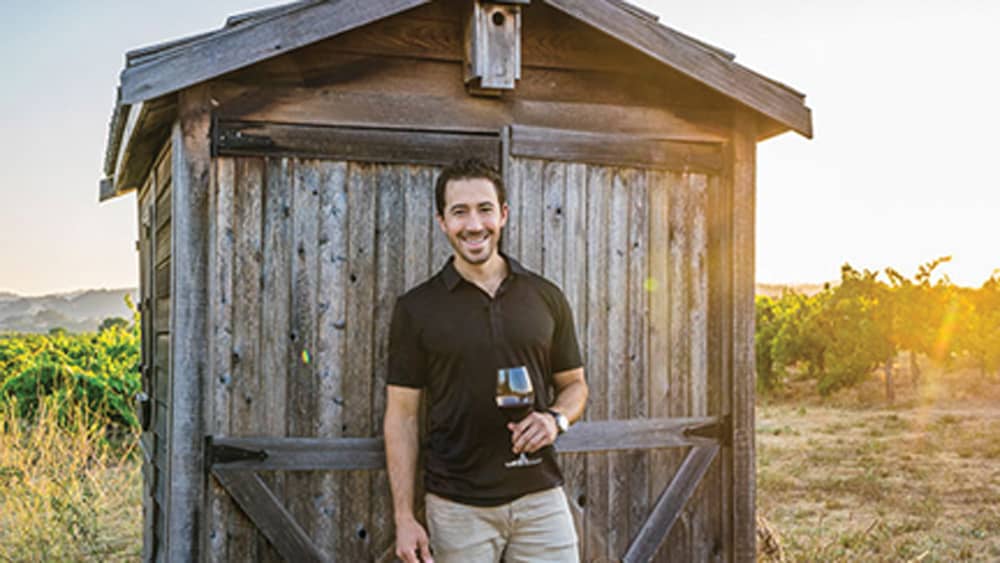 To start, Mitrovich tells me about Aperture's Chenin Blanc as I pour myself a sip. Katz started making this varietal in 2017 when his friend Dave Query, the accomplished Colorado restaurateur, needed an aromatic white wine. Chenin Blanc grapes are rare in Wine Country, so Katz creates this vintage with fruit from Clarksburg. A pleasant aroma of apple is evident right away, and Katz's choice to age half of this wine in once-used French Oak results in a splendidly weighted texture.
Next, I uncork a bottle of Aperture's Sauvignon Blanc. Mitrovich explains that when in France, Katz fell in love with Bordeaux Blanc, and that's what he tries to emulate with this wine. To do so, 2 percent of this vintage is composed of Sémillon winegrapes. Combined with Sauvignon Blanc grapes from Dry Stack Vineyard and barrel fermentation (including a portion of custom vessels composed of Acadia wood, which adds a bit of spice) Katz recreates an old world classic. On the nose, it's pleasantly floral, and it tastes of tropical citrus. It's not overly sharp or acidic, however, due to the Katz's techniques, which add softness to the finish.
For varietal No. 3, I pour from a bottle of Aperture's Bordeaux Red Blend. "This is a deliberate wine," Mitrovich says. "We source specific blocks within specific soil types." Katz's effort pays off handsomely. This is a fabulous drink, bursting with red-fruit flavor and anchored by a delicate, plush texture. A fair amount of Malbec and Merlot, at 22 and 33 percent, respectively, make this a sip to remember.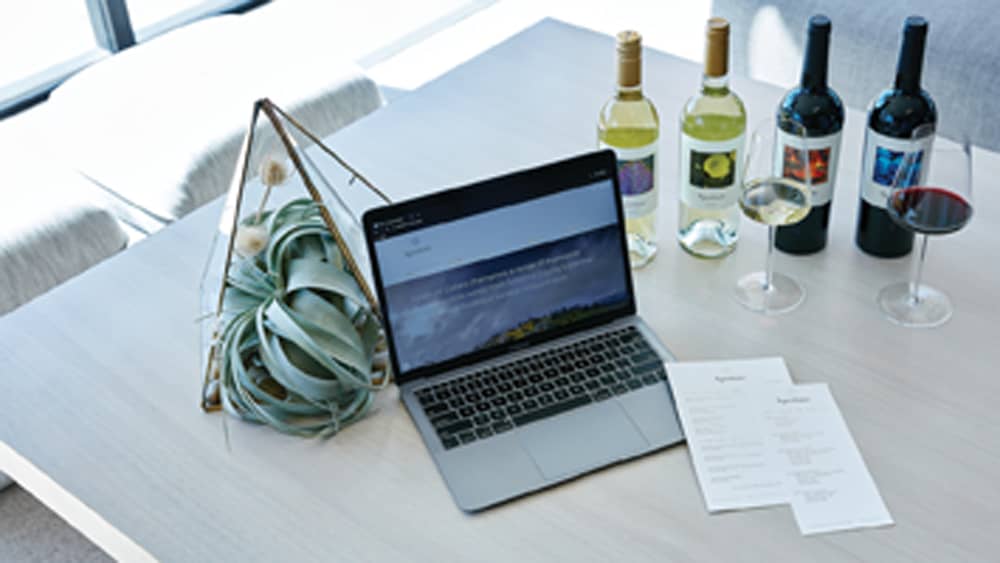 For our final taste, I try the varietal that started it all at Aperture: the Cabernet Sauvignon. In the glass, its color is a lovely, dark purple, and its aroma is quite complex, with perhaps a hint of tobacco. After a taste, life definitely simplifies. This Cab is powerful but approachable, with a silky texture that pleasantly lingers on the palate. "We're trying to highlight the elegance and softness that Sonoma County can showcase," says Mitrovich. "What Jesse cares about with any wine he's making is that it's texturally beautiful." Remarkably, each taste on this flight meets and exceeds that ideal.
Thanks to his experience, talent, technique and vision, Katz has brought a bit of the Bordeaux region with him to Sonoma County. And he's just getting started—creating his wine within a cool climate usually reserved for Pinot Noir. "This isn't a two- to three-year investment," Mitrovich says. "This is a 20- to 30-year investment, planting Cabernet, Malbec, Merlot, in a Russian River Valley site."
And thank goodness for that, as well. Because eventually, this pandemic will end, and when it does, Aperture Cellars' modern, hip, sensuous tasting room will be waiting, as will Katz's elegant, new-world representations of the old world he fell in love with during his formative years. Luckily, we don't have to wait to try his creations, as life carries on in Wine Country with all the beauty and enjoyment we can muster.
Did You Know? Aperture Cellars' name pays homage to winemaker Jesse Katz's father, photographer Andy Katz—an aperture is the variable opening which lets light pass through a camera lens. Each wine label features the elder Katz's artwork, in addition to Jesse's artistry within. Furthermore, the winery's new tasting room, designed by architect Juancarlos Fernandez, is shaped like an aperture, and the ceiling is reminiscent of the winery's aperture logo, allowing light to pass through to the interior. On the tasting bar, which is painted in white, as are the walls of the room that feature Katz's photos, you'll find more art—composed of an uprooted, 100-plus year old vine taken from the estate, which has been utilized as a vineyard since 1912.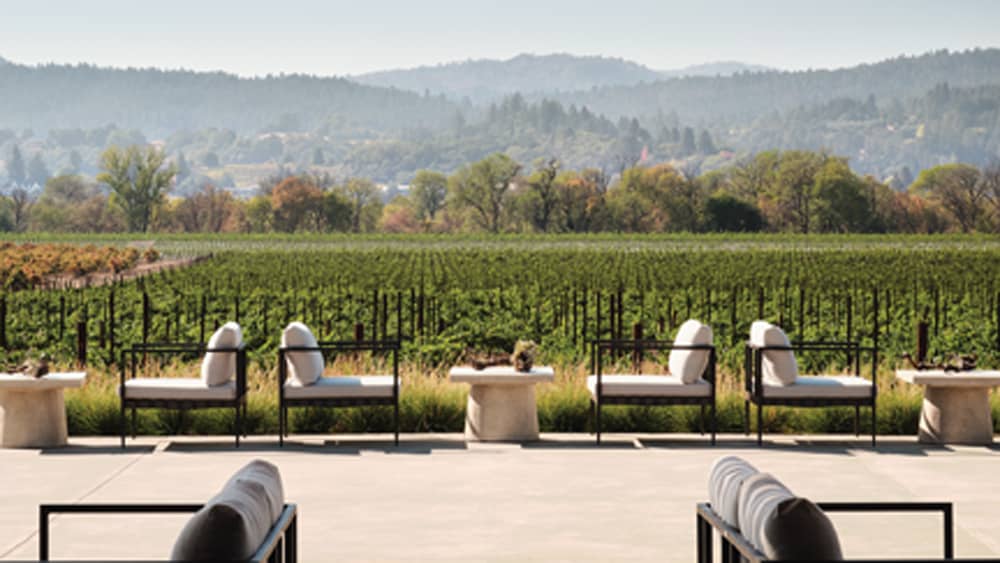 Hours: Thursday—Monday for virtual tastings and curbside pickup
Without restrictions: Thursday—Monday 10 a.m. to 3:30 p.m.
Tasting Fee: Complimentary with Virtual Tasting Flight purchase
Wines Offered: Soil Series: 2019 Barrel-Fermented Chenin Blanc, 2019 Barrel-Fermented Sauvignon Blanc, 2018 Bordeaux Red Blend, 2018 Cabernet Sauvignon
Reservations: Required
Picnics: No
Pets: No