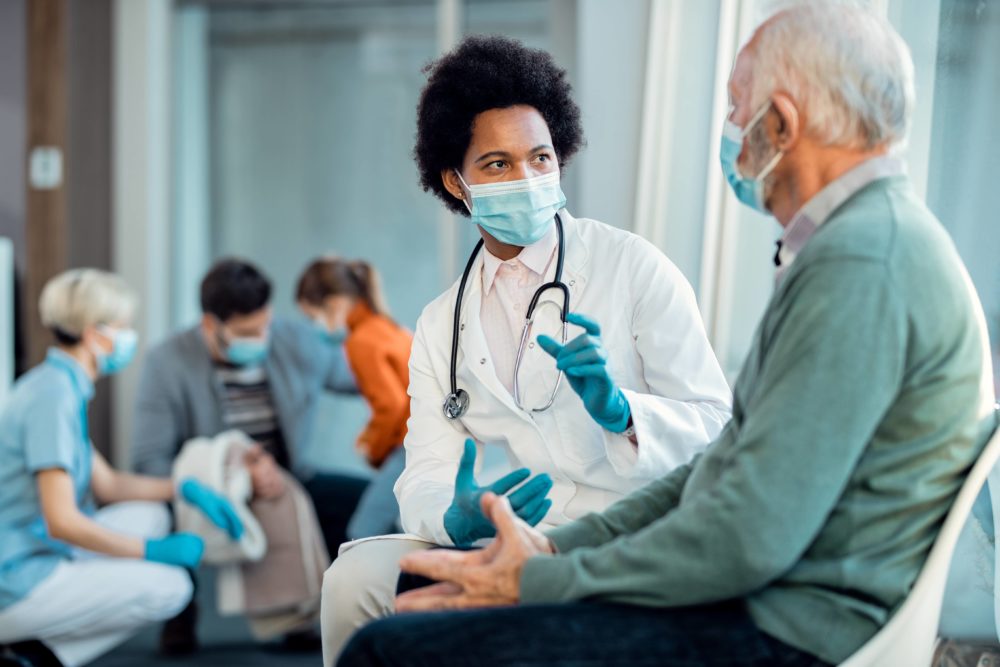 If you've been avoiding making an appointment to see the doctor, you're not alone. Many people deferred elective surgeries, or put off visiting their primary-care doctor or specialist during the pandemic. However, the ramifications from doing so can be life threatening and, in some cases, worse than contracting COVID-19.
Though the pandemic is waning, people are still fearful of contracting the virus, despite the myriad of protocols and precautions being undertaken by health-care facilities to keep patients, visitors, and staff entirely safe. So if you've been avoiding your doctor, here's why it's important to start scheduling appointments for an office visit.
The dangers of delaying care. What many patients fail to keep in mind are some of the real dangers of putting off care, including the likelihood of becoming increasingly sick. During the pandemic, there was a delay in diagnosing some cancers early due to individuals deferring care.  As a result, there have been more advanced cancers at the time of diagnosis. We saw a similar decrease in admissions for strokes and heart attacks at the beginning of the pandemic. Most likely this was due to the fear of going to the hospital and not because fewer people were experiencing a stroke or cardiac event.
Surge in appointments. Keep in mind that hospital and health-care facilities are getting back to normal and doctors are actively seeing patients and conducting elective surgeries. In fact, it's a good idea to make an appointment soon, as we are starting to see a surge due to the waning of the pandemic and an alleviation of concerns about returning to the hospital for care.
Safety protocols. Health-care facilities have employed strenuous protocols to ensure patient safety. Patients will encounter greatly reduced delays in the general waiting room as well as ample social distancing of the chairs and seating area, if they have them at all. All medical offices and hospitals still require masks for indoor visits to ensure maximum protection. Health-care facilities also use hand sanitizer everywhere, and screen for ongoing illnesses and fever at check-in. In addition, most in-hospital procedures either require proof of vaccination or a coronavirus test prior to admission.
Wellness visits and urgent care. It's best to go ahead and make appointments for wellness visits, rather put them off. Wellness visits include general cancer screenings (colon, breast, prostate, cervical), as well as updating any needed immunizations. Obviously, any urgent symptoms should be addressed immediately, whether in an emergency department, urgent care facility, or at your doctor's office. Wellness visits also shouldn't be missed, since those visits include general cancer screenings (colon, breast, prostate, cervical), as well as updating any needed immunizations.
Vaccination and safety precautions
Those who've been vaccinated, often ask whether they are pretty much covered in terms of contracting the virus. If you are fully vaccinated, you are protected from severe infection. We don't know what is going to happen with the emergence of the variant viruses. However, it is best not to let your guard down. Continue to practice good safety measures by handwashing and wearing a mask in high-risk areas such as indoor gatherings with unvaccinated people.
What extra safety precautions, if any, should you take when returning to the hospital or visiting your primary care physician? When returning to the hospital or any health-care facility such as your doctor's office, I believe the best safety measures are to get vaccinated and follow the current Centers for Disease Control and Prevention (CDC) guidelines for continued safety.
There shouldn't be anything preventing you, your children, or a family member from seeing your doctor or going to the hospital. At this point, it's riskier not to go to the doctor for a health concern. Wishing you continued good health, and be sure to make an appointment for that checkup you've been putting off.
Elizabeth H. Lowe, M.D., specializes in internal medicine and is board certified in both internal and medicine and pediatrics. A graduate of Chicago Medical School, she completed her residency and internship at Loyola University of Chicago. She is affiliated with the MarinHealth Medical Network and can be reached at (415) 795-7000.