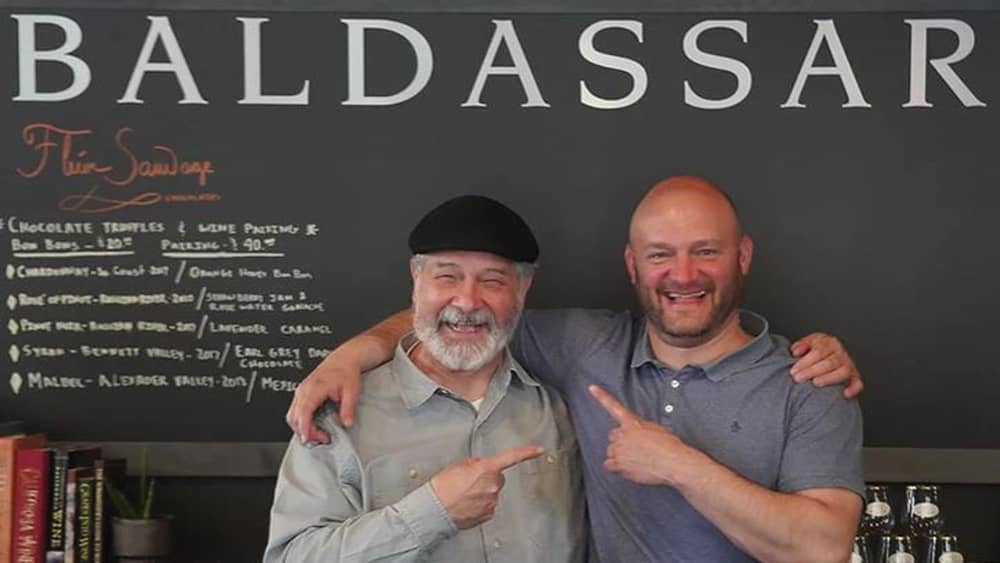 The quaint town of Windsor is often overlooked by tourists passing through on their way to Healdsburg for wine tasting and high-end dining, but it's starting to make a name for itself. "We now have four tasting rooms here," says Matt Michael, winemaker at Baldassari Wines. "Now there's a lot to offer in terms of wine, and that's happened very quickly, just in the last two years. It's exciting and it adds to the dynamic of the town," he says.
Father-son team Dom and Matt Michael began their wine brand in 2003 with 90 cases of Syrah. They started out wholesale, selling to restaurants and high-end retailers. After a stint at a joint tasting room in Guerneville, they opened their own space in downtown Windsor in 2019.
The tasting room is modern yet cozy—a study of neutrals with a few pops of color. There is plush seating with ample pillows and Persian rugs strewn across the concrete floor.
We start with the 2021 Knights Valley Sauvignon Blanc. The region is known for its warm weather and well-draining volcanic soil, resulting in an intense varietal flavor. Bright and tangy, the wine boasts notes of passion fruit, fresh-cut grapefruit and lemon-lime zest.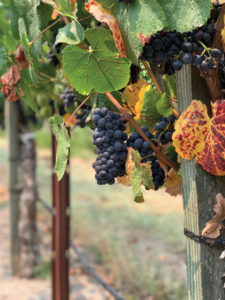 Next is the 2021 Rosé of Pinot Noir. This is a direct-to-press rosé with a beautiful salmon-colored hue. Sourced from the Russian River Valley, "[The region] gives that perfect sun-kissed fruit profile that Pinot has but with a medium acidity and fleshiness to it," Michael says. The wine is crisp, dry and aromatic, with notes of strawberry, watermelon, peaches and cream and a hint of rose petal.
Following this is the 2019 Sonoma Coast Chardonnay. Grown in the Carneros region, the grapes are aged for 19 months in oak barrels, 25% of which is new French oak. Bright and expressive, the Chardonnay offers aromas of orange, lemon oil, nectarine, floral notes and honeysuckle, with a smooth butterscotch finish. Light yet complex, it garnered 90 points in Sunset Magazine's International Wine Competition.
We move to the reds with the 2019 Russian River Pinot Noir. According to Michael, Pinot is lighter than other reds because it only has three of the five molecules that give red grapes their hue. "They call this the 'gateway drug' for red wines," Michael says with a laugh. "The aromatics are very pretty—they're fruit-driven, which is a hallmark of Pinot, and the tannins are light." The wine offers aromas of maraschino cherry, strawberry jam and raspberry, balanced by wet tea leaf.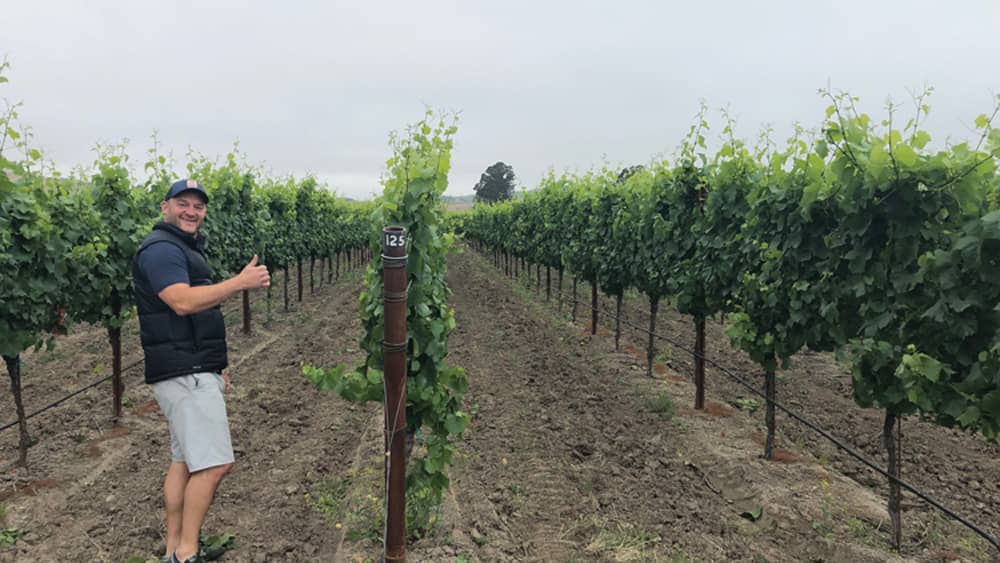 We delve into darker varietals with the 2018 Bennett Valley Syrah. Syrah can range stylistically, says Michael, and it does well in both warm and cold climates. Warmer climates will bring out fruitiness, while colder climates bring out rich spice notes. "I prefer the cooler climate Syrah because I like the way the grape manifests itself," he says. Bennett Valley is fairly warm, but there is a break in the surrounding mountains that allows the coastal air to come through. The flavors are rich and complex—cracked black pepper, roasted game, bay leaf, eucalyptus, blueberry, chocolate powder, tar and coffee grinds.
Last is the 2019 Alexander Valley Malbec. The fruit is sourced from northern Sonoma County, where the climate is warmer. The result is an intense red fruit profile, with notes of candied watermelon, blackberry and raspberry balanced by a hint of dried herb and wet tobacco leaf. The tannins are stronger than the other wines, but still smooth and elegant across the palate.
As we linger over the last glass, I notice a lighted sign on the far wall that reads Bevi solo vino buono, which means "drink only good wine," in Italian, according to Michael. And that is certainly the motto. So far, Baldassari has never made a blended wine. "That speaks to the fact that we have good sourcing, so we don't need to blend," he says. He adds that it's rare to visit a winery where all the wines are 100% one varietal. And, while he won't rule out the idea of making a blended wine in the future, his goal is simply to continue making good wine. "[My intent] is to find the best fruit to display the best varietal expression," he says.
Did you know?
Baldassari Wines was named in honor of Matt Michael's great grandfather, Vincenzo Baldassari, who immigrated to the U.S. from Italy at the age of 26. As is an Italian tradition, winemaking was a hobby. As a child, Michael would enjoy wine and charcuterie with Baldassari in his basement, which was a special bonding experience. This was his first impression of the wine.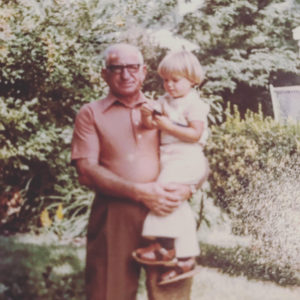 Baldassari Wines
Address: 9058 Windsor Rd., Windsor, Calif. 95492
Web: bfwwine.com
Hours: Open Wednesday, Thursday & Sunday from 12 p.m. to 5 p.m. and Friday & Saturday from 12 p.m. to 6 p.m.
Tasting Fee: $25/per person
Wines: 2021 Knights Valley Sauvignon Blanc, 2021 Russian River Valley Rosé of Pinot Noir, 2019 Sonoma Coast Chardonnay, 2019 Russian River Valley Pinot Noir, 2018 Bennett Valley Syrah, 2019 Alexander Valley Malbec.
Reservations: Not required.
Picnics: No.
Pets: No.