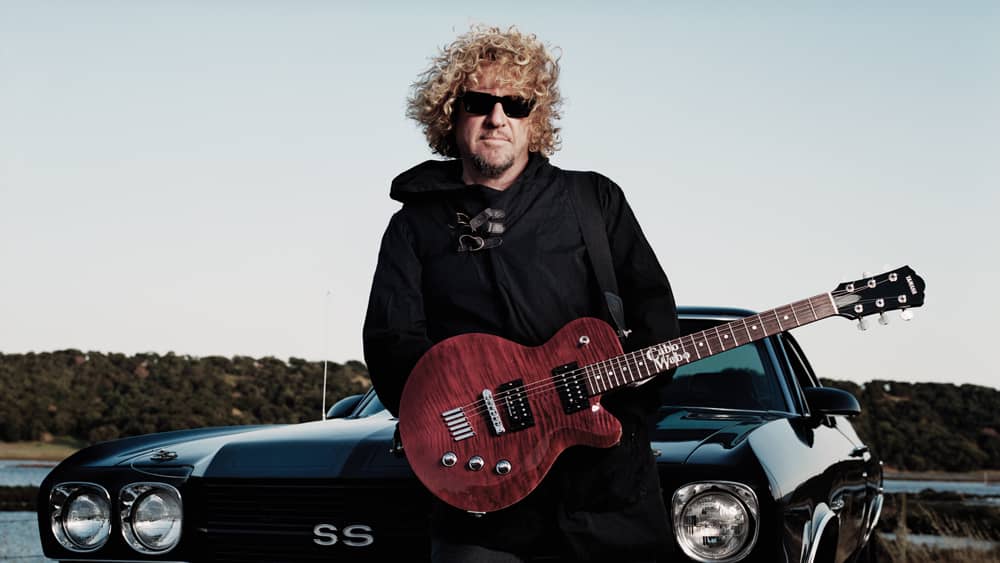 Sammy Hagar's foot hurts. And he's tired. Right now, he's looking for the right chair to sit in, which is not easy because he's moving into a new house and things are still a bit disorganized.
Hagar, a longtime Marin resident, has not forsaken the treelined streets of Mill Valley. He's just bought a place in Florida to make it easier to tour the Sunshine State. "We hit five cities in Florida when we're out playing, and it will be nice to have a hub that isn't a hotel room," he told NorthBay biz.
A lot of people retire to Florida. Last year about 260,000 moved there, many ready for days making margaritas, getting their moles checked by dermatologists and going to Denny's for dinner at 3:30 in the afternoon.
But don't bring any of that nonsense to Hagar. Though he will be 75 in October, he's still all gas and no brake. "The brakes don't work anymore," he jokes. He will tell you he can still sing all the songs he ever wrote, and his hands still know their way around a guitar. He admits to making adjustments to the key he sings in, a slight nod to Father Time.
The foot? A little surgery that's still healing. But a bum wheel isn't doing much to slow down the guy who famously can't drive 55. As the Eagles taught us, rockers are well known for Life in the Fast Lane but with Hagar it's more about frequent lane changes than high speeds. A native of Salinas, Calif., he's a musician, a songwriter, an author, a restaurateur, an entrepreneur and a distiller.
He has a new book out, Sammy Hagar's Cocktail Hits (with James O. Fraioli), a how-to guide to shake almost 100 drinks and mix in some party themes. "The ultimate party manual," he says.
He is tightening up his new tequila company Santo Fino, which produces premium tequilas and mezquila, a blend of tequila and mezcal. Sonoma's celebrity chef and Hagar's pal, Guy Fieri, is his partner. Later this year, the company will roll out another varietal.
Not enough for you? Hagar still runs his Cabo Wabo Cantina business, Sammy's Beach Bar and Grill restaurant chain, Beach Bar Rum distilling and Beach Bar canned cocktails.
He also hosts a nationally-syndicated radio show, Sammy Hagar's Top Rock Countdown. The show is essentially two hours of Hagar holding court on whatever slice of rock and roll has caught his eye or ear.
And he is still playing music with his band, The Circle, as well as Sammy and Friends and the Wabos with dates finding him in 16 states, including a residency in Las Vegas at the Strat Hotel and Casino.
On the road
There's no shortage of musical legends of a certain age that can still be found touring. Willie Nelson, at 87, can't wait to "get on the road again." At 76, Dolly Parton is still doing live shows. And the Rolling Stones, who've been gigging since God was in short pants, are currently touring Europe.
Hagar has something in common with Nelson, Parton and the Stones.
Nelson's other business, Willie's Reserve cannabis brand, is about making people feel good, as is Hagar's Santo Tequila brand, Sammy's Beach Bar Rum Co. and Beach Bar Cocktail Co. Parton has Dollywood, the Tennessee amusement park and resort, Hagar has the Cabo Wabo Cantinas.
The Stones have—off and on—wore the label of greatest rock and roll band in the world. Hagar was the frontman for Van Halen, which had that same handle for a while.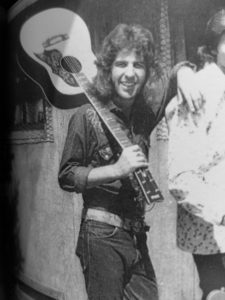 But the musician Hagar has the most in common with is Jimmy Buffet, the man who put Margaritaville on the map looking for a lost shaker of salt. And their bond has little to do with tequila, the key ingredient in the cocktail for Buffet's best-known hit and the cornerstone for Hagar's liquor empire.
Rather, their link is how each built their business success. Buffet never had a hit climb higher than No. 8 on the Billboard Hot 100 despite recording 43 albums. But Buffet recognized that his island paradise vibe had created a brand, and he moved from music to selling swag in Margaritaville shops and then restaurants. From there he went into the hotel and casino business. The Margaritaville brand represents everything from blenders to senior housing communities, but Buffett has been careful to always stay true to his base by using the music to market the other ventures and build his empire from music and the smell of coconuts.
Hagar has used his concerts to turn his music fans into believers in a lifestyle equal parts hard rock, tequila and the beach. While Buffet fans are known as Parrotheads, Hagar fanatics carry the handle of Redheads.
When I point out the similarities, I can hear Hagar nodding over the phone. "I couldn't agree more. I'm a better singer and guitar player than Jimmy, but he is a better businessman. He is the Godfather. I will kiss his ring anytime."
The move into a lifestyle brand was brought about by his former manager, who visited Hagar in Cabo and found him in board shorts, a t-shirt and flip flops with a face that hadn't communed with a razor in a while. "You need to mix your whole thing into your whole thing," he says.
Which of course is a popular course in many business schools.
South-of-the-border savvy
Hagar's approach of blending music and south of the border marketing savvy was not everyone's shot of Anejo, however. After Cabo Wabo Café in Cabo San Lucas, Mexico, had been open a while, some of his Van Halen bandmates took umbrage not only with how much time Sammy was spending in Mexico but also with the attention the eatery was gathering and the costs. Hagar's knack for marketing the hangover headquarters via photos in Cabo Wabo t-shirts rubbed the Van Halen bros the wrong way. When Eddie Van Halen told him no more Cabo Wabo t-shirts on stage, Hagar told him no problemo. That day he got a Cabo Wabo tattoo and wore short sleeve shirts the entire tour. The concert series ended with Hagar and Eddie traveling on separate planes before he departed the band, more on that acrimonious split later.
While the Cabo cantinas have been moneymakers for Hagar, it was the tequila that he created to serve in them that really swelled his bottom line. When he began exploring the agave plant, America thought tequila came in two flavors, gold and clear, and it was a liquor consumed in shots with lime and salt and invented by a guy named Jose Cuervo. Those who imbibed too much, often found their best friend was made of porcelain.
But Hagar, along with tequila guru Juan Eduardo Nuñez produced premium tequila that could be sipped. The spirit gained popularity and Cabo Wabo became the first liquor fronted by a celebrity. Hagar was singing Right Now for Van Halen and slinging margaritas way before George Clooney, Ryan Reynolds or Robert De Niro were fronting their own booze brands.
Grupo Campari took notice of not only Cabo Wabo tequila, but also changing popularity of the spirit. To hear Hagar tell it, his timing was both lucky and good. Campari wanted to buy the business from Hagar in 2007 and he told them to go away. He loved the business and it was throwing off cash. He wasn't playing hard to get—he was hard to get. But Campari wouldn't take no, gracias for an answer and Hagar had been doing some thinking. "They said, 'What would it take for you to sell?' I said, $100 million. And the guys doing the deal, looked at each other, and they said, 'OK,'" says Hagar.
He actually hung onto 20% of the company and agreed to be a brand ambassador, while putting $80 million into his pocket. A few years later, Hagar sold off his stake for $17 million and signed a non-compete clause that kept him out of the tequila business for a decade.
Funny story, as he was selling the tequila brand to Campari, he talked to Fieri, who said, "If you ever get back into the tequila business, I want in." Hagar agreed.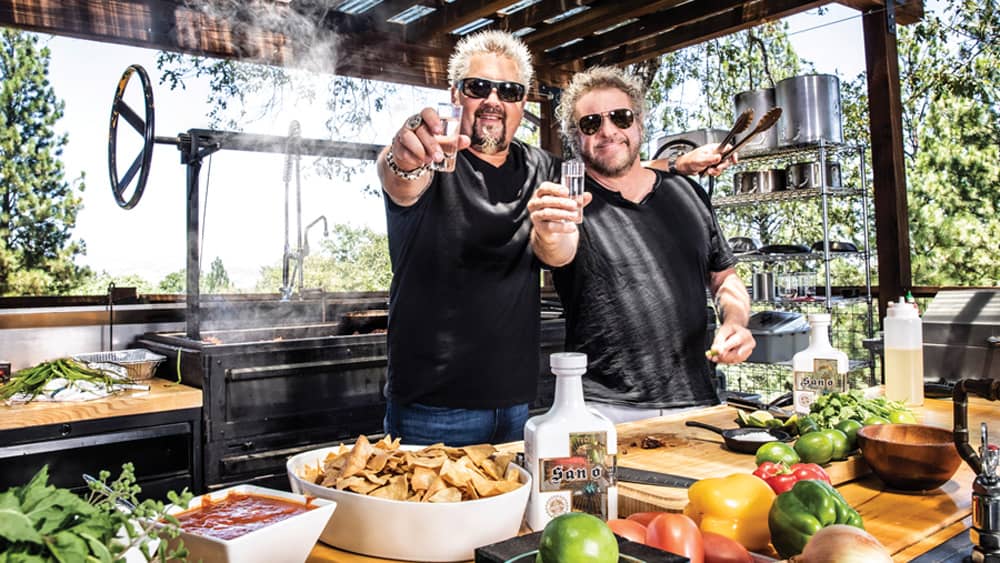 Hagar forgot all about that conversation. So, when news of Santo Fino broke, Fieri had to call Hagar up and say, "What about me?"
While Hagar has houses outside Marin, this county is his home base and it's where he has invested both time and cash. He built and once owned Sausalito Cyclery, the result of a love of mountain biking and a friend working in the store, not a desire to dive deeply into the bike sector. The passion he had for mountain biking was fueled in part by mountain biking legend Gary Fisher designing and building a bike called the Red Rocker after Hagar. After growing the business, and then watching the competition muscle up, Hagar sold the bicycle shop.
Another local business Hagar invested in was the Aqua Hotel in Mill Valley on Richardson Bay. Hagar joined a number of other local owners in the hotel that is operated by San Francisco hospitality company Joie de Vivre.
Hagar's hospitality interest in Mill Valley wasn't limited to an equity position in Aqua. He and celebrity chef Tyler Florence owned El Paseo, a classic restaurant tucked away in Mill Valley's downtown. The division of labor had Florence setting the menu and manning the stove at times, while Hagar handled the liquor and wine selection and set the mood with music. Eventually, the partnership came apart and Hagar bought Florence out, and the restaurant was closed for a time in 2018 when it became too much of a time drain for Hagar. In 2019, he sold the eatery to Mill Valley resident Ki Yong Choi.
Business and partnerships
When it comes to business, Hagar's approach is non-traditional. He doesn't employ analysts poring over spreadsheets and isn't market-centric looking for the next big thing. That said, the next big thing has certainly happened for Hagar. He discovered Cabo San Lucas long before the gringos north of the border knew where it was. And he got into artisanal tequila at a time when many imbibers were sucking down Bartels & James wine coolers.
But for the most part, he relies on his gut and heart in sizing up business opportunities. "I don't do things because I need the money, because I don't. I get into things that I feel passionate about. If it doesn't excite me, I leave it alone."
The second part of this philosophy is to study what he wants to invest in. In the case of Cabo Wabo tequila, this meant learning about the agave plant in a major league kind of way, and of course drinking different tequilas as well.
The last piece of "business by Sammy" is hiring experts to manage the day-to-day, and then getting out of the way. "I hire smart people, and let them do their work."
Hagar believes in the importance of partnerships, or more to the point, picking the right partners. "Partners are critical. I've had banks come at me offering financing, but I don't choose to do it that way. I don't use leverage. I use my own cash and bring in the right partners."
He tells a story about his friend billionaire Warren Buffet. At one point Buffet paid Hagar to talk with members of his company, Berkshire Hathaway because Hagar was known to think outside the box. While waiting to speak, Hagar asked Buffet for an investing tip. "He smiled and asked me to give him the money in my pocket, which was maybe $300 or $400. He then made a show of facing and smoothing out the bills. He folded the cash in half and handed it back to me. He then said, 'You just doubled your money.'"
Billionaire pals, not bad for a kid who grew up dirt poor and never went to college. His parents worked in the fields of the valley, his dad a boxer who took more punches than he threw. "I'm happy I was poor, I never want to forget where I came from," Hagar said. "It made me want to be somebody."
The Red Rocker: uncensored
While many celebrities gloss over a past that is less than rosy, Hagar is not among them. He is brutally honest, as anyone who has read his biography Red: My Uncensored Life in Rock (with SF Chronicle rock critic extraordinaire Joel Selvin) can attest to. Sammy spills the tea, as our friends in the UK are fond of saying. But he is self-effacing as well, going into detail about his part in his failed first marriage, and his role in the destruction of Van Halen.
He is 45 minutes late for our call, but he begins our chat by apologizing for his tardiness and he promises to deliver a primo interview. I've been promised an hour with the Mill Valley resident and he proves his generosity by giving me 90 minutes.
Kindness is part of his MO. He donates profits from his airport restaurants to local food banks and he contributes regularly to pediatric health care, as well via his Hagar Foundation. He has quietly participated in Marin by donating to Ritter Center in San Rafael, Throckmorton Theatre, Mill Valley Rotary Club, volunteer firefighters, as well as the Mill Valley's Philharmonic and the Library Foundation.
For the record, Hagar doesn't bring any of this up. He prefers instead to talk about how his original love, music, is now made possible by his business pursuits. Once Hagar was in the rock business awhile, he was making money and using it to invest in everything from real estate to sports cars. But the music business went digital, and albums disappeared and touring to support them went the way of the Walkman. So now Hagar and his musical pursuits are done at a loss but fueled by his business successes.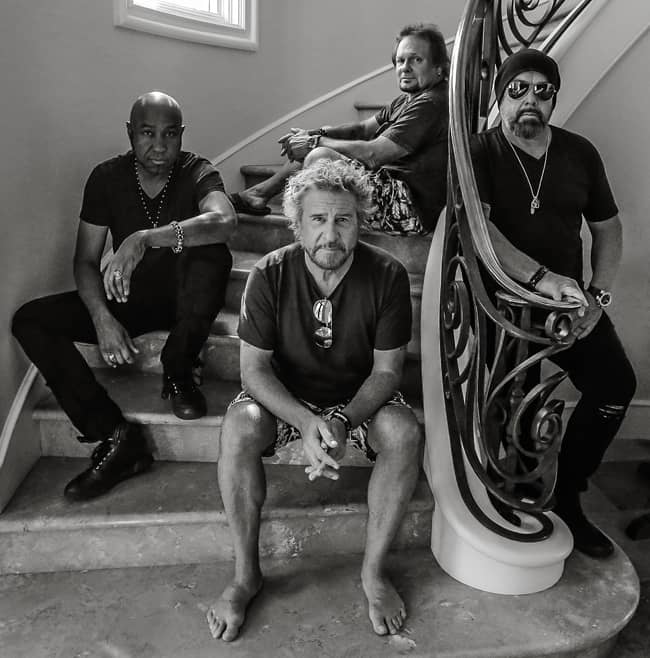 The music biz helped him raise four kids, sons Aaron, 52, Andrew, 38, and daughters Kama, 26, and Samantha, 21. Aaron owns his own custom auto business, and Andrew followed his dad as a musician. Kama is a wellness coach and Samantha is an equestrian barrel racer. Hagar is married to his second wife, Kari, with their marriage taking place on Mount Tamalpais. Kama and Samantha are their daughters.
While Hagar had some regular guy qualities, or as regular as somebody with a fleet of Ferraris can be, there are some rock star pursuits. He is an avid wine collector, which began many years ago in England. He tried to build out his collection by specifying certain wines be in his dressing room before shows as part of the rider (a clause in concert contracts listing the materials that must be in place before a show, Van Halen famously demanded a bowl of M&Ms with the brown ones removed). Hagar would then take the never-opened wine home to add to his cellar. Rock promoter Bill Graham (and Marin resident) was hip to Hagar's schtick and provided the wines, uncorked. For Christmas one year, the late impresario gave Hagar a re-corking machine.
Sammy says that at present, he is caught up in Italian wines. When he is chilling, he says, he might ask Alexa for anything. "Sometimes I just wear her out—next song, next song, next song." He tends to favor old blues artists like Jimmy Reed and John Lee Hooker.
While rocker-Eagle Joe Walsh's song Life's Been Good to Me So Far certainly applies to Hagar, I ask him about regrets, and the question seems to surprise him. He takes a beat and says, "I left Montrose, and that was about too much ego. I couldn't control myself. It was about control and I wish I hadn't done it that way."
An optimist by nature, Hagar doesn't dwell on the way his stint with Montrose ended for long. Instead, he talks about how he is living life these days. "I'm not satisfied. I can be content. I can sit around, and I can relax. But five or 10 minutes later, I'm thinking about stuff and I might have a new idea, and then I realize that I'm not satisfied."
One can almost hear the tune I Can't Drive 55 playing inside Hagar's own head—and for Hagar that song stopped being about a car a long time ago.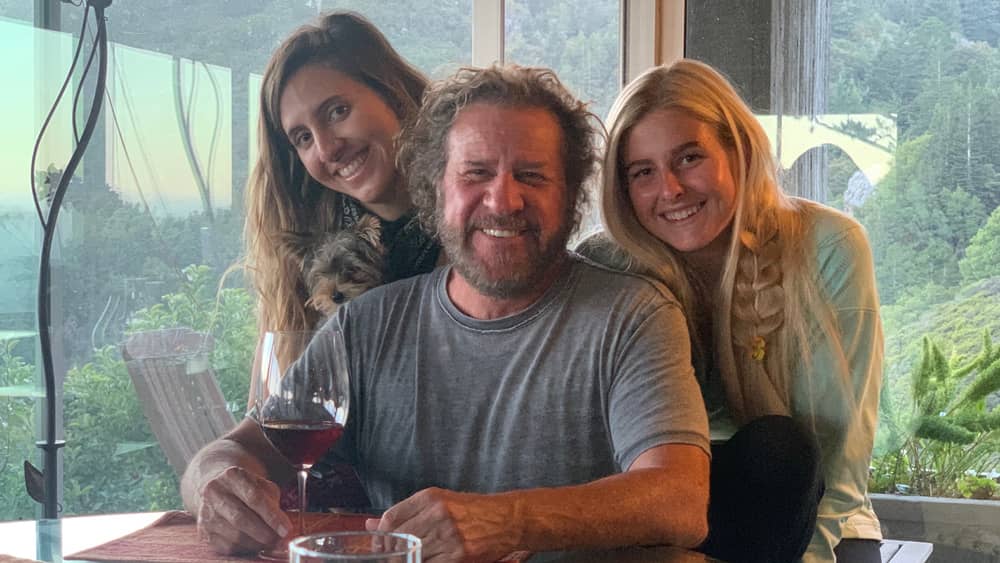 This or That
No profile of Sammy Hagar would be complete without asking the hard questions. Queries requiring him to look deep within. And so, we asked the Red Rocker to examine his soul and give us a glimpse into where he stands on the issues of the day. The answers may surprise you in a little thing we like to call This or That.
NBb: Rum is a given, light or dark?
Sammy: Light of course.
NBb: Oakland A's or San Francisco Giants?
Sammy: I think I have to go with the A's. They are always the underdogs.
NBb: OK, fair enough. Vegas Raiders or San Francisco 49ers?
Sammy: Has to be the Niners, they wear red!
NBb: Morning or Night?
Sammy: I love the morning, but I just can't get up until 10. So, it has to be night.
NBb: Movies or TV?
Sammy: Oh, I don't know. I guess it's TV—there's too much cool stuff to watch.
NBb: Email or phone call?
Sammy: No contest, have to go old school with a phone call.
NBb: Let's shift gears and talk about sustenance. Italian or Chinese?
Sammy: Definitely Italian.
NBb: You a planner or a seat-of-your-pants type of guy?
Sammy: Seat-of-the pants for sure.
NBb: Tough one coming at ya. Rolling Stones or The Beatles?
Sammy: No doubt. The Stones.
NBb: Cats or Dogs?
Sammy: I was a cat guy for so long. Then Eddie Money's widow gave us this little dog, Edwina. Now I'm a dog guy.
NBb: Mask or no mask?
Sammy: No mask for sure. I'm not trying to be political here. I just can't breathe with a mask on.
NBb: Final question. You're a wine guy, well you are a wine, tequila and rum guy. So, Napa or Sonoma?
Sammy: I'm not talking wine now. But it's got to be Sonoma—that's where the soul is.
Hit Parade
Sammy Hagar has been playing music for a long time. His first guitar came from Sears & Roebuck when he was a mere lad and in 2007 he was inducted into the Rock and Roll Hall of Fame in Cleveland, Ohio, along with Van Halen. In 1968 he joined his first pro group, the Johnny Fortune Band, and after lots of long nights and hard knocks he hit the big time with Montrose, a California-based rock band led by British guitarist Ronnie Montrose.
Montrose
Hagar was the frontman for the four-member band in 1973 where he learned some hard lessons on how the rock and roll business worked. During the two years of singing lead, Hagar wrote his first song, Bad Motorscooter. After watching Ronnie Montrose run the band to suit himself, Hagar left in 1975 to fly solo.
HSAS
The next stop in the list of bands was the supergroup HSAS made of Hagar, Neil Schon, Kenny Aaronson and Michael Shrieve. Schon had been with Journey, Aaronson had played with a ton of people and Shrieve was formerly with Santana. But the band was short-lived as other projects kept pulling the players in different directions. Formed in 1983, HSAS was no longer playing encores by the end of 1984.
Van Halen
After David Lee Roth could no longer fit his ego in a suitcase to go on the road, guitarist Eddie Van Halen came calling in 1985, courting Hagar to front the hard rock band. Hagar grabbed the mike and toured the world with Eddie and Alex Van Halen along with Michael Anthony. Along the way, there were four albums and 400 fights. The odd thing was that Hagar and Eddie wrote songs well together, but the Van Halens' need for power became so destructive that by 1996, Hagar and Anthony traveled on one plane, Eddie and Al on another. The only time they were together was on stage. Hagar described the split this way to me, "People always ask were you fired or did you quit? Eddie always said I quit. If I'm truthful, I wanted out and was trying to get fired." At any rate, in 1996 Hager left Van Halen, but it wouldn't stick. In 2003, he was lured back for a reunion tour and to record the album, Best of Both Worlds. It took about a year to burn it all to the ground and Hagar was once again out the door, this time for good.
Waboritas
Hagar still plays with this band, which consists of Sammy on vocals, Mona Gnader on bass, Vic Johnson on guitar and long-time Hagar sideman David Lauser on drums. This band backs Sammy at the Las Vegas residency and in Cabo San Lucas at the Cabo Wabo Cantina.
Chickenfoot
While HSAS never really took hold, such cannot be said for Chickenfoot, with guitar god Joe Santrini on lead and Hagar singing and playing rhythm guitar. The rhythm section was anchored by drummer Chad Smith of the Red Hot Chili Peppers and Van Halen alum and long-time Hagar pal Michael Anthony on bass and backing vocals. The band recorded four albums, two of them very much live.
The Circle
This is the latest Hagar super band. Hagar is, of course, on vocals, and two of his long-term amigos, Vic Johnson and Michael Anthony are here as well, with Johnson holding down the lead guitar duties and Anthony on bass. The drum kit is manned by Jason Bonham, whose father was legend John Bonham of Led Zeppelin. Formed in 2015, the band tours on a regular basis and has done three albums, the latest one completed in 2020 and released last year called Lockdown. "Equipped with iPhones and their respective instruments, they each laid down their individual tracks from the den, music room, closet and even showers of their homes." The album includes songs the band used as warm-up material before shows, like Funky Feng Shui as well as covers like The Who's Won't Get Fooled Again and For What it's Worth by Buffalo Springfield. A bonus track, a cover of David Bowie's Heroes, was also recorded as a tribute to first responders and healthcare workers during Covid with the proceeds donated to local food banks.
The Business Pursuits of the Red Rocker
Though Sammy Hagar is best known as a musician, he has built a second career as an entrepreneur. But as in all things Hagar, it's hard to keep track. While all of us like our irony served differently, Hagar takes his with a squeeze of lime. While his father, by Sammy's own admission, was a mean drunk, Hagar has amassed a fortune in the booze business. But Sammy has persevered in the business world, developing plenty of connections, including a friendship with billionaire investor Warren Buffet. Here is a thumbnail sketch of the many current business pursuits of the Mill Valley resident, starting in his hometown.
Aqua Hotel
The 49-room boutique hotel, which Hagar built from scratch with his four partners, is located on Richardson Bay off Highway 101. With interesting architecture, Hagar owns a 20% stake. His involvement with the local ownership group came from his frustration at not being able to book rooms for his bandmates at the Mill Valley Inn downtown, which is owned by the same group sans Hagar. His original investment was $750,000, and Hagar says the hotel has been a happy investment for him, throwing off cash consistently.
Santo Spirits
The Mexico-based spirits company is the result of the non-compete clause tied to Hagar's $97 million sale of the Cabo Wabo tequila brand to Gruppo Campari. Besides the clause, Hagar originally didn't want to compete out of respect and admiration for Campari, so he tried to mix tequila and mezcal. That combo took a while to perfect and in the meantime, the company has developed tequilas as well. His business partner is a celebrity chef and Sonoma resident Guy Fieri.
Sammy's Beach Bar Rum
Another business with a product produced offshore, the rum is distilled by the Destileria Serralles in Makawao in Puerto Rico. The company produces a trio of rums, a silver, spiced and a dark varietal. Hagar's love of tequila is famous, but he got involved in rum in Hawaii, where a neighbor was producing a small batch rum from the island's sugarcane. The rum was crazy expensive to produce and Hagar ended up in Puerto Rico, a traditional rum stronghold.
Sammy's Beach Bar Cocktail Company
An offshoot of the rum company, the cocktail company produces canned rum-based beverages in four flavors. There is Cherry Kola Chill, Pineapple Splash, Island Pop and Tangerine Dream, all made with agave nectar. The ready-to-drink business is owned by Hagar's company, SBBCco. LLC.
Cabo Wabo Cantinas
The original Cabo Wabo in Cabo San Lucas, Mexico, kicked off both the micro chain of cantinas and the tequila brand that was later sold off. Hagar fell in love with Cabo San Lucas in 1990, which at the time was simply a sleepy fishing village in Baja. After building the club, there were some fits and starts, including making the members of Van Halen partners, and later buying them out as the group began to come apart. Besides the Mexico location, there is a Cabo Wabo in Las Vegas as well as Hollywood. The cafes feature cocktails, south-of-the-border cuisine and live music. The Hollywood café is found in the Miracle Mile Shops inside the Planet Hollywood resort casino. Hagar has partners in the business.
Sammy's Beach Bar & Grill
Locations of the second chain of restaurants for the Red Rocker is Sammy's Beach Bar & Grill, which are at airports in Cleveland, Las Vegas, Maui and Honolulu. The eateries benefit the Hagar Foundation, which in turn donates all profits to food banks and to organizations dedicated to pediatric health care.
[Lead photo courtesy of Bryan Adams]
Bill Meagher is a contributing editor at NorthBay biz magazine and a senior reporter at Manhattan-based digital financial news outlet The Deal. This story was written while listening to Sammy Hagar albums including Standing Hampton, VOA, Three Lock Box and Van Halen's OU812 and 5150. It's also possible that rum and tequila were consumed. Your mileage may vary, void where prohibited.