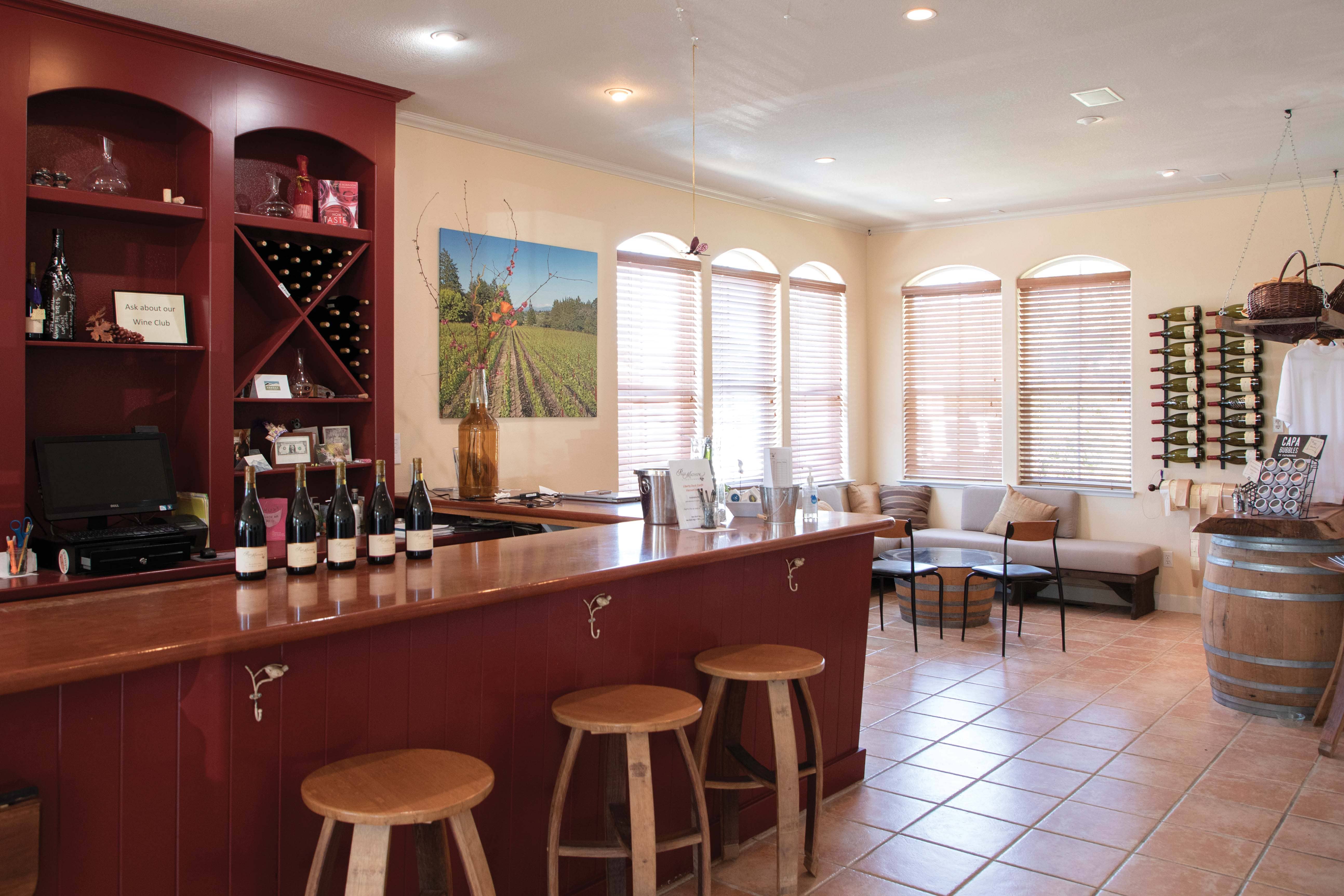 The Gustafsons' journey into winemaking can be described in one word: kismet. The Gustafsons' knew early on in their lives that they had a passion for wine and food. As a young woman, Barb Gustafson's initial education on wine came at a community center course in Vancouver, British Columbia. At age 25, she applied to more than 100 wineries in Napa County, none of which could afford to assist with the relocation from Canada. Barb remained undaunted. "I always had this vision that I would work for a winery, and it just so happens that I married a winemaker," she says. Barb and Mat met at the 2004 Russian River Valley Pinot Forum. In 2012, the couple opened Paul Mathew Vineyards in downtown Graton. "We looked for a location for three years. When we found the space on Graton Road it was kismet—it was us," she says. "My husband and I are from the restaurant industry, and the space allowed us to incorporate that connection. We were able to have a tasting lounge, dining room, event space in the backyard and close proximity to our vineyards."
The vineyards are located in the Green Valley sub-appellation of the Russian River Valley AVA. Gustafson says that sourcing grapes from small vineyards in this appellation is a major factor for Paul Mathew's wines. "It's about terroir and the history of the Russian River. You'll still find a lot of small family-owned businesses in West County," she says.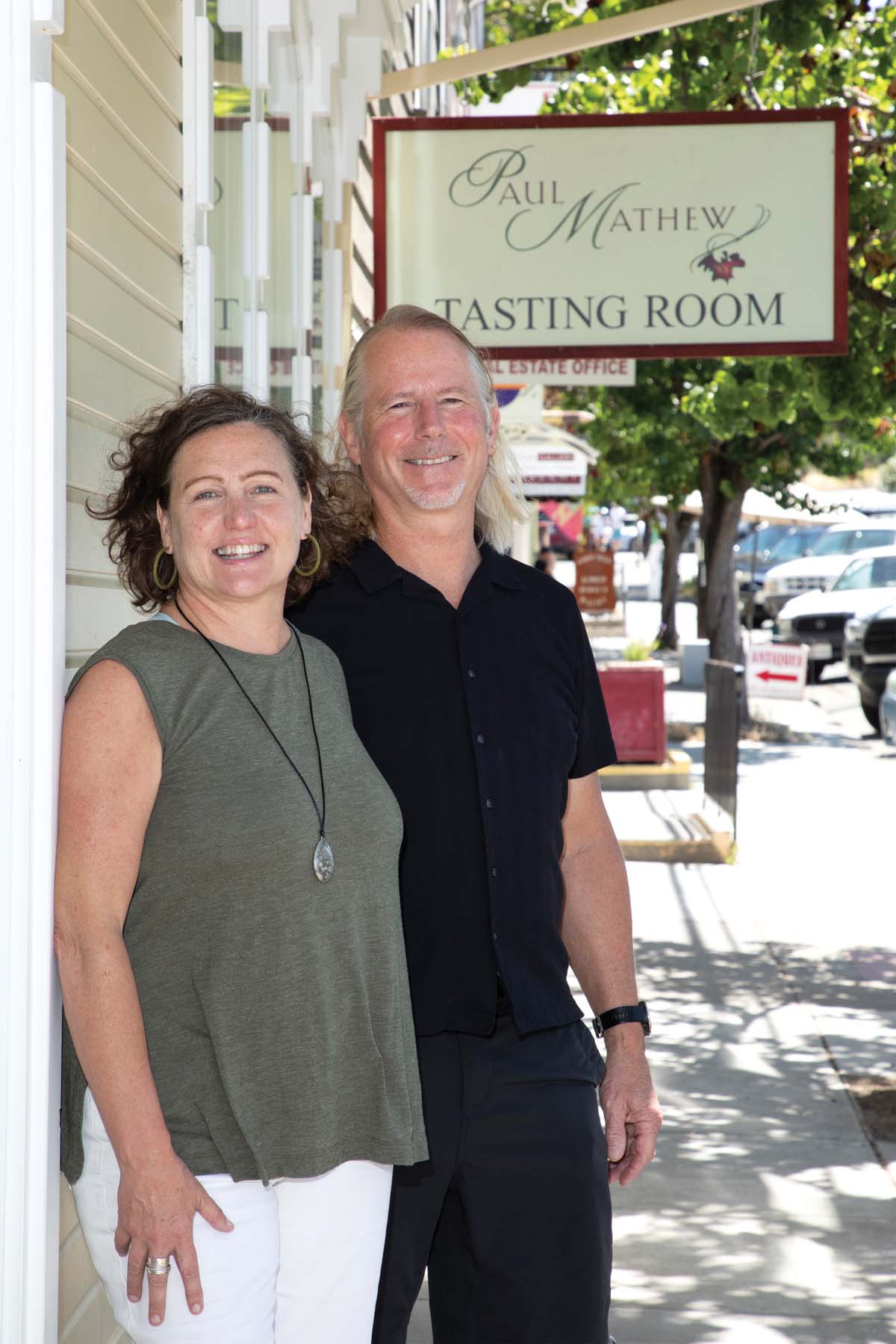 Paul Mathew's winemaker, Mat Gustafson, chose to focus on West County vineyards because of his belief in the superior quality of the fruit produced in the region. Mat, a former sommelier at John Ash & Co. in the 1990s, has a focus on balance, texture, quality and sustainability when creating wine. Barb says that her husband held, "every wine industry job you could think of leading up to being a winemaker." His passion is Pinot, particularly sourced from Russian River Valley soil. This is reflected in the tasting room's offerings, which includes three Pinot Noirs and a Rose of Pinot Noir, as well as a Cab Franc and Syrah.
The Rose of Pinot Noir (13.5% ABV) is an electric, bright, balanced wine with notes of strawberry and melon fruits. The Russian River Valley Pinot (14.1% ABV) is a blend of two vineyards and 100% French oak-aged for 10 months. The result is a Pinot rich with wild strawberry, cinnamon, fig, tart cherry, vanilla and a touch of oak. The TNT Pinot (14.1% ABV) is also 100% French oak-aged for 10 months, resulting in ripe raspberry, rod vines, pomegranate and baking spices. The Ruxton Pinot (14.2% ABV), also 100% French oak-aged for 10 months, is an earthy Pinot with notes of blackberry, cherry, Zinfandel spices, cocoa and vanilla. The Cab Franc (13.5% ABV) is a unique blend of cherry notes with a touch of bell pepper. The Syrah (14.3% ABV) offers notes of blueberry, white pepper and cocoa powder.
In addition to making the wine, Mat also prepares all the food for dinner events. Paul Mathew has a schedule of "Foodie Nights" slated for throughout the year that host up to 16 guests in the winery's dining room. Upcoming events feature a "summer celebration" barbecue in July and a lobster dinner pairing set for August. The return of dinner events is a welcome change in a post-pandemic world. "When you talk to both Mat and me about wine, we are always talking about food," Barb says. "A wine is incredible, but it's one-dimensional without food."
At Paul Mathew Vineyards, one can expect a certain "West County hospitality" rarely found in neighboring wine regions. Barb says that Paul Mathew Vineyards, in keeping with the West County spirit, offers what was the original style of tasting from the early days of Wine Country tasting rooms. "We allow people to take their time and have a picnic," Barb says. "We might only see 20 to 25 people on a busy day. Our client is a savvy, serious wine consumer that is worldly and passionate about food and wine. My husband and I travel to a lot of wine regions around the world and there are still a lot of small people like us. The 'garagiste' trend is still strong. And if you have the belief and passion to make wine, you will find a way to do it." In other words, if it's meant to be, it's meant to be. From the wine to the food, to the location, everything at Paul Mathew Vineyards is kismet.
Did you know?
Whenever possible, Winemaker Mat Gustafson uses indigenous yeast for fermentation, as well as indigenous ML bacteria. He uses as little SO2 as possible and bottles the wine without filtration. "Slower indigenous fermentations make for more a complex wine, and a more refined and seamless wine as well," says Mat. "Lower levels of SO2 in the barrel allow for 'elevage,' the elevation of the wine quality in the barrel that higher levels of SO2 stifle."
Paul Mathew Vineyards
 Address: 9060 Graton Road, Graton, Calif. 95444
Hours: Open 10:30 a.m. to 4:30 p.m. Thursday—Sunday
Tasting Fee: $40/per person. (Waived with purchase of two bottles/per person.)
Wines: 2021 Rose of Pinot Noir, 2019 Russian River Valley Pinot Noir, 2018 TNT Pinot Noir, 2018 Ruxton Pinot Noir, 2018 Cab Franc, 2015 Syrah
Reservations: Recommended.
Picnics: Yes.
Pets: Yes.
[Lead photo by Duncan Garrett Photography]