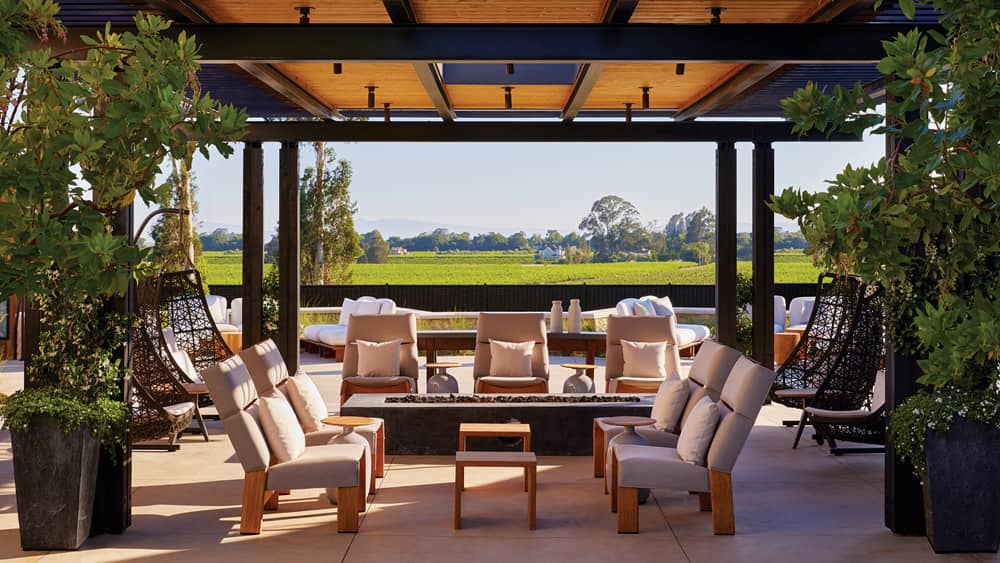 Stanly Ranch, Auberge Resorts Collection is Napa's newest luxury resort. Situated on a historic working ranch, it features acres of vineyards blanketed over rolling hills under an endless blue sky. Seventy-eight standalone cottages and suites sprawl across the property, with patios overlooking the landscape, creating a sense of intimacy and connection to agrarian life.
On a warm Sunday afternoon, my husband, John, and I venture to Halehouse for the day. The resort's luxury spa is an oasis for rejuvenation and well-being. Upon arrival, we are greeted by a spa attendant, who leads us to his-and-her locker rooms. Garbed in airy cotton robes and slippers, we settle into plush hanging rattan chairs on the patio and enjoy some tea and bone broth, while we wait for our couples massage to begin.
Our masseuses lead us to a private suite, where we're left alone to settle into our massage beds. The room is made of dark paneled wood with high ceilings. One wall is completely glass, looking out onto a small courtyard, yet the outside fence keeps the space private and intimate.
We begin with breathing in grapefruit essential oils, which helps to balance mood, decrease blood pressure and relieve stress. The hour-long massage targets every major area of the body, kneading out knots and relieving tension. For John, who had been experiencing intense back pain, the experience left him feeling relaxed and nearly pain-free.
After the massage, we are invited to stay and enjoy the facilities. For those who book a treatment, this can be added on for an additional fee, or guests may purchase a day pass. The pool and hot tub overlook the property's village of elegant cottages, sprawling vineyards and eucalyptus trees lining the estate. We settle on some shaded deck chairs and order some drinks from the poolside bar. After a Moscow mule and a plate of fruit, John falls asleep, and I nudge him awake to accompany me to Springhouse, which features a sauna, steam room, Himalayan salt room and more.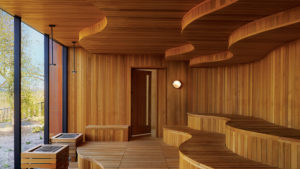 Guests can experience each portion on its own, or do them all in order as the Springhouse Circuit. This program integrates contrast techniques and bio-hacking technologies to activate the body's natural healing processes to optimize physical performance and health. Taking a dip in the cold plunge bath will reduce inflammation and alleviate pain, while the dry heat of the cedar sauna will detoxify the body and aid relaxation. We spend some time in each of these, our favorite being the sauna, which features a wall of glass looking out onto a vineyard.
Guests can also attend a workout class at Fieldhouse, the center's movement studio. Classes are offered daily and range from yoga and pilates to barre and HIIT (high intensity interval training). Visitors may also schedule a fitness assessment and receive training and performance coaching from world-class practitioners.
After a trip to Springhouse, we fuel up on electrolyte water and take a dip in the hot tub overlooking the estate. At a quarter to six o'clock, we head back to our locker rooms to change and freshen up before the spa closes for the evening.
A four-hour excursion feels like a week's vacation in a faraway place. We leave feeling refreshed, rejuvenated and already anticipating our return.
An oasis of relaxation, the spa offers something for everyone. "At Halehouse, we offer treatments that are targeted and intentional, with the goal of helping guests reach their full potential in anything they are doing," says Erin Hosler, spa director. "We [offer] truly individualized programs that incorporate nourishment, hydration, sleep and movement to restore the body's physiological markers and the balance of mind and spirit."
If you're looking for a relaxing getaway with your love, check out Halehouse at Stanly Ranch, Auberge Resorts Collection. Come enjoy a day of pampering, or better yet, stay the night and experience all that this Napa Valley gem has to offer.
To learn more, visit aubergeresorts.com/stanlyranch