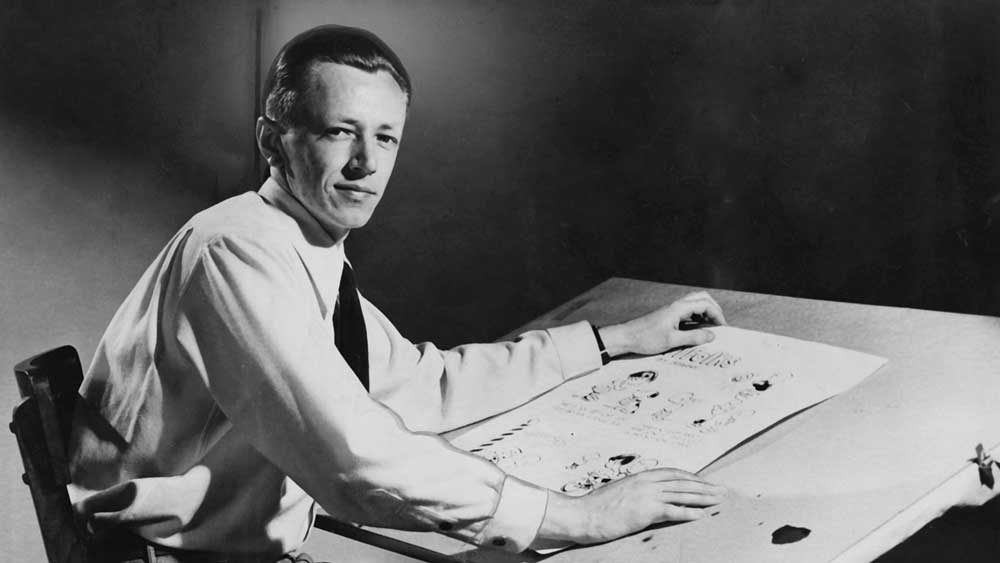 November 26, 2022 marks the centennial of the birth of Charles M. Schulz, creator of the beloved Peanuts comic strip. It seems his role as a cartoonist was preordained. Two days following Schulz birth in Minneapolis, Minn., an uncle nicknamed him "Sparky" after Spark Plug the racehorse in the comic strip Barney Google. Thenceforth he would be known as Sparky. It's doubtful that the uncle, or anyone else, could have foreseen that Sparky would become one of the most influential cartoonists of all time. He penned 17,897 Peanuts strips syndicated in 2,600 newspapers at its peak, reaching 355 million readers in 75 countries. Forty-five animated Peanuts specials aired on television, and four full-length motion pictures showed in theaters. Since its opening 20 years ago, the Charles M. Schulz Museum and Research Center in Santa Rosa, Calif. has welcomed more than 1.5 million visitors from around the world. And though Schulz passed away 22 years ago, his cartoons and characters still resonate.
The beginning…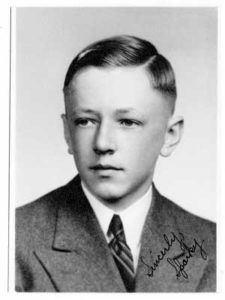 Much of Peanuts parallels Schulz's own life. "If you read the strip, you would know me. Every thing I am goes into the strip…" he is quoted as saying. Like Charlie Brown, Schulz's father was a barber. Together they enjoyed the funnies in the Sunday paper, the younger Schulz being fascinated by Popeye, Mickey Mouse and Dick Tracy. "All I ever wanted to do was draw funny pictures," he said. Spike, the family's black-and-white dog, would become the inspiration for Snoopy.
In high school, he experienced the first rejection of his work, as his drawings done for the school year book were not included in the publication. Shy and introspective, Schulz found an outlet in doodling and sports. His mother encouraged him to enroll in a cartoon correspondence course at the Federal School of Applied Cartooning, now the Art Instruction Schools. At age 20, he was drafted into the army. While in basic training, his mother passed away of cancer—a traumatic event for the young Schulz. During WWII, while serving as a machine gun squad leader in Germany, Austria and France, he saw little action. Of his time in the military, Schulz would later write, "The Army taught me all I needed to know about loneliness." Loneliness also haunted Charlie Brown.
On discharge from the military, Schulz returned to St. Paul, Minn. where he lived in an apartment over his father's barbershop. His burgeoning career showed promise with publication of Li'l Folks in the St. Paul Pioneer Press and the sale of 17 single-panel cartoons to The Saturday Evening Post.
He met a red-haired girl and fell in love. When he asked her to marry him she turned him down, marrying a firefighter instead. She would become the "Little Red-Haired Girl," the object of Charlie Brown's affection in Peanuts. Charlie Brown dithers, afraid to approach her. When he gathers the courage to ask her to dance, he finds her dancing with Snoopy. Unrequited love would become a Peanuts theme.
Schulz named several of his characters after friends. There's a real Charlie Brown and a Linus. Schroeder caddied with him at a golf course. Though several names are attributed to friends, the personalities of the 70-plus Peanuts characters came from their creator's vivid imagination.
Syndication
In 1948, Schulz sold Li'l Folks (changed to Li'l Folk in syndication) to New York's United Feature Syndicate. Concerned about copyright infringement with a cartoon titled "Little Folks," the syndicate changed the name to Peanuts. The name may have come from The Peanut Gallery, the kids seating section on the popular Howdy Doody Show. Schulz disliked it. Normally mild-mannered and soft-spoken, he said, "I don't like the name of my strip at all. I wanted to call it Good Ol' Charlie Brown." Schulz might have been onto something. In South America, instead of Peanuts, the strip ended up being called Rabinitos or "Little Radishes."
The family man
In 1951, six months after Peanuts' debut, Schulz married Joyce Halverson. Seven years later, they and their five children moved from Minnesota to California's Sonoma County. Joyce was instrumental in creating, designing and operating the Redwood Empire Ice Arena across from the Schulz Museum. Schulz was passionate about ice hockey. The arena hosts Snoopy's Senior World Hockey Tournament, a five-day annual event with 70 teams competing.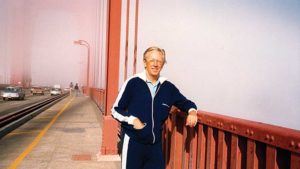 Some of the strip's story lines seem to parallel the activities of Schulz children. When son Craig was into surfing, Snoopy surfed too. And when he flew helicopters, so did Snoopy. And when Craig had a motocross career, Snoopy took up motorcycle riding. Once daughter Amy was reprimanded at the dinner table for talking too much. She retorted, "Am I buttering too loud for you?" Schulz used the line in an exchange between Charlie Brown and Lucy. On another occasion, Schulz sat at his drawing board, struggling to come up with new ideas. Son Monte walked in with a model WWI aircraft. They chatted about fighter planes. That discussion ended with Snoopy on top of his doghouse wearing a helmet, goggles, and a red scarf around his neck, ready to take on the Red Baron.
In "The Peanuts Family Album," Schulz mentions his unsuccessful attempts at kite flying. "I used the excuse that I didn't live in a good area for flying kites," he said. Yet when Schulz tried kiting with his kids, the problem persisted. "…when a kite gets caught in a tall tree, it becomes irretrievable and gradually disappears…obviously the kite had to go someplace…" That led to the creation of Charlie Brown's nemesis—the Kite-Eating Tree.
The Schulz museum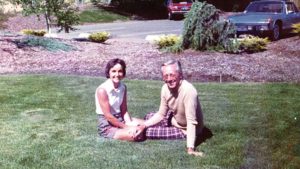 In 1972, Schulz and Joyce divorced. The following year, he married Jean Forsyth Clyde. It was Jean's idea to create a museum. Schulz, a modest man, initially resisted. He doubted anyone would come. No problem there. On a recent day, the museum's education room bustled with young and old alike drawing and coloring Peanuts characters. Snoopy red doghouse paper replicas, signed by creators from Mexico, Canada, Brazil, Germany and Qatar, lined the wall. "It's like being at the United Nations," said Craig, longtime museum volunteer.
Four -year-old Tina, at the museum with her grandparents, proudly showed off her new toys—a Lucy doll, Snoopy with a Christmas stocking hat, Linus and Woodstock. When asked which was her favorite she said, "I like them all."
Carla from Oregon recently visited the museum for the first time. She and her husband, Corey, were celebrating their fourth wedding anniversary. "I'm a huge Snoopy fan," she said. "I got my first plush Snoopy when I was two-years old. And I still have three boxes of Snoopy memorabilia in my parents' attic. Snoopy is so carefree, always happy. He makes me smile." When asked about his favorite Peanuts character, Corey said "Actually, I'm a Garfield fan." Through her role as museum president and chairman, Jean Schulz continues to promote the Peanuts legacy.
War and Peace and the answering machine
Benjamin L. Clark, museum curator, related an incident that turned into another Snoopy opportunity. "Schulz's number was listed in the phone book. He didn't like answering machines. When the phone rang, he'd sometimes answer it himself. He thought everyone else should do the same," Clark said. "When he phoned Lee Mendelson, producer of Peanuts animations, he got his answering machine. So Schulz picked up a copy of War and Peace and read it, filling the machine's tape. In a later comic strip, Snoopy sits on top of his doghouse reading War and Peace a word a day."
English muffin, grape jelly and nibs
"Schulz started his day with an English muffin, grape jelly and a cup of coffee at the ice arena's Warm Puppy Cafe," Clark said. "Then he'd head over to his studio for a full day's work where he drew all the strips himself." Schulz exclusively used an Esterbrook Radio 914 dip pen, with a stainless steel nib, the pen's pointed end. When he heard that the company who made the nibs was going out of business, he bought all of the nibs in their inventory.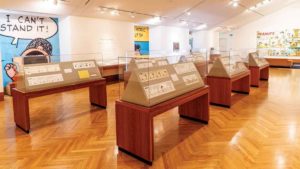 In a video clip, Schulz mentions Charlie Brown, Snoopy and Linus as the characters he most likes to draw. "Sometimes, I lie awake at night thinking about them, what they'll be like when they get older," he says. "I see Linus growing out of his problems. He will become the most successful. Lucy will still be a fuss-budget. And Charlie Brown will always be Charlie Brown."
From cartoon strip to animations
Clark says that, "Though Peanuts was popular early on, the strip and the brand hit its prime beginning in the mid '60s through the '70s. By then all the characters had been fully developed." In 1965, Peanuts was featured on the cover of Time magazine. And the following year, the first Peanuts animation, A Charlie Brown Christmas, received an Emmy for Outstanding Children's Program. In the film, Charlie Brown frets about the commercialization of Christmas. It doesn't help when Snoopy decorates his doghouse and wins the neighborhood tree decorating competition. Charlie Brown is asked to direct the school holiday play. Instead of following his direction, the kids dance and sing in wild abandon. Sensing Charlie Brown's frustration, Linus drags his security blanket across the stage, stops and says, "Lights, please." He recites from Luke chapter 2, the bible verse about the true meaning of Christmas.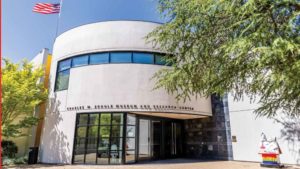 The term "security blanket" would become part of the American lexicon. Following the Christmas animation's success, It's the Great Pumpkin, Charlie Brown was released. Linus confuses Halloween with Christmas and writes a letter to The Great Pumpkin asking for toys. Holidays were a favorite Schulz setting, with strips about Easter, Valentine's Day, Mother's Day, New Years and even Arbor Day. For Arbor Day, Lucy plants a tree on Charlie Brown's pitching mound.
Schulz often mentioned that Charlie Brown was a reflection of his own insecurities and anxieties. "Charlie Brown is the ultimate loser. That is both his magic and his destiny," Schulz said. "The secret is not to win over adversity, but never to stop trying. That's the key to the human condition. Charlie Brown is the World's Champion tryer."
Character of color joins the Peanuts gang
In 1968, following the assassination of Martin Luther King Jr., Los Angeles schoolteacher Harriet Glickman wrote Schulz a letter. I've been asking myself what I can do to help change those conditions in our society which led to the assassination and which contribute to the vast sea of misunderstanding, fear, hate and violence…. She went on to suggest including children of color in the Peanuts cast of characters. With input from African-American parents, Schulz created Franklin Armstrong. He and Charlie Brown met at the beach when Franklin returns the beach ball Sally let go astray. The pair build a sand castle. They talk about family and sports. Franklin asks Charlie Brown if he plays baseball, and if he's good. Charlie Brown replies, "I have some friends who would regard that as a great topic for a panel discussion." Franklin became one of Charlie Brown's best friends and confidantes. "In contrast with the other characters, Franklin has the fewest anxieties and obsessions," Schulz said.
Happiness is…
In a 1960s strip, Lucy sees Snoopy sitting alone and gives him a hug, something out of character for the normally crabby Lucy. As she walks away she smiles and says, "Happiness is a warm puppy." That would become the title of Schulz's first book (besides his popular comic strip reprint collections). In the book are Schulz's illustrations of Peanuts characters along with sayings that show happiness can come from simple things. Happiness is finding someone you like at the front door…Happiness is walking in the grass in your bare feet…Happiness is being able to reach the doorknob.
Snoopy the Astronaut
March 1969 began a series where Snoopy fanaticizes about being the first beagle on the moon. The strip reflected a relationship with NASA dating back to the Apollo program. In Apollo 10, the crew's mission was to skim the surface of the moon and "snoop around" checking out the landing site for upcoming Apollo 11 flight. The Apollo 10 crew named their lunar module "Snoopy" and the command module "Charlie Brown." NASA created a Silver Snoopy award that astronauts bestowed on employees and contractors whose achievements contribute to the success and safety of a space mission. Silver pins that accompany the award depict Snoopy and are flown into space.
Seems only fitting that Snoopy would be invited back to participate in the Artemis I launch, scheduled for the end of November. Outfitted in an orange flight suit with a NASA patch, gloves and boots, Snoopy has a small but important role. A plush Snoopy toy will serve as a zero flight indicator, signaling when the spacecraft entered microgravity. Silver Snoopy pins and a pen nib from Schulz studio, wrapped in a space themed cartoon, will accompany him on board. The items will be returned to the Schulz museum for display.
USPS salutes Charles Schulz
In September 2022, the US Postal Service (USPS) issued stamps in honor of the centennial. Ten designs of Peanuts characters on a pane of 20 stamps frame a 1987 photograph of Schulz. USPS noted, "Each character reflects Schulz's rich imagination and great humanity. His resonant stories found humor in life's painful realities including rejection, insecurity and unrequited love." The Schulz museum hosted the First Day of Issue Stamp Dedication Ceremony on September 30.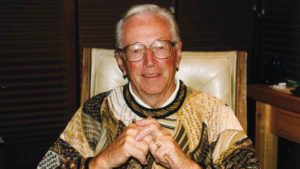 Streaming Peanuts
Streaming has provided Peanuts with a powerful platform that Schulz couldn't have imagined. Apple TV teamed with WildBrain, Peanuts Worldwide and Lee Mendelson Film Productions to air the iconic Peanuts specials and produce new animations. The new animations are in competent hands. The Snoopy Show produced by Craig Schulz is in its second season. And Lucy's School: A Tribute to Teachers was produced by Craig and his son, Bryan. The pair, along with Bryan's writing partner, Cornelius Uliano, also wrote the script. The animations Craig and Bryan have put together remain true to the universe their father and grandfather created. For sure, he would be proud.
A sad farewell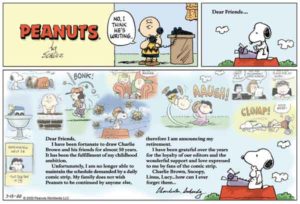 Stricken with cancer in 2000, Schulz penned his final strip. It appeared the day after he died. "Dear Friends," he wrote. "I have been fortunate to draw Charlie Brown and his friends for almost 50 years. It has been the fulfillment of my childhood ambition. Unfortunately, I am no longer able to maintain the schedule demanded by a daily comic strip…" Snoopy is pictured sitting atop his doghouse staring at his typewriter, looking forlorn.
In the 22 years since Schulz's passing, his legacy lives on. Peanuts continues to have a loyal following. Perhaps it's because the characters are so relatable. There's a bit of lovable Charlie Brown, crabby Lucy, Linus and his security blanket and Snoopy, the master of disguise in all of us. And Sparky, with his vivid imagination and clever wit, knew how to make us smile.
Peanuts Gang Musings
"In the book of life, the answers aren't in the back."—Charlie Brown
"I keep wondering if Mom's planning to have more children. Lately, she's been referring to me as 'Volume One.'" —Lucy van Pelt
"Big sisters are the crab grass in the lawn of life."—Linus van Pelt
"More health tips: eat lots of fruits and vegetables, get plenty of rest and learn to duck."—Snoopy
"The world is full of unmarried marriage counselors."—Marcie
"I got six compliments today…and two of them were sincere."—Franklin
"Subtraction is the awful feeling that you know less today than you did yesterday."—Peppermint Patty