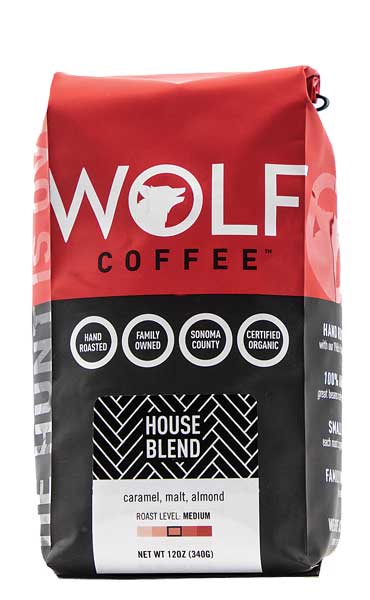 In 1990, Sonoma County locals Rick and Jeanne Mariani left their family prune farm to begin roasting artisanal coffee. At the time, Folgers dominated restaurants and offices, and the couple wanted to bring a high-quality, handcrafted coffee to the community. With the help of Sal Bonavita, previous owner of Peet's Coffee, they founded Wolf Coffee.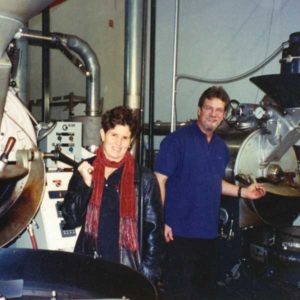 The company experienced major success, with nine retail shops throughout the county and a dedicated team they treated like family. Then, in 2008, when local coffee shops began to appear around the county and a recession hit, Wolf Coffee made the difficult decision to close their retail shops and focus on wholesale.
After 28 years in the business, the Marianis were looking to retire, and wanted to pass down the business to their daughter and son-in-law, Natasha and Nick Castelli. Although hesitant at first, Nick realized that it was time to leave his corporate career and pursue his dreams. "After 13 years in corporate America, I wanted to—needed to—follow something I was passionate about," he says. "Our second child had just been born, and in a sleepless 3 a.m. delirium, it hit me. I needed to take on Wolf Coffee." He quit his job the following day.
Today, Nick wears all the hats in the business. "On roast days I typically get started in the early morning before the day heats up," he says. "Then we pack all the coffee by hand. Once our shelves are full of fresh coffee, we move straight into fulfilling online orders and scheduling deliveries." On non-roasting days, he does everything from marketing to accounting and inventory management. Natasha runs her own accounting consultancy and works with Nick part time. "We are always bouncing ideas off of each other at the dinner table," says Nick "but we take the time to have weekly formal meetings where we can focus away from our three kids and other business distractions."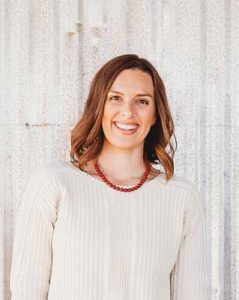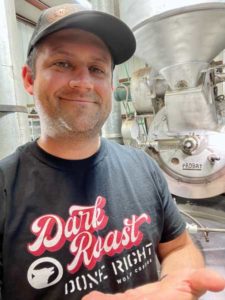 When asked what he enjoys most about the business, Nick says, "I love producing 100 percent organic products that I can feel good about serving my customers." He adds that he also enjoys interacting with customers during events and deliveries. "It really makes me feel connected to our community and our Wolf Pack, old and new."
Wolf Coffee's most popular product is the House Blend. "It tastes great by itself, but takes cream and sugar well, too. It also pairs great with a variety of foods from sweet to savory and everything in between. It's hard to create a coffee blend that is so versatile so we are proud of what we've done with our House Blend," he says.
He adds, the focus of Wolf Coffee is to create high-quality, organic blends that are approachable, with simple names and descriptions. "We've found that our customers just want to know that the coffee is great, organic and equitable for the farms from which we source our raw coffee. This concept is a divergence from a lot of what you see on the grocery shelf, and it's refreshing for some to not feel intimidated when reaching for that perfect bag of beans," he says. "Our family works hard so you can simply enjoy your cup."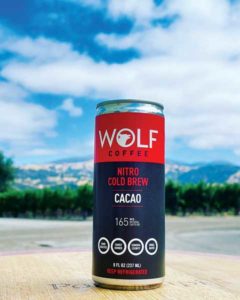 Wolf Coffee recently released a nitro cold brew infused with cacao. Both the coffee and cacao are roasted in-house, and combined with a touch of organic sugar and sea salt for a delicious and smooth blend. "Making a ready-to-drink product is completely different from selling roasted coffee—it's basically a completely new business," says Nick. "There was a lot to learn, and I'm continuing to learn every day." The product has been released in seven Northern California counties, and is receiving a lot of praise.
Wolf Coffee is available online and at select retail locations. For more information, visit wolfcoffee.com.