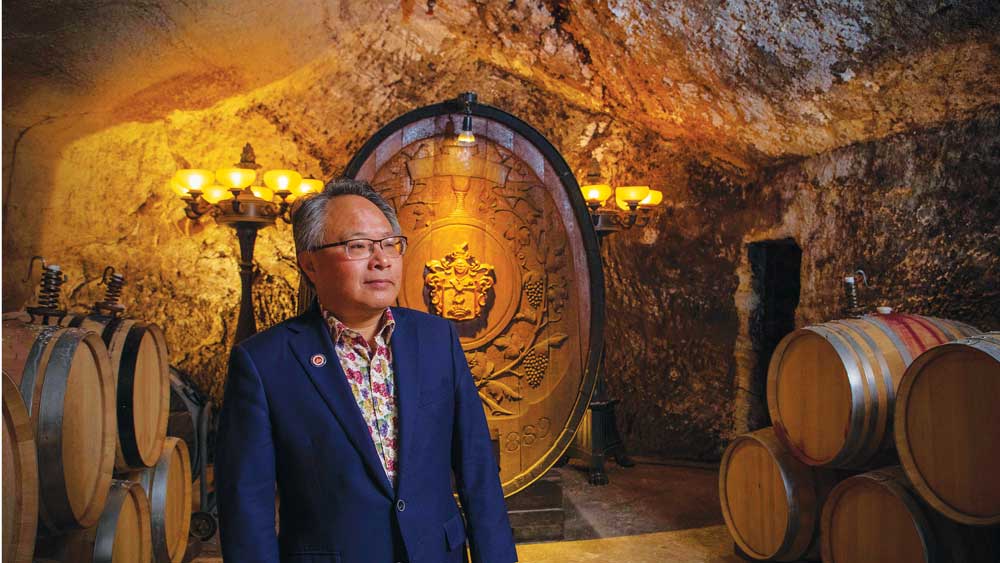 Before this year ends, a colorful new structure is scheduled to break ground in Sonoma's historic Depot Park to honor the Chinese laborers of the 19th century who helped develop the California wine industry. Called a ting, it's a traditional Chinese-style pavilion, inspired by a similar ting in Sonoma's sister city of Penglai, China. ­­Tings have a long history in Chinese culture as places of rest for travelers and for reflection. The Sonoma ting project, or more formally the Wine Country Chinese Legacy Project, was first approved by the City of Sonoma in 2016 and building permits were issued—but the pandemic slowed fundraising and construction progress. However, last May, the City of Sonoma reaffirmed its commitment to building the ting and formally recognizing the Chinese contributions to the wine industry.
Honoring these laborers who performed backbreaking work for little pay is at the heart of Ting Sonoma.
"I feel like it will bring our community together more," says Sonoma City Councilmember Jack Ding, a longtime supporter of the Sonoma Sister Cities Association. "We have a responsibility to carry it forward."
In 2020, Ding, a native of China, became the first resident of Asian decent elected to the Sonoma City Council. In 2022, he served as the city's mayor—leading city council meetings, representing the town at official community gatherings and acting as overall spokesperson for the City of Sonoma.
His ascendency is demonstrative of just how far the Asian community has come in its more than 150-year legacy in California wine country, a history bespotted by racism, abuse and exclusion against those whose labor literally laid the tracks for what would become one of the biggest wine industries of the world.
At one point in the 1880s, approximately one-quarter to one-third of the total population in Sonoma Valley consisted of Chinese immigrants and the merchants who supplied them with staples such as rice and dried fish. The Chinese population numbered around 500 during that era and, though many worked in the vineyards, they were also employed in other ways.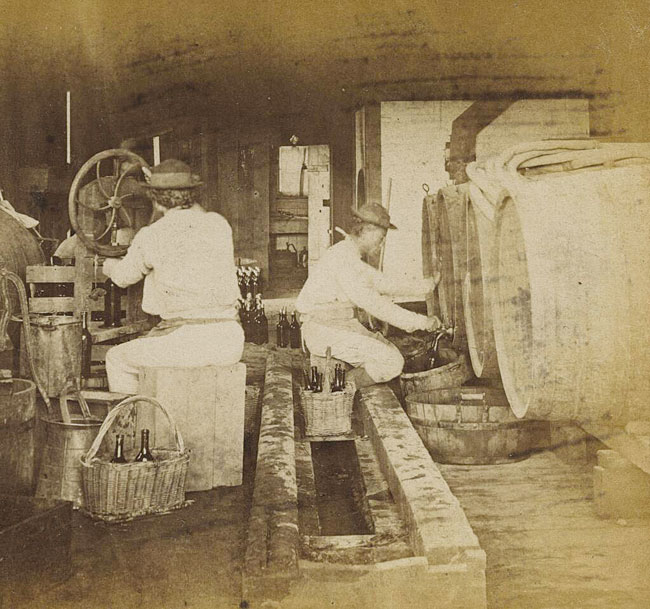 "But every single winery in the Sonoma Valley had Chinese workers, as they were the main workforce from the 1860s to 1890," says Peter Meyerhof, a Sonoma resident with a passion for the history of Sonoma Valley. "Agoston Haraszthy, founder of Buena Vista Winery in 1857, likely employed the largest number––about 100––while smaller wineries hired smaller numbers, perhaps 10 or fewer. The Chinese also worked on just about every ranch, farm and orchard throughout the Valley. They also were laundrymen and cooks. They built the levees around Sonoma Creek, and many of those levees are still there to inhibit flooding."
Buena Vista, east of Sonoma, employed a significant number of Chinese men. "It's believed that we had the largest group of Chinese laborers north of San Francisco," says Tom Blackwood, general manager of Buena Vista Winery. "But we don't know if that was all year-round laborers. The Count [owner Haraszthy claimed Hungarian nobility] believed in them, and said they were good workers, but he received a lot of political pressure for employing them. They were not popular in the community. The winery was only open and operating fully for about a 10-year period during that time. Then phylloxera [a parasitic infestation that attacks grape vines] and a bad economy forced the winery to shut down."
Blackwood says the Chinese laborers played a huge role in the digging of the wine caves on the property, many of which still exist. "We know the Champagne cellar is three caves, the press house has two caves, and there's a third cave that was sealed at some point in history. We believe there were multiple other caves built by the Chinese here that eventually were either filled in or collapsed."
Meyerhof finds it surprising that there could be so many Chinese working in the region at one time and yet so little was left behind by them. "It would be wonderful if some documents of theirs existed from that time, but as far as I know none have been found. When they left they took everything with them that they could. No matter how long they stayed here, they were aliens who were not eligible for citizenship and the rights of land ownership that came with that." It's estimated that in 1860 there were 45,000 Chinese in California––20,000 were miners, 20,000 worked on the railroads and 5,000 did miscellaneous work.
No known descendants of the Chinese who worked in Sonoma Valley in the 19th century still live in the area, as most of the laborers were single men who led a frugal lifestyle, couldn't assimilate into the community, and sent their wages back to their families in China. When their work here was completed, most went back to their native land. "Even those who died here wanted their bones returned to China to be buried in their native villages," adds Meyerhof. "It's amazing how such a large population could come and go and nobody remembers them today. The Chinese didn't reap the benefits of their work in the wine industry here."
Ambivalent racism
One thing about Americans at that time, Meyerhof says, is that they didn't want to work side by side with people they considered inferior. "So a winery that hired Chinese typically wouldn't also have Americans working there, because they considered it insulting to work with Chinese. There was certainly racism but with an ambivalent attitude. They respected the Chinese for their hard work and frugal lifestyle, but greatly feared these habits threatened the white race if Chinese were not excluded from immigration."
Almost all of the Chinese worked through some kind of employment agency, says Meyerhof. "A Chinese person couldn't just walk up and say, 'I want to work for you.' If you wanted to employ him, he would have to be registered and the employment agency would receive a commission." A newspaper ad in the St. Helena Star from that era declared that Hong Yuck & Co., a general store, was also an employment agency "offering all kinds of good workingmen," with instructions to "leave orders in box in front of store."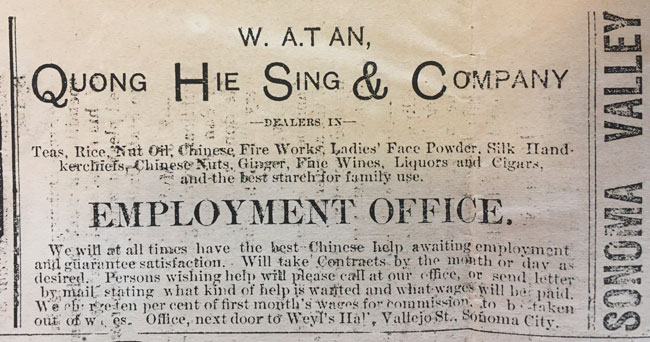 Any direct recollections from locals about the Chinese laborers who lived in the area date back many decades, captured in transcripts from the oral histories of such notable Sonoma Valley citizens as Carrie Burlingame. Born in 1885, she lived to be 100 and was a longtime community booster and preservationist. In an oral-history recording archived by the Sonoma Valley Historical Society, Burlingame, who died in the 1980s, recalls the many Chinese workers who came to the area following the completion of their work building the transcontinental railroad in 1869.
"They were plentiful and everybody hired them," said Burlingame. "They were wonderful workmen…everybody that had a vineyard had Chinese [laborers]. They were the only labor you could get."
She describes them as wearing "queues," or a long braid of hair worn down the back, and that they would go to town with poles on their shoulders and collect "big loads" of supplies. She said they circulated largely among themselves.
"But they were picked on—and boys used to treat them terribly," she says, citing rock throwing and racist name calling among the abuses.
Burlingame, whose family employed Chinese workers, said the men would be housed in groups of three or four in "a little shack" composed of not much more than four walls, a roof and a stove for cooking. "They even carried their water, you didn't have to put water in for them," says Burlingame in the recording.
A small handful of stores in town were run by Chinese merchants who stocked traditional Chinese foods and ingredients, she continues. "They sent money back home to their families. I heard one time that there was $1 million a year that went to China from this state."
In another decades-old recording archived by the Sonoma Valley Historical Society, resident George Breitenbach claimed to have lived in Sonoma since 1859. He says during his childhood there was one memorable Chinese worker who also "peddled fish once a week."
The fish were "caught in the Schell slough—two baskets and a pole across his shoulders," Breitenbach says. "He took a nice sum of money with him back to China."
He says the Chinese men would labor in the vineyards 10 to 11 hours a day for $1, while supervised by "white men [who] were employed to handle the teams." Many white laborers, however, couldn't get work, because "they could not compete with the Chinese."
Disdain for Chinese "ghetto"
Napa Valley also attracted a large number of Chinese workers when the Napa Valley Railroad construction crews reached St. Helena in 1868, according to the St. Helena Historical Society. There was a need for a large labor force to move gravel for the project, which brought the first big group of Chinese immigrants to the upper valley. At one time about 100 Chinese men worked on the railroad between Napa and St. Helena. Sage Canyon Road, now Highway 128, was graded by 125 Chinese laborers in 1886.
"Chinese also worked in the fields, hopyards and mines, and some were household servants, cooks, laundrymen, merchants and clerks," states literature from the Historical Society, which notes that Chinese laborers working the vineyards of Northern California in the 1870s were said to "pick an average of 1,500 pounds [of grapes] a day."
According to the St. Helena Historical Society, "During a time of huge increase in vineyard development here, a large farm labor force was needed to clear land and plant vines."
In St. Helena, the "Chinese ghetto" was located on what is now West Charter Oak Avenue, set back from Main Street and parallel with it—described as a "smoky dragon," according to the Historical Society. "It was the first thing a visitor would see approaching St. Helena. Home to about 400 men at its height, there were open sewers and slaughtering between the shacks."
According to the Historical Society, white locals objected to what they considered to be a bad impression visitors had from Chinatown's location at the approach to town. The St. Helena Star at the time fanned the flames by publishing such descriptions of the ghetto as "filthy" and disease-ridden. "The entrance to town is marred by stench, noisy confusion, fighting, etc.," alleged the paper. Local merchants were also incensed that the Chinese only shopped in Chinese stores.
Threats and protests
Eventually, said Burlingame in her recollections, white people drove the Chinese out of the region. She said Irish immigrants were particularly hostile, after they too arrived looking for work following completion of the railroad.
"There was a bad unemployment period, and they threatened my father for employing Chinese," said Burlingame. "They said to him, 'Your barn might burn down one of these days if you keep this Chinese labor. We need work.'"
Every year, anti-Chinese sentiment grew worse, and violence against the Chinese began to escalate. Italian immigrants started to move into wine country at about the same time the Chinese workers were demanding higher wages. The Italians began to replace the Chinese in the vineyards in part, according to the St. Helena Historical Society, because "grapevines began to be planted with the trunks pruned to waist height to protect delicate vines from frost and heat. A taller man could harvest the crop without stoop labor."
Anti-Asian leagues sprang up in many areas to find ways to push out the Chinese once and for all. Violence and discrimination made many Chinese immigrants feel vulnerable and so they moved to larger cities. In 1885, according to the St. Helena Historical Society, a "huge" protest against the Chinese was organized and an anti-Chinese league was formed by 300 to 400 residents––prominent citizens who wanted to rid St. Helena of the Chinese by any lawful means. Yet despite being a frequent critic of the Chinese, the editor of the St. Helena Star cautioned that the grapes could not be harvested without them.
"Eventually, the large Chinese population in St. Helena disappeared," according to the Historical Society. A series of fires seriously damaged St. Helena's Chinatown over many years and finally destroyed it completely in 1911.
The immigrants' story
In 1882, President Chester A. Arthur signed the Chinese Exclusion Act, prohibiting all immigration of Chinese laborers for 10 years. The only exceptions were for merchants, teachers, students, travelers and diplomats. The law was renewed and extended for decades until it was repealed during World War II when China became an ally of the United States in its fight against Japan. Chinese immigration in large numbers didn't take place until 1965 with the passage of the Immigration and Nationality Act.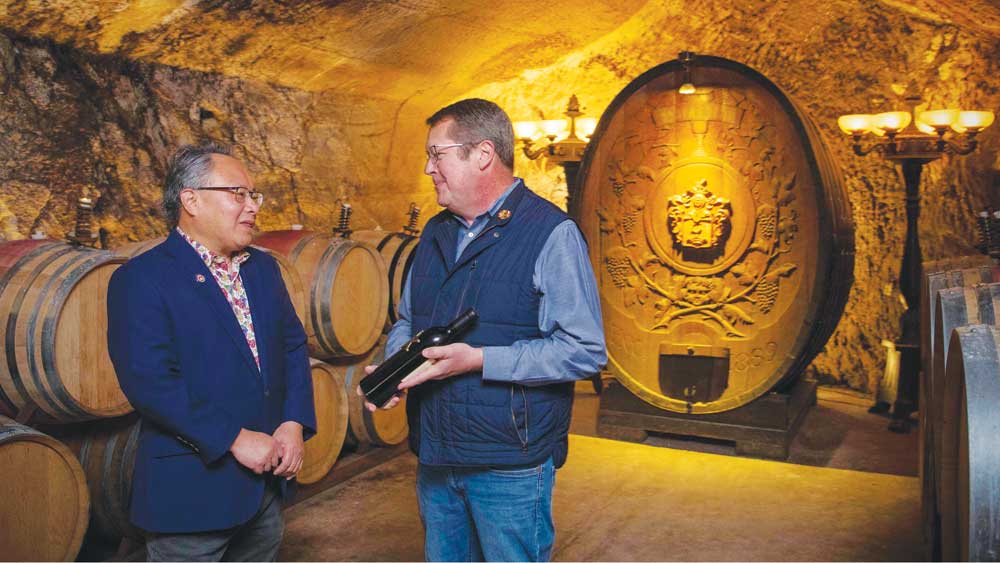 "Buena Vista is a winery of immigrants," says Blackwood. "The Count was a [Hungarian] immigrant and our property and vineyards were built and tended by immigrants. That's the American story. That's what it's all about."
Ding says the drive to build a ting and educate residents and visitors about the opposition the Chinese workers faced as they laid the groundwork for the wine industry is all the more important today as anti-Asian sentiment has risen sharply across the United States in recent years. One in six Asian American adults reported experiencing a hate crime or hate incident in 2021, notes Ding.
Last May, during his term as mayor, Ding delivered a public proclamation on behalf of the City of Sonoma—to celebrate the contributions of Asian immigrants to the area and acknowledge the ill treatment they endured.
"The role of Asian Americans in Sonoma County has largely gone unrecognized, especially concerning the contributions made in agriculture," reads the proclamation, noting that today California is home to 32 Asian ethnic groups and 77 Asian languages.
"Violence against Asian Americans and Pacific Islanders, along with the Indigenous Peoples of the United States and Black and Brown Peoples, existed at the founding of this country and regrettably continues to this day," it continues.
The proclamation served to "officially apologize for the unjust mistreatment of Chinese immigrants living and working in the City and Valley of Sonoma" during the 19th century.
Sonoma was the sixth city in California to issue such an apology, following the cities of Antioch, San Jose, Los Angeles, San Jose, San Francisco, Oakland and Pacific Grove.
"I feel I have a responsibility and obligation to present a true and complete history to the community and generations to come," says Ding about his support for Ting Sonoma and other education initiatives about the history of the Chinese workers in the region. "(To) let them know who they are and where they came from.
"The Chinese-Americans' story is an American story."
Sonoma Plaza Mobile Tour on the Way
A mobile tour is under development for visitors to the Sonoma Plaza, who will soon be able to link to a web page on their mobile devices and learn about 10 attractions around the historic plaza as they walk through the area. The tour is expected to roll out within a few months, available in English and Spanish.
"This mobile tour is aimed at both locals and tourists," explains Jim Silverman, a Sonoma resident who dubs himself a "storyteller" about the history of the city. He's been working with the Sonoma Community Center on various ways to engage people in the history of the city. "We're giving this tour away––it will be free, but there will be a tab on the web page where users can donate if they feel we did a good job." The 10 stops on the mobile tour, each lasting approximately two minutes, explain the history of the Plaza along with personal memories from some of the city's 20th-century residents, he adds.
In addition, Silverman is helping to develop a set of coloring pages of interesting buildings around the Plaza. "The pages will be on a special website where they can be printed out. Children can color in the images and bring them along when their families visit Sonoma Plaza. It's an easy stepping stone to get kids interested in the history of the Plaza, and they can match their colored-in pages with the real buildings when they visit."
Ting Sonoma Project
It began as a way to honor the 19th-century Chinese laborers who were so integral to the building of the California wine industry in this region. The goal is to erect a colorful pavilion, called a ting, in Sonoma's historic Depot Park, inspired by centuries-old Chinese designs. It is intended to give visitors and townsfolk a place to reflect, as well as promote education and community engagement to counter the rise of anti-Asian sentiment. "The ting will embody the values of the City of Sonoma as an inclusive space that welcomes and celebrates diversity," according to the Sonoma-Penglai Sister City Committee, which oversees Sonoma's sister-city partnership with Penglai, China. Like Sonoma, Penglai is known as a winemaking region with a strong tourist economy.
The Sonoma-Penglai Sister City Committee has been raising funds to build the Ting Sonoma for several years, but not without its challenges. A commemorative-brick campaign—in which donors' names would be permanently etched into bricks in a pathway leading up to the ting—first began among residents and at multiple large events, such as wine auctions, before the pandemic lockdowns brought an end to most get-togethers. Selling the $1,000 bricks slowed down, and though the bricks can still be purchased to raise money for the project, the committee has pivoted to a new fundraising strategy based on the new estimated cost of the project.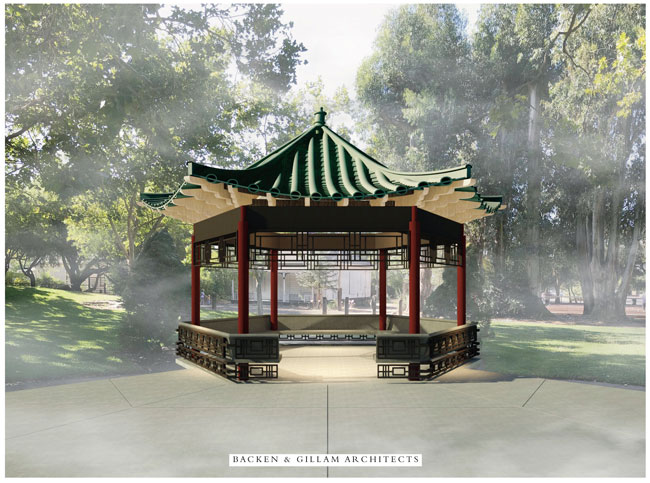 "Our original plan was to have the Ting imported from China in a kit form; the estimated construction cost was $65,000. However, the design did not meet the building code standards required by the City of Sonoma," explains Peggy Rubens, chairperson of the committee. "Next we set our sights on raising about $120,000 to build the ting from scratch, figuring that would be enough to cover the cost in 2018-2019 dollars. It took two years to create plans and gain approval from the City; we received our building permit just before the pandemic. Because of construction cost escalation, the latest construction figure from our contractor is $721,112 [as of December 2022, and subject to further price increases]."