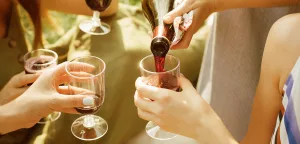 With the 2023 Harvest in full swing, there's never a better time to solicit perspectives of those in the wine industry. NorthBay biz reached out to several industry experts to pose a crucial question: If you could go winetasting with any historic figure—and any well-known person of today—which two people would you choose?
Sit back and un-wine as you read through the wine-derful answers sent in by some local vintners and winemakers.
Pete Soergel, winemaker at Lynmar Estate Winery, Sebastopol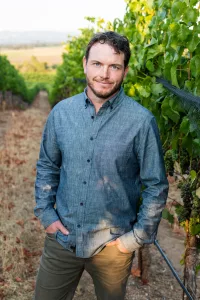 If I could choose a historic figure and well-known person to taste wine with today, I would choose Theodore Roosevelt and Eddie Vedder. Theodore Roosevelt did so much for national parks and national forests. Spending an afternoon with him would be humbling—and I bet he could drink a lot.
Working in wine production, harvest days can be long—and that is why I chose Eddie Vedder from Pearl Jam. His music helps the work go a little quicker. Eddie tends to drink wine during his concerts, and I am always curious what bottle he has on stage.
I would take Theodore and Eddie throughout the Russian River Valley to taste pinot noir and chardonnay because that is my background, and it would be enjoyable to get their sense of the region and its wines. Who knows how the evening would end up!
Amber Moshin, marketing coordinator at Moshin Vineyards, Healdsburg
If I could go wine tasting with any historic figure, it would be Thomas Jefferson. According to Monticello Wine Company, "Thomas Jefferson is described as America's 'first distinguished viticulturist' and 'the greatest patron of wine and wine growing that this country has yet had.'" Just take a look at the following quote from Jefferson: "We could in the United States make as great a variety of wines as are made in Europe, not exactly of the same kinds, but doubtless as good."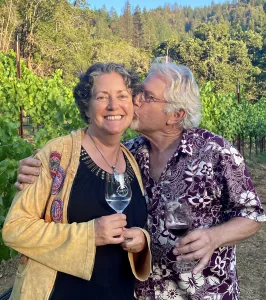 Joining us on the wine tour would also be wine industry contemporary, Randall Grahm, who is so much more than a winemaker, viticulturist, gourmand, cook and writer. Grahm was also an inductee into the Culinary Institute of America's Vintner's Hall of Fame in 2010. I have always admired Randall's witty and playful sense of humor that he brings to an industry that can occasionally be described as pretentious.
With these two legends in tow, I would likely sit back, let the magic happen, and do my darndest to document such an unusual wine-drenched experience!
Stuart Smith, founder and general partner at Smith-Madrone Vineyards & Winery, St. Helena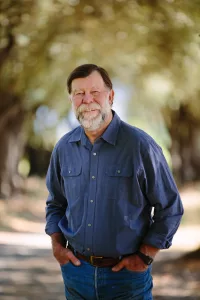 The historic figure would be C.S. Forester. As a kid I loved his Horatio Hornblower books and thought I would grow up to be a naval architect partly from the world he created in those swashbuckling stories. I credit a lot of my values to what I saw played in his books—ethics, bravery, manners, curiosity, etc. I'd love to drive him around the Napa Valley and get his reactions to the many faces of the wine business, and then end up at our ranch where I could show him 300-year-old redwood trees while we drank wines made on that spot. I'd open cabernet sauvignon and riesling both from the 1988 vintage.
For the modern person, I'd invite Randy Rainbow. He is such a clever performer and has such a wicked sense of humor, it'd be fun to see the Napa Valley through his eyes. I admire enormous creativity in terms of words and music; that's an area I have no aptitude for. I'd open one of our older rieslings and a current riesling, to show that what's in the bottle is so much more important than the hoopla that goes into marketing.
Martha Barra, owner Barra of Mendocino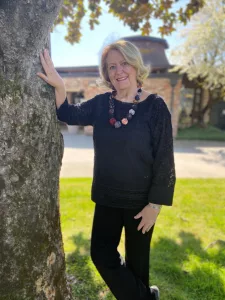 For the historic figure, I would choose Jesus. With the high cost of anything to do with farming, it stirred my interest in the prospect of turning water into wine. The reference is from John 2, verses 1-11. This was Jesus's first miracle. He was at a wedding in Cana with his mother; the guests ran out of wine, so he turned the water into wine. I would really love to taste that wine. Wouldn't it be interesting to perform the chemical analysis on that one! Meanwhile I'd pour him a glass of our pinot noir, which tells our Mendocino story in a sip.
For the contemporary person, I'd choose [British wine critic and writer] Jancis Robinson. Some years ago, when our wines were being sold in London, she made some very nice commentary about them. I've been following her since then. She has a history of 45 years of writing and educating about the international wine trade (I have 43 in the industry!). It'd be great to show her our pinot blanc vines planted in 1962, which have been organically farmed from the start, and enjoy a glass of that wine together while walking through the vineyard.
Renée Brown Stein, owner Notre Vue Estate, Windsor
My historic figure would be the painter Camille Pissarro, who was a Danish-French Impressionist. I've never been more moved by any other artist in my life, and I would like to know his inspiration. I would open our rosé, a pale peach-colored celebration of grenache/syrah/mourvèdre and relax with him on our Terrace at Block 23 with its view of our lake and the magical expanse of the Russian River Valley. I would ever so kindly ask him to draw a painting of "Our View."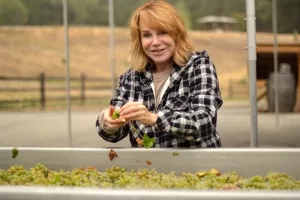 My modern guest would be Vladimir Putin—quite an ask but why not? I'd take him through our vineyards and show him the diversity of the 16 varietals we farm and then return to the terrace and open up some of our best estate wines, from chardonnay musqué to our rich and robust Estate Red to our elegant cab franc. My hope would be that by arranging for him to enjoy the Sonoma wine country hospitality experience, it might break the barrier that the international political system can't. Sometimes the road to peace is getting back to the basics of human connection, which is so much a part of what Sonoma County hospitality is all about.
Catherine Bugue, co-founder Napa Valley Wine Academy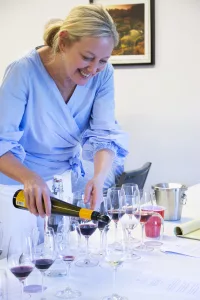 For my wine tasting adventure with a historic figure, I'm going with Raymond Bertrand de Got—aka Pope Clement V. Why? Tasting great wines in a beautiful setting while traveling is one of my greatest pleasures. Pope Clement V (1264-1314) had the good sense to move the papal residence to the sun-splashed southern Rhone (I'll travel to him); into a spectacularly new castle (good views, I assume); and he drank top Bourgogne wines (because that's what the Popes did.) And, if he was in a "drink local" mood, well then, we'd be tasting the also-very-delicious Chateauneuf-du-Pape (as they are now called), so it's a win-win either way with the wine tasting. me, the Pope, southern France, a castle, and glasses filled with Grand Cru Burgundy or Chateauneuf-du-Pape.
For a well-known figure today? Now that I've drunk with the papacy, why stop at Clement? I'm thinking that Pope Francis has some pretty good wines at his disposal. He supposedly said recently, "Water is needed to live, but wine expresses the abundance of the banquet and joy of the celebration"—later adding, "Wine is necessary for the celebration." I'm with Pope Francis, and with the climate, political and other challenges we face today, I'm for making every day a celebration.
Eric Titus, owner Titus Vineyards, St. Helena
For the historic figure, I'd choose spending a day with Jacques Cousteau. Choosing him resonates with my background. I graduated and worked in marine biology at the University of Hawaii (before pivoting to join my family in the wine business). I was of that whole generation who grew up in the 1960s fascinated by Cousteau's undersea adventures, wanting to lead his life as a world explorer. As an educated Frenchman he had a deep appreciation for wine, and his love of wine often wove its way into his narrative. I don't know if he was truly a connoisseur, but his expeditions were always well stocked with wine. One of his adventures involved recovering ancient amphorae in the Mediterranean, which he opened and drank. (And said the wine was delicious as well as well-aged!) I'd love to present him with our set of all five Bordeaux varietals in their handsome wooden box and taste along with him.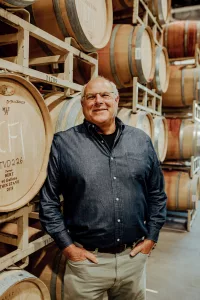 For the modern figure, I'd choose the academic thinker Jared Diamond. He's written a lot of insightful books; three of them stand out for me: Guns, Germs and Steel: The Fates of Human Societies; Collapse: How Societies Choose to Fail or Succeed; and The Third Chimpanzee: The Evolution and Future of the Human Animal. He is a professor of physiology at UCLA and a self-taught genius in a dozen other fields. He came to speak at a graduate seminar when I was at the University of Hawaii, and I had the good fortune to spend an afternoon snorkeling with him. I'd be quite interested in getting his perspective on the state of the domestic wine industry, and of the Napa Valley in particular and how the role of wine has evolved in our culture and society.