The popularity of Wine Country weddings is something we should all celebrate.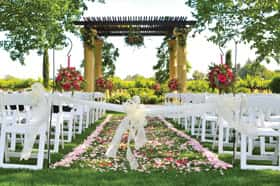 Weddings are, by definition, an occasion for celebration and romance—and the North Bay offers myriad opportunities for both. Whether you want a Bohemian beach vibe, a simple country ceremony or an extravagant soiree in a vineyard, you can find a Wine Country location to fit your vision. Maybe that's why so many people choose to get married here.
The good news is that weddings are big business and, in addition to all the happy couples that call the North Bay home, there are hundreds each year who come to the North Bay specifically to tie the knot. Many have been here before and love the area, but there's also a large number who've never visited yet are drawn in by the region's beauty and mystique.
According to Susan Montes, meeting sales and services manager and "unofficial resident wedding expert" for
Sonoma County Tourism
, the site gets more than 300 inquiries annually from couples hoping to wed in the county.
Visit Napa Valley
likewise reports receiving multiple inquiries every week from couples interested in a Wine Country wedding.
Jump right in
Planning a destination wedding is "a huge leap of faith," says Janice Twomey, a certified wedding and event planner and proprietor of
Rue 29 Napa Valley
. "Quite often, couples enter contracts with venues and vendors based on telephone conversations alone."
The good news, says Jackie Jones Wilson, founder of
Enchanted Weddings
in Santa Rosa, is that "technology has eliminated a lot of the guess work, because it's now possible to take virtual tours of venues, Skype with vendors—even share databases and create websites dedicated to planning and keep everyone involved up-to-date."
That said, it's still about personal relationships. "I always advise my couples to interview lots of vendors—and to try to have both of them on the call or at the site visit," says Twomey. "You need to really like and trust your vendors."
One of the best ways to ensure successful planning from a distance is to hire someone to oversee the event from a closer vantage point. Whether that's a full-service event planner or a day-of coordinator, the goal is the same: managing the details—including anticipating and solving problems—to make the wedding day as seamless, stress-free and enjoyable as possible for all attendees.
"The feedback we get from clients is that we're very good at getting to know them, understanding what they want and directing them to appropriate vendors," says Wilson, who has a long background in fine dining and hospitality before starting her company in 2001. She works closely with an associate planner, "who can manage entire events," and also brings in additional assistants ("trained by me and who understand exactly what we need") as events dictate.
Like Wilson, Twomey's experience is rooted in the hospitality industry. Her years in luxury hotels have taught her to "listen, take good notes and don't talk too much. The couple will tell you exactly what their vision is for their wedding—and, in some cases, the entire destination weekend. My job is to execute it flawlessly."
The most important step for any successful event is to determine a budget—and stick to it!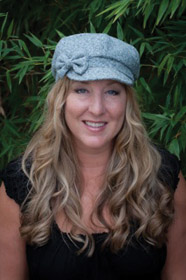 "Destination weddings that include added touches like a vineyard background, professional vendors and a hired planner typically start at $45,000," says Wilson. "Many go into six figures."
Twomey advises couples to "be very clear with what their budget is before they sign any contracts." As a rule of thumb, she says, expect the venue (including food and beverage) to account for about 50 percent of the total wedding day cost, with the balance split among vendors, transportation, wedding favors and the like. She also suggests purchasing wedding insurance and setting aside 5 percent for unexpected contingencies (tenting in case of rain, for example).
A local wedding planner can help narrow venue choices based on budget, guest count and the couple's artistic vision of their ceremony. It's this last item that can quickly become a sticking point. "Many couples expect to be able to get married at a winery in Napa Valley," says Twomey. "But when they begin to research it, they find the Ag Preserve laws prohibit weddings at most of them, with the exception of a few wineries in St. Helena." There are, however, certain Napa Valley wineries that can host the reception but not the ceremony, or that are available for rehearsal parties and smaller celebrations.
It's a little more lenient in Sonoma County, and both planners are quick to point out that there are also many non-winery venues on either side of the Mayacamas that include vineyard views and Wine Country ambiance.
Once a venue and vision have been determined, it's time to find vendors who can fill in the picture with the special details that make each event unique (florists, photographers, music and the like). "Each and every couple is different," says Twomey. "And each of my weddings is a true, authentic representation of that couple. It's such a privilege to bring those visions to life."
Wilson also helps create custom events based on each couple's needs and requests. In the case of destination weddings, that can often mean helping plan days-long itineraries for entire wedding parties—sometimes hundreds of guests. "Usually the couple has been to the North Bay at least once before settling on Sonoma or Napa for their wedding," she says. "More often than not, though, our clients' guests haven't been to Wine Country, so it's that much more of an adventure for the entire group."
A small welcome gift can set the right tone, as can advance communication. "We recommend couples create a website; we actually provide a tool to help them," says Wilson. "It usually goes up about the same time the save-the-date is mailed. It's a great way to share information about hotels, airports, restaurants, places to visit and points of interest." Twomey further suggests opening a dedicated email account just for wedding correspondence and details.
There's often a family reunion element to destination weddings, since the couple and guests are typically in town together for a few extra days, either before or after the ceremony. So why not expand the party?
"When guests arrive [from out of town], my clients typically have something planned and waiting for them," says Wilson. "Not necessarily a full itinerary, but at least a schedule of planned events including pick-up times and other pertinent information, as well as some suggested places to visit."
Both Twomey and Wilson remind that many wineries require advance reservations for large tasting or tour groups—or simply can't accommodate them. An event planner familiar with the area can help make sure such details don't get overlooked and can also suggest specific attractions that may interest certain guests (Safari West for families with kids, for example).
"Another popular choice is to rent a whole facility—like a campsite, resort or B&B—for a weekend," says Wilson. "Then, the wedding becomes part of a much bigger get-together, and all sides of the families get to know each other in an extended celebration. The benefit of this is that, by the time of the actual wedding ceremony, everyone is really comfortable with each other. Everyone gets more out of it socially, and you definitely get better pictures."
Making wedding guests feel special, especially when they've traveled from a distance to attend, should always be a priority, according to Tamara and Lauren Beauchamp, the mother and daughter team behind
Beaux Champ Events
, based in Petaluma. Luckily, small gestures work great.
They suggest making "welcome packages," which can be as simple as maps, pamphlets and links to the couple's favorite places (restaurants, local sites of interest and activities, for example). It could also include an organized wine tasting, hike or group activity.
"Another way to make visiting guests feel special is, on arrival, have a welcome basket waiting for them at their hotel," says Lauren. "Include some local treats—maybe one of your favorites. And since this is Wine Country, maybe a personalized bottle opener or some wine.
Tamara adds, "We also recommend hosting a welcome dinner for all visiting guests. This could be at a favorite restaurant or as low-key as a picnic. It's a great way for everyone to break the ice and get into the spirit of the occasion."
Choosing the perfect venue for a Wine Country wedding can set the tone for the whole celebration. But it's not as simple as conducting a quick Web search and making a call. Finding the right spot depends on budget, number of guests and even season of the year.
According to Wilson, wedding season has been undergoing a shift. "Five years ago, it was almost by the book that wedding season was May through October," she says. "Now, it's not unusual for us to have events February through November. The most in-demand months are September through early November, when the vineyards are on fire with color. And with the weather patterns changing, it stays warmer later into the year."
Asked to name a few favorite venues, Wilson doesn't hesitate: "For a big, elegant event, there are three that stand out for me, because they're consistently strong in what they do, including maintaining the property, showing pride of ownership, and delivering consistently great communication between staff and the clients and all vendors.
"I love
Jacuzzi Family Vineyards
in Sonoma, which has a beautiful Tuscan vibe.
Cline Family Cellars
has a Southern plantation feel, with an enormous lawn and weeping willows. And
Vintners Inn
is beautiful and has the advantage of having lodging onsite, which alleviates the stress of transporting the bridal party from anywhere but their rooms."
Wilson points to
Dawn Ranch
in Guerneville (again, lodging inclusive), for a shabby chic, rustic vibe that can be brought up or toned down. For very small events and elopements, she again suggests Vintners Inn, adds
Madrona Manor
in Healdsburg and says, "
Viansa
in Sonoma has an intimate barrel room that's really lovely."
Finally, for those who choose a ceremony inside a church, temple or other house of worship, she shares, "
Ramekins
in Sonoma does an awesome job [with wedding receptions]. It doesn't have a vineyard, since it's in town, but it's so well put together and can be more accommodating for smaller budgets."
"
Just remember that, when you want to have your wedding at a winery or private estate, it will be more expensive than a resort or restaurant where a facility fee is all-inclusive," she cautions. "At a private estate or winery, your site fee usually is for the use of the property only. You'll need to hire a full wedding planner/designer—not just a day-of coordinator—and a caterer, possibly a design team, and you'll be responsible for furniture, linens, floral, labor and other expenses."
Twomey advises looking for midweek and off-season deals, since that's when venues and vendors are looking to fill their calendars and pricing can be as much as a few thousand dollars lower. If the ceremony is scheduled during peak season, Twomey says, it's crucial for the wedding party and guests to book all accommodations early.
Any marriage-related article in 2015 would be remiss if it didn't address the newest population to experience the joys and challenges of wedding planning. "When I started, about 5 percent of my clients were gay couples wanting 'commitment ceremonies' or civil unions," says Wilson. "Now, it's about 20 percent."
That could be, in part, because the North Bay has long been a safe, welcoming region for the LGBT community, so where better to come celebrate? And, maybe because it's a newly allowed experience, many gay and lesbian couples "want the whole she-bang," says Wilson. They want vineyards and romance, and they want to celebrate—really celebrate—with those who love and support them. Wilson recounts a favorite couple from Chicago, who hosted an entire Wine Country weekend for 120 people, including wine tastings, shared meals and an elaborate ceremony and reception. "I enjoyed every minute with them" she smiles.
Wilson says she hasn't experienced any resistance from venues when approached about same-sex weddings. "Most venues have someone whose job is to sell the property [as a desirable event location], so they wouldn't put someone in a position that would turn these weddings away," she says, before adding that she has encountered a small number of vendors who politely decline the business. "I'm being paid to suggest professionals that are appropriate to each couple," she says, "so I have to ask."
Twomey sees this kind of decision as shortsighted and encourages a bigger push to accept and support the marriage equality movement. "Love is love," she says. "To me, it's a civil rights issue, and I hope the Supreme Court rules accordingly."
What's more, Twomey continues, "States are finally realizing they should vote for marriage equality because it will translate into big money. The residual spend of a destination wedding is huge: hotel rooms and vacation rentals, airfare, rental cars and limos, local vendors—cake, hair and makeup, videography and photographers, musicians and on and on." And that's just the short list. Add in ancillary pieces like spa packages, golf outings, wine tasting, restaurants and shopping, and the numbers climb ever higher.
That's good news for the North Bay hospitality industry, which is continuing to bounce back after the recent recession. "Someone once did a poll that found about 70 percent of those invited to a wedding will attend. In Wine Country—especially for destination weddings—I think that number is closer to 80 percent," Wilson continues. "Because people want to come here anyway, and a wedding is a great excuse."
Seems the popularity of Wine Country weddings is something we should all celebrate.
According to
Tamara and Lauren Beauchamp at Beaux Champ Events, here are some popular wedding theme ideas:
Farm to Table:
So many rustic venues have been popping up from old working farms to beautiful barns on a piece of undeveloped land. This trend is and has been huge. Using farmhouse tables with lace, burlap or soft-colored table runners, as well as wild flowers in mason jars are popular choices. A nice touch is cross-back chairs. Many couples are going for a small cake with mini desserts, such as local mini pies, for a dessert bar. Using recycled furniture such as old shutters for your place cards, distressed old doors for an entrance, windows and wooden fruit boxes for cute props, sofa sets for lounge areas and chalkboards for menus, signature drinks signs and such are also fun ways to enhance this type of theme.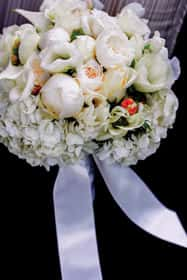 Classic Elegance:
We love all white weddings, or all white with just a hint of color. This look could be achieved by using long, rectangular king or queen tables with a silver sequin linen or runner, chiavari chairs and beautiful glass chargers with a hint of silver. A theme like this calls for classic china, glassware and flatware. Finish the look with white flowers in tall vases or cascading down the tables and lots of candles.
Garden Romance:
This is great for estate weddings. Use a combination of round and rectangular tables with natural-colored linens with wrought iron or wooden chairs. Italian globe lights hanging throughout the trees makes for great lighting. Lots of soft garden flowers add a nice touch. A simple, elegant white cake with garden flowers looks amazing. You can also hang flowers and candles above the table or on nearby tree branches. White china and very romantic glassware work nicely with this theme. If you're in a tent, soft-toned draping looks great.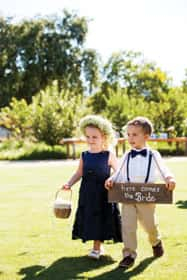 Oh So Vintage:
Lots of vintage lace everywhere. Use farmhouse tables with lots of vintage bottles for flowers. Mix-and-matched chairs look great with this. A chandelier hung over the tables or in the trees adds a classy touch. Use vintage china, mother of pearl flatware and beautiful vintage etched glassware. Think about adding vintage suitcases and hatboxes for a whimsical touch. Really, any interesting old props you can find at an antique store will add to your vintage feel.
By Janice Twomey, Rue 29 Napa Valley
A green wedding is simple. When a couple chooses to decrease the impact their event will have on the planet, they've made a conscious decision to have a green wedding. Many couples who live eco-conscious lifestyles believe it's critical to continue their commitment to the environment on one of the most important days of their lives.
One of the most important decisions couples make about their wedding is hiring vendors. By hiring and supporting local businesses that incorporate environmental responsibility into their own companies, couples will have a substantial impact.
By selecting seasonal, organic flowers supplied by a local florist, couples will be greatly lowering their carbon footprint. Some clients use plants such as succulents, which are easily replanted after the wedding to minimize waste, and let them continue to grow afterward.
Food is a big part of the equation. Some couples choose to work only with vendors who get all their food supplied by local and organic farmers. By choosing a menu that's in season, the environmental impact will be greatly reduced as well.
Wedding favors are another creative area to make a green choice. Napa is home to some wonderful chocolate shops. One of my favorites is Kollar Chocolates in Yountville, owned and operated by Chef Chris Kollar.
A fun favor can be a pot of local, organic honey. Marshall Farms apiary, another family-owned business, sells organic walnuts and almonds as well, which make a delicious gift for guests.
Another area for brides to consider is their wedding dress. Purchasing a vintage wedding dress or donating the gown after the wedding are both good choices.
As you can see, the possibilities are endless. No matter what's decided or how small, it does make a difference.