At a Glance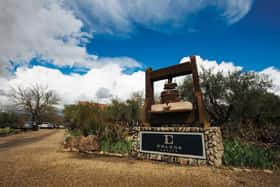 Ehlers Estate
3222 Ehlers Lane
St. Helena, Calif. 94574
www.ehlersestate.com
Hours: 9:30 a.m. to 3:30 p.m.
Tasting Fee: $35
Wines Offered: 2017 Sauvignon Blanc, 2015 Cabernet Franc, 2015 Portrait, 2014 Merlot, 2015 1886 Cabernet Sauvignon
(Selections subject to change.)
Picnics: Yes, wine club members.
Pets: Yes.
Did You Know? Ehlers Estate was awarded organic certification from the California Certified Organic Farmers (CCOF) in 2008, after three years of verifiable organic farming practices. Today, Ehlers Estate is farmed exclusively using earth-friendly organic farming methods to preserve the purity and character of the estate's fruit. The winery is known for its exceptional Cabernet Sauvignon, Merlot, Cabernet Franc, Petit Verdot and Sauvignon Blanc.
[Photos courtesy of Ehlers Estate]
Every morning at 6:30, winemaker Laura Diaz Muñoz, begins the day with a walk through the vineyard at Ehlers Estate in St. Helena to check the vines. And the crew that tends the vineyard also works in the cellar, as needed. "There's basically one sole crew for vineyard and cellar work. It's very unique," says Muñoz. So if there is one aspect of Ehlers Estate that sets it apart in the industry, it's that the work of Muñoz and crew is reflected in each bottle of wine.
Located on a historic winegrowing site in the northern part of Napa Valley in the acclaimed St. Helena appellation, the winery is a hands-on operation where grapes have been cultivated since the mid-1800s. Founder Bernard Ehlers purchased a 10-acre vineyard that was languishing in the late 1800s and replanted it. He also established an olive grove. In 1886, he completed construction on a stone barn that serves as the winery today. Originally known as Bale Mill Winery, it continued to operate long after his death when his wife took the helm and kept it in business until the 1920s, and then it was run by a succession of new owners.
A century later, husband-wife team Jean and Sylviane Leducq purchased the vineyard on Ehlers Lane and with the help of renowned enologist, Jacques Boissenot, they acquired additional local vineyards and replanted them. By the turn of the century, the winery was a 42-acre estate, with Bernard's original stone barn and vineyard at its core. The stewardship of Ehlers Estate is now in the hands of the Leducq Foundation, based in Paris, France. Its mission is to improve human health, and their efforts are focused on cardiovascular disease. If you look closely at the Ehlers Estate label, you'll notice a heart embedded into the logo.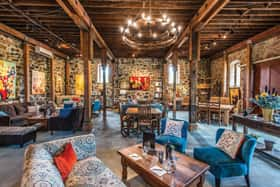 Tastings at Ehlers Estate are intimate and personalized. And while there is a bar, there are also clusters of comfortable chairs and sofas for seated tastings. On a Tuesday afternoon during harvest, Muñoz arrives from the tank room where she's been working throughout the day, wearing jeans and a cotton shirt, her fingertips stained with fruit from the vine.
We begin with the 2017 Sauvignon Blanc. Fresh and crisp, it's a lovely welcome wine. "It's expressive aromatically and made in the California style," says Muñoz. If you think you don't like Sauvignon Blanc, be sure to try this one. Next, we taste the 2015 Cabernet Franc, a lovely fragrant wine with a distinct black fruit flavor.
Originally from Madrid, Spain, Muñoz joined Ehlers Estate in July after more than a decade at Jackson Family Wines. She brings a range of international experience, having studied enology at the Polytechnic University of Madrid and by working abroad at Marlborough, New Zealand, and Chile. As winemaker, she embraces the opportunity to work at an organically-farmed vineyard with her own vineyard crew. "Here we have 100 percent control of the process, which is unique and attracted me from the beginning," says Muñoz. "Ehlers is conscious of the environment and practices sustainable farming practices in every aspect."
Next, Muñoz pours the 2015 Portrait, a signature red blend that is authentic to the estate and its varietals—Cabernet Sauvignon, Merlot, Cabernet Franc and Petit Verdot. This is a fruit forward, full-bodied and complex Bordeaux-style blend. We also sample the 2014 Merlot, which is subdued and elegant with flavors of plum, cedar and black licorice. "It has a lot of red fruit, and because of the acidity it ages well," says Muñoz. "This is a food-friendly wine."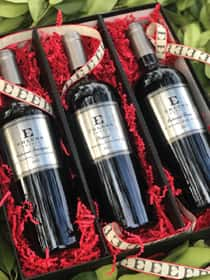 Finally, we end with the winery's flagship wine, the 2015 Cabernet Sauvignon—known as 1886—an homage to the year the stone barn was built on the property. Rich and complex, this is a classic Napa Valley Cabernet Sauvignon with notes of black plum and red fruit melody, and a wine that will age well for decades.
In the days following her first harvest at the winery, Muñoz looks forward to her role there as winemaker. "I don't plan to change the wine intentionally," she says. "But to make them better and to give them more texture and volume. I will make changes that make sense." Next time you're in Napa Valley, make an appointment for a seated tasting at Ehlers Estate, where the heart and soul of the winery is a joint effort of the winemaker and staff. Says Muñoz, "This place has a good spirit—it's solid. I want the wine to shine and to share the knowledge of this vineyard to elevate the experience for our guests."