The Taste of Tea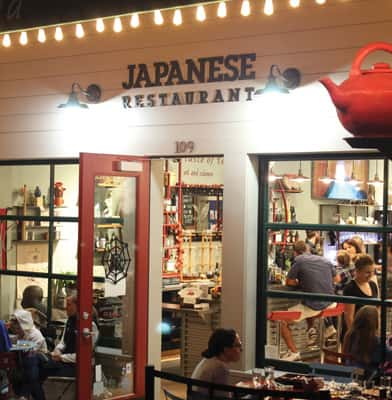 109 North Street
Healdsburg, Calif. 95448
(707) 431-1995
www.thetasteoftea.com
Japanese Cuisine
$17 to $23
Open Thursday-Monday
11 a.m. to 8 p.m.
Reservations encouraged
Saké/Beer/Saké Cocktails
[Photos courtesy of The Taste of Tea]
Omotenashi is a word the Japanese use to describe their unique approach to hospitality. And it's not just hospitality in the usual sense, but an elevated politeness that involves anticipating the needs of guests, which is at the heart of the concept. The inspiration behind The Taste of Tea began with Nozomu "Nez" Tokugawa, executive chef and co-founder. Born in Japan and of Samurai descent, Nez had a longing to nourish people and share the heritage of Japanese hospitality and its tea culture with Americans. But since opening four years ago, the business evolved and now serves lunch and dinner. Once you step inside, you're transported to another world, and it's clear there's much more going on than simply tea. "It's a cultural experience meant to transport you to Japan," explains his wife, co-founder Donna Tokugawa. A family-owned venture, The Taste of Tea is equal parts restaurant, boutique and spa. It's a popular spot for couples, bridal parties, or anyone who needs to relax and hit the reset button on life. Their daughter, Tai, is also a co-owner and serves as general manager.
Alex and I arrive on a Thursday evening and Donna greets us at the door, seating us at a table by the window. In the Japanese custom, we're each presented with menus and a compressed bamboo fiber towelette, infused with green tea and served on a leaf-shaped plate to freshen our hands. Since wine isn't traditionally paired with Japanese and Asian flavors, you won't find it on the menu. But there's a wide selection of saké and saké cocktails, marTeanis (mocktails), lagers and ales.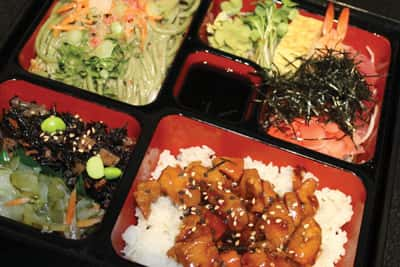 We begin with drinks and a small bite, pickled sea vegetables. I ordered the Bees Knees, a classic that dates back to Prohibition, but The Taste of Tea gives it a modern take with Blessings saké and honeybush, muddled with sweet basil. It's light and refreshing, yet has a prominent structure. We also share a premium tasting of three sakés. The first on our flight, No Bounds, is elegant and balanced with a creamy finish, and my personal favorite. The Nechi is robust with a crisp finish, and Ocean Spirit is made with citrus fruit and has a bright refreshing taste, much like lemonade but with a kick.
For an appetizer, we share the gyoza, a small plate of mouthwatering dumplings filled with either pork or vegetables, which are handmade, delicate and served with a special seasoned soy sauce. For the entrees, we share two popular choices on the menu—the seafood ramen and classic bento. Entrees are served with either a garden salad, or miso soup. We order one of each, and I highly recommend trying both. The miso soup is exceptional, and the garden salad is served with a carrot-ginger dressing so on point that we inquired about the ingredients, but the recipe was handed down from Nez's mom and is secret sauce in the Tokugawa family. "Even I don't know what's in it," says Donna with a smile.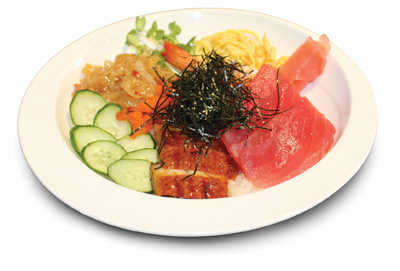 The seafood ramen is beautifully presented, served in a large bowl with a medley of scallops, shrimp and squid with a soy-infused egg and a steamed fish cake. The classic bento is served in the traditional bento box with a choice of chicken, beef, fried tofu, or grilled Unagi, freshwater eel and a delicacy in Japan. We opted for the Unagi, which is known for its fresh, bold taste and mild texture. At Taste of Tea, the flavors are focused, and you'll find that healthy doesn't mean tasteless. "This is healthy comfort food," says Donna. "You'll feel like you're indulging without the guilt.
For dessert, we sample the ginger rice pudding topped with candied ginger and fruit. If you love rice pudding, you'll enjoy the Japanese take on this classic. Another great choice is the matcha cheesecake with black sesame gelato. You won't find cheesecake like this anywhere else, and the gelato is fabulous with a sweet nutty flavor, yet not too sweet, and not too milky.
The Taste of Tea is one of those hidden gems you don't want to miss. It captures the spirit of Japanese flavors and hospitality so authentically that it's recommended in international tourist books, and it's become the haute spot for Japanese visitors. Next time you're in Healdsburg, stop by and get a taste of Japanese culture.