The number of breweries that opened in the U.S. during the past 20 years has skyrocketed, as the popularity of craft beer has grown. As of 2018 there were 7,450, and another 2,500 are expected to open in the next two years. Before the National Prohibition Act of 1919, breweries dotted the landscape, but the act temporarily abolished the commercial market for alcoholic beverages. Without access to drinkers, the tradition of making specialty beers faded and verged on extinction. Today, there's a renaissance, and it began in Sonoma.
In 1976, Jack McAuliffe started New Albion Brewing Co. on the outskirts of town. Six years later the brewery closed for lack of funding. Ahead of his time, McAuliffe is known as the father of craft beer in the U.S. He influenced many of the beer-brewing pioneers that followed, particularly those in Northern California.
Tony Magee began brewing beer in Petaluma using a stovetop home brew kit. He went on to found Lagunas Brewing, now owned by Heineken. Russian River Brewing of Santa Rosa and Windsor attained international acclaim with the release of Pliny the Younger, rated best IPA in the world by BeerAdvocate. Following in those impressive footsteps, an array of smaller craft breweries have opened in Sonoma, Marin and Napa counties, many in the past three to four years. They're dedicated to quality, and each brewery is unique in carving its own path.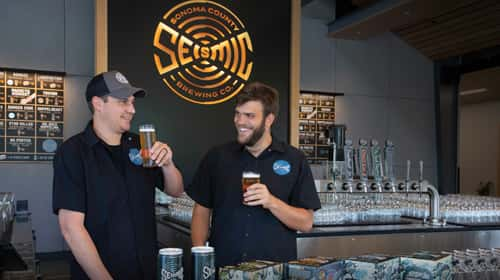 Sonoma County
Seismic Brewing Co.
Seismic Brewing Co., located in Santa Rosa, and now with a taproom at The Barlow in Sebastopol, celebrated its second anniversary this year. Founder Chris Jackson is the proprietor of Stonestreet Winery and son of Barbara Banke and the late Jess Jackson. The idea for a brewery came about through discussions with college roommate Patrick Delves, now director of marketing. Later, brewmaster Andy Hooper, formerly with Anderson Valley Brewing Co., joined them. "Seismic is a team collaboration," says Jackson. "Our goal is to produce high quality beer, while balancing tradition and innovation."
That balance is evident in the Kölsch-style ale called Liquifaction. The ale, with a flavor both soft and complex, originated in the early 1600s in Cologne, or Köln, Germany. The town suffered massive destruction during WWII, and its beer making tradition collapsed. Now there's a comeback underway.
"The fruity, malty taste and the color of Kölsch is similar to a lager, though brewed at higher temperatures, it's actually an ale," says Hooper. "Liquifaction's made with German malts and German hops. It's our sole concession to US sourcing. The blend of Germanic Pilsen, Vienna and Sauer malts plus wheat produces a bready, biscuity, sourdough flavor. And the Ariana, Callista and Hallertau Blanc hops used in the final brewing process adds aroma."
Seismic offers 15 beers —a mixture of limited-release droughts and core offerings, and five of Seismic's current beers on tap medaled recently at major competitive tastings. Alluvium Pilsner earned silver at the California State Fair in 2018, and Tremor Light American Lager and Danger Zone Goose took home bronze and silver, respectively, at the 2019 State Fair. Namazu Oat Pale Ale won silver at the 2019 U.S. Open Beer Championship, and Shatter Cone IPA won gold at the same competition.
As for Seismic's core offerings, they are available in drought and in cans—which chill quickly and protect beer from light and oxygen better than bottles—and are for sale at Oliver's Markets, Safeway and other North Bay outlets.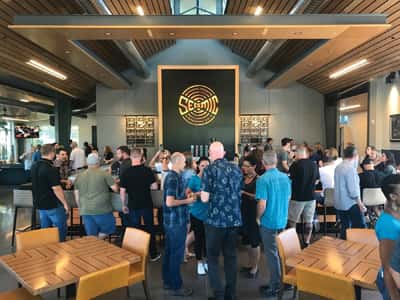 Along with quality, sustainability is an important part of Seismic's philosophy. "We're fortunate to live in a beautiful place," says Jackson. "I come from an agricultural family, and I'm a dad. I want to leave the environment as my parents left it to me, and their parents to them." Tap handles, designed and crafted by Hoptown Handles, are made from Forest Stewardship Council (FSC) wood. A local rancher utilizes the spent grain for animal feed. And malt bags go the Russian Riverkeepers and Clean River alliance for watershed cleanup. Seismic has its own wastewater treatment plant. "Seventy percent of our water is reclaimed and used for cleaning and sanitation purposes," says Jackson. For any other operational environmental impact that's left, including employee commutes and beer deliveries, Seismic purchases carbon offsets.
The brewery's taproom in The Barlow opened the weekend of July 4th. Seismic joined two other breweries there—Woodfour and Crooked Goat—to provide beer lovers with a range of tasting experiences. The well-appointed taproom has glass-paneled, roll-up walls that reveal an inviting outdoors area with comfortable seating and fire pits. Beers are served in traditional glassware—a stange for Kölsch, a Frankfurter mug for light lager, a fluted glass for pilsner and tulip-shaped Belgian stemware to enhance the flavors of hoppy, malty brews. "We're excited to be at The Barlow. It's a friendly, welcoming place, and only six minutes from our brewery. Beer arrives fresh and ready to drink," says Jackson.

Cooperage Brewing Company
For good fun and innovative craft beer, regulars veer off the beaten path to Cooperage Brewing Co. in Northwest Santa Rosa. The brewery celebrated its fourth anniversary this June. For founder Tyler Smith, the journey's been a labor of love. He started as a home brewer in Orange County. Prompted by frequent trips to Northern California to visit now wife Stephanie, and hanging out at Russian River Brewery, he decided to relocate. Without funds for a full-size operation, Smith made wort, or unfermented beer, at the nearby Plow Brewing Co. This year Smith expanded the brewery with the acquisition of a 30-barrel fermentation system. Since then, Cooperage has landed 170 accounts. "We had a lot of customers waiting," says Smith. In addition to kegs, Cooperage offers beer in cans with hard to miss funky graphics.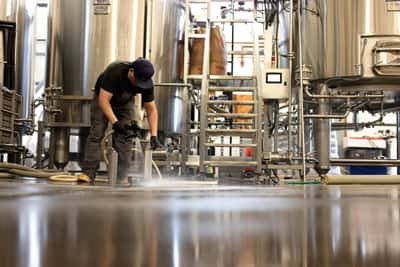 The open, warehouse-like taproom has the feeling of a neighborhood—a place to enjoy a good beer among friends. Bring the family, and the dog, too. High tables with stools abound. The works of local artists line the walls. There's foosball, a game table with Scrabble, Sorry! and Battleship and a retro arcade machine.
"I got into the business because I like beer. And I like to make things," Smith said. That's evident in the array of wood-topped tables and a 32-foot long bar supported by barrel staves built by Smith and his father-in-law. The bar top came from a recycled old growth redwood log that supported a now dismantled wooden bridge.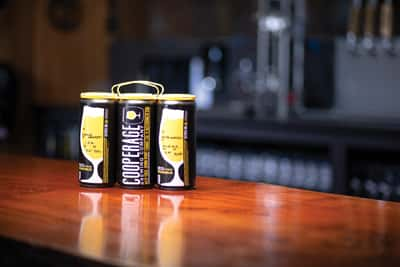 Beer offerings include a rotation of hoppy and Belgian styles. "Being small is an advantage," says Smith. "We're able to offer a new beer every time a customer walks in the door." Cooperage beers come with quirky names. A summer favorite, Wok This Way, made with 20 percent rice has a crisp and refreshing taste. Cotty by Nature has apricot flavors, and Distraction to Static is a sour blonde beer aged in gin, whiskey and wine barrels. Creativity runs rampant at Cooperage—not only in the brewing process, but also in the competition for new beer names. "Employees list nominees on a whiteboard," says Smith. "We've already gone through 150, so it's becoming more of a challenge." But every challenge that comes Smith's way seems well worth the investment. "Cooperage is all about community. It's a lifestyle, a passion, and a dream come true."
Marin County
Moylan Brewing Co.- Marin Brewing Co.
A first-generation Irish American, the affable Brendan Moylan's parents migrated from Ireland. His initial attempt at brewing beer began when he bought the Christmas present he really wanted and didn't get—a home brewing kit. "My first batch was awful. I had to throw it away. Then things got better," says Moylan. His epiphany came the day he strolled into Buffalo Bill's in Hayward. Buffalo Bill's lays claim to being the second brewpub in the state and third in the country. "I was wowed by the concept of a brewery combined with a restaurant," says Moylan. In 1989, along with the late restaurateur Craig Tasley, he co-founded Larkspur Landing's Marin Brewing Co. "Craft is not necessarily about the size of the brewery. Craft is about quality," Moylan said. "Admittedly the larger the operation, the more difficult it is to be flexible. Smaller breweries like ours have an edge."
Following the success of the Larkspur operation, Moylan opened a $3.5 million brewpub in Novato in 1995, built to his specs. Spacious with a high vaulted ceiling and a 55-foot long bar, it's a family place. Twenty beers ranging from light lagers to robust ales are on tap. One of those ales is Hopsickle. With 120 International Bitterness Units (IBU's), it's described as the "hoppiest beer on earth." That claim is disputed by a recent entry, the Hop Craic XXXX IPA, with 130 IBU's. Menu offerings include classic pub foods such as fish and chips, bangers and mash, and garlic fries.
"We started in the business early, so our beers have gained recognition. Our 22-ounce bomber bottled beer is in five states, and kegs are distributed throughout the Bay Area," says Moylan. The Novato brewery has won an impressive 113 gold medals and Marin Brewing another 100. "One year at Denver's Great American Beer Festival we won a total of six," says Moylan.
Arne Johnson has been brewmaster at Marin Brewing for 24 years. "I love my job. I get to make beer every day," Johnson says with a smile. "I particularly enjoy making beer at a brewpub. I can join customers for lunch at the bar and hear what they think about the latest batch." Johnson makes up to two new beers a month. A recent creation, Chill Haze, is a fruity, hazy IPA with low bitterness. "My haze is a derivative of the classic. The original retains a lot of yeast in suspension. Mine doesn't." Marin Brewery's flagship is Mt. Tam Pale Ale, with the 3 Flowers IPA a close second in popularity. The name 3 Flowers comes from Citra, Cascade and Chinook—the hops liberally used in the brewing process. They contribute a pleasant citrusy, floral aroma along with a firm yet balanced bitter taste.
"Though IPA is still the beer of choice for many, there's renewed interest in lager," says Johnson. "Lager takes six weeks to ferment, compared to ale's two-to-three weeks so some breweries don't have space for that. We do." Located in the shadow of Mt. Tamalpais, Marin Brewing is home to hikers and bike enthusiasts during the summer, and ferry commuters year round.
"When we started 29 years ago, we were one of the first. Now most towns in America have a brewpub," says Moylan. "In the competitive, ever changing environment, it's important to stay relevant. Our brewmasters Arne Johnson and Derek Smith are up to the task."
Napa County

St. Clair Brown Winery & Brewery
Napa's no longer just about wine. There's craft beer, too. St. Clair Brown Winery & Brewery, launched in 2018, occupies a vacated machine shop and parking lot on Vallejo Street. Co-founder Elaine St. Clair has the distinction of being the only woman in Napa Valley to hold the commercial titles of winemaker and brewmaster. A graduate of UC Davis, she's been making wine for more than 30 years. For 10 years, Elaine co-owned and was head brewer at Napa Ale Works, one of Napa's original breweries.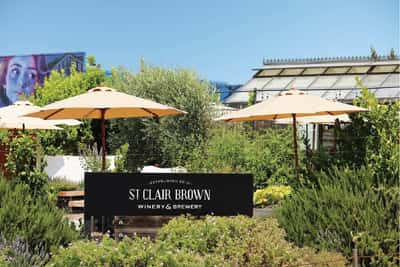 Since opening, the winery/brewery has gained a following. "Visitors are drawn to Napa for the wine," says Elaine. "It's good to offer beer as an alternative. And we make both." The vacant lot is now a welcoming patio with tables where visitors can sit and enjoy beer or wine, along with small plates of food from the culinary garden. The winery and brewery are located across the street. Plans are to add a taproom with indoor and outdoor seating.
"With the exception of the Honey Wheat Ale, our beer's vegan, though that wasn't our intent. We're small and our beer isn't shipped or stored, so there's no need for preservatives," says Elaine. She and brewer Bren Westerland handle all of the wine and beer production at St. Clair Brown. Westerland is the son of co-founder and president, Laina Brown, and recently returned from UC Davis with his Master Brewer certification. "Bren has some new ideas we're eager to try," says Elaine.
Though a nano-brewery, St. Clair Brown still manages to produce 15 different beers. Some include: a pilsner, a saison, porter, a red ale and a brown ale, a red IPA and a black IPA, and an oatmeal stout. They're available on tap or in a three-beer flight. St. Clair Brown also sells some beers in 750-milliliter bottles. "We strive for a balance by elevating classic recipes as opposed to using exotic infusions or being too experimental," says Elaine. "Our beers are more malt-driven, less bitter or heavily hopped."
Financing for their newly installed brewing equipment came from a Kickstarter campaign. Contributors at certain levels received a prize—like participation in the inaugural Beer Boot Camp. The all-day session offers beer lovers an opportunity to take their passion to the next level. The camp provides a hands-on brewing experience along with tasting tips and food pairing. Following several weeks of fermentation, participants can pick up a case of their beer, along with the bragging rights.
Thursday is locals' night at St. Clair Brown. Food purchased from food trucks can be brought in and enjoyed with specially priced beer and wine. The Vallejo Street location has turned into a craft beer hub—within a one-mile radius, there are six breweries. Last winter, they collectively organized the Napa Beer Mile. Those who got their ticket stamped at all locations got a commemorative cap. Despite a downpour of rain, 225 people participated. "We're having reservations about doing that again. With good weather we might end up with a Bottle Rock," says Elaine, with a smile.
Mad Fritz
"Good beer is all about the ingredients, the time and place, the terroir," says Nile Zacherle, founder of St. Helena's Mad Fritz. He speaks with passion and in terms normally associated with winemaking. There is a correlation. Grapes sourced from different vineyards provide different flavors. The relationship between terroir and beer is similar. To prove the point, Zacherle holds two glasses, each filled with "The Wind and the Sun," a golden strong ale. "These beers are made exactly the same way, yet with different base malts—one with Copeland 2 Row from Siskiyou County, Calif., and the other 6 Row Thoroughbred grown in Carrol County, Md. The Belgian yeast and simple bittering hops used allows the malt to show more definition of character. The ale with Carrol County malt is grassy and hay-like. That from Siskiyou is bright with fruity citrus flavors."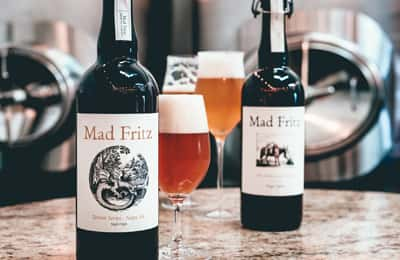 Zacherle got his beer-brewing experience early on. His brewed his first batch at home with his father. He enrolled at UC Davis to study art, but drawn by his fascination for making beer, he switched to Fermentation Science. In 2008, he founded Mad Fritz. The appellation is a derivative of his children's name— Madeline (Maddie) and Frederick (Fritz). The names of most of the beers come from Aesop's Fables: "The Goose that Laid the Golden Egg," a saison ale; "Jupiter and the Camel," a hoppy pilsner; "Larks in the Corn," a malted blue corn pale ale.
Origin and authenticity are paramount at Mad Fritz. Labels on the bottles identify the source of the water, hops and malt. For those wanting to dig deeper, there's a code with a date stamp and barrel number where they can contact the brewery, reference the code and get more information. There's also a single origin Terroir Series with ingredients sourced solely from within Napa, Sonoma or Mendocino counties.
Mad Fritz has taken the food pairing experience to another level. Its beer is offered in a number of high-end restaurants such as The French Laundry in Yountville, Sonoma's The Girl and the Fig, Sessions at the Presidio, and Geranium, Copenhagen's three-Michelin-star restaurant, just to name a few.
"After a day of tasting Chardonnays or robust Cabernets, visitors want an alternative. So they stop by our tap room to relax and enjoy a refreshing craft beer," says Stefan Mahler, the only full-time employee at Mad Fritz. The taproom is a small, sunlit place with a line up of beer on tap, barrel tables and a vintage vinyl record collection. Plop on a record and listen to the Grateful Dead's 1977 Cornell tour, or the Rolling Stones "Let It Bleed" or the more contemporary Herbie Hancock. Beer offerings are rotated regularly, providing beer drinkers with an opportunity to sample the latest. Zacherle's attention to detail, origin and authenticity might be the reason why Mad Fritz has developed a cult following, and why there's a wait list for membership in the beer club.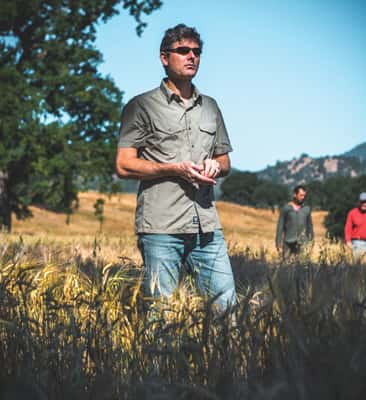 A craft beer destination
Local brewers Russian River and Lagunitas have become legends in the world of beer. And yet there are many others making interesting, unique craft brews. They're all about quality and community. The brewmasters love what they do, and that passion comes through in the beer they make. Northern California offers a diversity of craft beer that rivals that of Portland and Seattle, and with the sheer number of new breweries popping up in Marin, Napa and Sonoma Counties, the North Bay is fast becoming a destination not just for wine, but also for quality craft beer. Visitors look forward to relaxing in a welcoming taproom or sitting outside on a beautiful day, chatting with the brewmaster who made the beer they hold in their hand.