For more than 50 million years, horses roamed the earth, becoming domesticated by humans about six thousand years ago. The magnificent ungulate mammal is best known as the primary form of transportation before automobiles, and for racing and ranching, which continues to this day. But they've served a different—and equally impactful—purpose since the 1950s through the use of hippotherapy, a practice named after the Greek word for horse, hippos. It utilizes equine movement to engage sensory, neuromotor and cognitive systems for those who have yet to find answers through conventional means, including children with physical or mental disabilities.
At Giant Steps Therapeutic Equestrian Center in Petaluma, a nonprofit, horses and volunteers offer life-changing programming to 139 clients each week. "Giant Steps was founded on the belief that caring for and riding horses can be a powerful, life-changing tool," says Beth Porter, executive director. Founded in 1998, the program initially relied on 19 volunteers and conducted 100 lessons annually. Today, it's grown to be the North Bay's largest therapeutic equestrian facility, lending their life-changing services to more community members than ever. The founders at Giant Steps, Lee Justice and Robert Pope, moved from the Bay Area to Montana to raise horses in the 1990s. After learning of the therapeutic benefits of riding horses, however, the couple doubled back and relocated to the North Bay. Once settled, they started their nonprofit center, establishing their own tradition of healing.
Serving those in need
The facility, located off highway 116, is set amongst a landscape of horse arenas, stables and a neighboring equestrian center. The program serves a wide range of disabilities, from physical and cognitive. More specifically, it serves people with cerebral palsy, autism, post-traumatic stress disorder (PTSD), spinal and brain issues, emotional disabilities, and symptoms from stroke.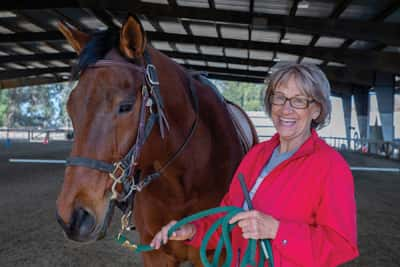 On this fall day, under the large horse arena, there are three horses with clients mounted bareback, with only a thick blanket between horse and human. This allows the heat from the horse to warm up and activate the muscles of the rider. One volunteer leads the horse by rope, while two additional volunteers on either side of the horse help the rider stay in place. There's a tall pole planted in the ground with colored rings dangling from the top. As each horse approaches the rings, volunteers instruct the riders to grab a colored ring while staying mounted on the horse, keeping control and cognitively distinguishing the colored ring and removing it from the pole.
"Let's change direction and make a circle on the left side," says Julie Larson, program director and PATH (Professional Association of Therapeutic Horsemanship International) certified instructor. "One last circle and you're done! Try to use those reigns to get the horse to do what you want," she instructs a young male. He guides the horse along with confidence and smiles as he rides slowly past onlookers.
"Therapeutic riding enhances the cognitive, physical, emotional and social well-being of individuals with disabilities through lessons, which teach horseback riding and general horsemanship skills," says Porter. "Our riders have represented more than 60 disabilities including autism spectrum disorders, cerebral palsy, Down syndrome, spinal and head injuries, and mental and emotional challenges. They are almost equally divided between children and adults and come from all socio-economic groups. Our youngest rider is 4 years old; our oldest is 77."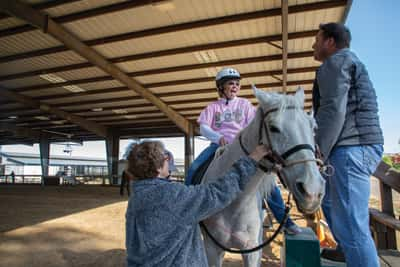 With a diverse range of riders, Giant Steps has its hands full. "Tuesday through Sunday, we do mounted lessons," says Katherine Theus, development and communications associate. "Sunday afternoons we do targeted programming, where groups come out that do ground work programs. We work with United Service Organizations, Veterans Affairs, COTS in Petaluma, Project Avery (children with incarcerated parents) and others––it's not just physical and cognitive disabilities."
Each class is one hour, and a typical session lasts for about 10 weeks. The curriculum is conducted with help from 13 certified PATH instructors. "The physical benefits of riding are enormous. Being on the back of a horse builds critical core strength, balance and stamina," says Porter. "Riders also increase mobility, improve gross- and fine-motor skills and hand-eye coordination. Further, the gait of a horse is the closest match to a human gait, so for riders who do not walk, the experience of riding a horse stimulates neural pathways and begins to imprint the process of walking on the rider's brain and muscles. One of our riders with cerebral palsy took his first steps at Giant Steps, transforming his life, and his family's life, forever."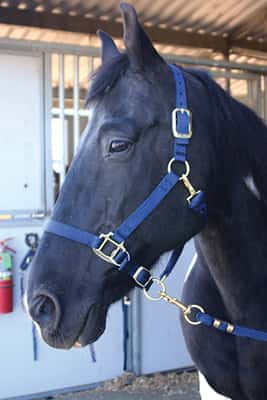 Those seeking cognitive improvements also benefit substantially, according to Porter. She says riders respond positively to tasks such as maintaining concentration, staying calm while riding, making eye contact with instructors and volunteers, and following directions. "By centering themselves, our riders also make significant gains. Megan, aged 10, who has severe autism, spoke her first words on a horse––to demand she be allowed to ride a different horse. But what typically brings our riders back is the emotional benefit," Porter explains. "Riding also provides a sense of freedom and mobility seldom experienced elsewhere in many of our clients' lives. A special bond is established between horse and rider, which encourages unconditional love, trust and self-worth. The joy that comes with caring for an animal, traveling places previously inaccessible, and building new skills, is unduplicated in other aspects of our riders' lives. As one mother shared, 'of the many therapies our son must undergo each week, Giant Steps is the one therapy he enjoys.'"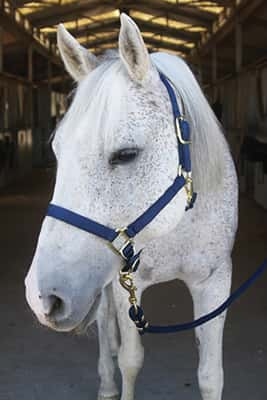 Looking for even further impact, Giant Steps goes beyond mounted lessons, which frequently address physical and developmental disabilities, and offers targeted programming—a hybrid of mounted lessons and ground work. "Ground work consists of an unmounted lesson in which the client works with one or more horses on the ground. The instructor creates activities that allow clients to interact with the horses, and to use the interactions to understand and control their emotions," says Porter. "Participants learn trust, body language, and self-confidence as they interact with their horses and develop a deep awareness of themselves due to the acute use of their senses. The instructor guides the session in order to support the clients' emotional growth and development."
Theus explains how horses are in the moment and react to what's going on around them. "For someone who has PTSD and doesn't do well in social situations, the horse is going to react to what they're doing in that moment," she says. "It helps, because the individual has to figure out how to handle that. We've had many a veteran come out and will stand and talk to the horse. They're comfortable expressing their emotions with a horse even though they may not be comfortable expressing their emotions with an individual."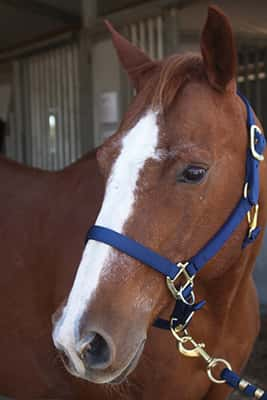 The program has horses of all sizes and temperaments. "We have big riders, little riders, those that need a lot of support, those that don't," says Theus. "For riders with autism, we often put them on a horse that needs more focus, so they focus on the horses instead of everything else." The attention to detail is all part of Giant Steps' dedication to community and bringing people together. "We work to create a safe space where people can come and share their experiences with other families," Porter says. "It's a place where, regardless of the disabilities or challenges people may be experiencing, they have the opportunity to bond with our horses, our dedicated instructors and volunteers, and other like-minded people who are all championing for their success."
Community involvement
At Giant Steps, there's something that stands out even more than the enchanting presence of their 19 horses––the abundance of volunteers. Teenage participants to those in their 70s are found in the arena, the stables and on trail walks with riders and horses.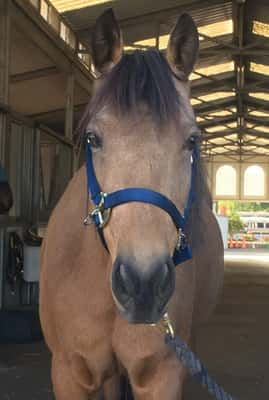 "We rely on the critical support of our 125-plus weekly volunteers," says Porter. "Our programs would not be possible without their generosity. Last year, they donated nearly 9,000 hours of service, which is estimated to be worth more than $216,000 to our organization. Our volunteers come from all over the Bay Area, and range in age from 14 to 76. A number of our volunteers have been with us for more than a decade."
Toni Rothschild, a volunteer for 10 years, initially visited the facility with her daughter in mind. Now, 10 years later, she finds herself at the facility two mornings per week. "What's great is when you get to work with the same person," she says. "And we have the best horses––they're hugely kind." As a volunteer, Rothschild and others help lead horses and support riders in classes, fill water buckets, groom horses, make feed bags, sweep the barn and clean stalls. "I'm an animal junkie. Teaming up a rider to a horse can be challenging. There's a lot that goes into it. Even though you think the rider isn't in tune with the ride at times, they're calm and collected for the remainder of the day."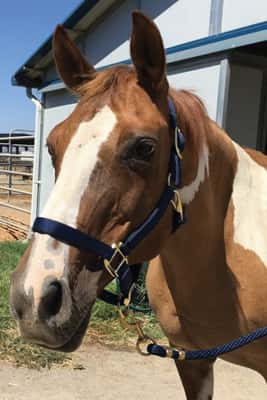 Contributions from generous donors, fundraisers and events keep the program running as well. Surrounding the arena are names and company logos, highlighting the donors that give more than $10,000 annually, including Wells Fargo, HALTER Fund and various generous individuals.
"Our annual operating budget is approximately $1 million," says Porter. "We receive no government funding, and just 10 percent of our budget is covered by program fees. In addition, we award $100,000 in scholarships each year. So, we do a lot of fundraising. We are fortunate to have very loyal foundation funders, but most of our funding comes from individuals––through family foundations, personal giving or event attendance. Each year, we more or less start from scratch. It's stressful at times, but worth it."
Other than funding, the largest challenge at Giant Steps is maintaining its volunteer count, according to Porter. "While we have lots of volunteers who have been with us for years, there is turnover. Kids go off to college. People move away or find new jobs. And sometimes, life just gets in the way––there is an illness or children's schedules change. Each client requires one to three volunteers, so there's always a need for more people."
The big picture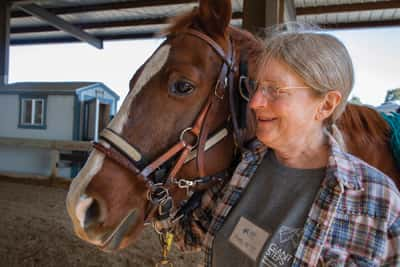 Horses were necessary for human survival and advancement for thousands of years, but after the automobile, their need diminished. Through hippotherapy, however, the majestic and intuitive sense of these magnificent animals remains vital, with horses still helping many to advance in their own lives.
Thanks to community donations and support from volunteers, not to mention a lot of work, the team at Giant Steps can focus on their programming's desired outcome, which is simple and clear. "The goal is to build skills that will support clients to live as independently as possible," says Porter. "Here, one person's success is a success for the entire Giant Steps community."