As a fourth-generation member of a prestigious winemaking family, August Sebastiani honors his hometown lineage while blazing his own trail. The president of 3 Badge Beverage Corporation, a Sonoma-based producer of spirits, wine and beer, Sebastiani was born and raised in the City of Sonoma and lives in the heart of town, just blocks from its historic plaza. While transitioning from the family business to starting his own company, Sebastiani spent four years on the city council, leaning on his political science degree from Santa Clara University. Sebastiani also represents the Bay Area's NFL team, the San Francisco 49ers, by wearing a replica football helmet while enjoying one of his favorite pastimes, snowboarding. Time on the slopes is a family affair, with Sebastiani and his wife of 15 years, Allison, schooling their four children, who range from age 6 to 14. Sebastiani also coaches youth sports and time permitting, plays golf and keep tabs on other local professional teams. His company keeps him plenty busy, with nearly a dozen brands either in production or development nationwide. Currently, it's preparing to launch a luxury spirits portfolio and has multiple international markets in its sights.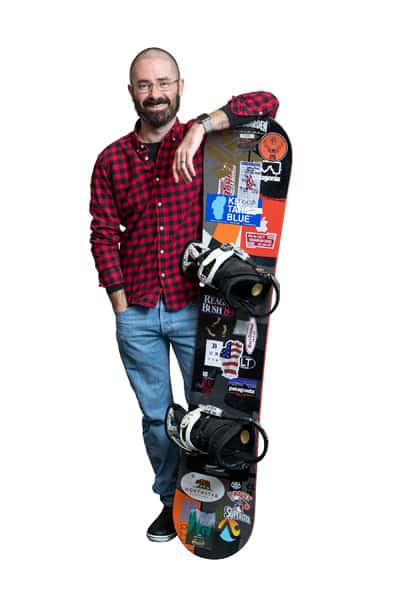 How satisfying was it to watch the 49ers surpass even the loftiest expectations?
It's awesome. We've been spoiled to see two quick turnarounds in the past decade. But what's the most exciting part is January football—something that was easy to take for granted in my youth.
What lesson do you hope young people take from playing sports?
Teamwork and general interpersonal skills. Through the season, we see them learn problem solving with in-game decisions and how to compete respectfully and with class and with joy, both in victory and in defeat.
What's the most enjoyable aspect about building your business?
What I enjoy most is brand development. Specifically, what draws us to the spirits side of the book is that the sky is the limit. From production methods and flavoring to bottle shapes and packaging, spirits are like the Wild West. The creativity flows.
What's special to you about the Sonoma Plaza?
Everything. The history. Its intimacy. Familiarity. Walkability. We have world class dining at any one of a dozen or so restaurants. The fact that Sonoma's city hall at the center was designed to be symmetrical, so no particular block was forced to face "the back" of it. That one can enjoy a glass of wine from sunup to sundown. That all Sonomans grew up feeding the ducks at the pond. Fun fact: at roughly 8 acres, it's the largest plaza in California.
What's something you like to do the 'old fashioned' way?
There's nothing like lighting coals and throwing a ribeye on the grill. Sous vide, propane, marinades, even butter is all cheating. Give me my classic Weber with nothing more than some garlic salt and black pepper any day.
What's your favorite jelly belly flavor?
Hmm… I'm not a jellybean guy. My candy of choice is peanut M&M's—or anything chocolate and peanut.
If you didn't have to sleep, what would you do with the extra time?
LOL. I asked my wife and she said "clean." As per usual, she's right. There's just something therapeutic about folding laundry.
If you could choose any musical artist to see live at your next convenience, whom would you choose?
It might be Jay-Z and the Roots. My favorite album might be the Unplugged set they did 20 years ago for MTV. Given freedom from the constraints of time and space, I'd choose Prince though. My last show of his was a tour called Prince, a Piano, and a Microphone. He was alone playing all of his classics for three hours for 20,000 people at Oracle Arena. It was an incredible night.