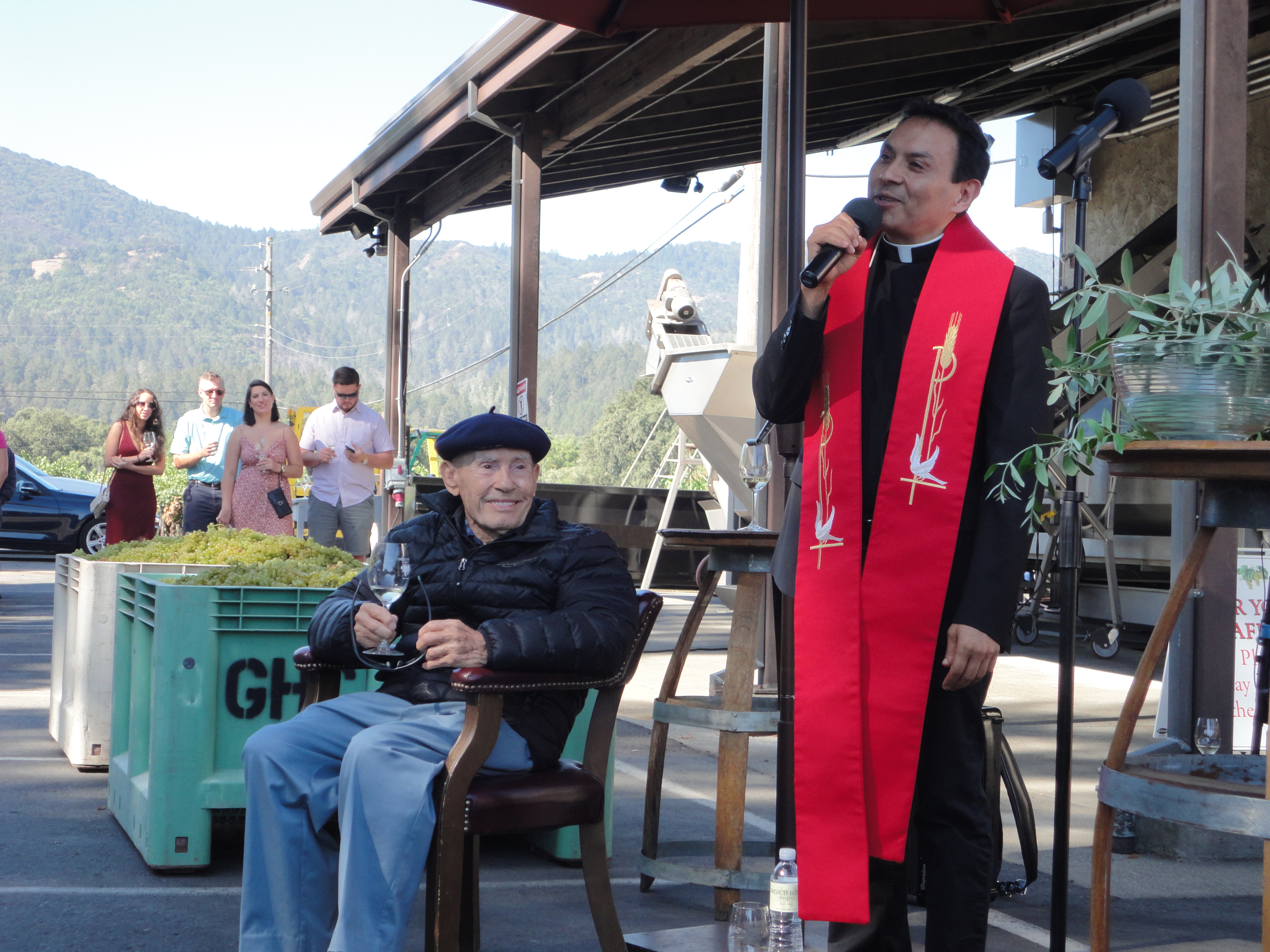 It's the first day of harvest at Grgich Hills Estate, and there's a mountain of grapes ready to be crushed. But at the moment, they're on display for more than 100 guests, each with a glass of wine, ready to toast. There's a priest standing by, along with Miljenko "Mike" Grgich, co-founder and Vintners Hall of Fame member. The crowd's sense of anticipation permeates the air, and the drinks in hand are only part of the reason.
The guests are there for the Blessing of the Grapes, a harvest ritual that began more than 40 years ago at Grgich Hills. Father Manny Chavez and Violet Grgich, Miljenko's daughter and winery president, led the event as Miljenko, 96, sat and watched with blissful satisfaction. Winemaker Ivo Jeramaz was there, too. He spoke of the annual harvest, and how each year presents its own challenges—most involving conditions outside his control. "In agriculture, the old saying is one eye is up in the sky, and one eye is in the soil. You depend on climatic conditions. You can be spiritual and believe that God is helping you—or not—but farming, properly done, is very spiritual."
Such rituals originated thousands of years ago in some cases and remarkably continue today. They connect the present to the past, reminding those working the land that their challenges were faced by the ancient world. Some traditions help keep organizations grounded and focused, and others simply celebrate the bounty of the earth we enjoy each fall, thanks to plenty of hard work and a little help from above or elsewhere.
The Blessing of the Animals
St. Francis Winery & Vineyards in Santa Rosa is a pet-friendly place all year round, but it's especially welcoming on one special date in October. The winery's Blessing of the Animals has been a staple every harvest season since the year 2000. The event officially commemorates The Day of the Feast of St. Francis, the winery's namesake—St. Francis was known as the Patron Saint of Animals and Ecology. St. Francis' feast is a ritual that celebrates nature and honors the ecosystem, which provides gifts for the North Bay each fall. "It's become one of our largest events as far as turnout," says Ryan Budlong, marketing and social media manager. "People travel from all over the Bay Area. It's built a lot of pride with the staff because it's such a fun day. There are laughs and engagement—it's a walking petting zoo."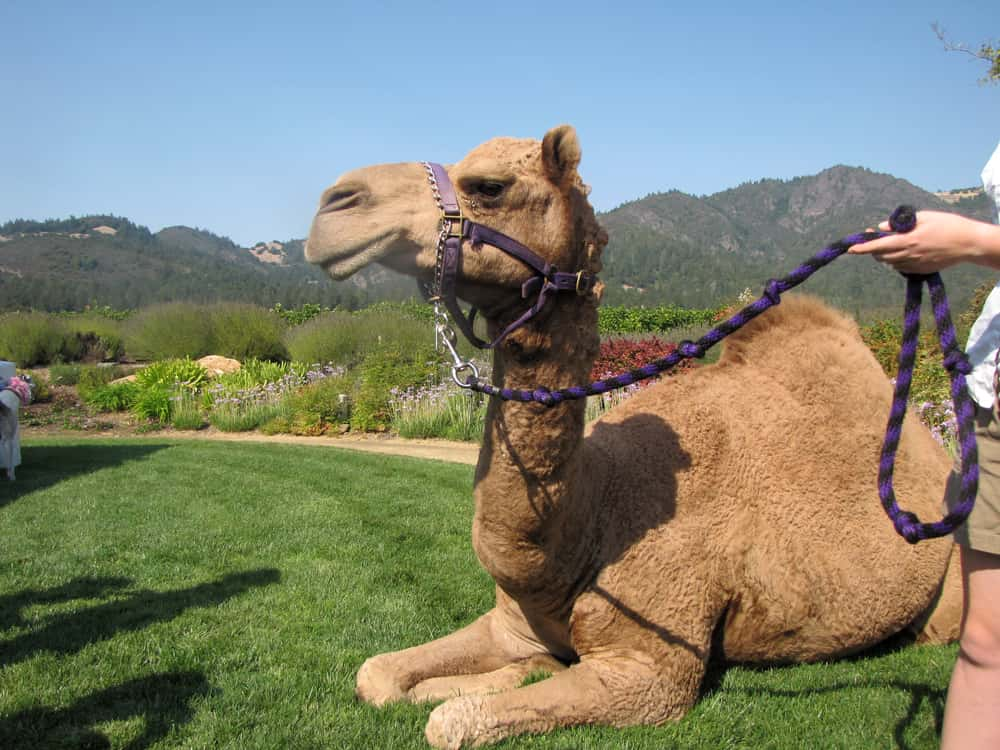 Guests are encouraged to bring pets, conventional and non-conventional, to St. Francis Winery's estate for a blessing from a local priest, following a Feast Day tradition. "We've had everything from ponies to chickens, giraffes, and camels," says Budlong. Household animals are celebrated too, of course. The Winery Dog of the Year contest is one of the most popular traditions at the annual ritual. There's also a silent auction and a raffle, with all proceeds going to the Humane Society of Sonoma County during this fun-filled day with food, wine and pets. It's all to commemorate the winery's namesake and what he believed in most—the environment. "Being a certified sustainable winery, The Blessing of the Animals underlines one of our key commitments, which is a dedication to sustainability, to ecology and our natural environment around us," says Budlong. "We have these beautiful vineyards, we have this beautiful mountain behind us and we take all of that into consideration with everything we do here."
It's a dedication that began with the founder of St. Francis Winery & Vineyards, Joe Martin. Though he established the estate in 1979, he began planting Merlot grapes in Sonoma County in 1971. He was the first to do so and named his winery after fellow California pioneers, the Franciscan missionaries of California. They were the first to plant winegrapes in the state, at California's initial mission, San Diego de Alcalá, in 1769. The Franciscans are a Christian religious order founded in 1209 by St. Francis himself. The Franciscans advanced their founder's mission to preserve the bounty of nature. "The legacy going back to the first plantings is one aspect, but also that connection to the natural environment has always stayed very true with us," says Budlong.
The beautiful terrain that surrounds St. Francis Winery solidifies that connection. It sits between Hood Mountain State Park and Trione-Annadel State Park with another California Park, Sugarloaf Ridge, not far away. "We have so much native wildlife present on the property. Jackrabbits, deer, and red-tailed hawks, with black bears, cougars, and other predators in the mountains as well. With all that surrounds us, we're committed to keeping it healthy," says Budling. St. Francis Winery's sustainable methods make an impact, further honoring its namesake. "We are conscious to what's happening to the local water table," he says. "We recycle our wastewater for irrigation of the plants, and make sure our water use is minimized. We use solar power where we can—40 percent of our product is produced with solar power. We have a great recycling program that takes care of our surroundings."
St. Francis of Assisi would of course approve, but he wasn't born a saint. Born circa 1181 as Giovanni di Pietro di Bernardone, in Assisi, Italy, he had a reputation for drinking and partying as a young man from a wealthy family. He was captured in a battle between Assisi and Perugia, another town in Italy, however, and spent a year in jail while waiting for his father to purchase his release. According to legend, he received visions from God while imprisoned. Upon being set free, St. Francis committed himself to repairing the Christian Church and living without the luxuries he was accustomed to. Also according to legend, St. Francis was the first to receive a vision that left him with the stigmata of Christ, or marks that resemble the wounds that Jesus Christ suffered when crucified. St. Francis was canonized as a saint in 1228 and developed his love for animals and the environment. Each October, animals around the world, not just at the Santa Rosa winery that bears his name, are blessed on his feast day.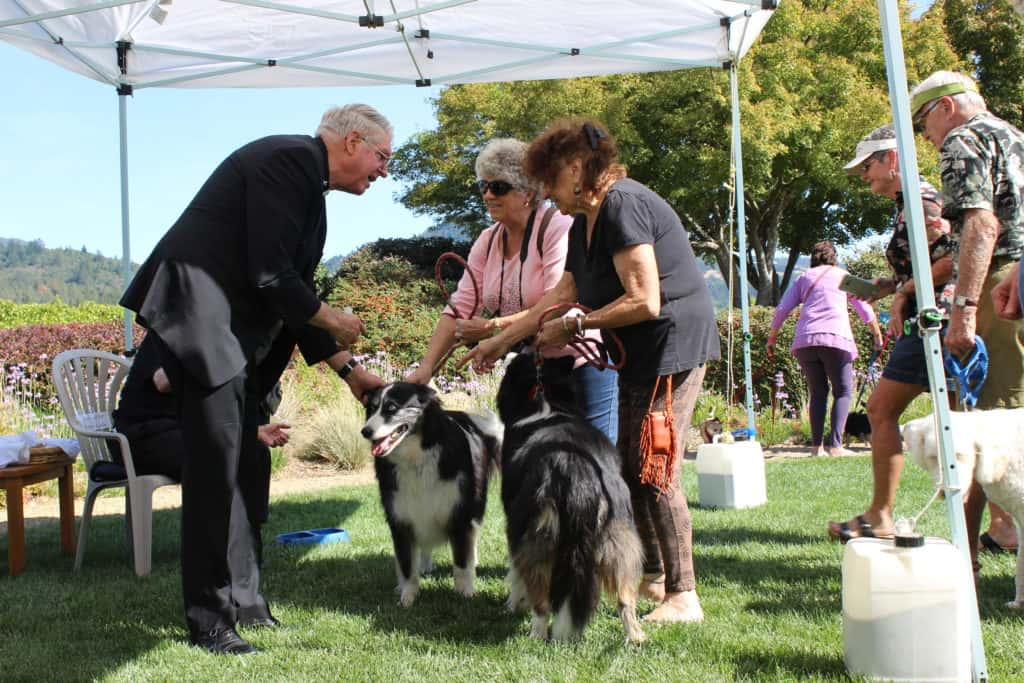 But perhaps nowhere celebrates the Patron Saint of Animals and Ecology like St. Francis Winery & Vineyards. Budlong tells stories of 90-year old tortoises, a pet chicken with ornate feathers bound to a baby harness, pet snakes, parrots, and cats and dogs mingling amongst each other, in a day-long truce of sorts. The Blessing of the Animals remains a centuries-old ritual that connects the present day to the past. "As we're extracting the bounty from the vineyards, we're also paying homage to the natural environment around us that supports that," says Budlong. "It's a dedication to our namesake and making sure that we represent not only ourselves as a sustainable community member but representing the name the way people would expect."
Valley of the Moon Vintage Festival
The City of Sonoma has a tradition of its own, steeped in local flavor. The Valley of the Moon Vintage Festival has a 122-year history that's had its share of change, but one aspect of the celebration has remained constant. Taking place on the last full weekend of September, it's always brought the community together to celebrate the harvest season, according to Maria Toimil, president of the festival, which turns Sonoma Plaza into a lively, activity-filled event once a year.
The tradition began in 1897, when local playwright and Sonoma Union High School Principal Ben Weed had an idea. He presented his play, The Vintage Festival, at the Rhinefarm of the Gundlach family, of Gundlach Bundschu Winery, the oldest family-owned winery in California. His work told the tale of the Greek God of Wine and the Grape Harvest, more commonly known by his Roman name, Bacchus. In the play, Bacchus helped solve the community's problems of the day. It was a hit, and a Sonoma staple was born. The next year, Weed presented Bacchus again with a new premise: he was to help a young man court the love of his life after the woman's father promised consent if he won a competition, dubbed the "Olympic Games."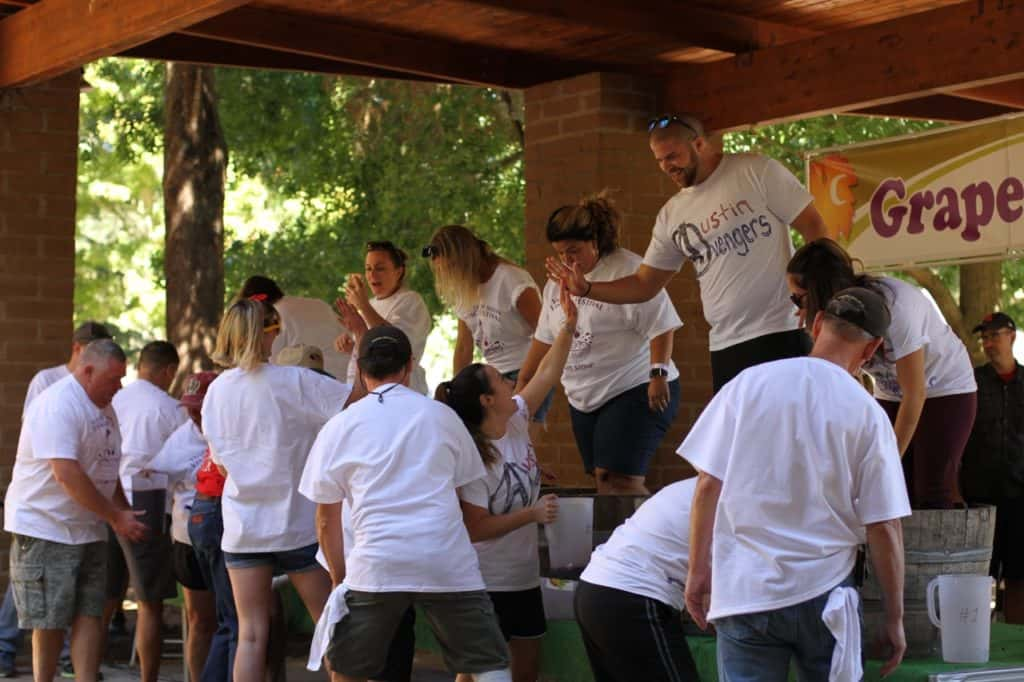 The Great Depression and World War II broke the festival's continuity, but it returned in 1947. "The festival has gone through many changes in its history with everything from children's parades, amateur winemaking competitions, square dancing and historic costume contests," says Toimil, who took charge of the event seven years ago, when The Vintage Festival was struggling to keep its tradition alive. A dedicated volunteer board, long hours, and a rebranding effort re-established this decades-old tradition, with a connection to the ancient Greeks—and its own Blessing of the Grapes ritual. Recently added features include a 5k/12k race and a benefit grape-stomping contest, with families and businesses competing to earn money for the charity of their choice. The Valley of the Moon Vintage Festival is itself a 501(c) 3 nonprofit organization, and donates up to 100 percent of its proceeds to local nonprofits. "Overcoming the negative stigma from poorly run events in previous years took time to overcome, but we did it and are now thriving," says Toimil.
Thanks to the long tradition of the festival and its recent revival, Sonoma Plaza buzzes with excitement every harvest season. This time of year has been special to humankind for umpteen generations, and remains so, even in our technologically advanced place in history. "It's a chance to acknowledge the hard work that goes into caring for the vines throughout the year and give thanks for the bounty provided," Toimil says. "Harvests are cyclical and no two are quite the same. Some years are larger and some more flavorful, but each year's harvest is a reflection of the climate, temperature, rain and soil. Each bottle of wine reflects this and for me, it's worth celebrating."
The Blessing of the Grapes
Grgich Hills Estate has a firm grasp of the power of tradition. The winery's Blessing of the Grapes ceremony is more than 40 years old, starting in its first year of operation, 1977. It's become a vital part of the harvest season for the estate. "It's how we hope to start in a positive way," says Violet Grgich. "When you begin with positivity and hope, and by bringing people together, we can accomplish a lot more. It gives you strength and determination."
The journey of Grgich Hills' co-founder and original winemaker, Miljenko Grgich, certainly gained strength from tradition. Before making history by winning the 1976 Paris Tasting with his 1973 Chateau Montelena Chardonnay, he brought The Blessing of the Grapes ritual with him from his native Croatia, where a long lineage of his family made wine and blessed grapes before crushing them. The custom can be traced back thousands of years, to Old Testament times, when farming was commonplace. Grapes were the first fruits of harvest, and they were offered to God as an acknowledgement of the farmers' dependence on Him for ideal farming conditions.
Miljenko first left Croatia to study seed science in Germany, thanks to a United Nations student exchange program. During a stop in Canada, he placed an ad in the Wine Institute bulletin and entered the United States, thanks to sponsorship from Lee Stewart of Chateau Souverain, where Miljenko honed his winemaking skill. He went on to work for industry giants André Tchelistcheff at Beaulieu Vineyard and Robert Mondavi of Robert Mondavi Winery. Chateau Montelena's Jim Barrett partnered with Miljenko in 1972, and in his second year there, Miljenko crafted his award-winning Chardonnay, which beat the best of French wine and caused a shift in the industry that is felt to this day. In 1977, Miljenko partnered with Austin Hills to open his own winery, called, naturally, Grgich Hills.
And Miljenko was blessing his harvest grapes the entire time. His success was due to his skill and effort, but he gives ample credit to his yearly ritual, which he still observes. "I believe that with God's help, with God and intuition, you can achieve many things which you cannot achieve alone," he says. Jeramaz, Miljenko's nephew and currant winemaker at Grgich Hills, puts his own twist on the fairly philosophy. "Our farming is very spiritual. I focus, and meditate, and do everything that's best for the soil and I believe it makes a difference. When you have good intentions toward land, toward plants, you get rewarded. I cannot prove it scientifically. But it's just as some believe that when they sing to plants, they grow more beautifully. Some say that's crazy, but some believe that's true."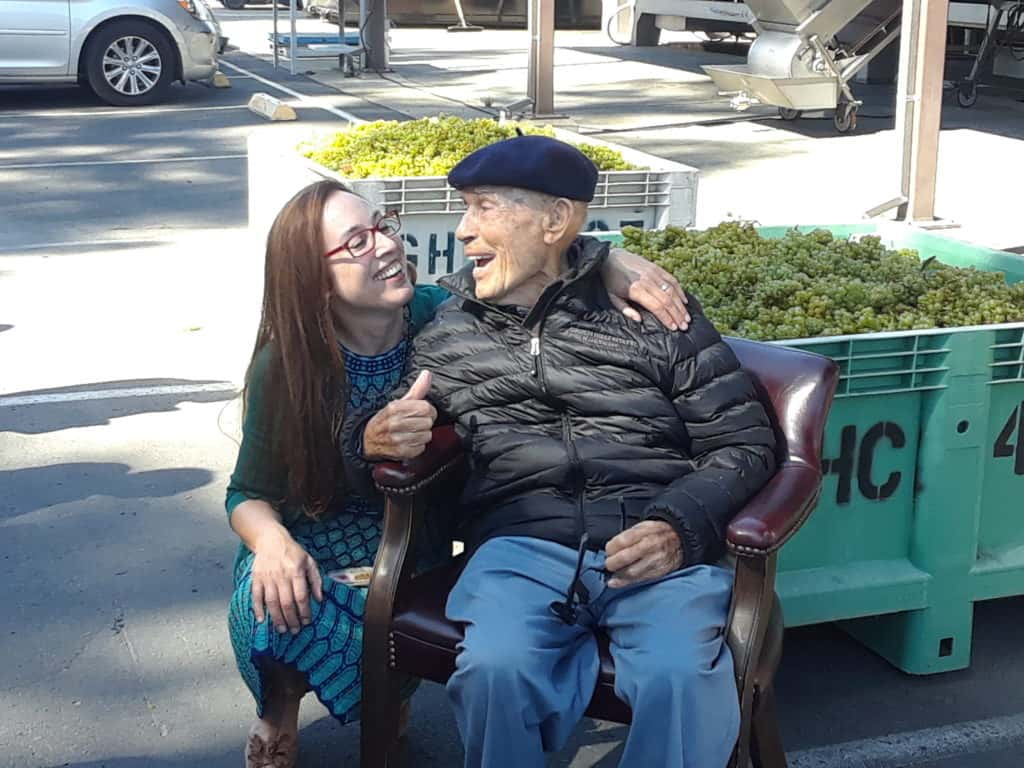 Though The Blessing of the Grapes is firmly entrenched at Grgich Hills, it's worth questioning the need for such old practices in our age of advanced technology. Violet says she values and employs the latest engineering, but there are aspects in life it can't replace. "You can have the most sophisticated technology, but it's not going to tell you things that are most important about wine. How does it smell? How does it taste? And do I want any more? Because that's the bottom line. Sometimes, something that is perfectly made is not as interesting, or engaging, or as tasteful as something that might have some imperfections. Those are the qualities that bring character, that make you feel more intensely alive. Traditions like this ground you, and bring you back to what's important."
Regardless of the means that contributed to the success of Grgich Hills, Miljenko's journey is inspiring. A bottle of his famed 1973 Chardonnay is displayed in the Smithsonian, in an exhibit titled, 101 Objects that Made America. Perhaps it was said best by Violet at the most recent Blessing of the Grapes. "Was it the blessing? Or, all the hard work? I think it's a combo of the two."
A Timeless Tradition
Tradition is something everyone is familiar with, whether it's watching the ball drop on New Years Eve, saying grace before dinner, returning to a special vacation spot, date night on Valentines Day, or a family game of tackle football on Thanksgiving.
But some traditions pre-date us all—the harvest is one such occasion. The reoccurring cycle of nature is profound, and rituals that sprouted organically long ago have stayed with us. The gifts given by the earth are humbling, and the season puts life in perspective. Though we live in an age of advanced technology, in many ways, we're no different than our ancestors—we're dependent on a force more powerful than ourselves to enjoy the life we hold so dear. And that knowledge can lead us squarely to the moment at hand. "Time goes by so fast these days," says Violet. "You're on your phone, people don't engage directly with each other. They don't look into each other's eyes and have that connection. Things that are traditional, that are ceremonies help you focus on the moment, on the meaning, and on bringing people together."