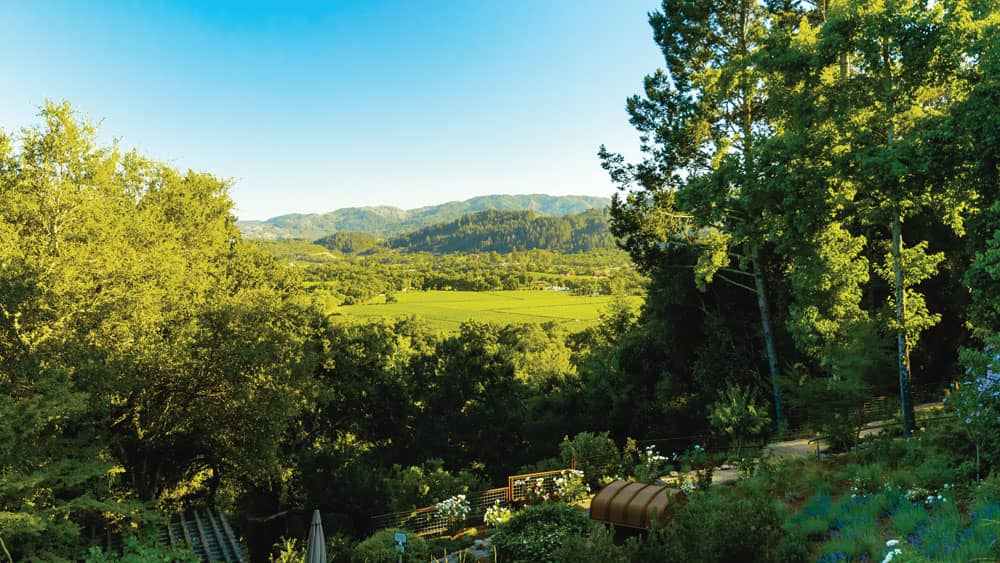 This year marks Rombauer Vineyards' 40th anniversary, and like other notable companies that came of age in the 1980s, a home garage helped foster its initial creativity.
After moving from Texas to St. Helena in 1972, the Rombauer family, led by Koerner and Joan Rombauer, wasn't immediately interested in making wine. But they soon connected with neighbors, and their curiosity was peaked. The couple entered the industry as partners at nearby Conn Creek Winery, eventually selling their stake to start their own venture.
"Their first vintage was a 1980 Cabernet. And they made it here, out of their garage," says Megan Foley, director of retail operations, before a flight of wines at Rombauer Vineyards. "When it got warm, they just turned on the AC." The garage was bonded as a winery—before the winery that stands today was built—and the business was off and running.
Much has changed in the Napa Valley since that first batch. "Napa wasn't the winery Disneyland that it is today," notes Foley. But the family's involvement in the business carries on. The second and third generations help steer the winery, with Koerner and Joan's son, Koerner, known as "K.R.," and their daughter, Sheana, on the board of directors. Five grandchildren are still part of the family business, as well.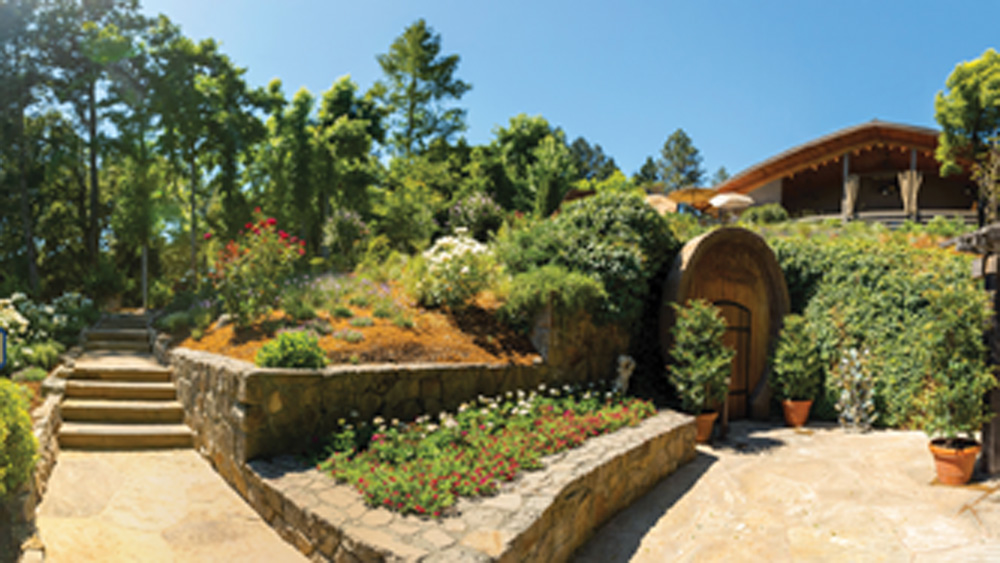 Robert "Bob" Knebel, president and chief executive officer, leads the winery after the passing of Koerner in 2018. Joan passed away in 2002. Bob and Koerner met at a wine industry event and hit it off, each having spent previous time in the aviation industry. "We try to create an atmosphere where people can relax and forget about everything else and enjoy each other's company over a great glass of wine," he says.
On this sunny, late summer day, it's clear that Rombauer Vineyards has succeeded in that mission. Open-air seating just outside the tasting room is occupied, as are many secluded picnic tables placed throughout the beautiful winery grounds. The staff is busy tending to their guests, and they do so while wearing facial coverings, following county health directives. There's additional seating next to the wine-cave door, which makes for a popular photo backdrop.
It's the perfect place to get away, especially during a way-too-eventful 2020. Foley starts the afternoon by pouring a splash of Sauvignon Blanc, and the enticing fruit flavor is well balanced, with a finish that remains vibrant and fresh. Next, we try the Chardonnay. Classically creamy in texture, flavors of peach give way to a slightly spicy finish with a satisfying acidity.
As Foley pours our next taste, we're joined by Luke Clayton, winemaker. Before a sip of 2017 Napa Valley Merlot, Clayton describes Rombauer's philosophy for crafting wine. "If it comes from fruit, it should smell like fruit and be fresh. We want it to be approachable on release, especially with the reds. But also have the guts in the background to stand the test of time." Richie Allen, director of viticulture, and Andrew Holloway, associate winemaker, complete the winemaking team.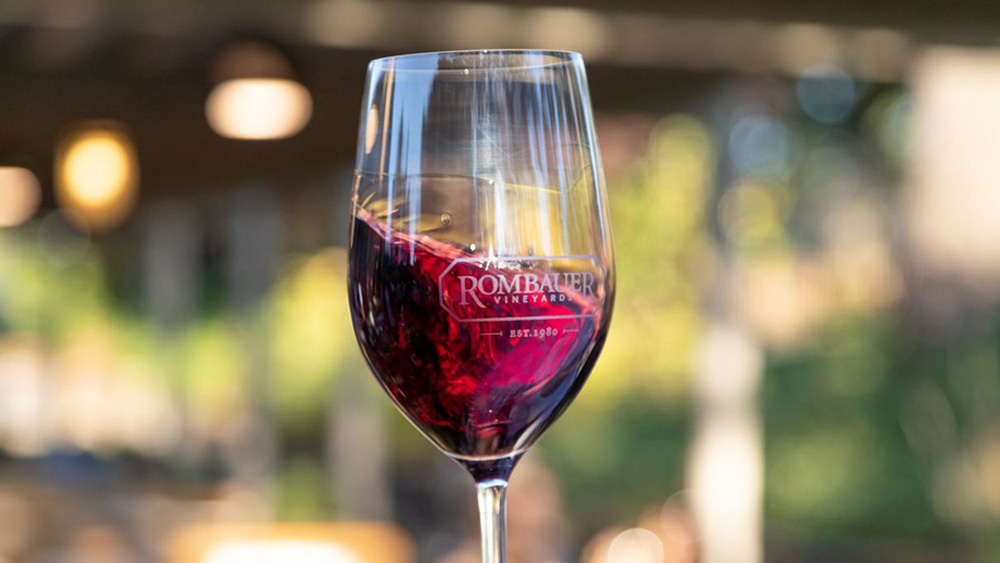 They hit their mark with the Merlot. Fresh aromas of ripe blueberries and black currant lead to plush plum flavor. "This is your dinner party wine," says Foley. "It's going to go with most things on the table—lower on tannins, more approachable." She adds that while Napa produces less Merlot than it used to, there's more high-quality Merlot available. Indeed, with one sip of this vintage, that theory holds up.
Next, we try the 2016 Diamond Selection Cabernet Sauvignon. Sourced from 75 small vineyards in the Napa Valley, the winemaking team selects the best grapes available to craft this vintage. Rombauer has 670 acres of estate fruit, spread throughout Napa and the Sierra Foothills. The sip is extraordinary, with a dark, fresh-fruit profile. "It covers your tongue—it almost tastes creamy, like silk chocolate melting in your mouth," notes Clayton.
We then take a virtual trip east, to the Sierra Foothills. Led by Koerner, Rombauer Vineyards has long coveted the region as an ideal place for Zinfandel, purchasing El Dorado vineyard in 2010. It sits 1,650 feet above sea level in El Dorado County, with sandy soil and complex topography. In 2019, Rombauer Vineyards purchased a winery in neighboring Amador County.
The 2018 El Dorado "Twin Rivers" Zinfandel delivers substantial return on investment. Sourced entirely from the El Dorado vineyard, this wine is darker and denser than most Zinfandels, but still has a classic spicy profile, which blooms gradually as the delectable taste lingers appreciatively on the palate. "This is a Cab lover's Zin. It's got a little more oomph," says Foley.
Rounding out an incredible wine-tasting spree, we try the 2018 Proprietor Selection Zinfandel. Sourced from select grapes from the Sierra Foothills, it's an intensely aromatic vintage with voluptuous flavors of blackberry jam. Its softer tannins make for an approachable drink with a balanced, delicious fruit-driven finish.
As we linger at the table, talking more about wine and the Rombauer family legacy, more wine tasters arrive, eager to enjoy the serene, Napa Valley setting. In its 40th year, much has changed at Rombauer Vineyards. But the values remain the same, initiated and upheld by the Rombauer family. "It's about a culture," says Knebel. "It's about a commitment to quality—honoring each varietal by identifying the best sources possible to make the most beautiful expression of that wine."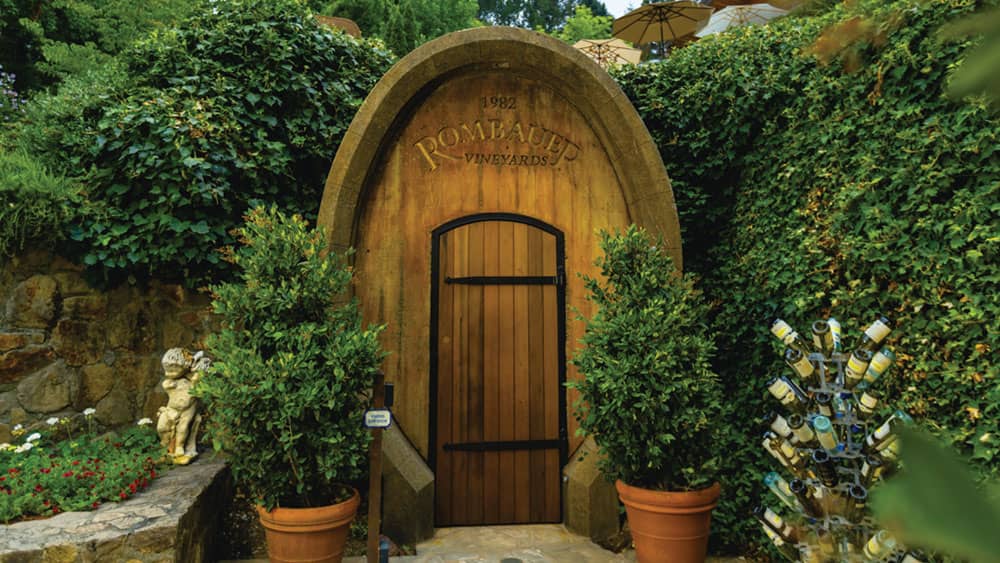 Did You Know? Koerner Rombauer's great aunt Irma Rombauer, the author of the internationally-renowned cookbook, "The Joy of Cooking," inspired the Rombauer family's love for food and wine. The family ancestors hail from the winegrowing region of Rheingau, Germany, and the insignia on each bottle of Rombauer Vineyards wine is the family crest that originates from that area.
Rombauer Vineyards
3522 Silverado Trail North
St. Helena, Calif. 94574
(866) 280-2582
rombauer.com
Hours: Open Daily
10 a.m. to 5 p.m.
By appointment only
Tasting Fee: $20
Wine by the Glass Available
Complimentary Virtual Tasting
Wines Offered: 2019 Sauvignon Blanc, 2019 Carneros Chardonnay, 2017 Napa Valley Merlot, 2017 Napa Valley Cabernet Sauvignon, 2016 Diamond Selection Cabernet Sauvignon, 2018 Zinfandel, 2018 El Dorado "Twin Rivers" Zinfandel, 2018 Proprietor Selection Zinfandel
Reservations: Required
Picnics: Yes
Pets: Yes