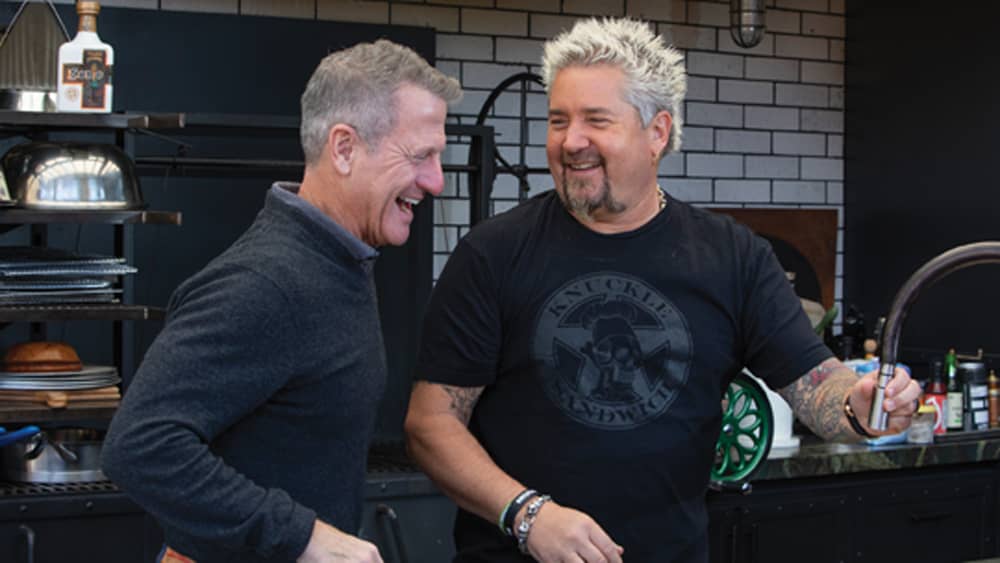 Those who build a career out of being in the public eye often make it difficult for others to truly know them. We see them through a lens, filtered to portray a certain image or public persona on the world stage that in most cases is a blurred version of their true character and personality.
Al Pacino's role as a mafia don in The Godfather who felt his means were justified by his ends, was in stark contrast to his role in Serpico the following year as a cop convinced the opposite was true. Both roles revealed Al Pacino's talent, neither revealed his character.
In large measure, Guy Fieri reveals his true humor, graciousness, and love of food and life when we watch him on The Food Network. His character is revealed by merely being himself. I know because I've personally witnessed it for 25 years.
Guy is the real deal. He's a man who shares what brings him joy, what causes anguish, and always keeps his focus on family and friendship.
Coincidentally, Guy and I launched our businesses literally across the street from each other in the mid-1990s. I had just purchased a collection of poorly-managed radio stations, and he had just built his first restaurant. It was a symbiotic relationship; Guy fed my underpaid disk jockeys and they enthused to their audience how delicious Guy's cooking was! What better endorsement could a startup restaurant receive than from a starving D.J. sharing each bite with his rock 'n' roll listeners?
It was tough for each of us in those early days. We were both borrowing more money than we were making, both honing our business skills and trying to make the most of what we had. Guy's approach was to temper his warmth and kindness against his incredible hustle and work ethic. Not surprisingly, his restaurant became my second home for mid-week meals and for much-needed breaks from my own office problems. (Now that I reflect on it, I didn't have much to go home to during those single days anyway!)
Through bowls of Guy's fire chicken pasta, his overly generous slices of grasshopper pie and an incalculable number of beers, I saw his combination of good food-good feelings take shape.
That combination hardened his drive to ride out business-partner issues, employee concerns and even a devastating kitchen fire. His resolve led him to sign up as a contestant in a startup cooking contest on a startup cable channel. He wouldn't let on, but his victory as "America's Next Network Food Star" was obvious during the first episode. So obvious, in fact, that I called to congratulate him that very night, though eight more episodes were scheduled to air before the winner was announced. Already the professional, that night he politely redirected our conversation away from himself and toward me. That was his way—to shrug off the spotlight and remain humble in the acknowledgment of success. That's the kind of man he is; I love that moment in time with him.
If you have someone in your life who celebrates life's joyful moments and provides strength during your darker days, then you've got a great friend. If that friend always makes time to return your calls and texts, or points out the hard truth when you need to hear it, then you've got a lifelong friend. If your friend encourages you to achieve your own goals and marks this success with positive acknowledgment, then you've got a great friend.
Guy Fieri is that kind of friend. Long after our careers fade, Guy will be best known for his personal achievements, rather than his professional ones because that's the kind of man he is.
Who's that friend in your life? How has he or she impacted you for the better?
Write me at Lawrence@Northbaybiz.com.