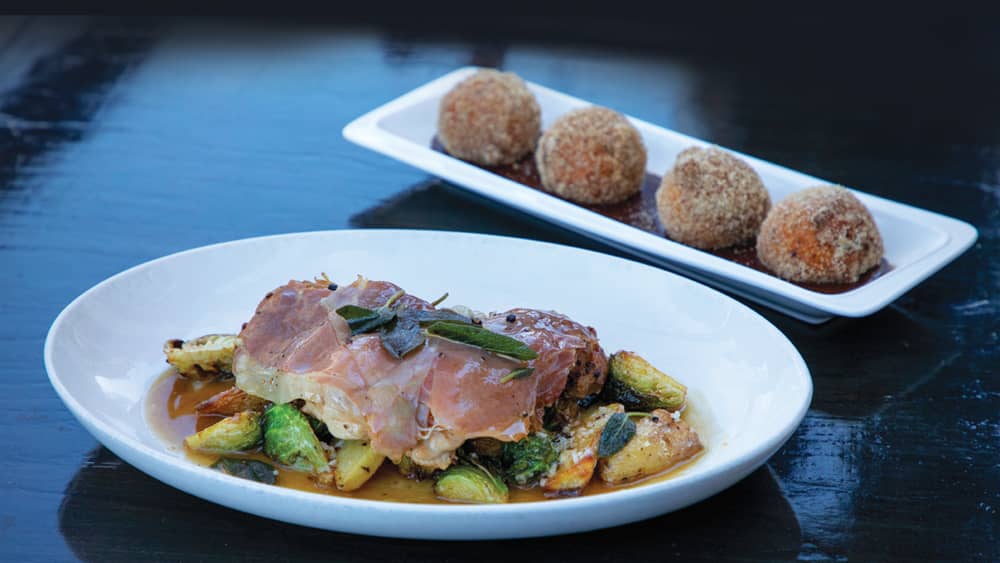 Winter solstice has arrived, bringing with it cooler temperatures and the anticipation of rain showers, meaning we have officially entered the season of hearty, soul-warming dishes. Italians have mastered comfort food—lots of pasta, sauced up with an unapologetic use of cheese. So when proprietors Christina Keeney-Foster and her husband, Eric Foster, opened the doors to Grata Italian Eatery recently, it's no wonder the restaurant was immediately embraced by pasta enthusiasts, becoming the new place to dine alfresco just off the Windsor Town Green.
I'd been hearing about Grata from friends for weeks, so Alex and I drove to Windsor to check it out. We arrive on a Thursday night to find it festively lit up with an expanded outdoor space along the sidewalk with heat lamps and white awnings, a sign of the (pandemic) times. Once we're seated, Christina stops by our table to greet us and I ask about the inspiration behind Grata. "This was our dream," she says. "We wanted a nice place to go, where people can come-as-they-are and relax with family and friends."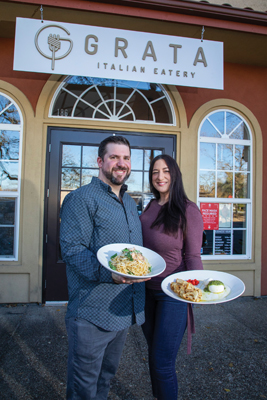 Our server for the evening is Erin Oleari, a long-time friend of the proprietors, who brings us two glasses of vino, a Hartford Pinot Noir. It's no secret that I have a passion for all things pasta, especially during this time of year. I mention this to Oleari, as we study the menu and she nods in agreement. "Winter needs Italian food, and the whole family is Italian," she says. We agree to let Oleari lead the way, and try a selection of the dishes that already keep patrons coming back. We begin with two signature appetizers—the grata burrata and the arancini. Burrata is an Italian cow milk cheese that is creamy and full of flavor. A simple, fresh dish, it's served with preserved lemon honey, pesto and sweetdrop peppers. The idea is to spread the concoction on a grilled toast point and add a pepper, which gives it a tangy pop. At first glance, the arancini appears to be a plate of meatballs. (This was confirmed when I snapped a photo and texted it to my youngest son, who lives in L.A. He immediately texted back: Where are you? Can we go there next time I visit?) If you're not familiar with arancini, these are delicious spheres of crispy fried risotto with a creamy center, served on a nice puddle of marinara sauce. Artfully arranged in a row, it's a nice dish to split and nosh on.
For the entrees, we try two extraordinary dishes. The smoked salmon carbonara is a spin on the traditional dish that originated in Italy, which includes egg, hard cheese, pancetta and pepper. The hallmark of the dish is its rich, silky sauce. This is a decadent dish—creamy and smoky with sugar snap peas that add a nice crunch, Parmesan and egg. It's melt-in-your-mouth good, and the kind of pasta you just can't stop eating. We also sample the saltimbocca, a grilled Cornish hen, crispy prosciutto and sage, with roasted Parmesan potatoes and Brussels sprouts. This is a phenomenal plate of food with layers of flavors and textures fit for a holiday celebration, but at Grata, you can enjoy every delicious bite any day of the week.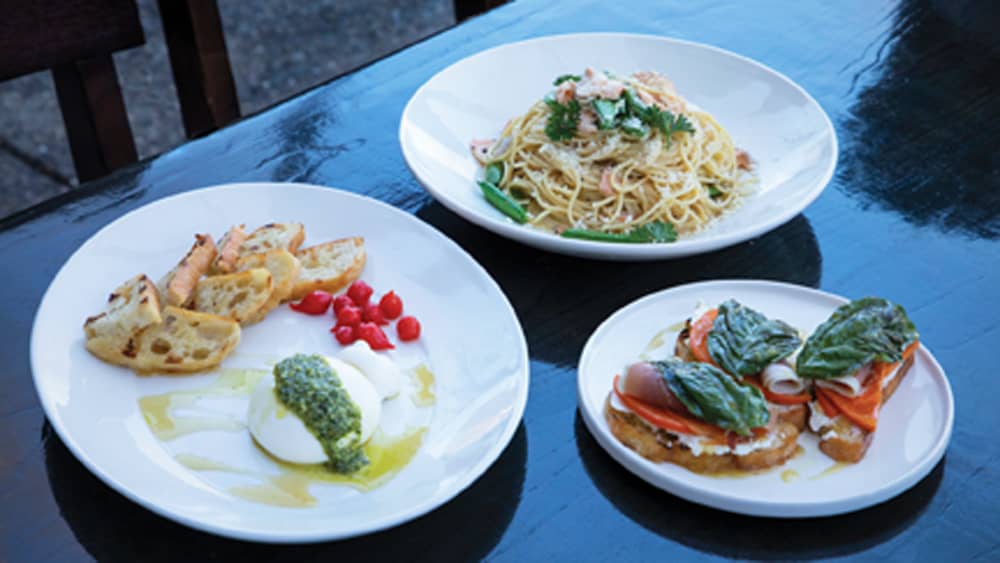 After the main course, we sampled two signature sweets that I promise will bring out your inner child, and delight any little ones you bring along with you. The ricotta zeppole (the Italian name for donut holes, which makes me wish I was Italian), are served warm with chocolate sauce, and they're heavenly, melt-in-your-mouth good. The housemade polenta cookies are served with a side of limoncello icing, so you can frost your own cookie and top it with amaretto plums. Fun and delicious to eat, both are, as Alex put it talking around a donut hole he'd popped into his mouth, "Screamin' good and worth the drive to Windsor just for dessert."
As we move through winter in the days and weeks ahead—in the midst of a pandemic—check out Grata Italian eatery. Dine outdoors on those bright sunny days when you can, and enjoy hearty, soul-comforting Italian dishes. Or, if you're not up for dining out, order a hearty family meal to-go that includes ziti in pork sugo (with crumbled meatballs, ricotta and basil), salad, housemade foccacia and six polenta cookies. (Available hot or cold for $65). Grazie Grata Italian Eatery—we'll be back soon!