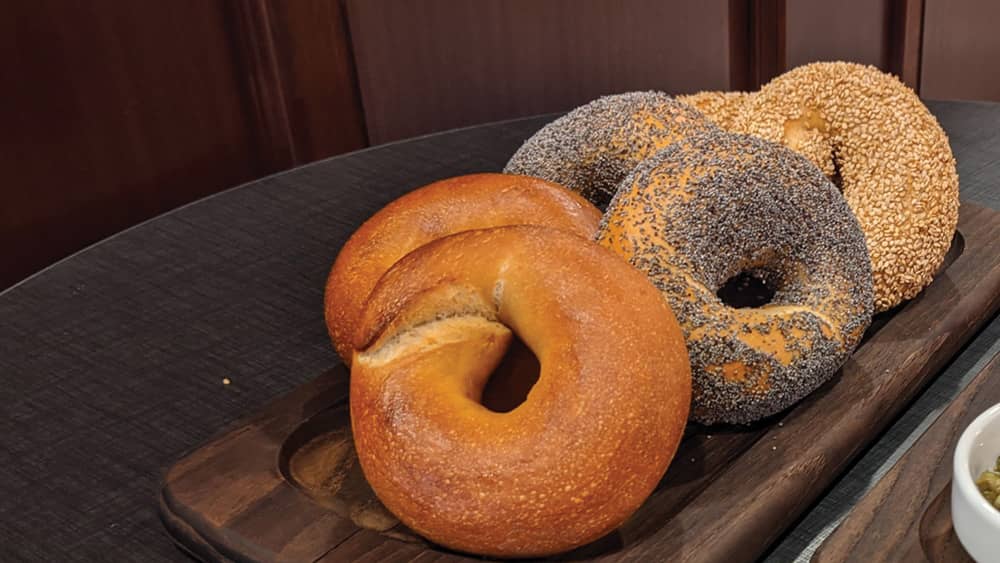 California isn't exactly known for its Jewish delicatessens, but this is a comfort food for everyone. Corned beef and pastrami sandwiches. Pickles galore. Fresh bagels, toasted to perfection, with a schmear of cream cheese. Need I say more? This is the food my Jewish friends grew up on and that I grew to appreciate when I worked in Chicago, despite my family's decidedly non-Jewish roots. And so for years, whenever I made a trip to New York, the first stop on the itinerary was lunch at a Jewish deli.
So I was intrigued when husband-wife restaurateurs Mark and Terri Stark opened the doors to Grossman's Noshery & Bar, in the heart of Wine Country. On its opening day last year, March 20, indoor dining was closed, and the pandemic had just turned the world inside-out. I pondered its fate. But a good Jewish deli is one of life's simple pleasures and should be essential in every hometown, especially for those who don't have their own Jewish grandmother—or bubbe—serving up this comfort food. So who better to introduce the concept of a Jewish deli culture? The Starks know food, and nearly a year since opening, Grossman's is making its mark on the local food scene.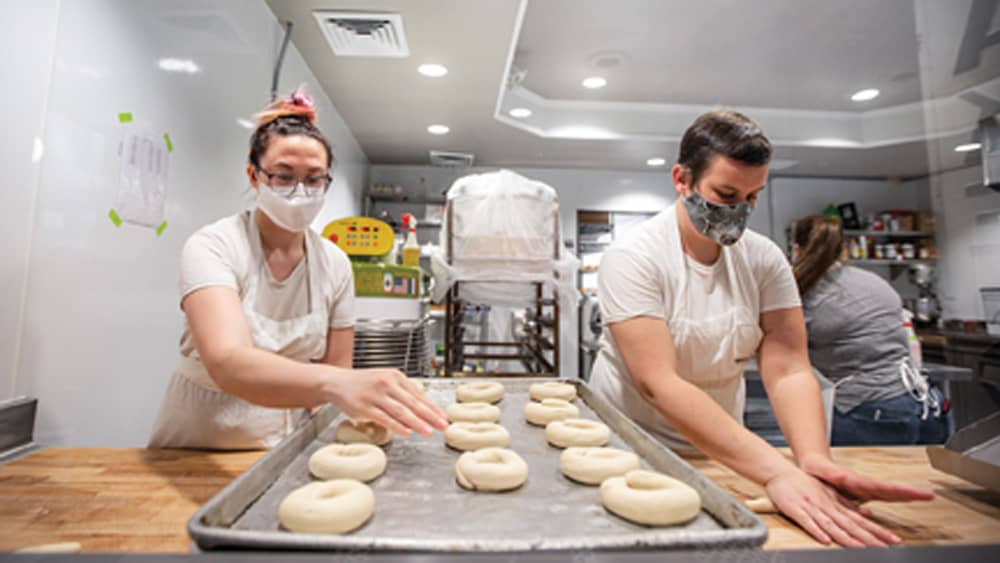 The name, Grossman's, is a nod to Terri's family and Jewish heritage, but also a passion project because she loves a well-made deli sandwich. Chef Mark brings his culinary interpretation of a Jewish deli, drawing on influences from Eastern Europe and the Middle East in addition to the East Coast influence, which makes for a unique and eclectic menu. The result is signature Stark culinary magic. And word has it the Starks, along with executive chef de cuisine David Zimmerman and chef de cuisine Matt Weinberger, worked on the menu and perfected recipes for two years, after visiting Jewish delis on the East Coast and in Southern California.
Since indoor-outdoor dining was paused, once again, I placed an order for takeout at Grossman's, located in the Hotel La Rose in Santa Rosa's Historic Railroad Square. Alex, always up for a dining adventure, was raised in Pacific Palisades, so he's never been properly introduced to Jewish deli culture. But Alex loves a good sandwich, so he was game. We arrived on a Tuesday afternoon to pick up our order, and since it was a glorious, sunny day, we brought our own cutlery and plates and found a spot to dine alfresco.
In the spirit of tradition, we began with the matzo ball soup, Jewish soul food and the perfect beginning on a crisp winter day, followed with a couple of sandwiches that we shared. Alex dug into his sandwich layered with house-cured pastrami on rye, which he deemed "exquisite" after first bite and I have to agree. Served with crisp spears of fresh, full-sour pickles, they offer a satisfying crunch and a garlic-salty taste. I opted for a Brooklyn bagel sandwich (toasted) with lox, which you can custom order, so I asked for the "everything bagel" with a schmear of scallion cream cheese. The everything bagel is everything you want it to be—each bite an explosion of flavor, which is helped by the fact that Grossman's bagels are seeded on both sides. (So no arguing over who gets the "good half," if you're sharing a bagel.)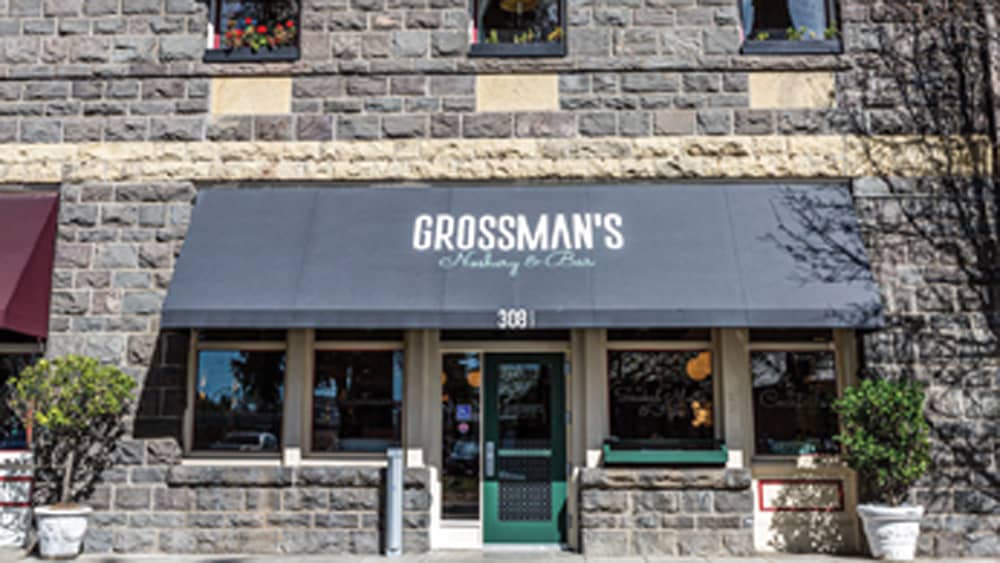 There's also a varied selection of "noshes" to choose from on the menu, and we tried two favorites. A knish is an Ashkenaz Jewish snack food, traditionally filled with mashed potato and cheese, and is usually baked or fried. But in true Stark-style, the loaded knish is elevated to a work of art—layers of flaxy pastry, loaded with carmelized onions, potatoes and farmers cheese. We also nibbled on another classic with a modern twist—the latkes, made with shredded potato and leeks, and pan fried to perfection with a beautiful crispy exterior. These latkes have a substantial chew, making it the perfect vehicle for the applesauce and sour cream, served on the side. As we noshed on these tasty bites, we also sampled the Chinese chicken salad, which is simply superb. A heaping mound of shredded cabbage, topped with a generous portion of crispy chicken, almonds and a hot mustard dressing, this is a salad I could eat at least once a week.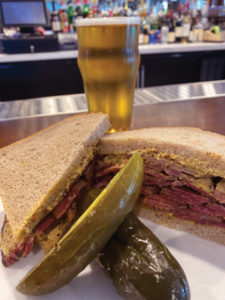 Almost everything at Grossman's is baked, brined, smoked or pickled on-site. There are two styles of lox—traditional and pastrami-style—and you'll find all the items you hope to find in a Jewish deli such as whitefish, sauerkraut, challah, rugelach and more.
Another special tradition in Jewish culture is babka, a yeast-based dough of Eastern European origin, baked in a loaf pan with swirls of cinnamon or chocolate. When I placed the order, I debated between chocolate or cinnamon and was advised to try a slice of each, so I obliged. Great at room temperature of course, but we took it home and toasted it slightly for dessert. Somewhere between a bread and cake its name comes from "babcia," a Slavic term of endearment for grandmother, and I promise you'll want to finish every last crumb.
The foods of Jewish culture are simple, yet indulgent. If you don't have a hip bubbe, head over to Grossman's because nothings beats a good Jewish deli with a modern twist. And if you have little ones at home, be sure to take them along and introduce them to this delicious comfort food.