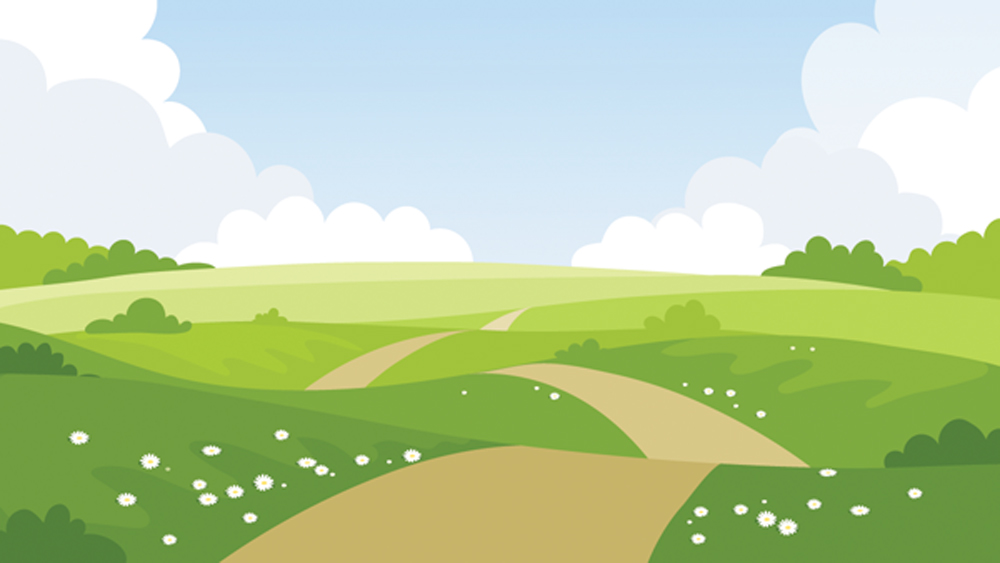 The New York Times recently polled readers, inviting them to describe the places—around the world—that "delighted, inspired and comforted them in a dark year." The Times received more than 2,000 suggestions and compiled a list of 52 to remind readers that the world still awaits. One place that made the list, the seat of Sonoma County—Santa Rosa—was suggested by Ria D'Aversa, a resident of the city and co-founder of a small natural-wine company.
She wrote: "In winter, electric-green grass crops up beside the native oaks. Santa Rosa is full of majesty. Everything is within reach, including the rough, beautiful coastline. The region brings together so many different experiences: manicured vineyards, a wonderful downtown with breweries and coffee shops, dark-green forests and snaking rivers, mountains and big agricultural valleys. One of my favorite places in Santa Rosa is Trione-Annadel State Park, which, along with other parts of the region, has suffered from wildfires in the last couple of years. People in this agricultural community see the seasons of destruction and renewal up close. They see how the fires hurt the economy and the land. I think of myself as a resilient person. I've gone through failures, traumas and upheaval. And I think that's the ethos for Santa Rosa, too: resilience."
Other places that made the list include South Wales, Wales; Kaliya Dhrow, India; Siwa Oasis, Egypt; London's St. James the Less Church, England; Andros, Greece; Bryce Canyon National Park, Utah; and more. To read the full article, visit
nytimes.com
Pandemic Imbibing
It may not be surprising to learn that people are drinking more than usual during the pandemic. And there's more than anecdotal evidence to back that up. According to a study conducted by the Rand Corp., Americans drank 14 percent more than the year before.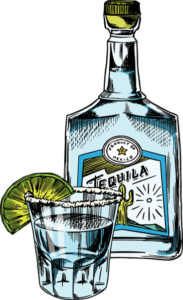 Those findings match with previous research, including data from marketing research firm Nielsen, which have shown total alcohol sales outside of bars and restaurants increased roughly 24-percent since mid-March last year.
The reasons for the sustained increase are not surprising. Having an extra glass of wine or a cocktail is a common strategy for coping with pandemic-related stress, anxiety, depression and boredom.
What have Americans been drinking? According to Nielsen sales data, the bigger winner is distilled spirits, which have outpaced other beverage categories in sales by a wide margin—tequila, gin and whiskey (both domestic and imported) have seen the largest uptick.
latimes.com
A Popular Pandemic Pastime
Since most people were sheltering in place for much of 2020—with restaurants, gyms and movie theaters closed and professional sports halted for months—video streaming emerged as one of the most popular pastimes during the pandemic.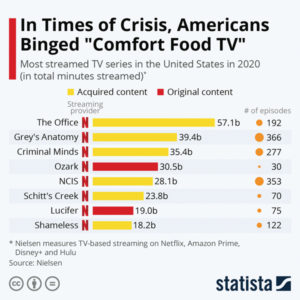 And while new, original formats such as Tiger King, The Mandolorian or Ozark tend to make the most waves (both on social media and in streaming platforms' marketing efforts), consumers were drawn to the familiar in 2020, as real life was already nerve-wrecking enough for most everyone. Shows such as The Office, Friends, or Gray's Anatomy offer a timeless blend of escapism in stressful times, which is why many people re-watch their favorite TV shows again and again.
According to data published by Nielsen, just three of the 10 most streamed shows of 2020 were streaming originals, all of them being Netflix productions. The Office was by far the most popular show in the U.S. last year, racking up 57 billion streaming minutes, followed by Grey's Anatomy with 39.4 billion minutes. Ironically, the most popular streaming original, Ozark, goes completely against the trend of comfort viewing, as it is the antithesis of feel-good television.