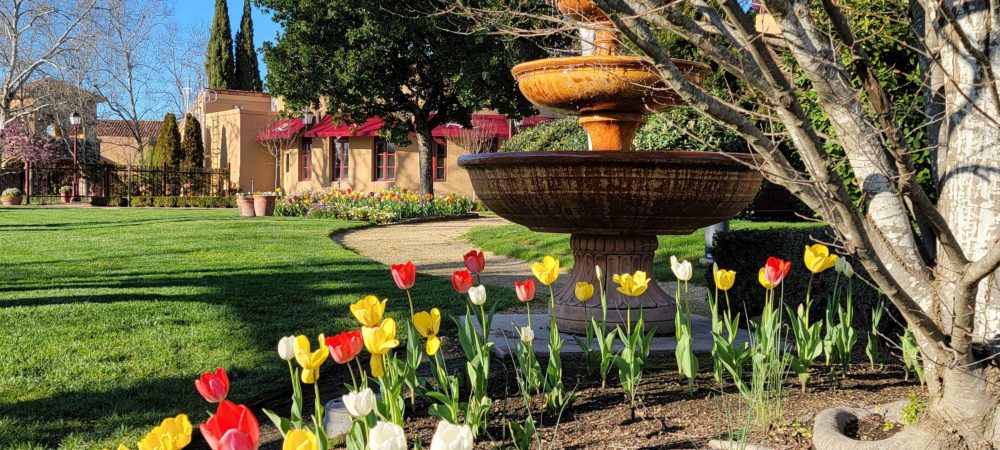 "Vintners Resort has always been that special place where executives like to bring their guests to entertain."—Percy Brandon, general manager
Vintners Resort started in 1984 as a quaint 44-room inn nestled in the Russian River Valley. In 2000, the Carano family bought the property with the vision of transforming it into a vibrant attraction for business and leisure travelers in the heart of Wine Country. Later that year, general manager Percy Brandon came on board and the team continued to develop the property into what it is today: a full resort with 78 rooms, a beautiful 10,000- square-foot event center, bocce ball courts, restaurants and a spa. The restaurant, John Ash & Co. was also renovated and expanded to include The Front Room Bar & Lounge, as well as the addition of the River Vine Restaurant. Today, Vintners Resort is an iconic attraction to the Northern California business community.
The resort is conveniently located in the heart of Sonoma County, just off Highway 101, though it feels much farther away from the hustle and bustle of Santa Rosa. Tucked away from the main road and surrounded by beautiful vineyards, lush gardens and bubbling fountains, it serves as a peaceful oasis for businesses to gather.
Whether guests are hosting a training, fundraising event, holiday party, company anniversary, or a formal meeting, Vintners Resort remains a favorite venue and continues to provide a space for businesses to create connections and build community. "Vintners Resort has always been that special place where executives like to bring their guests to entertain. This is where they land the last business [deal], or where they celebrate a business they just signed off," says Brandon.

Vintners Resort boasts a variety of spaces for these gatherings. The famed John Ash & Co. restaurant is designed for intimate conversation and business meetings, with an array of seating options and tables spaced generously apart. The restaurant's Front Room Bar & Lounge features a fantastic happy hour for casual gatherings and after-work recreation.
The meeting rooms provide a wide selection of layouts and sizes, ranging from an executive boardroom to a ballroom. Each room also features an outdoor patio space where guests can take a break to enjoy a meal together and get some fresh air before returning inside to finish business.
Another gem of the resort, the Vi La Vita spa, offers massage therapy sessions, an indoor-outdoor plunge pool, steam saunas, five treatment rooms, a wellness relaxation lounge, a boutique and a fitness center. Brandon notes that it is a great place for guests accompanying their working spouses. It is the perfect place to relax and rejuvenate for a few hours while they wait for their significant other to finish up work for the day.
Across the way are two bocce ball courts, tucked alongside a shady grove of redwood trees. After a long meeting, business partners and clients can bond over sipping cocktails and partaking in some friendly competition.
It is this concept of merging work and play that makes Vintners Resort so appealing. As Brandon explains, "When you mix business with pleasure, the outcome is always so much greater."
Photos courtesy of Vintners Resort