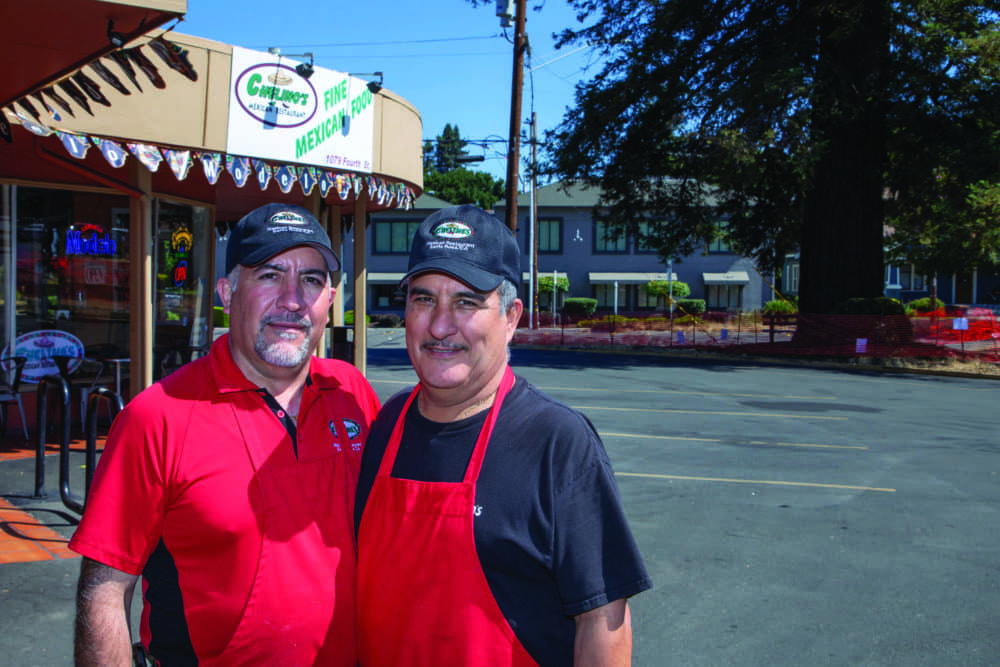 The family-run Chelino's Mexican Restaurant has been a Fourth Street fixture in Santa Rosa for nearly 20 years. Jalisco-born co-owners, Jose and Fernando Barragan witnessed many changes within the community throughout that time, but they've never seen anything like the most recent fixture to the neighborhood—an unsheltered encampment outside their front door.
The encampment formed shortly after the City of Santa Rosa conducted a sweep of a larger encampment occupying Fremont Park during the final week of July 2020. At that time, the encampment was estimated to have close to 100 unsheltered residents. Fremont Park is a few blocks down the street from Chelino's, the walking distance made the move easier for the uprooted to take root at the public park hamlet at Chelino's known as Triangle Park.
"My customers complain and say they don't want to eat here," Barragan said in an interview in late June. "People don't sit outside anymore because of the smell and the homeless bothering them."
Barragan said the encampment had been there for more than six months. He mailed 10 letters to the mayor and other officials, made numerous calls to Santa Rosa Police Department and was running out of options for any recourse.
The once-green grass was dying and brown, and the benches were littered with the belongings of the park's newest denizens. At least seven tents dotted Triangle Park, pitched next to redwoods and snaking along the sidewalk.
At the time, the park's unofficial "manager" was a middle-aged unsheltered man named Isaac, who came to the park after being forced to vacate the Fremont Park encampment. Isaac said he and other initial residents attempted to maintain the park and "keep it upscale" but the constant influx of new unsheltered people coming and going from the park proved difficult to manage.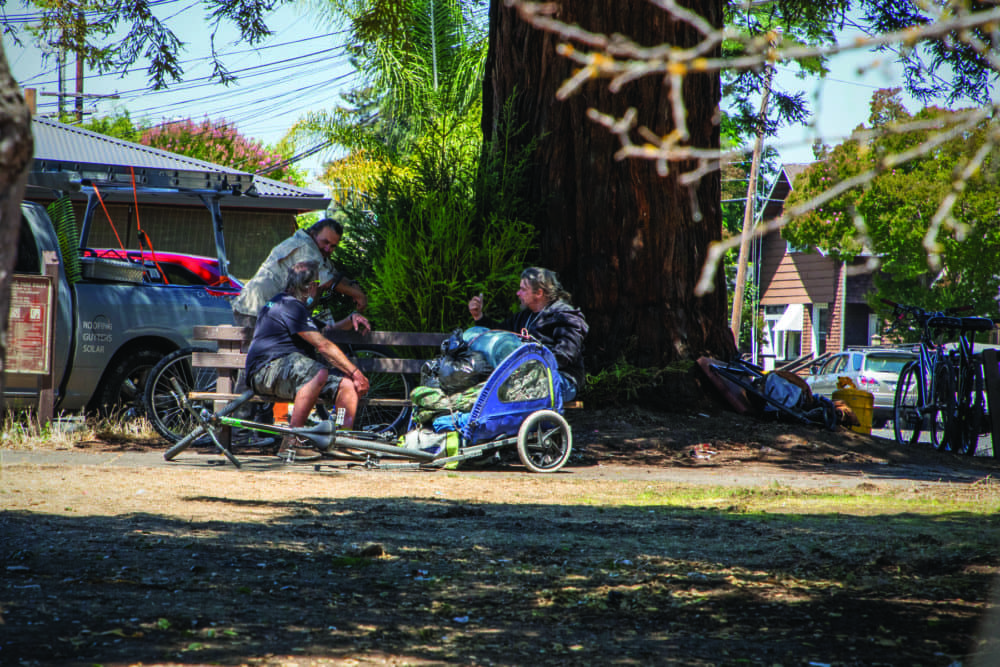 "The more people there are in an encampment, the worse it gets because people have anonymity," he said in an interview in late June. "They do whatever they want and that's when things get bad. That's what happened at Cancer Park—it got too big. It's almost like other transients are trying to sabotage us."
Isaac says he was formerly employed doing in-home support and has been in-between clients for so long that he ended up on the streets. He's learned to live on the streets, a reason why he refuses offers to stay in places like Sam Jones shelter in Santa Rosa.
"All the city offers is the Sam Jones thing, and I don't want to be around that crowd. We're all here because we don't want anyone doing anything for us," Isaac said. "It's like a giant dorm in those shelters. That crowd wants to be catered to and sit around. I want to be able to take care of myself. The best thing the city can do is leave us alone so we can settle in and get somewhere close to normal," he said.
Isaac shot down an idea from other residents about requesting a porta-potty for the encampment, saying it would draw even more people to the already crowded park.
Despite Isaac's claims that the residents tried to keep the park "clean and non-aggressive," Barragan said he watched his new neighbors drink throughout the day and into the night, engage in violent skirmishes and constantly found needles in the parking lot when cleaning.
"I've lost a lot of business because of this," Barragan said. "My brother and I wonder, 'Why here?' Why is this allowed to happen in front of our restaurant?"
Managing Santa Rosa's unsheltered population is a tough task.
In a June interview, Kelli Kuykendall, Santa Rosa City homeless services manager, said the city was well aware of the encampment at Triangle Park, but limited resources and an ever-expanding list of larger encampments across Santa Rosa, particularly in Santa Rosa's Roseland neighborhood, pose challenges.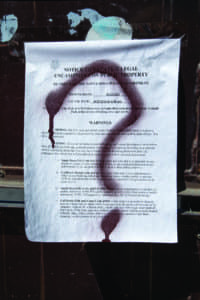 Kuykendall cited the Robert Martin v. City of Boise ruling, stating that if a city has inadequate shelter beds available, enforcing a camping ban violates the constitutional ban on cruel and unusual punishment, which hamstrings Santa Rosa and Sonoma County's efforts.
"We must offer them alternative shelter before we can ask them to move along. We have to provide storage, adequate notice and accommodate all disabilities," Kuykendall said. "We're also operating under guidance from the CDC during a pandemic about not removing encampments due to health concerns."
Kuykendall said that due to the growing amount of encampments in Santa Rosa and limited resources, the city must prioritize each encampment based on factors such as: damage to private property; fire risk; vicinity to a creek, or waterway possibly affecting stormwater regulations and impacts on nearby businesses and homeowners.
"We look at the amount of debris, trash and needles; Human waste and the presence of any rats; the size of the encampment relative to the area. We also look at the damage to property and the length of time the encampment has been in its location. The longer a camp is in place, they start to grow in size and you start to see the human and environmental impact," she said.
Camp Cleared
Santa Rosa City officials cleared Triangle Park on the morning of June 29. Some unsheltered members of the camp were assisted by Redwood Catholic Charities' homeless outreach team to secure accommodations at Sam Jones Hall, while others opted to search for shelter elsewhere.
The city's 2020 homeless census count estimates that there are around 1,500 unsheltered residents in Santa Rosa. City officials estimate that unsheltered people are living in more than 300 cars and RVs. They are considering an overnight parking lot to house at least 50 vehicles at the city's Utility Field office located near the Finley Community Center. The center previously hosted a 68-tent outdoor camp in its parking lot. The camp closed in November 2020. "Most people on the street don't want a shelter. They want to stay on the street, or possibly at a managed camp similar to the Finley Center," Kuykendall said. "They don't want to give up their autonomy."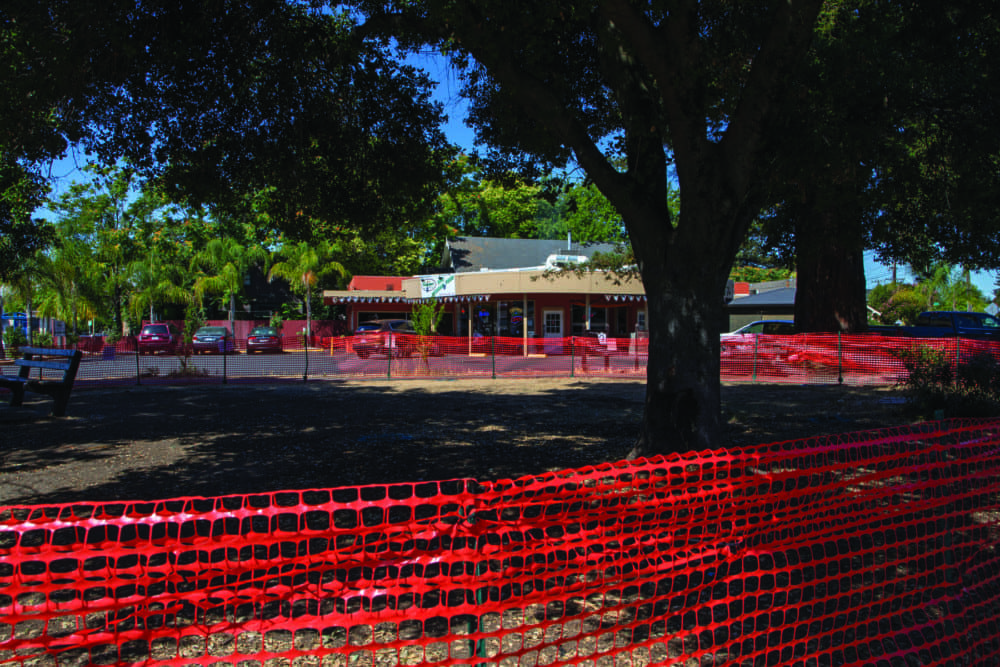 As the city's homeless services manager, Kuykendall says the common complaint she hears from the community is: "Officials are doing so much for the homeless, but what about businesses and homeowners?"
Kuykendall wants residents to know the city understands their concerns and is doing what it can, but that it's a tough sell to the community when the issue is so visible.
Orange contractor safety-fencing now lines Triangle Park, restricting access to the public space, closed for a "turf rehabilitation project" by the city. For the Barragan brothers, the rehabilitation of their livelihood is also underway. Barragan says business has picked up and Chelino's clientele are comfortable eating at the restaurant once again.
[Duncan Garrett Photography]
En Espanol
El restaurante mexicano de gestión familiar de Chelino's ha sido un elemento fijo en Fourth Street en Santa Rosa durante los últimos 19 años. Los copropietarios José y Fernando Barragán, nacidos en Jalisco, fueron testigos de muchos cambios dentro de la comunidad a lo largo de ese tiempo, pero nunca habían visto nada como el elemento más nuevo en el vecindario: un campamento para personas sin hogar que comparte espacio con su estacionamiento.
El campamento se formó poco después de que la ciudad de Santa Rosa realizara un barrido de un campamento más grande que ocupaba Fremont Park durante la última semana de julio de 2020. En ese momento, se estimaba que el campamento tenía cerca de 100 residentes sin refugio. Fremont Park está a pocas cuadras de Chelino's, la distancia a pie facilitó que los desarraigados echaran raíces en la aldea del parque público de Chelino's.
Barragn dice que el campamento ha estado allí durante más de seis meses y que sus solicitudes de asistencia de los funcionarios de la ciudad han caído en oídos sordos. Envió por correo 10 cartas al alcalde y otros funcionarios, hizo numerosas llamadas al Departamento de Policía de Santa Rosa y se está quedando sin opciones para cualquier recurso.
"Mis clientes se quejan y dicen que no quieren comer aquí", dice. "La gente ya no se sienta afuera por el olor y las personas sin hogar que les molestan", dice Barragán. "Antes del campamento, ese parque era verde y la gente comía en los bancos y se sentaba allí con sus hijos. Pero no ahora."
La hierba que alguna vez fue verde ahora se está volviendo marrón, y los bancos están llenos de las pertenencias de los habitantes más nuevos del parque. Al menos siete tiendas de campaña salpican el espacio público, colocadas junto a secuoyas y serpenteando a lo largo de la acera.
El "administrador" no oficial del parque es un hombre desamparado de mediana edad llamado Isaac. Dice que llegó al parque después de ser obligado a abandonar el campamento de Fremont Park. Isaac dice que él y otros residentes tempranos trataron de mantener el parque y "mantenerlo de alto nivel", pero la afluencia constante de nuevas personas sin refugio que van y vienen del parque es difícil de manejar.
"Si hay más carpas, iré", dice Issac. "Cuanta más gente hay en un campamento, peor se pone porque la gente permanece en el anonimato. Hacen lo que quieren y ahí es cuando las cosas se ponen feas. Eso es lo que sucedió en Cancer Park: se hizo demasiado grande. Es casi como si otros transeúntes intentaran sabotearnos. "
Isaac dice que anteriormente trabajó en el servicio de atención domiciliaria y ha estado sin clientes durante tanto tiempo que terminó en la calle. Ha aprendido a vivir en la calle, razón por la cual rechaza las ofertas para quedarse en lugares como el refugio Sam Jones en Santa Rosa.
"Todo lo que ofrece la ciudad es lo de Sam Jones, y no quiero estar cerca de esa multitud. Todos estamos aquí porque no queremos que nadie haga nada por nosotros ", dice Isaac. "Es como un dormitorio gigante en esos refugios. Esa multitud también quiere ser atendida y atendida. Quiero poder cuidarme solo. Lo mejor que puede hacer la ciudad es dejarnos solos para que nos acomodemos y lleguemos a un lugar cercano a la normalidad ", dice.
Kelli Kuykendall, gerente de servicios para personas sin hogar de la ciudad de Santa Rosa, dice que la ciudad conoce bien el campamento en Triangle Park, pero los recursos limitados y una lista en constante expansión de campamentos en Santa Rosa plantean desafíos.
Kuykendall dice que los esfuerzos de Santa Rosa y el condado de Sonoma también se ven obstaculizados por el fallo de Robert Martin contra la ciudad de Boise, que establece que si una ciudad tiene camas de refugio inadecuadas disponibles, hacer cumplir una prohibición de acampar viola la prohibición constitucional de castigos crueles e inusuales.
"Debemos ofrecerles un refugio alternativo antes de que podamos pedirles que se muden. Tenemos que proporcionar un almacenamiento adecuado, avisar y dar cabida a todas las discapacidades ", dice Kuykendall. "También estamos operando bajo la guía de los CDC durante una pandemia sobre no retirar los campamentos debido a problemas de salud".
Kuykendall dice que debido al creciente número de campamentos en Santa Rosa y los recursos limitados, la ciudad debe priorizar cada campamento en función de factores de daño a la propiedad privada; riesgo de fuego; proximidad a un arroyo o vía fluvial que posiblemente afecte las regulaciones de aguas pluviales; impactos en las empresas cercanas y los propietarios de viviendas.
"Observamos la cantidad de escombros, basura y agujas. Residuos humanos y presencia de ratas. El tamaño del campamento en relación con el área. También analizamos los daños a la propiedad y cuánto tiempo lleva instalado el campamento. Cuanto más tiempo está instalado un campamento, comienzan a crecer en tamaño y comienzas a ver el impacto humano y ambiental ", dice ella.
La ciudad está trabajando actualmente en un plan para el sitio en Triangle Park frente a Chelino's, pero el impacto de la pandemia ha "arruinado todo", según Kuykendall, quien dice que hay más personas viviendo en las calles de Santa Rosa. . . que se puede albergar en refugios.
"La mayoría de la gente en la calle no quiere un refugio. Quieren quedarse en la calle, o posiblemente en un campamento administrado similar al Finley Center ", dice. "No quieren renunciar a su autonomía".
Kuykendall dice que el equipo de Parques y Recreación de la ciudad ha tratado de dar servicio a Triangle Park lo mejor que ha podido, y el equipo de respuesta a escombros de la ciudad a través de su departamento de obras públicas tiene la tarea de retirar la basura. y los escombros de los campamentos de personas sin hogar.
"Una de nuestras preocupaciones para Triangle Park es que si cerramos ese campamento y lo limpiamos, es posible que regresen a Fremont Park", dice. "No podemos lograr que la gente acepte los servicios y no podemos arrestarlos por no tener hogar".
Como gerente de servicios para personas sin hogar de la ciudad, Kuykendall dice que la queja común que escucha de la comunidad es que "los funcionarios están haciendo mucho por las personas sin hogar, pero ¿qué pasa con las empresas y los propietarios?"
Kuykendall quiere que los residentes sepan que la ciudad comprende sus preocupaciones y que realmente lo está intentando, pero que es difícil venderle a la comunidad cuando el problema es tan visible.
Isaac dice que los residentes del campamento y el personal del Chelino's están distantes entre sí. Rechazó la idea de otros residentes sobre solicitar un baño portátil para el campamento, diciendo que atraería aún más personas al parque ya abarrotado.
Más residentes en el parque es lo último que Barragán espera ver. A pesar de las afirmaciones de Isaac de que los residentes tratan de mantener el parque "limpio y no agresivo", Barragán dice que observa a sus nuevos vecinos beber durante el día y la noche, participar en violentas escaramuzas y encontrar agujas constantemente en el estacionamiento.
"He perdido muchos negocios por esto", dice Barragán. "Mi hermano y yo nos preguntamos, '¿Por qué aquí?' ¿Por qué se permite que esto suceda frente a nuestro restaurante? "