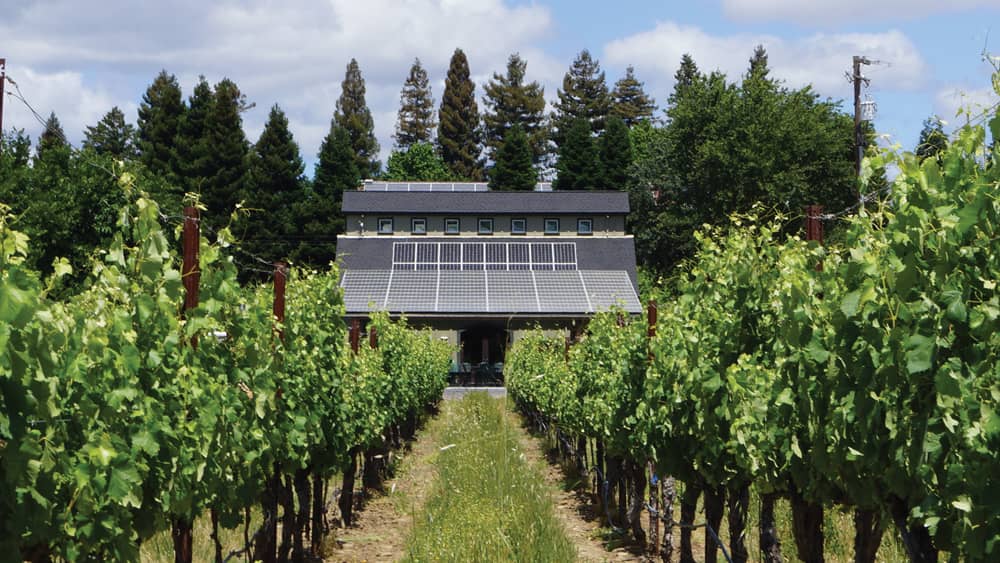 Dry Creek Road is a magnificent stretch of backroad in Sonoma County and over the years, it has gained a reputation as a premium winegrowing region, known for its world-class Zinfandel. What's not so well known, is this road is also home to the only sparkling wine house in the area.
The story behind Amista Vineyards began in 1986 when Michael and Vicky Farrow happened to see a commercial, featuring Ernest and Julio Gallo, and immediately knew they wanted to live a Wine Country lifestyle. With a Ph.D. in chemistry and a passion for cooking, it was more than a wistful thought for Mike. He and Vicky purchased half a ton of Cabernet winegrapes and began making wine in their Saratoga home. Shortly after, they moved to New Jersey and took the barrel with them and began bottling wine from it to serve when they had friends over for dinner.
Eventually, the Farrows found their way back to California and purchased a parcel of land on Dry Creek Road. When they moved to the property in 2002, the inspiration behind the dream fully took hold. They named the winery Amista Vineyards, sourced from the word amistad, which means friendship in Spanish, a nod to the friends who supported the Farrows' dream every step of the way. In the early days, the winery focused on producing Chardonnay, Syrah, Zinfandel and Cabernet Sauvignon, but when Ashley Herzberg came on board as winemaker a decade ago, the winery ventured into bubbly.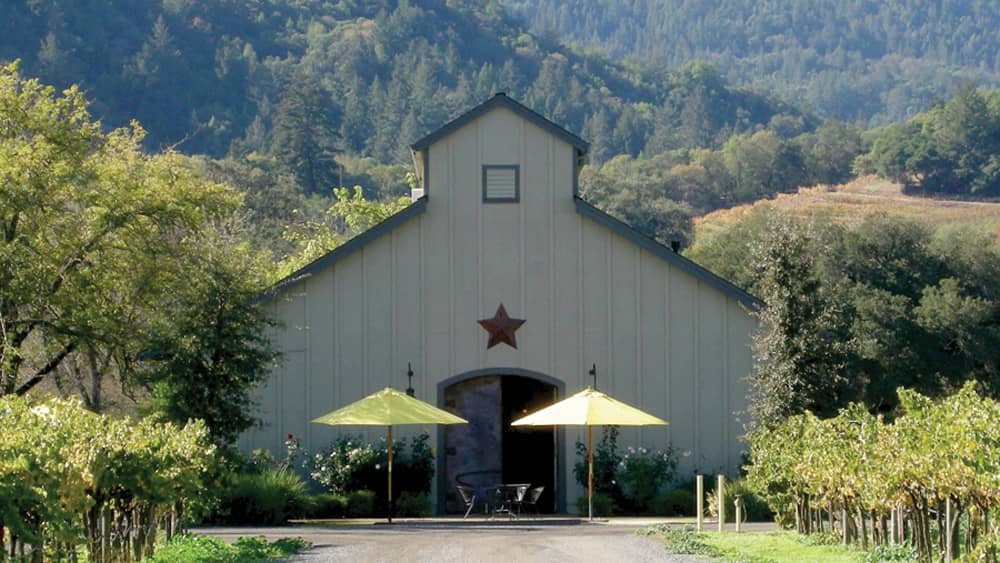 A tasting at Amista Vineyards begins with a splash of welcome wine. On this day, it happens to be the Blanc de Blanc, a refreshing glass of bubbles with notes of pear and lemon curd. Guests are invited to take the half-mile tour around the vineyard and signposts guide the way, noting points of interest around the property. It's an easy walk and the views are well worth it.
After the tour, guests can enjoy a seated tasting indoors or out. There are two tasting options—The Taste of Amista and the Estate Sparkling Flight. Sometimes guests mix it up and try both. On this day, Tammy Toth, hospitality manager, provides a personalized tasting, featuring the still and sparkling wines of Amista, along with a bowl of freshly-popped popcorn, flavored with a citrus-herb mixure. "A great palate cleanser between tastes," says Toth, who pours the next taste, a Sparkling Mataro (pronounced muh-tar-oh).
Amista's sparkling wines are made using the traditional Méthode Champenoise method, all sourced with estate grapes from its Morningsong Vineyard. "Most Champagnes are blends," says Herzberg. "You'll rarely find a stand-alone sparkling. This one is super aromatic and fruit driven." A lovely wine with a lush texture, it's also pretty in a glass.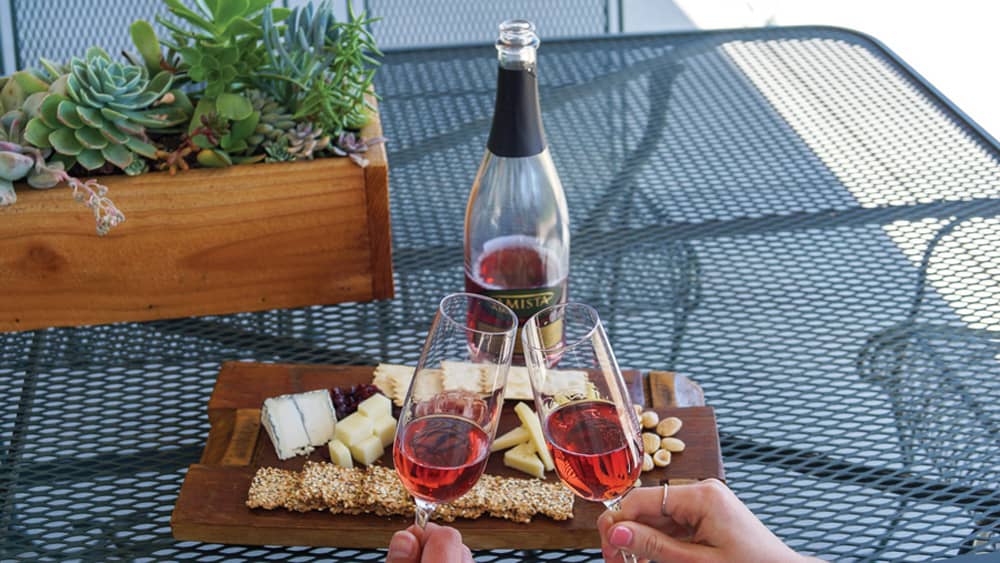 Next, we sample the Sparkling Syrah. "This is what started our venture into sparkling," says Vicky. "One taste and I was hooked. We call it 'joy in a bottle.'" Indeed. A dry, fruity sparkling with notes of fresh strawberry, it's an elegant glass of bubbles, and according to Herzberg, pairs with any seasoned dish with heat. "The complexity and heft of the Sparkling Syrah makes it a perfect pairing with spicy food," adds Herzberg. Try it with you favorite spicy dish—whether it's Thai, Vietnamese or Mexican.
We move to the still wines and begin with the 2017 Chardonnay, created at the request of the Farrows' friends. "We found a French-style Chardonnay without a lot of oak," says Vicky. Aged in neutral oak barrels, it has beautiful fresh fruit notes and a nice creaminess on the palette.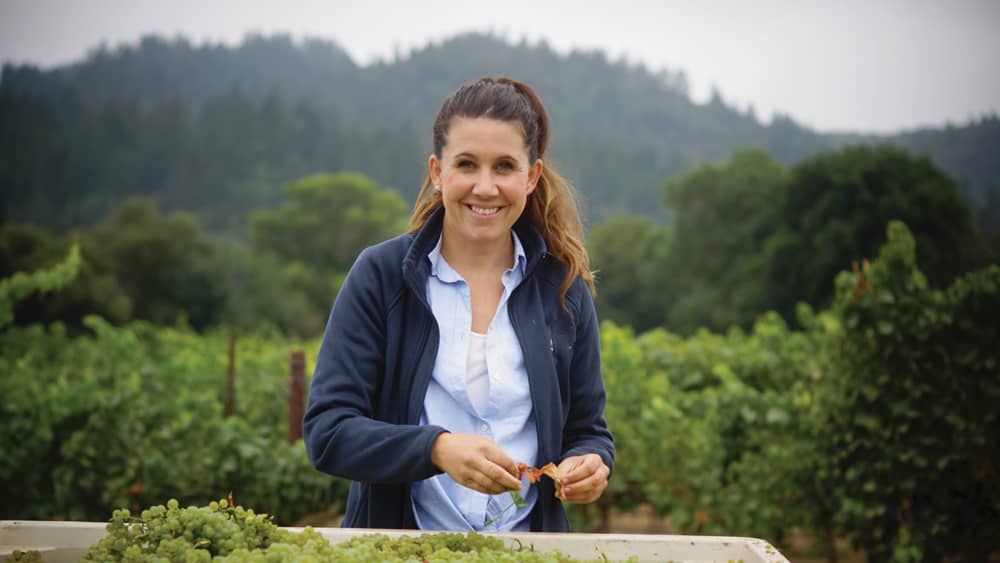 Toth pours a splash of the 2019 Grenache next. "Grenache is the Rhône varietal for Pinot lovers," says Toth. "This is my summer red." An elegant wine, it pairs well with anything you might pair with a Pinot Noir such as salmon or pork. Herzberg likes to chill it in the refrigerator for 20 minutes before serving.
And finally, we end with a splash of the 2017 Gene's Block Zinfandel, sourced from fruit at Saini Farms, less than a mile up the road from Amista. A spicy, fruit-driven Zin with notes of raspberry, cassis and sandalwood, it's an elegant wine with depth.
As the Farrows like to say, Amista Vineyards was founded to bring together great wine and great friends. "We want to be the wine in your glass for those special moments," says Vicky. Next time you're planning a road trip to Dry Creek Valley, make a reservation at Amista, bring your friends and your walking shoes and enjoy the distinctive, elegant wines of Amista Vineyards. Cheers!
Amista Vineyards
Address: 3320 Dry Creek Road, Healdsburg, Calif. 95448
Phone: (707) 431-9200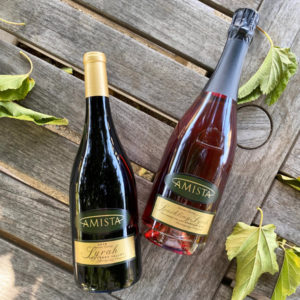 Website: amistavineyards.com
Hours: Open Daily; 11 a.m. to 4:30 p.m.
Tasting Fees: Taste of Amista: $30/per person; Sparkling Flight: $40/per person
Wines Offered: Blanc de Blanc, Sparkling Mataro, Sparkline Syrah, 2017 Chardonnay, 2019 Grenache, 2017 Gene's Block Zinfandel
Reservations: Required. Call or reserve online.
Picnics: Yes, Monday through Friday. Cheese-and-charcuterie boards available for purchase.
Pets: Yes, friendly dogs (and cats!) are welcome. Treats and water available.
Did You Know? A majestic Heritage Oak, that dates back more than 200 years, graces the property at Amista Vineyards. When the seedling took root two centuries ago, most of Dry Creek Valley was planted with prunes. Today, the oak is a symbol of a bygone era and provides a home for many insect and bird species that thrive together, creating a naturally biodiverse habitat.
[Photos courtesy of Amista Vineyards]