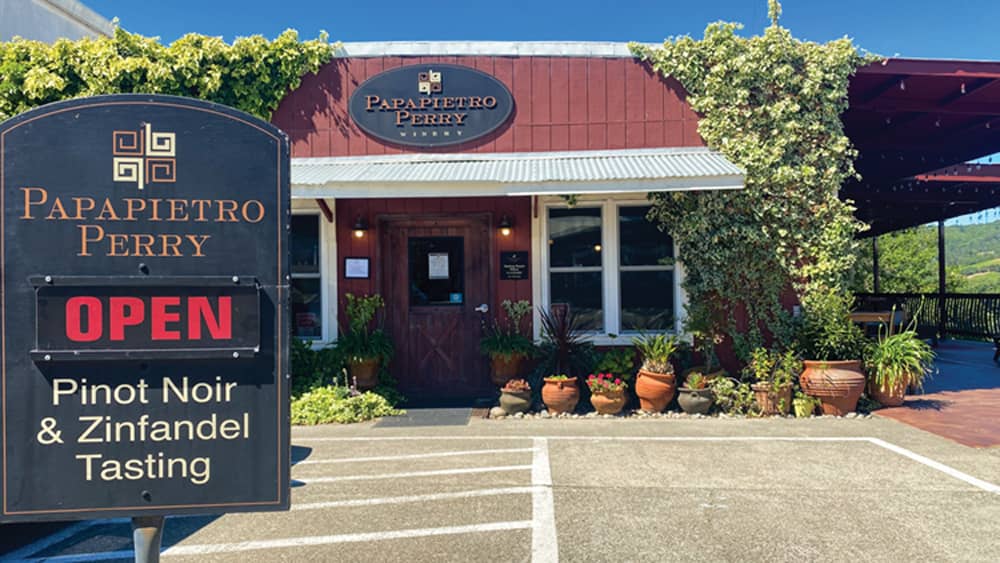 After traversing back roads into the thick of wine country, the journey concludes with a special welcome of Nola, the wine dog, who guides each traveler to Papapietro Perry Winery to the most convenient parking spot. From there, a gorgeous deck beckons each wine enthusiast to relax and gaze upon the vineyard-covered valley, glass in hand. This winery has come a long way from its "garage band" origins.
When Ben Papapietro was working as the head of a Teamsters union in San Francisco for newspaper drivers, his fun obsession was winemaking. "Who knew that our little hobby was going to turn into a full-blown business that has been around for almost 25 years," says Papapietro, now the winemaker. "I was happy being a bootlegger selling to family and friends. I sold all the wine I wanted."
But the little hobby turned into a future career for him and his wife, Yolanda, when they moved to Wine Country to join forces with Bruce and Renae Perry, co-owners of the winery. "In the first three or four years, we were making our wine outside in those car tents," says Papapietro. "We had about three or four car tents all wired with extension cords for lighting. We made our wine on a dirt road and we lived on a dirt road. We were roughing it, but it was camping and it was camping at its best."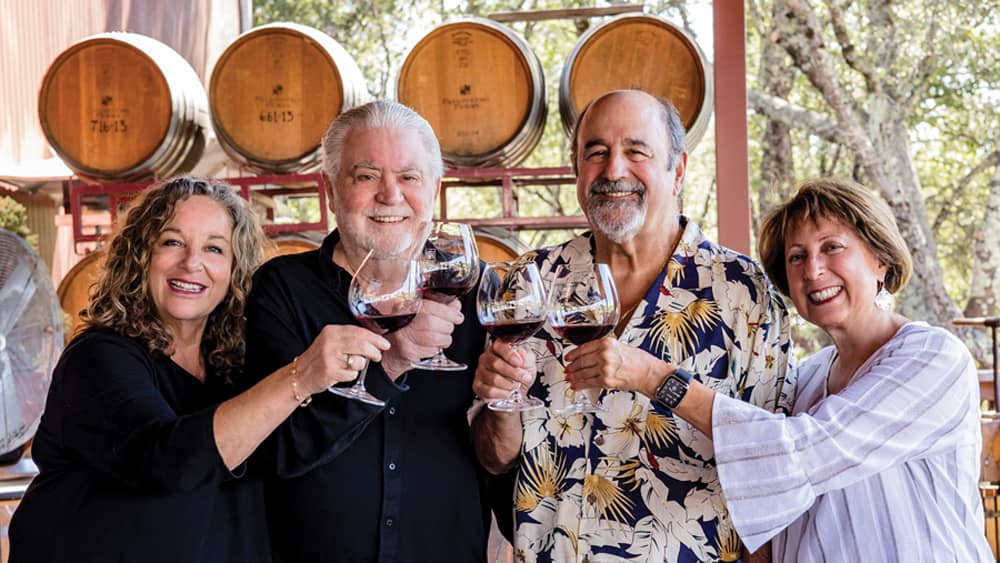 Despite the humble origins and processes they endured to curate wine, the winery was awarded ratings of 90 and higher for seven different Pinot Noirs in 2004. They have been awarded scores of 90 and higher 51 times since their breakthrough across five different wine critic organizations and competitions. And even with their facilities, tools and technology vastly improving over time to increase the efficiency of the winemaking operation, Papapietro's secret to success comes with a simple philosophy: consistency.
"I came up with a style of winemaking that I developed over time, and I wanted to be consistent year in and year out," says Papapietro. "We were consumers before we were winemakers." I was always amazed that one year, we would really love a certain wine, he says, and then the next year, it would fall apart. "One of the things I wanted to do is be pretty much the same from year to year, and I developed a style that reflects that image of ours."
The consistency in each vintage ranges from using the same barrels, the same yeast for each batch, grapes from the same selections of vineyards, and the same fermentation process. And while that consistency comes through, wine tasters "really do see the value of each particular vineyard site," says Yolanda Papapietro, co-owner and head of distributor relations. Alongside their lineup of Pinot Noirs are a Chardonnay, a Zinfandel and a Rosé of Pinot Noir.
While gazing upon the rows of grapes about to be hand-picked for this year's harvest, the initial glass of the tasting is the first of four Pinot Noirs—2018 from Russian River Valley. Acting as a combination of blended Pinot Noir lots to create an earthy concoction featuring pinches of cranberry, pomegranate and cherry.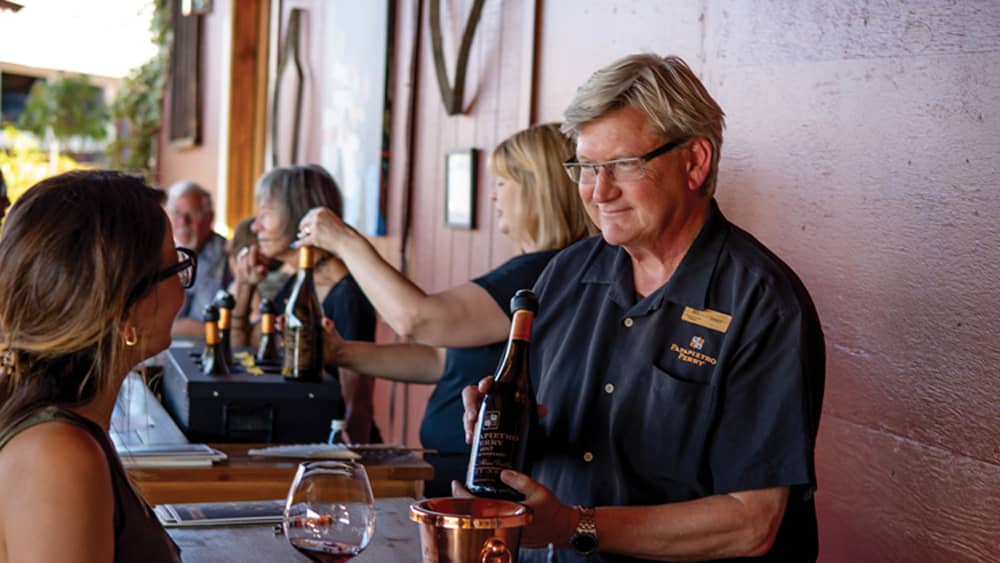 What follows is a 2018 Leras Family Vineyards Pinot Noir. Fruity and tart, notes of cherry, raspberry, strawberry and red apple skin burst across the earthy tones alongside a lingering finish with plenty of minerality. "We take pride in making elegant, happy wine," says Renae Perry, co-owner and CEO. "We're serious about wine; we're just not serious people."
The third Pinot Noir is from Peters Vineyard. A luxurious, deep red wine, it has just enough sweetness from hints of vanilla, tea, cherry and raspberry to balance against the acidity and complexity of the wine. There are even notes of caramel laced with the fruit.
The last pour is a 2018 777 Clones Pinot Noir. Subtle hints of cola and floral notes play with the dark fruits, embracing the aromas of the wine with a regal finish. The wine opens as warm spices emerge. The beautiful red berry, oak and spice flavors merge with balanced acidity and a tart apple finish.
"Some people make a big mistake trying to appeal to everybody with every single wine known to man and they don't master any of them," says Papapietro. "Being an older, wiser guy, when we started this thing, I was 57. We started the business to do one thing really, really well. Then to do a couple of things really well. We're not trying to please everybody with every single line, so I have mastered one." Enjoy the Dry Creek Valley vista through the lens of a Bordeaux glass, sipping on the mastery that is their line of Pinot Noirs, some of the best available in the North Bay.
Did You Know?
Papapietro Perry Winery with the Nola's Bark Club offers tasting perks for you and your dog. The winery offers a lovely outdoor tasting patio that overlooks the Dry Creek Valley, a dog-friendly haven for wine tasting in Sonoma County.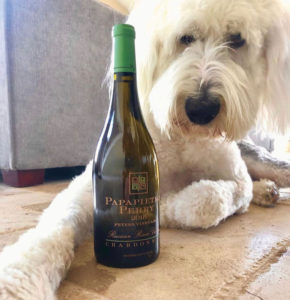 Nola, the winery dog, is inviting visiting dogs to pose for a photo that the winery will post and share on their Instagram, as well as winery-themed treats and dog bowls to take home to remind them of their trip and membership in the dogs-only wine club.
At a Glance
Papapietro Perry Winery
Address: 4791 Dry Creek Rd, Healdsburg, Calif. 95448
Phone: (707) 433-0422
Website: papapietro-perry.com
Hours: Open Daily; 11 a.m. to 3:30 p.m.
Tasting Fee: General Tasting $25/per person
Wines Available: 2018 Russian River Valley Pinot Noir, 2018 Leras Family Vineyards Pinot Noir, 2018 Peters Vineyard Pinot Noir, 2018 Campbell Ranch Pinot Noir, 2018 777 Clones Pinot Noir
Reservations: Required. Call or reserve online.
Picnics: No
Pets: Yes, dogs are certainly welcome. Treats, water and other assorted goodies are available.