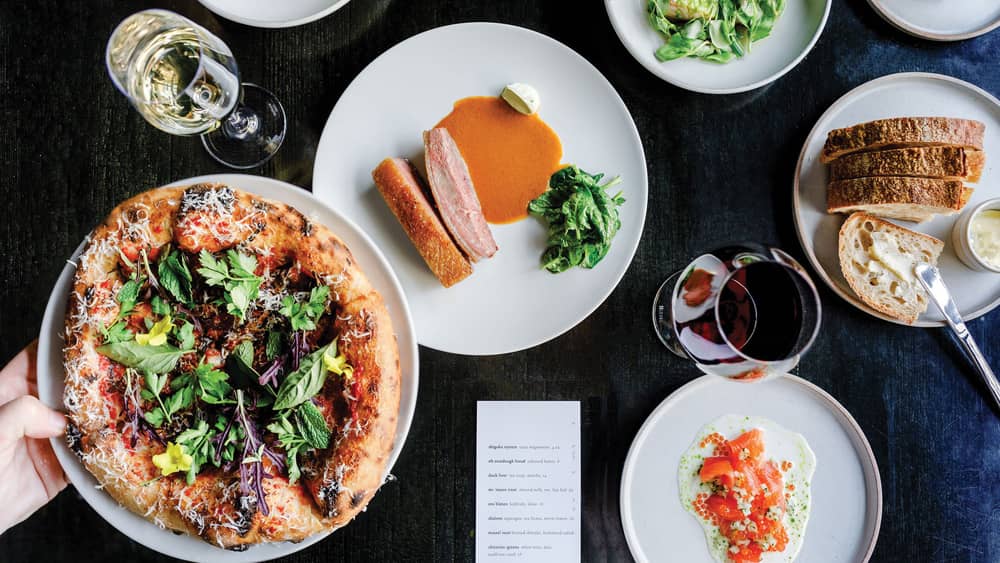 Yountville was once the site of Napa Valley's first planted grapevines. Over the years, it has evolved to become the ultimate Wine Country destination. Though it draws visitors from around the globe, it somehow manages to maintain its charming, small-town ambiance, nestled among the vines with sweeping mountain views. Today, the area is considered among food critics to be the culinary heart of the valley, featuring some of the finest restaurants in the world. The newest one in the neighborhood is North Block.
Last year, North Block was voted the No. 1 Resort Hotel in Travel + Leisure's World Best Awards. Its full-service restaurant—also known as North Block—opened in March and Chef Nick Tamburo helms the kitchen, creating refined California cuisine. The menu is rotated seasonally and features dishes with raw and smoky elements, as well as wood-fired, naturally-leavened pizzas and a variety of vegetarian options.
Alex and I arrive on a Saturday and begin with cocktails at the bar, mixed by Christian Baker, lead bartender, who's been there since the beginning. We try two favorites on the menu. The nb old-fashioned, a true classic that never stops being cool, is made with a modern spin—bourbon, tiki bitters, rich brown sugar syrup with coconut water and a lime twist. He also concocts one of their signature drinks and mixes it with professional flair, a la pasion margarita. A seasonal favorite with their guests, it's a layered work of art with a nice spicy kick, made with Cazadores Blanco tequila, habanero and passion fruit and topped with an edible purple butterfly pea flower.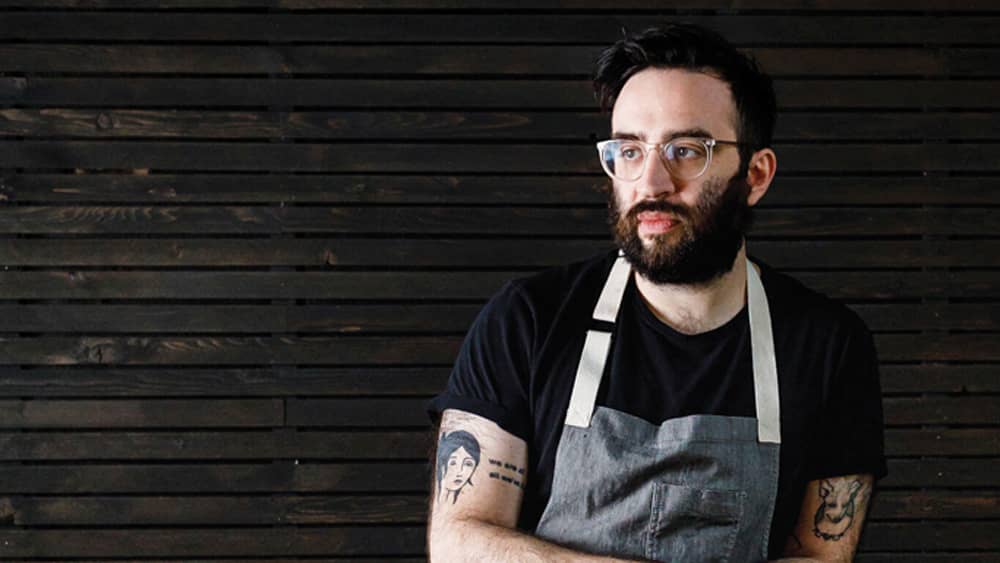 At 6 o'clock, we're seated in the dining room, which has a hip, low-key vibe. Our server for the evening is Chyara Malaquias, who recommends a varied selection of starters. We begin with Tenbrink farm peaches, served with sherry, hazelnuts and sea lettuce. Beautifully plated, fresh and delicious, this appetizer is a showstopper because of its simplicity. We also sampled the corn fritters, made with corn mousse, nori and trout roe, these are spongy, savory and delectable.
If you're an adventurous seafood lover, try the Bigeye Tuna crudo, which translates to "raw fish" in Italian. One of the most sought-after tunas in the world, at North Block it consists of rhubarb, Meyer lemon and chives. This is an artfully plated, inventive dish and definitely an experience. At Malaquias' recommendation, we also sampled the grilled Swiss chard, stuffed with celtuse, radish and herbs. Served sushi-style, it's a fun and efficient way to eat your greens.
For entrees, Alex opted for one of their signature dishes, the wood-roasted half-chicken. This is the Greek take on roasted chicken, served with flatbread (made in-house), yogurt and hot sauce. Make a sandwich, or find a way to incorporate it all together. Either way, this is a soul-satisfying hearty plate of food to savor and eat with wild abandon. (Not to worry, it's served with a dish of moistened towelettes, which you'll need.) I opted for the grilled black cod, poached in a shishito pepper broth with sea beans and chanterelle mushrooms. The cod is delicate and perfectly cooked, and the broth is exquisite.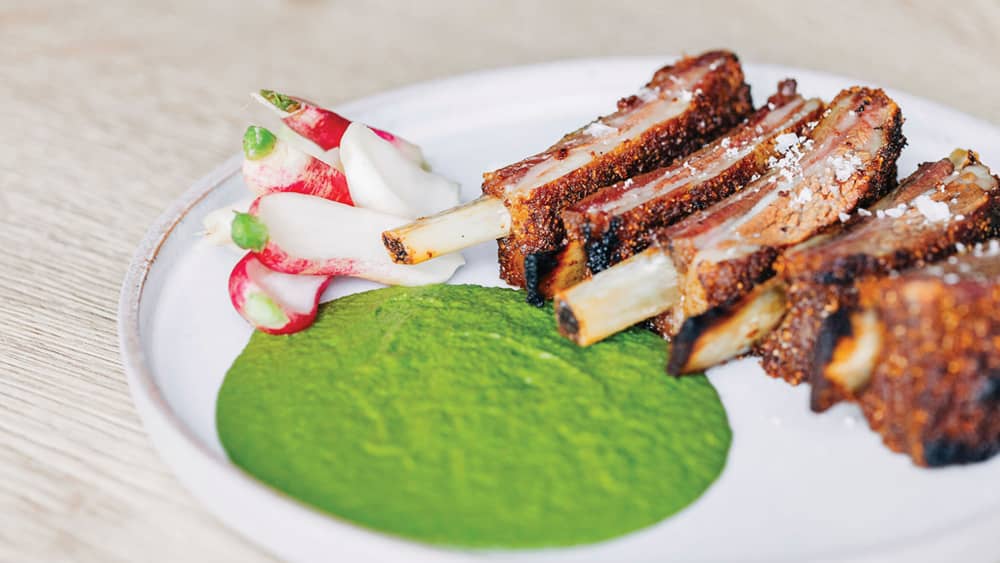 If you're up for duck, it's one of the house specialties. Dry-aged for a minimum of two weeks, you can see for yourself behind a glass door next to the bar. Wood-fired sourdough pizzas are another house specialty and a favorite with patrons. If you're looking for something on the light side, try the summer squash pizza with bagna cauda, a savory Italian condiment made with almonds and anchovies.
We planned to pass on dessert, but at the last minute, decided to share the burnt cheesecake, the alter ego of regular cheesecake, with ingredients sourced from Cowgirl Creamery and whipped honey from Mount Tam. Simply put, the exterior is dark and rich and tastes like caramelized cheesecake, and the burnt top makes it irresistible.
Next time you're in Yountville, make a reservation in the culinary heart of the valley at North Block and enjoy the inventive creations of Chef Nick and crew.
North Block
Type: California Cuisine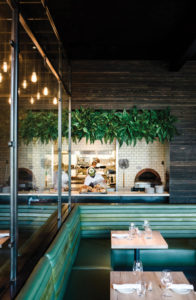 Address: 6757 Washington St., Yountville, Calif. 94559
Phone: (707) 944-8080
Website: northblockyountville.com
Price: Entrees $18—$48
Beverages: Wine/Beer/Cocktails
Hours: Open Sunday—Thursday; Dinner: 5 p.m. to 9 p.m.; Open Friday & Saturday; Dinner: 5 p.m. to 10 p.m.
[Photos courtesy of North Block]