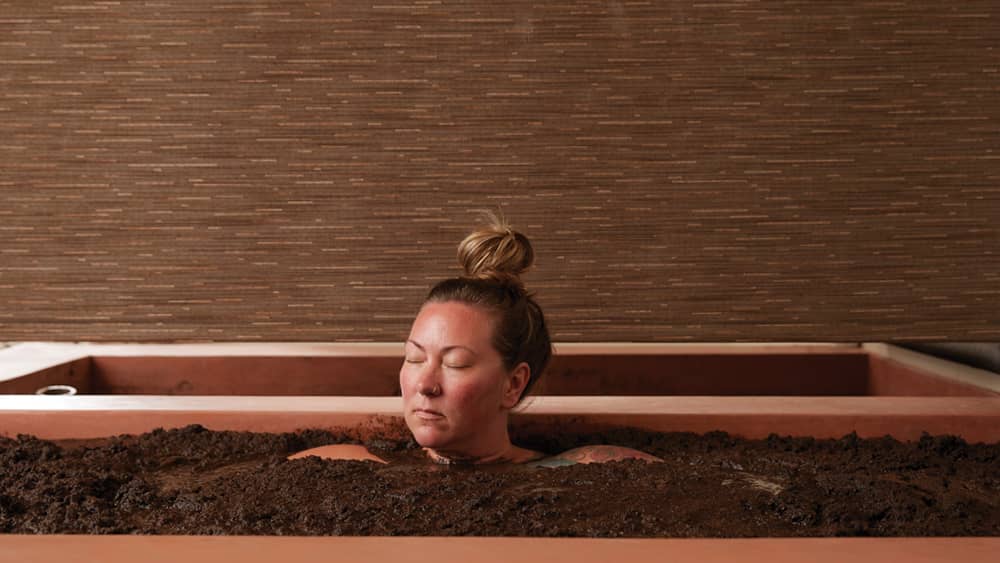 It's a caterpillar to butterfly kind of story.
How do you transform an iconic property with mid-century roots, lots of quirks and storied history, into an approachable, fun and really hip place to be and be seen?
Look no further than the recent renovation of the old Dr. Wilkinson's Hot Springs Resort, now known as Dr. Wilkinson's Backyard Resort & Mineral Springs in Calistoga.
For nearly 70 years, Dr. Wilkinson's—with its blazing neon sign advertising its mud baths, resort and geothermal pools—has anchored the east end of Downtown Calistoga on Lincoln Avenue. Thanks to a nearly two-year renovation project by Chartres Lodging Group, which bought the property in April 2019, "Doc's Place," as the locals call it, is now the new kid on the block with a beautifully remodeled spa, redecorated and upgraded hotel rooms and a new restaurant. It's a winning combination. Resort guests love the vibe and Calistogans are finding new joy in a spot that's always held a special place in their hearts.
New life
"We were tasked with breathing new life into a beloved icon," says Bruce Wright, vice president and principal of SB Architects, the San Francisco-based firm charged with redesigning the architectural elements. Other firms involved with the makeover were EDG Interior Architecture + Design of Novato (which specializes in hospitality and branding), TLEE Spas of San Francisco (which designs spas for hotels), and M Studio (which specializes in landscape architecture). Kokua Hospitality, also based in San Francisco, is managing the property for Chartres.
A major part of the revival was respect for the property's integrity and legacy. "The goal was to create a wellness destination that brings the past into the present with cool authenticity. Building on Wilkinson's long, famed history, while introducing modern aesthetics, we wove the charm and a sense of place into the refreshed design," Wright explains.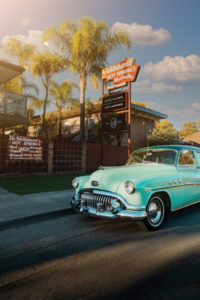 Originally opened in 1952, Dr. Wilkinson's has been a part of the fabric of Calistoga for generations. It started with mud baths and a spa, morphing into a resort over time. John Wilkinson was an early proponent of alternative health care (he was a chiropractor as well) and believed in maintaining a healthy balance in life. He advocated preventive measures and promoted a diet high in vegetables, fruits and grains. The spa was designed for relaxation—mud baths, massages, steam booths and whirlpools—and he had a devoted following among locals as well as guests who flocked to his establishment from all corners of the earth. Until the late '70s, John and his wife, Edy, ran the business. They then turned over operations to their children, Carolynne Wilkinson Clair and Mark Wilkinson. When the property was sold in 2019, it held the record as being the longest, continuously run family-owned spa and resort in Calistoga. And it was ripe for a makeover.
Reimagining the layout
Stepping back and looking at the property as a whole, the first thing Wright and his team did was plot a transformation of the grounds. The previous iteration of the resort was composed of many separate spaces. SB Architects used outdoor space and landscape to connect the entities. "There was a lot of asphalt," Wright remembers. While more parking would be needed, it had to be relocated to make it work.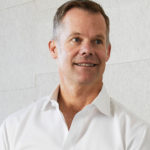 "The original driveway bifurcated the resort from the two historical Victorian homes east of the hotel (which were part of the property)," he explains. By eliminating the driveway, Wright was able to convert it to greenspace that made the entire resort property more cohesive, while allowing for the addition of food and beverage areas. The move enabled the resort to become "more pedestrian and less car," he says. A new driveway was built on the east side of the Victorians and expanded parking filled in the back of the property.
The historic street frontage was retained, including the spa entrance and the epic neon sign. "The town will not accept any new neon signs," says Jose Ortega, the resort manager. "This one was grandfathered in." Wright moved the resort reception area further into the property for an arrival sequence that changed with the new parking lot. Guests checking in traverse the new greenspace, which Wright refers to as "the heart of the property." Hence the new name, Wilkinson's Backyard Resort & Mineral Springs.
In my backyard
The green space, which is a little brown because of the seemingly perpetual drought, is where the new restaurant, House of Better, serves up its fare. There are two container buildings, constructed in Colorado and shipped to Calistoga, which house the kitchen and limited indoor dining.
Colorful chairs and tables are hanging on the walls that surround the yard; guests can grab what they need and set them up where they want them. They order their food, sit down and get served. There's a chile roaster and a pizza oven that gets fired up on weekends. Word has it in town that it's a great place to go for a few slices when it's in operation.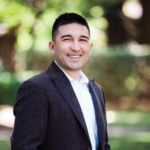 Trevor Logan of San Francisco's Green Chile Kitchen is the chef. The menu is described as "health food meets comfort food" with a Southwestern flair, and House of Better is becoming very popular with the locals. (It's casual, doesn't take reservations and, from personal experience, the new nachos on the menu are out of this world.)
The Backyard, as it's called, is expansive, allowing for picnics and outdoor games. And it's a perfect place for live music and dancing, which Ortega sees on the horizon. "We're working on getting the permits," he says.
And then, there's the car. Wilkinson had a 1952 Buick that he kept parked on a pad at the resort. "We wanted to buy it, but the family declined," Ortega says. A search ensued and an identical car was found. It's now on display on the same pad where Wilkinson parked his vintage Buick.
More rooms
There are eight guest rooms in total—two rooms were added, three back-of-house rooms were converted (the only rooms that have bathtubs, all the others only have showers), and three Victorian buildings were restored and remodeled. The largest Victorian is now called The Bunkhouse and can sleep as many as 15 (among several private rooms that are linked by the main hall). Creatively designed, each room has at least one bunk bed, including one design that features a horizontal bunk bed over the headboard of a king-sized bed. The mid-sized Victorian (The Art House) was once Edy Wilkinson's art studio and gallery. It is now two separate rooms, each with a porch. A small bungalow formerly packed with extra furniture and spa items was also revamped into a room.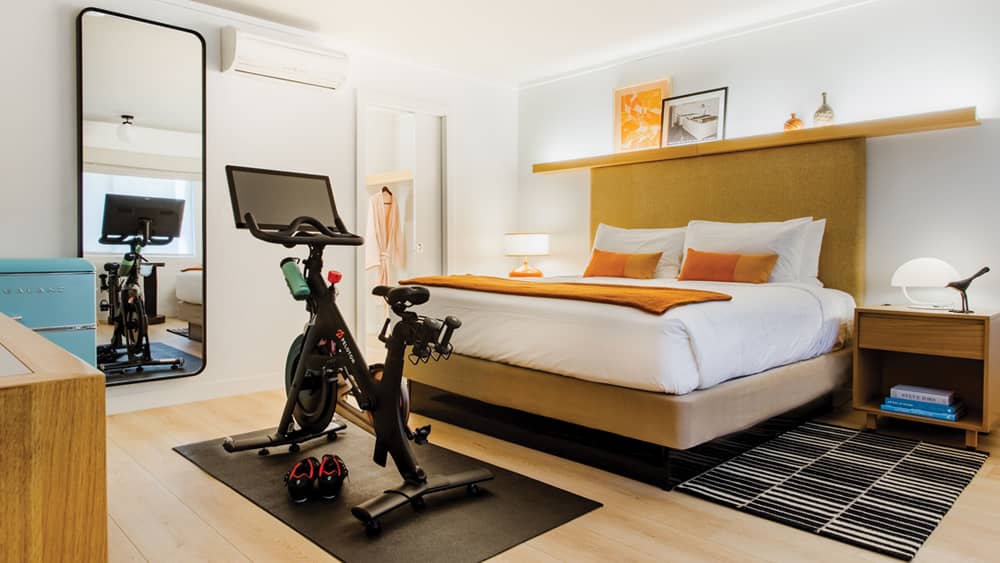 According to Wright, the Victorians were "defunct." They had to be brought up to accessibility standards, needed new plumbing and required electrical upgrades.
"The town was concerned that they might be overly modified," Wright says. "We had to change the configuration to make more proper guest rooms, but kept the quirky nature of the history of the place while providing an elevated guest experience."
Due to COVID, in-room minibars were eliminated and replaced with small offerings of spa-quality toiletries and unique, branded items. The rooms are appointed with retro-style small refrigerators (Galanz) and hip electric teapots (Smeg). Guests are provided with pour-over coffee pouches and blossoming Chrysanthemum tea pods. Complimentary aluminum water bottles are given to each guest to reduce plastic waste, and there are refill water stations throughout the property.
The rooms are a contemporary take on mid-century modern design and harken back to the original 1950s style, with white oak floors and a warm color palette. Rooms have locally made artwork and handmade pottery pieces by a local ceramics studio, NBC Pottery.
Take a swim
The pool area was expanded during the renovations. It features colorful murals designed by Rachel Hebert and Kate Nicholson of the creative agency Truth to Paper and comfortable poolside seating for sunning or just relaxing. There's also an outdoor shower featuring a 36-inch rainfall showerhead, with a wall and patio mural simulating water flow. The shower is connected to the main hot spring that is the chief water resource for the resort.
The indoor pool, a 105-degree water feature that was built in the '70s, is also available for use by spa clients. Ortega says they are looking for a means for hotel guests to enjoy the pool as well. An old-fashioned bucket shower is also part of the appeal. "We couldn't not have that," Ortega laughs.
The spa
"No more carpet!" Ortega exclaims as he opens the front door to the spa reception area.
(I don't remember seeing any carpet anywhere on my visit!)
The old entrance to Dr. Wilkinson's Mud Baths was more subdued, somewhat dark and carpeted. The redesign features plenty of natural light and much the same ambiance as the décor in the rooms, plus there's a spa store that sells many of the products featured in the rooms.
Martha Magana greeted guests. Magana has been with Dr. Wilkinson's for 24 years and the first thing she does when spa clients arrive for their services is treat them to what she refers to as a "water feature." It's simply washing your hands, but with a different spa product featured each week. "It's a great way to wash the stress away," offers Ortega.
A walk through the remodeled spa takes you to the famous mud baths, massage rooms and new jetted mineral baths. "The old ones used a hose from the ceiling with a vacuum to create the jets," Ortega relates.
There's also a lovely outdoor area with private drapes for clients interested in getting a little closer to nature during their treatments.
Building on Dr. Wilkinson's long history as a health destination, the spa menu has been updated, paying homage to the past while modernizing and creating a wellness experience for a contemporary market. Calistoga's local geology, including ash and hot springs, has been woven into the overall narrative. Ingredients in the treatment menu, including the famed Calistoga mud, have been harvested locally and integrated into the spa repertoire.
All are designed for the ultimate spa experience. "It incorporates all your senses," Ortega explains. "Your smell comes alive, your hearing, everything throughout has to be incorporated the right way. If even one of those things doesn't come into play the right way, it affects the whole experience."
Artistic bent
Throughout the resort, art in various forms comes into play. Edy Wilkinson was a prolific artist and her original mosaic installations have been preserved in the restoration. The murals by Hebert and Nicholson are day brighteners not only outdoors, but also in the hallway of The Bunk House. NBC Pottery pieces are in the rooms and throughout the spa. Pottery comes from clay, and there is a natural connection with the mud, Ortega says. Works of other local artists are also featured on a rotating basis and offered for sale. A current exhibit of work by Lisa Swerling of Glass Cathedrals is quite charming.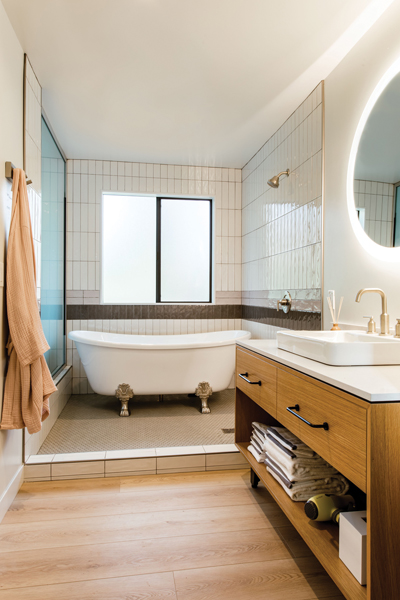 The art is part of connecting with the community, which is important to the entire Dr. Wilkinson's renovation. Wright sees Dr. Wilkinson's as the "new terminus to the end of Lincoln (Ave.)," lively with locals—"an exciting renovation and community member." Ortega agrees. "It's a great addition for the town. The difference between us and other more high-end resorts in Napa is that guests at those places just stay there. At Doc's, you're right downtown, you go out and spend money shopping. You go wine tasting and you don't have to deal with driving. Guests have a beautiful time because there are so many places to go." In fact, the plethora of great dining places just a hop and skip away factored into the decision to limit on-site dining to a more casual experience.
Challenges
If there was ever a silver lining to the pandemic, Dr. Wilkinson's is a shining example.
After the Wilkinsons sold the property to Chartres, the spa and resort continued to operate as renovations began. With county health rules requiring spas to close due to COVID, renovations were able to go full time in May last year. And with travel also restricted, the resort rooms sat empty, so all the focus was on the remodeling. There were plenty of construction workers, which were deemed essential workers, and Chartres' team had ordered and received all the building materials prior to the shutdowns and subsequent shortages, so it was full steam ahead.
Wide outdoor spaces for dining and gathering were part of the original remodel plan; nothing had to be adapted to allow for social distancing.
The timing was also key for the opening. Vaccines were developed and began to be administered in earnest in early 2021, which was when the resort planned to reopen. But a Disney film crew working on a movie in the Napa Valley needed a place to stay. In January, they moved in. And they stayed until March.
"It was a great soft opening. We had every guest room occupied for two months while we did the finishing touches," Ortega says.
By the time the Disney crew departed, vaccinated travelers were packing luggage and getting on the road. And Dr. Wilkinson's was ready to receive them.
There were a few COVID-related hiccups when the resort fully opened last spring. Issues with supply chains led to delays in receiving parts for pumps. The mud baths were unavailable for a couple of months, as was the indoor pool. The spa is now open, offering a full menu of treatments. And as of mid-August, the mud baths were scheduled to open before autumn.
Serendipity
Revamping iconic landmarks and updating them for current use is always tricky. There's naturally a bit of reluctance to let go of the past, particularly when a place fosters fond memories of a bygone era. The new Dr. Wilkinson's Backyard Resort & Mineral Springs is a case study in achieving balance. It's an exciting new addition to Calistoga's spa scene, but it also respects the contributions of the Wilkinson family and their role in making Calistoga what it is today—a world-renowned place for wellness and revitalization.
No doubt, Doc and Edy would be proud.
Artwork with Soul
While John Wilkinson was the "front man" for his eponymous Calistoga resort and spa, the person who left indelible and enduring marks that will be enjoyed for generations to come was his wife, Edy.
"Mom was the administrative brains behind the hot springs," says Carolynne Wilkinson Clair, who still lives in Calistoga. But the multifaceted Edy—in addition to her organizational prowess—was also quite an accomplished artist, and the beautiful and intricate mosaics she crafted and installed during her era have been retained. Today, they are a focal point of the revitalized resort property. Guests will find them in the concrete walks, hanging on courtyard walls and serving as a colorful greeting by room entry doors. They follow no set style; they are as eclectic as Edy.
"My mother had a wonderful creative style to her," says Clair. In addition to mosaics, which she started making in the '70s, "she bridged across a number of artistic mediums. Pastels, acrylics, mosaics, carvings, collage, mixed media. My mother did a little bit of everything."
Edy wasn't formally trained, Clair says, but did take art lessons from renowned St. Helena artist Guli Buchanan. (One of Buchanan's paintings was the first piece of art purchased for the Robert Mondavi Winery in 1967). "She really got into color theory with Guli, who was a wonderful teacher and encouraged all of her students," whether or not they had real artistic talent, Clair recalls. Once Guli got hold of her, Edy's creative impulses dramatically increased. "Mom started painting and painting and painting—and more painting!" She was also a seamstress, knitter, crewel worker and embroiderer.
Born and raised in San Francisco, Edy Risso's parents were immigrants from Italy. During summers, it was a tradition for San Francisco Italians to visit Calistoga. Edy, her oldest sister and her nephew would swim at Pacheteau Hot Baths (now Indian Springs), where John Wilkinson worked. "He thought she was a young mother; when he found out the boy was her nephew, he asked her out," Carolynne laughs. The rest, they say, is history.
While somewhat content to take a back seat to her gregarious husband, Edy made her own mark in Calistoga. She owned an art gallery and she became the first woman elected to the Calistoga City Council in the early 1980s. (One other woman beat her to the council, but she was appointed, not elected.) Edy also served as the police commissioner.
The family was interested in acquiring the property next door that is now the site of the Victorian house and Edy's Art Shop. And while she didn't actually do the stained glasswork that adorns the door and entry hall to the "Bunkhouse," as it's now known, the artist who created it worked from Edy's design.
Edy died in 2000. But a lot of her soul remains in her artwork and her fingerprints are everywhere.
Dean of Calistoga Spas
His official nickname was "Dean of Calistoga Spas," largely because he pretty much blazed the trail and set the standards of the burgeoning local hot springs industry that put the sleepy town of Calistoga on the map during the 1950s.
But to the locals, he was "Doc."
And over time, John Wilkinson the person became as much of a Calistoga icon as his famed resort and spa.
"My father was the front face," says Carolynne Wilkinson Clair, who ran the business with her brother, Mark, for decades after their father stepped back from the operation. "He was very gregarious and people-oriented." Even after Carolynne and Mark took over the day-to-day work, Doc would sit with clients in the front office of the spa. And he had a fairly regular routine that most people said you could set your clock by.
Mornings were spent at Café Sarafornia, and between meals, he could be found at the spa. He didn't like to take vacations because he felt he was on a perpetual vacation. People would travel to Calistoga for rest and relaxation, and he didn't much see a need to go anywhere else since they were all coming to him.
Originally from San Joaquin Valley, Doc first came to Calistoga in 1946. As a chiropractor, alternative health care had always been foremost in his mind, and he was intrigued by the benefits of Calistoga's hot springs. He leased Pacheteau Hot Baths (now Indian Springs) and studied the geothermal resource, gaining knowledge and skill. When the property across the street from Pacheteau's went up for sale, he and his wife, Edy, bought the land and built their own spa from the ground up, according to Clair. Dr. Wilkinson's Hot Springs opened in 1952. In 1962, he built the first hotel building. Other hotel accommodations followed in the '70s. Over time, the name Wilkinson's became the best-known brand in mud baths.
Doc was a fixture in Calistoga. He also was one of its greatest champions and public servants. He served as mayor from 1966 to 1968 and served two terms on the city council. He was a founder of the Sharpsteen Museum and a charter member of the Calistoga Lions Club. He also belonged to the Masonic Order and the Native Sons of the Golden West.
In 1999, Doc and Edy were named "Entrepreneurs of the Year" by the California Tourism Industry and the California State Senate.
Doc died in 2004 at the age of 89. Until its sale in 2019, Dr. Wilkinson's Hot Springs Resort was the longest continuously run family-owned spa and resort in Calistoga. An icon, just like Doc.