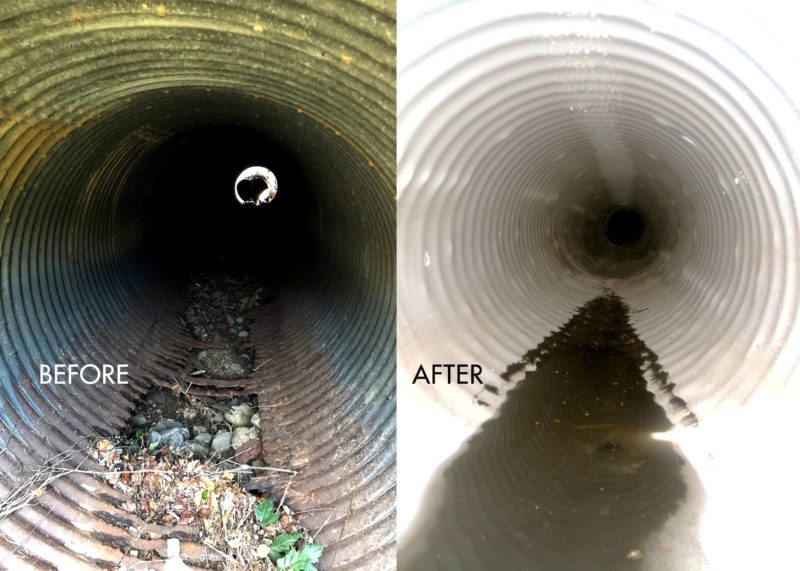 Many private property owners are unaware that the maintenance of underground pipes and culverts on their property is often their responsibility. That can be the case even when the infrastructure on private property is an important drainage component for the community. Whether they realize it or not, homeowners may be relying on their neighbors for protection against water damage and flooding.
The Marin County Department of Public Works (DPW) offers a Drainage Assistance Pilot Program designed to assist private property owners in unincorporated areas of Marin with the repair or replacement of deteriorated culverts that serve a public benefit, which can be cost-prohibitive for some residents. Since the pilot program's initiation in 2019, nine residents have applied; two met the program criteria and have received financial assistance for repairs on their property.
The program has now been expanded to make it applicable to more homeowners. All applications are evaluated on a list of criteria and conditions, which has been revised from the initial set. While the pilot initially only allowed for in-place repairs, such as slip-lining a pipe, the expanded options now include excavation and replacement of culverts with equal or larger diameter pipe. Driveway culverts are excluded from the program. Neighbors sharing responsibility for drainage facilities can also band together to make improvements to deteriorated pipes in their neighborhood.
"We have expanded this pilot program with the goal of opening it up to more of Marin's residents and improving public safety across the board," said Eric Miller, Interim Assistant Director of DPW. "The effort is intended to be beneficial in helping reduce the risk of future damage not only to private property but also to public infrastructure across the county."
Drainage facilities, such as underground pipes and culverts, play a crucial role in maintaining proper water flow and, in certain cases, protecting communities from flooding. If not properly maintained, drainage facilities deteriorate over time, which can become a public safety risk for neighbors as well as those living above the infrastructure.
Approved applicants would receive a cash contribution of up to 50% of the total improvement costs, but not to exceed $30,000. Condo units, which do not include apartment units, are assessed differently and would receive a cash contribution up to 50% of the total improvement costs, but not to exceed $50,000.
The program has $357,000 in funding set aside for allocations. Once fully dispersed, the program would be reevaluated. The program would be covered by the County's General Fund, but funding for any future iteration would be informed by the results of the pilot.
Approved projects under the program would move forward with the understanding that the County would not be involved in the design, contracting, or administrating of the actual project implementation. Property owners are required to obtain all necessary permits associated with the work. All future ownership and maintenance of the improved private drainage facilities would remain the property owner's full responsibility.
For more information, visit the program webpage.