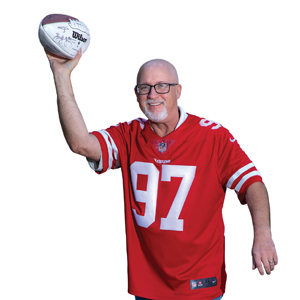 The world of accounting has surrounded Danny Christensen Jr. since his youth. "My grandfather and my godfather always told me that I would go to work for my dad at his accounting practice," he says. In high school, he took accounting classes and developed an interest before working at his father's practice. He worked on handwritten tax returns while studying at Santa Rosa Junior College. After attending San Jose University and later Sonoma State University, he began his 35-year-and-counting odyssey of accounting at his father's firm.
He also owns and operates The Geyserville Inn alongside his father and brother. When tax season is over and he has some time away from the inn, he spends his free time dedicating afternoons to supporting all the local sports teams. He also enjoys wine tasting in Sonoma County with his wife of 16 years across Sonoma County, a place he has lived and loved for the last 31 years.
What podcast are you recommending to everybody?
I just started listening to podcasts. I am currently listening to the Bank of Brothers Podcast, which celebrates the 20th anniversary of the show Band of Brothers. Really good insight from actors, writers and directors about the men portrayed in the show. Exceptional.
Favorite thing about autumn? 
Tax season is over for the prior year. Football, baseball, basketball and hockey are all rolling. The harvest is coming to an end with that amazing aroma in the air.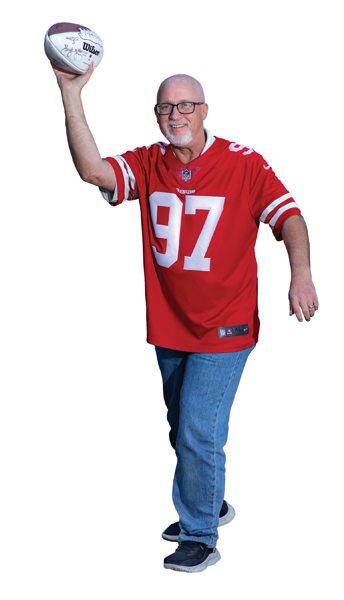 How has this 2021 Giants season compared to the team's recent championship runs?

 It has some similarities to 2010 because the Giants have exceeded my expectations for both seasons. There is also a good mix of younger and older players. How has it been different? The Giants approach is 180 degrees different with more analytics and more player development.
What local team is winning a title first from this point?
I do not want to jinx anyone, so not including the Giants [who are playing right now], I would hesitantly say the Warriors.
What stories do you have from your days of studying and taking the CPA exam?
I was fortunate enough to take the Becker CPA review course in L.A. and Newton Becker taught one of the classes. He also was my dad's instructor in the 70s and he remembered him. As for the exam, I had three wisdom teeth pulled the day before the first day of tests. That wasn't a good idea.
You have family and friends coming into Sonoma County to visit. What wineries are you taking them to for a tasting? 
All of them. I can't just name one because of all the great relationships I have with so many of them.
How different is it to operate your inn in Geyserville than working in accounting?
It is much easier to tell people where to go to eat, what wineries to visit and what sites to see than it is to tell people how much money they owe. Honestly, working in hospitality has probably helped me become the outgoing person I think I am.
What advice do you have for someone who's more introverted in the business world?
I always like to know what food and wine people like. People always like to talk about their recent or upcoming vacation, so talking about things outside the business world always helps when connecting with someone.
Is there a similar work ethic or work practice you've taken from working with your father?
As a kid, I always saw my father working weekends while working early in the morning and late at night throughout the week. I have that same work ethic, too.
How do you and your father approach accounting differently?
When I first started working for my father, we completed returns by hand or used processing services. Now we use in-house software. I think we do things the same, but he has more years of experience and more knowledge than I have.
What makes Sonoma County the best place to live?
We are centrally located to the coast, Tahoe, San Francisco and the capital of Wine Country. We are such a friendly community.
What did you want to do when you were a child?
A teacher.
What's your typical lunch during a workweek?
This accountant works through lunch 97% of the time.
Last book you read that you thoroughly enjoyed?
Atlas Shrugged.