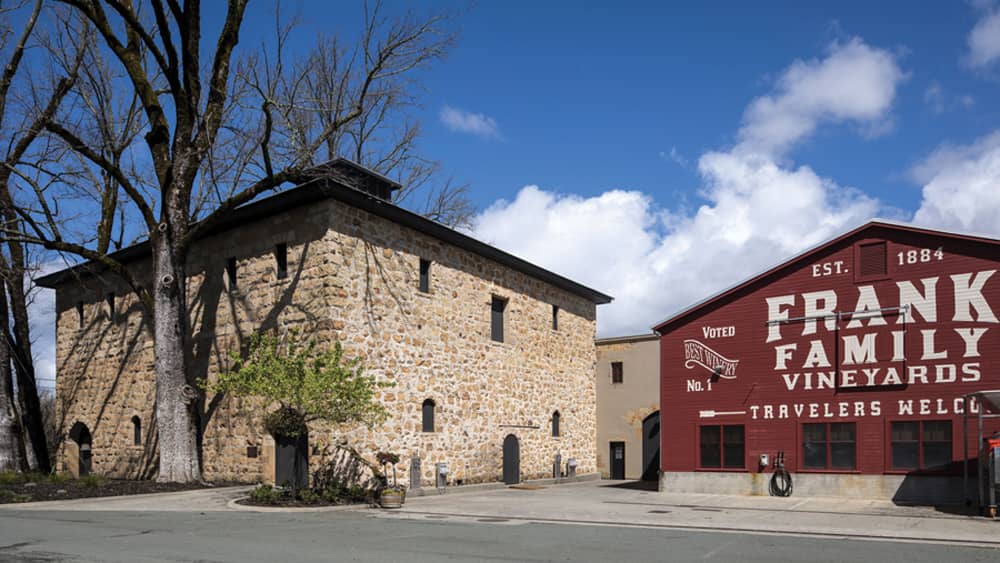 On a warm autumn day, the leaves on the grapevines are just starting to turn shades of crimson and gold, the smell of fermentation is in the air and the crew at Frank Family Vineyards is in full swing for the harvest season. "We're halfway through the season," says Liam Gearity, director of hospitality and direct-to-consumer sales, who leads a quick tour around the property. "We still have Chardonnay to pick, but we're picking Cabernet today."
We begin with the historic Larkmead building, filled with stacks of barrels, and then tour the grounds. Guests walk the property and enjoy seated outdoor tastings. Frank Family Vineyards has a strong loyal following—largely by word-of-mouth. It's a popular destination to visit and has won the readers' choice award for "Best Napa Winery," in the annual Bay Area A-list contest for many years. It's also the only winery ever awarded "Winery of the Year" twice by the Connoisseurs' Guide to California Wine—once in 2012 and then again in 2017.
Proprietors Rich and Leslie Frank are at the helm of Frank Family Vineyards, and the story behind the winery begins with a series of seemingly small serendipities. Rich's passion for wine began from his extensive travel via a global career as president of Disney Studios. In 1990, Rich, who was living in Southern California, purchased a home in Rutherford as a weekend retreat. The fruit growing on the 107-acre hillside vineyard property, Winston Hill, was initially sold to neighboring producers. "Right after moving into the house, my phone started ringing off the hook from wineries wanting our fruit, " Rich says. "I quickly realized we had something very special." Then, in 1992, the old Hanns Kornell Champagne Cellars winery was for sale by a bank, and Rich's winemaking friends suggested he bid on the property, but keep his day job. And just like that, he was suddenly thrust into the wine business.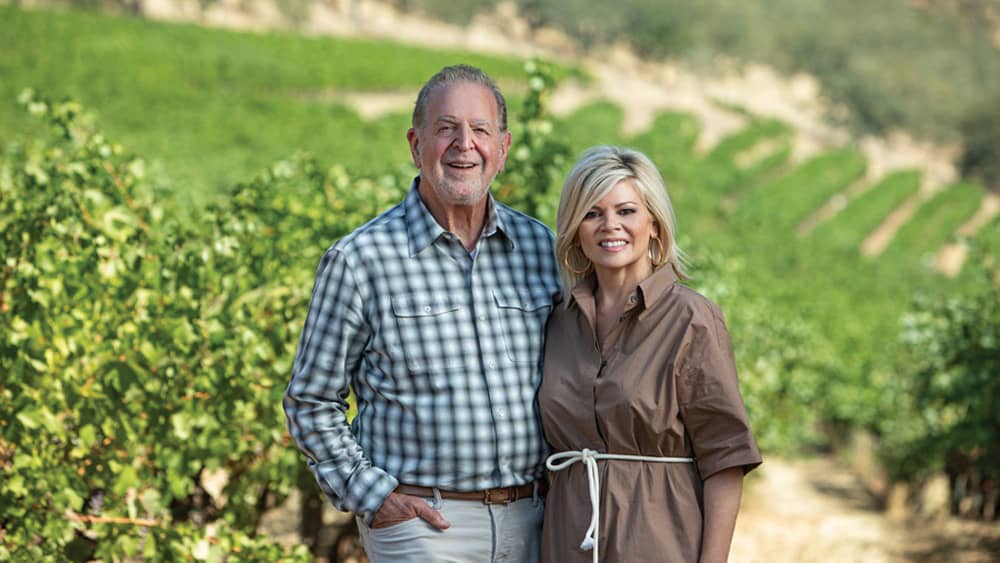 Meanwhile, Leslie had developed her own passion for wine before she met Rich as an Emmy-award-winning journalist, who also traveled the globe. As the story goes, Rich and Leslie fell in love with Napa Valley separately, and then later fell in love together in the valley and married in 2012. Today, Frank Family Vineyards produces nearly 150,000 cases of wine a year. Rich and Leslie oversee the daily operations, and it's not uncommon to find them at the winery visiting with guests. What's more, every employee, wine club member and guest is considered part of the extended family.
A seated tasting at the winery begins with a splash of welcome wine. And on this day, it's the 2016 Brut Rosé. "The very best fruit is chosen for our estate wines," says Gearity, "and sparkling is great for awakening the palate to experience flavor." An elegant wine with bright aromas of raspberry and green apple, it has a beautiful, lush texture and a refreshing minerality.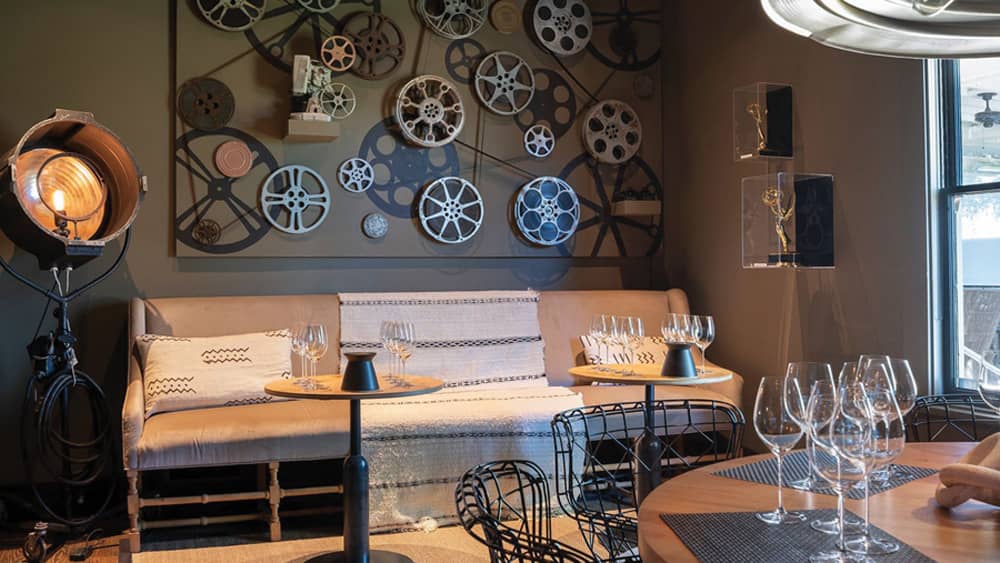 Next, Gearity pours a 2018 Lewis Vineyard Chardonnay, which garnered 92 points in The Wine Advocate. "Fruit is the melody of wine, and it must outshine the oak tones," says Gearity. Deep and complex, it's a classic Chardonnay with notes of tropical and citrus fruit, floral and toasted brioche and caramel nuances that meld into a soft, lengthy finish.
Winemaker Todd Graff takes a break from the harvest and joins us for the tasting. His winemaking philosophy is centered on the fruit. "The goal is to produce balanced wines that taste good," says Graff, who also serves as the winery's general manager. "The wine should taste like the varietal. Grapes are picked when they're rich and flavorful." But aside from the wine, he notes that the heartbeat of the winery is its family atmosphere. "We're family-owned and family-appreciated," he says. "We just happen to make wine around that."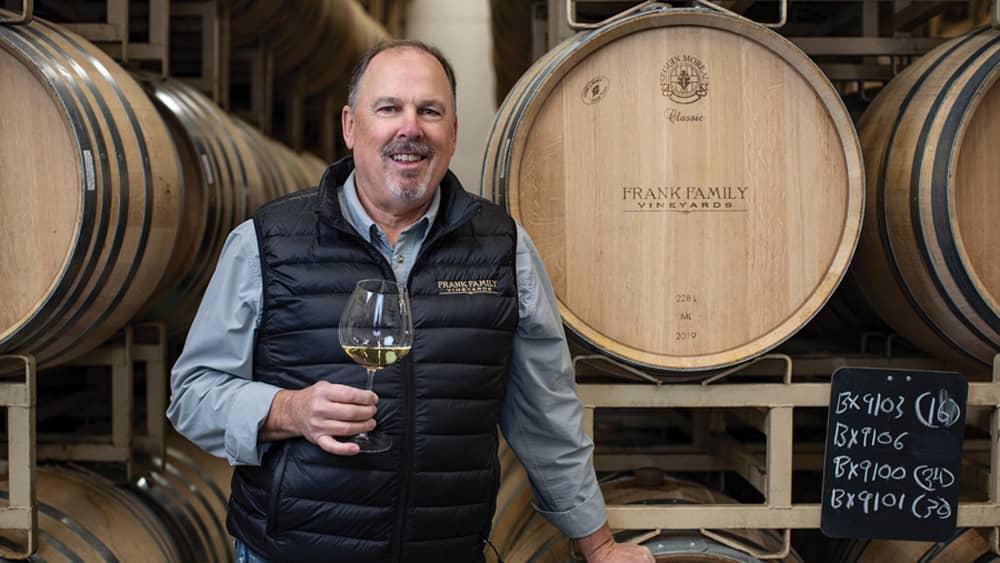 We move to the reds and begin with the 2018 Chiles Valley Zinfandel. "This is classic Zin," says Graff. "It's dry and well-balanced, and aged in French oak." On the nose, it has an earthy quality, reminiscent of sage and misty forest. On the palate, it's fruit-forward with flavors of dark plum and fig with a touch of spice.
And finally, we end with the 2017 Calistoga Cabernet Sauvignon, a special wine only available at the tasting room, or to wine club members. Bold, yet soft, this wine is a study in contrast with ripe dark berries and figs with a nuance of crushed black pepper and a full-bodied finish. This is a beautiful wine to uncork and serve for holiday meals and celebrations.
This year marks Graff's 18th harvest at the winery, and after 20 years of working as a winemaker around the globe, he's developed a reputation for producing elegant wines of consistent quality in every bottle at Frank Family Vineyards, vintage after vintage. As Graff likes to say, "My job is from the dirt to the bottle, and I enjoy the excitement of getting one shot a year to get it right."
Frank Family Vineyards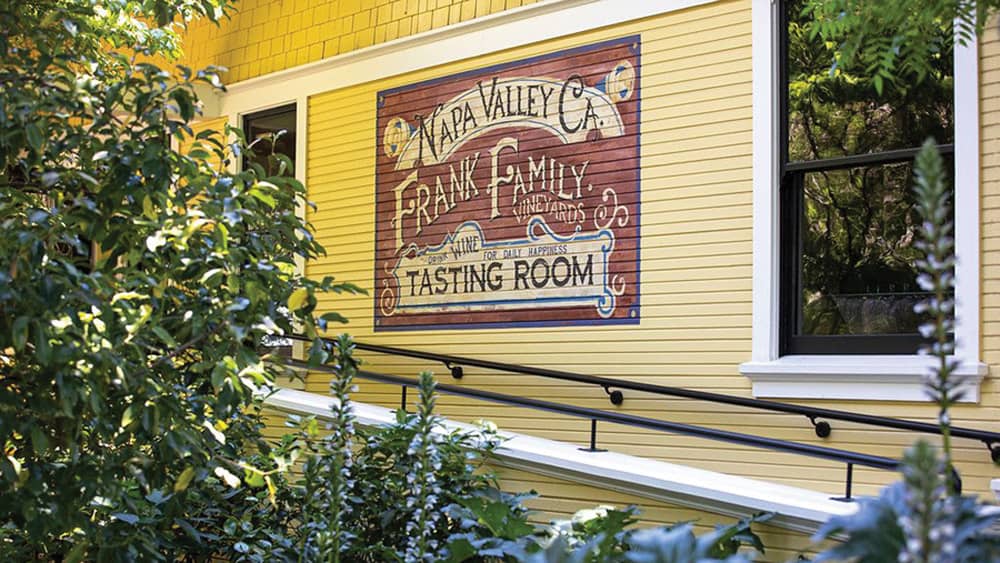 Address: 1091 Larkmead Lane, Calistoga, Calif. 94515
Phone: (707) 942-0859
Website: frankfamilyvineyards.com
Hours: Open Daily; 10 a.m. to 5 p.m.
Tasting Fee: Estate Tasting—$50/per guest
Craftsman House Tasting—$60/per guest
Wines of Winston Hill Tasting—$70/per guest
Wines Offered: 2016 Brut Rosé, 2018 Lewis Vineyard Chardonnay, 2018 Chiles Valley Zinfandel, 2017 Calistoga Cabernet Sauvignon (Subject to change.)
Reservations: Required. Send an email to tastingroom@frankfamilyvineyards.com, or reserve online at frankfamilyvineyards.com/visit.
Picnics: Not currently.
Pets: No, though service dogs are welcome.
Did You Know? The third oldest winery built in Napa Valley marks the entrance of Frank Family Vineyards. Built-in 1884 and refinished with native sandstone in 1906, the thick stone walls of the Larkmead building mark a bygone era of the early days of winemaking. It is noted on the National Register of Historical Places, and it's also listed as a Point of Historical Interest in the state of California. Though it was once home to only sparkling wines, Frank Family Vineyards honors its history by continuing to hand-craft four sparkling wines, using the traditional French champenoise method. Legend has it that Marilyn Monroe used to visit the winery once a year to purchase her supply of bubbles.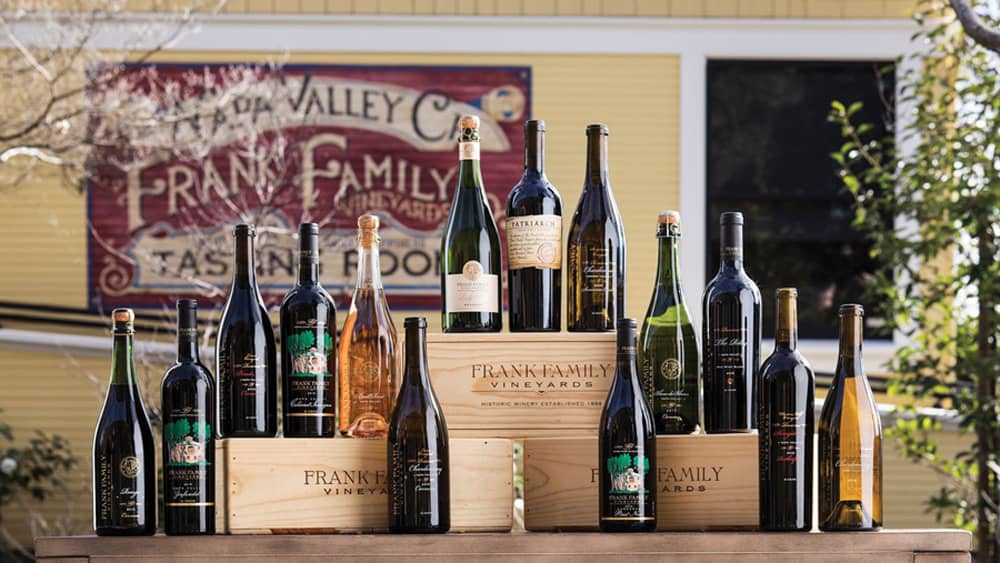 [Photos courtesy of Frank Family Vineyards]