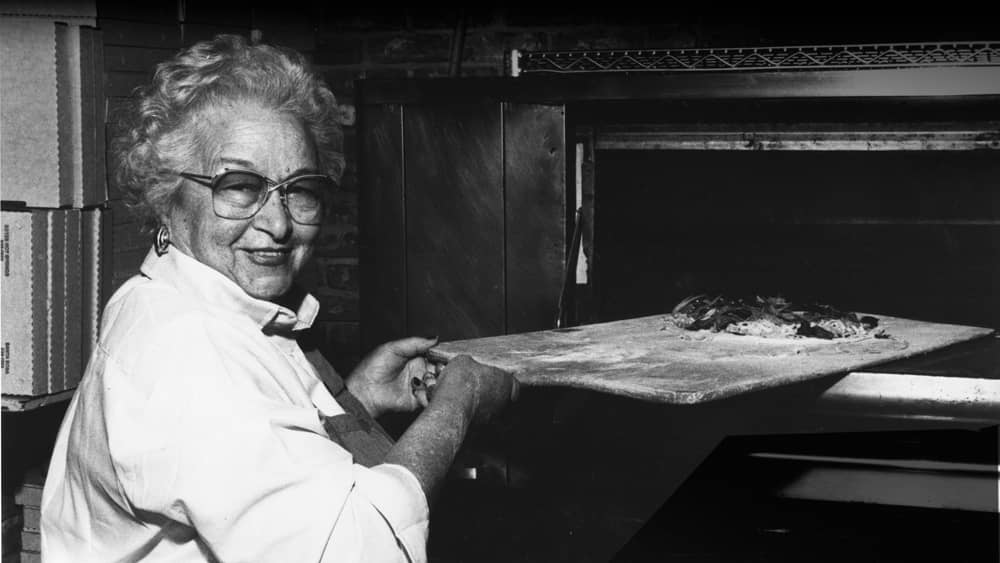 Mary Fazio loved to cook. The delicious soups, sauces, pasta and salads she prepared for her friends caused them to pester her nonstop to open her own restaurant. Then one day, when a cottage owned by friends in Boyes Hot Springs became available in 1959, she decided to take a chance. With $700 in savings, recipes learned from her father—a native of the island of Ischia in the Bay of Naples—and her own pots and pans, Mary opened a haven for Italian comfort food. "She kept asking friends what she should name the restaurant," says her granddaughter, Marie Albano-Dito. "They said, 'It's a shack, and you're going to make pizza, so call it Mary's Pizza Shack.'"
Knowing that she would be working alone most of the time, Mary designed the space with the pizza section up front and an open kitchen—unusual in those days. She could see and interact with her guests in the same way she could interact with her family while cooking at home. Focusing on pizza was another of Mary's innovations. She was born in New York and had lived in San Francisco where the first wood-fired pizza was introduced in North Beach in 1935, but "California cuisine pizza" didn't get popular until much later. She was determined to bring this specialty to Sonoma County.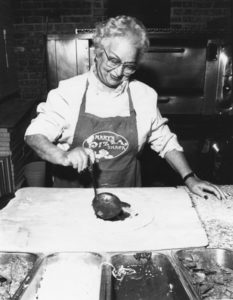 Making everything from scratch (no heat lamps, no frozen dough, no canned sauces) was Mary's way, and it continues to this day, 62 years later. However, the legacy of Mary's Pizza Shack goes beyond the high quality of the food. The generous, welcoming family business culture created by its founding mother has been nurtured consistently through four generations.
Second generation
Besides a desire to share great meals, Mary's motivation to open a restaurant was to create a job for her son, Toto. At the time, he worked in the Navy shipyard in San Francisco where he commuted every day and would return home after work to relieve Mary and complete the closing shift. Within six years of the restaurant opening, Toto quit his job and joined his mother full time. Later, Toto's wife, Peggy, also joined the business, becoming the first bookkeeper. Mary's daughter, Anna Albano Byerly (now deceased) served as the company's purchasing manager until she retired in 1995.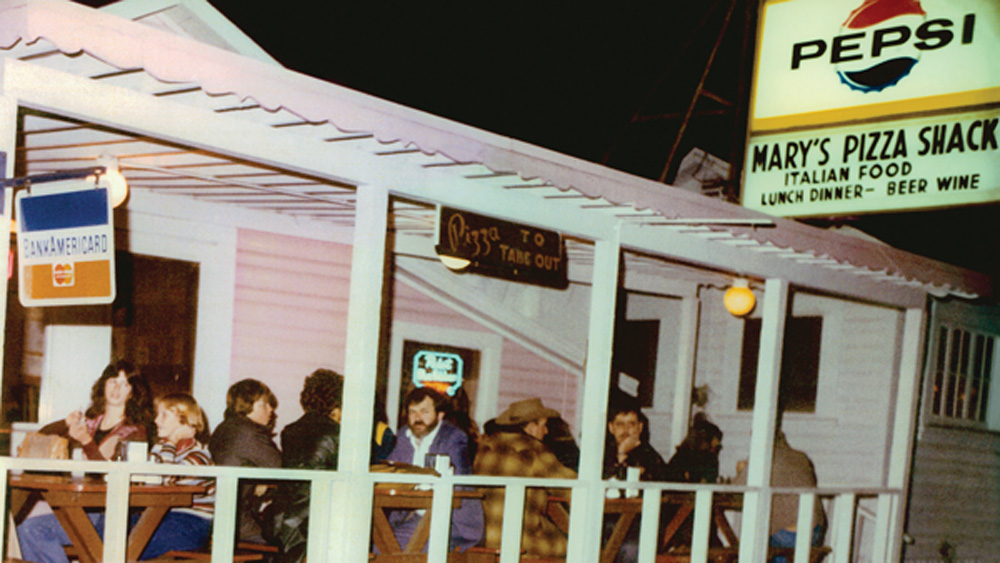 Mary's second husband, Frenchie Fazio, together with Toto, built the cozy porch on the original Boyes Hot Springs shack. Mary's divorce from Frenchie was amiable and he worked at the restaurant alongside the rest of the family until he passed away in November of 1985. He was in his 80s.
Third generation
Just as the Italian immigrants who planted grapes and founded wineries in Northern California passed on their land and legacies, so did Mary Fazio train and inspire her descendants to carry on what she started. Vince Albano, one of Toto's four children, has been the CEO of Mary's Pizza Shack since 2009. Like all the grandchildren, he refers to Mary affectionately as Noni, from the Italian word for grandmother, Nonna.
"My first paying job at the original shack was picking up forks and knives that had fallen between the spaces of the two-by-six slats of the dining porch," Vince says. "Noni was thrifty and didn't want to waste anything. My cousins didn't want to crawl under there with all the creepiness and spiders, but I took on the challenge. I got a nickel apiece for the utensils I found."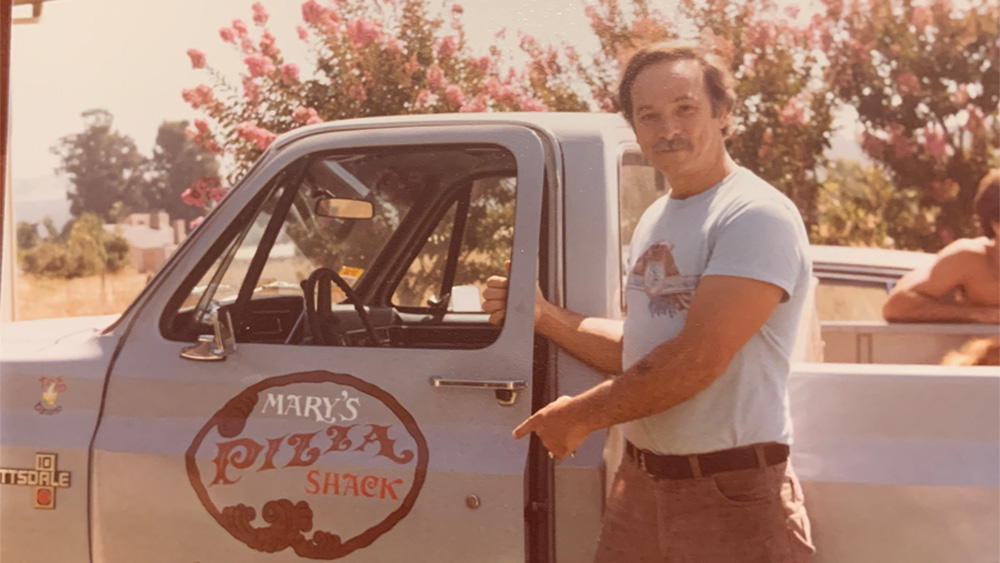 Vince's sister, Marie, picks up the story. "My father would take us to work with him," she says. "We cleaned tables and folded pizza boxes as soon as we could reach the table. We grew up in the shack where my grandmother was always teaching life lessons as we worked beside her."
As the siblings grew older, they labored as dishwashers and servers or answered the phone for orders. Their friends volunteered to help fold boxes because they were rewarded with a free lunch. Vince progressed to prepping food, cutting salami, rolling dough and eventually becoming a pizza maker. After college, he returned to the family business and worked his way through the management levels to where is now.
"Mary created a culture of closeness," Vince says. "For the customers and all the crew members, everyone was family. She was inclusive before inclusive was in the mainstream consciousness. She would make sure that people had enough to eat; she bought one worker's shoes, another a beat-up Volkswagen so they could get to work. It was a place to enjoy your job but you were also held accountable. She was firm during your shift, but afterward, she always said, 'Thank you, I appreciate you.'"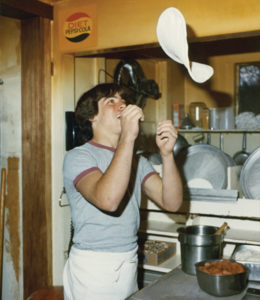 In 1982, Cully Williamson, husband of Terri Albano, convinced Toto there could be more than one Mary's Pizza Shack. "My brother-in-law was looking for a career after he graduated college and asked my father and Noni to teach him the business from the ground up," says Vince. "Dad was interested in expanding, but a little nervous too because his bankers said, 'Toto, you're making money now, why spoil it?' But Cully got in there and worked hard. He became the impetus for opening a second location in Cotati."
Vince says business in the second location was slow at first; subsequently, they learned to open the restaurants close enough to each other that people were familiar with Mary's reputation as a great family restaurant. "It was like stepping-stones—Cotati to Petaluma to Sebastopol to Santa Rosa."
Mary's grandson-in-law, Cully Williamson, then went on to become CEO for 11 years. During his tenure, the business expanded to 17 locations across Sonoma and Solano counties. He and his wife, Terri, own the Rohnert Park Shack.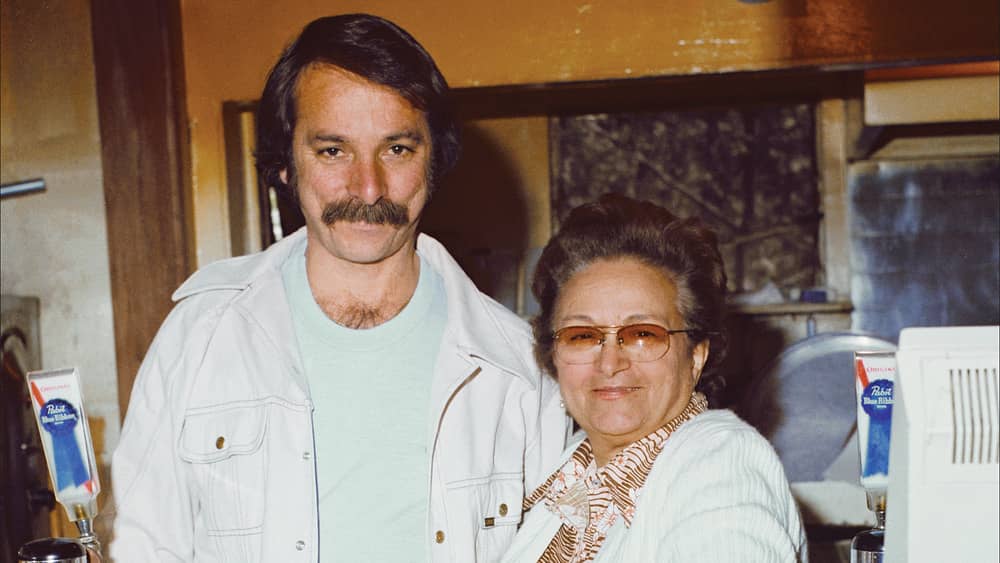 Another grandson, Charlew Byerly, first joined the family business as a pizza maker at the Boyes Hot Springs location and now he and his wife own and operate the Shacks in Anderson and Redding. Charlew's sister, Mary, works in company administration and their brother, Rob, works alongside Charlew and Kathy at the two Shasta County locations. Nanette Albano Lane manages design and décor for all the locations.
"Our family has learned by example, and we teach by example," says Marie Albano-Dito who serves as donations manager and is a member of the marketing team. "The culture that our Noni created was sustained by my dad, Toto, and my aunt; after Mary died in 1999, they continued it, and now we are doing our best to carry it on," she says.
The fourth generation
Even as various kin in the third generation manage the business day to day, Mary's great-grandson, Vinny Albano, who is 25, brings his enthusiasm and drive into the fourth generation of Pizza Shack leadership. He is the assistant manager at the Novato location. Another cousin, Graziano Albano-Dito was spinning pizza dough from the age of 12. Later, during his years attending Santa Rosa Junior College, Graziano added delivery driving to his many contributions to the family's enterprise.
Extended family
As noted on the company website: "Working at Mary's is more than just a job. It's a decision to jump-start your career and join our family." Embedded in the training process for new employees is not just how to do restaurant chores, but how to treat people, how to welcome people in, and make all guests feel the original Mary Fazio hospitality. Considered "extended family," many employees have been with the company for decades.
One of those long-term employees is Kyle Reese, now 46. He was a high school student when he started as a pizza maker at the Fairfield location. Within months, he moved into management and eventually to store general manager in 2000. After years of training and developing Managers, in 2012 Reese became regional manager, overseeing operations at 15 of the locations, including the Slice Shack in Sonoma. On a given morning, he might visit four scattered locations and taste the marinara sauce, meat sauce, all the salad dressings and the minestrone at each one.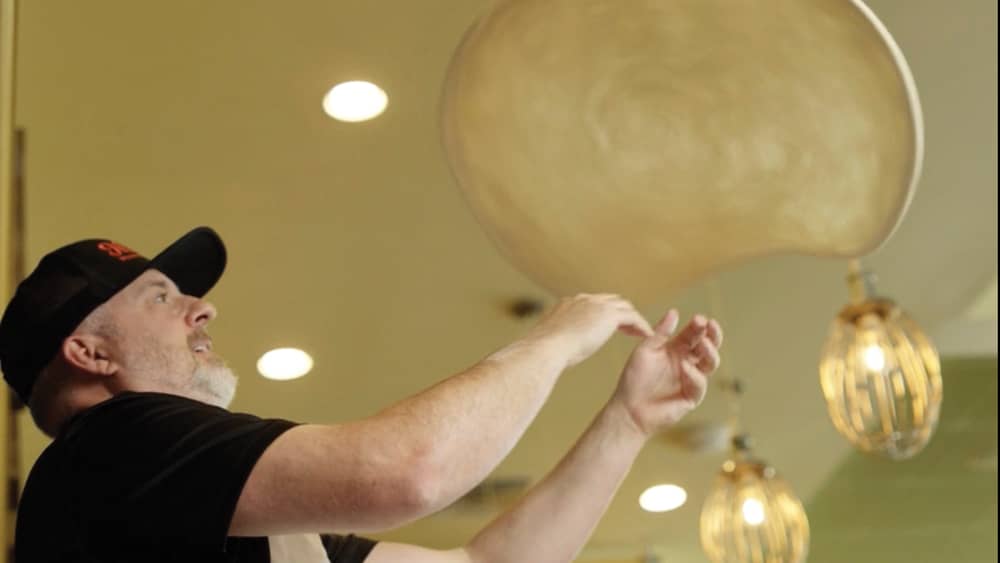 "In the '90s, Mary's was a fun place to be," Reese says. "The atmosphere was so unlike a restaurant chain. I've stayed for 27 years because, at the end of the day, I like what I do. The company leaders listen to my ideas, involve me as one of their own. I feel the respect, I feel the love that one would receive as part of a big Italian family. I have three kids under the age of 10. If I need to go to football practice or something special is happening with my daughter's gymnastics, Vince understands. I'm not just a number. Family is the most important thing."
Weathering the pandemic
Like every other restaurant employee in California, Mary's personnel have experienced tremendous stress during the wildfires and the pandemic. "It was like running triage, there was so much to figure out on the fly, always having to whirl and pivot," says Reese, adding that all hands were on deck during those dark days. "Our human resources director, Robin Carlson, who started working at Mary's when she was just a teen, came to host at the Santa Rosa downtown location. Procurement Director Mike Sheppard, who has held many positions during more than 30 years with the company, was out there building patios and helping with pizzas. Everyone, from owners to operations folks, pitched in."
CEO Vince Albano has a catch in his throat when he says, "The team that surrounds this company lifts us up in every crisis. Our management, operations, and administration teams always go above and beyond."
He describes how their COVID task force met daily— Zoom calls with senior management and extended family, all sharing the latest safety updates and rules, what was going on at the locations, what was needed. "People were executing!" Vince recalls. "We need tents. Okay, we need umbrellas, we need picnic tables, we need sanitizer, sanitizer, sanitizer. The team met every morning at first, and then weekly, stepping up like never before. It was quite a pace for a year."
What management discovered as "the silver lining" during the spring and summer of 2020 was that policies and procedures they wanted to do but hadn't accomplished yet, were forced to completion. The restaurants had a takeout model already built-in, but Mary's needed to up the ante with mobile pay devices so they could go curbside. They also improved online ordering to make it frictionless, coordinated their third-party delivery company seamlessly with their internal drivers, and reconfigured their digital communication and digital advertising.
Jacob Perez, who started with the company as a pizza maker in 2008, has been working in the marketing department since 2015 and was appointed marketing director in 2020. "The pandemic shifted our marketing conversations," he says. "We used data analytics on a more global level to determine what copy worked best, what placements were the best. At the same time, we tried to keep our brand message intact, delivered to the right audiences, on the right platforms at the right times."
Marie adds, "We wanted to reach out to the guests to say we know it's tough right now, and go back to our roots: what does the guest need right now? They need family-priced meals, specials on dinner for two, dinner for four. We did a BOGO (buy one get one) for a large pizza, and not just plain cheese."
"Right! Those Toto's combinations were flying out of the building," Vince chimes in. "That was a limited offer, but we want to continue to give families who are suffering financially a price point they can afford. That was what our Noni always emphasized—value, value, value. Of course, no matter how you price it if it doesn't meet the quality standard that won't work either. Her three pillars were cleanliness, great service and great quality food."
Currently, the Mary's organization is almost back up to pre-pandemic staffing with 500 employees. A forgiven PPP loan helped them hold on to workers (they were down to 300 at the lowest point last year) yet they can use more; the "Help Wanted" signs are out.
Defining the brand DNA
Marketing Director Perez says that when the company celebrated its 60th anniversary two years ago, they began asking these questions: What makes Mary's, Mary's? How do we ensure the next chapter is even more successful? The family members, store managers and department leaders discovered that they wanted to refresh the outward brand to match what they felt so strongly internally about their culture.
"Our intention for the rebrand was to entice a new generation of team members and guests to embrace Mary's Pizza Shack. We wanted to articulate the core values that have been with us since 1959 and have created such a strong following—things like being family-owned, using original, authentic recipes, being charismatic, all the things that were part of Mary's character as a person," says Perez. "The design agency is working to render those architectural features of the brand into a design language that shows us as fun, relevant, and still emerging, still innovating."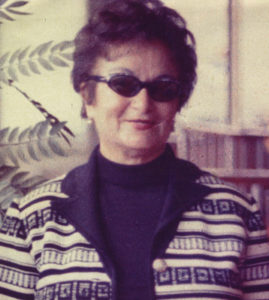 The purpose of the update is to "translate everything from the past for the future." It is encapsulated in the new Mary's Pizza Shack tagline: "The way she did it, we still do."
Vince and Marie add their observations. "In our advertising, we had been using photos of our grandmother in her older years, stirring the pasta, ladling the sauce…but then we came across this picture of her with cool sunglasses on. She was probably in her forties, maybe on her way to the airport going to New York or Italy, and we said, 'Oh my God, that's it. That's her!' We are transitioning from this traditional Noni to this cool, hip Noni—which she was!"
The official launch date for the refreshed Mary's Pizza logo and iconography is expected by the end of this year or early in 2022.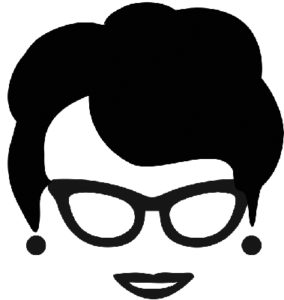 According to his children, Toto Albano, now 86, has strong opinions of what the descendants are doing with the company and how they are doing it. They describe how Toto will call up one of the local restaurants and give the manager feedback on the meal he received. Vince explains that his father's passion for the business runs deep. "He cannot talk about it without crying, 22 years after Mary's passing. If anyone fails in a restaurant, we are failing her in his eyes. Noni did it for the love of food and people, Dad did it for the love of his mother. He's the best son I've ever known."
Toto is still very emotionally tied to the business, says Marie. "Dad will say to me, 'Don't let them ruin my food. Make sure they are making it from scratch.'"
From Little League to Special Olympics
Besides being on more "Best" lists than you can count (Best Place to Work, Best Place to Eat with Kids, Best Pizza, Top 100 Pizza companies), and ranked No. 212 in this year's NorthBay biz Top 500 North Bay Companies, Mary's Pizza Shack is a generous local donor. In fact, Mary's was recently inducted into the Sonoma Valley High School Hall of Fame for continued contributions to the school and community.
Following Mary Fazio's wishes, the company has focused its philanthropy on charities for youth. These include Project Graduation, annual Little League sponsorships, Bambino Certificates (coupons for a free pizza given out in 100 schools as a reward for scholastic, good sportsmanship and behavioral achievements), and gift cards for raffles and events. Before the pandemic restrictions, Mary's Pizza Shack locations enthusiastically participated in Dine-and-Donate fundraisers. In 2015, Mary's donated $50,000 to Valley Fire Relief in a record-breaking Dine-and-Donate.
Because of the advocacy of Mary's daughter, Anna, who worked at Sonoma Developmental Center in the early 80s, the company has partnered extensively with OADS United Cerebral Palsy of Petaluma and with Becoming Independent. Both nonprofit organizations help people with developmental disabilities live meaningful and productive lives.
In July, CEO Vince Albano was honored by Sonoma Special Olympics for 10 years of support, and for the restaurants' history of employing those with developmental disabilities. Albano was presented with one of the Special Olympics Gold Medals earned by Roland Fuentes, a Mary's Pizza Shack employee.
Tomato-Basil Bruschetta
Mary's Italian Family Cookbook is as much a history of a family putting its heart and soul into a legacy business as it is a tantalizing compendium of Mary Fazio's original recipes. In this 256-page hardcover, Toto & Peggy Albano and Anna Albano-Byerly adapted 95 of their mother's best dishes for the home cook.
Makes 4 Servings
3 large heirloom tomatoes such as Beefsteak or Brandywine (1 ¼ lb. total weight)
4 tablespoons extra-virgin olive oil
2 tablespoons coarsely chopped fresh basil (plus more for garnish)
1 clove garlic, minced
Salt and freshly ground black pepper
4 large slices of sourdough bread, cut on the diagonal about ½ inch thick
Directions
Preheat the oven to 450 degrees F.
In a bowl, gently stir together the tomatoes, 2 tablespoons of the oil, the basil, garlic, ½ teaspoon salt, and ¼ teaspoon pepper. Cover and marinate at room temperature for at least 20 minutes, or up to 1 hour to allow the flavors to develop.
Using a pastry brush, brush the bread slices on both sides with the remaining 2 tablespoons of oil, then arrange them in a single layer on a sheet pan. Toast the bread, turning once halfway through, until golden brown on both sides, 4 to 8 minutes.
Transfer the toasted bread slices to a serving platter. Using a slotted spoon, divide the tomato mixture evenly among the slices, placing it on top. Season each bruschetta with a little more salt and pepper, garnish with a little basil, and serve.
Source: Mary's Italian Family Cookbook
Mary Tales
An eternal romantic, Mary pointed out proudly that more than 50 couples met and fell in love working at her various shacks. It's true that Mary's daughter met her husband when Mary called her out from the back of house to wait on "a cute guy" who was sitting alone at a table.
Mary would often start the day's soup by boiling a pig's head. When a server saw the snout sticking up from the pot and asked Mary what it was, she replied, "It's soup alla Coo Coo!" which was her catchall term for any dish she invented on the spot—which she often did.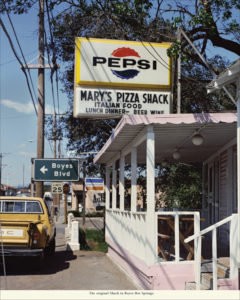 "She would always tell us, kids…" and here Vince Albano lovingly imitates his Noni's voice: 'You can do it! You can do it!'"
After Mary retired from day-to-day cooking, she would sometimes visit one of her dining rooms and announce to the customers, "I'm Mary. The real Mary!" She then shook hands with guests before popping in the kitchen to make sure they were still doing things her way. A long-time customer, Leo McMillan, said that he wouldn't recognize the mayor of Sonoma but "everyone in town knew Mary."