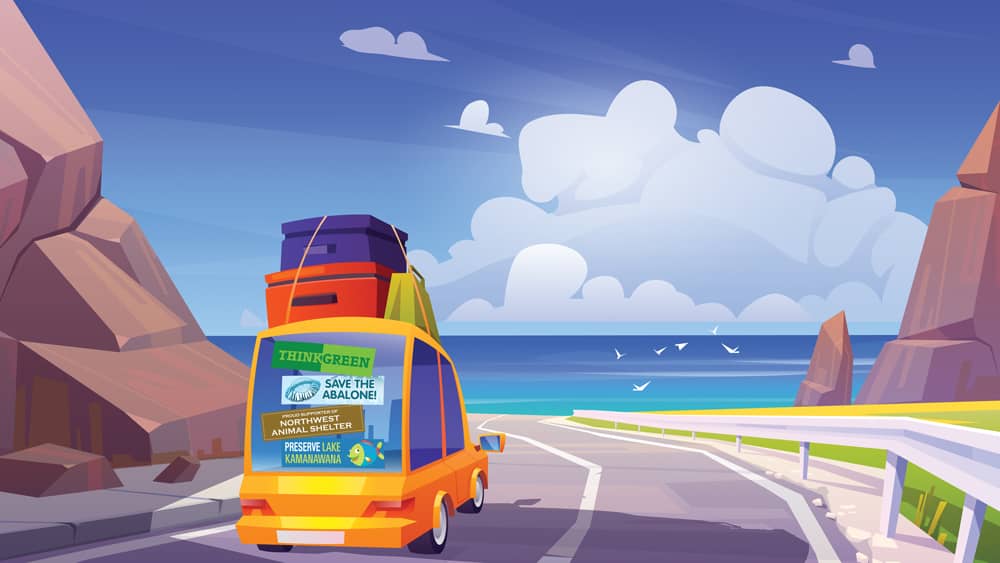 Before she was co-founder and CEO of the Kind Traveler, the first socially conscious Give and Get hotel booking platform, Jessica Blotter was an earth science teacher. She was also an animal rescue volunteer, a dedicated environmentalist, a student of entrepreneurship and a lover of travel, looking for a way to combine her skills and passions to bring something new into the world. "I was seeking something that would have lifetime value—that I could put all my resources in," she says. "I wanted to find a way to combine my passion for entrepreneurship with sustainability and travel. I didn't know how these three things were going to meld together, but I set out on a mission to create as many different educational experiences as I could for myself so I could solidify my vision. I had this intention very early on that I wanted to dedicate my life to a movement, and not just marketing campaigns."
Blotter's partner in life and business, Sean Krejci, shared her desire to do big things for the world they love. As an Air Force veteran, graphic and product designer, animal lover and passionate entrepreneur (starting with a yard maintenance business at age 13), he had many interests and a passion for life. "His drive and his lens on life were so unique that when we came together as a couple, we both decided that we wanted to dedicate our lives to a movement for good," says Blotter. "That meant serving the greater good—other people, animals, the environment—so that we could make the best of our talent and time here on planet Earth."
The couple didn't want to leave anything out. "We both knew that we wanted to combine all the things that we love, so we both ended up, having had multiple careers," she says. They took a variety of classes at UCLA. They studied business plan writing, philanthropy, social media and public relations. "We both pursued different paths," she says. "Sean focused on visual communications—completely different skill set than me. I was more specialized in journalism, communications, marketing and branding." The combination of the two sets of talents and skills was a perfect blending. "We each had a different skillset that we brought to the table and when we came together, we were able to create something special."
Give and get
As they considered the possibilities, Blotter realized that her life had felt fullest and happiest when she was volunteering. She set out to find "the sweet spot where my passion and my purpose and my skill set would find a heart."
The idea she formed, with Sean, was to create a booking platform, which would partner with destinations, hotels and resorts that were dedicated to the principles and practices of stewardship and sustainability. In addition to creating a platform to introduce and connect sustainably-minded people with destinations and hotels with like values, they would build in a way for visitors to do good, to make a difference, to give back directly to a local charity. Even better, it would be a charity the visitor will have learned all about through the Kind Traveler website, or at their chosen hotel. Thus, visitors can turn a regular, getaway to Sonoma County or another sustainable destination, into an opportunity to give back––to practice kindness toward the environment, while donating to a select local charity.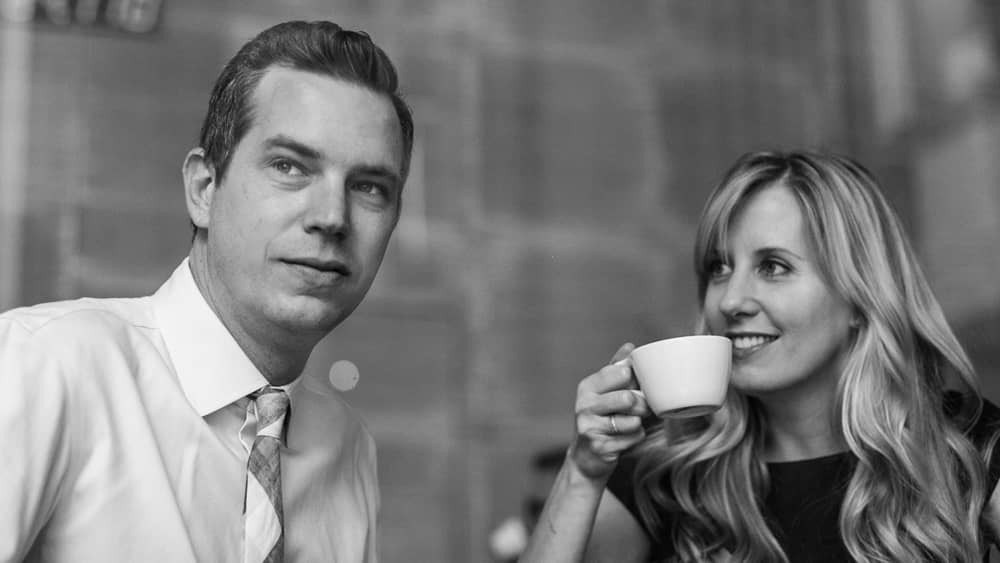 Blotter and Krejci named their enterprise the Kind Traveler, and what they consider it is the "world's first socially conscious Give and Get hotel booking and media platform." As they conceived it, the Kind Traveler would empower individual travelers to choose, learn about and book hotels with sustainable-stewardship standards and values, as well as give back to the communities they visit.
Though it may sound simple, it was not.
"Once we decided we wanted to create Kind Traveler, it took four years to get it built," says Blotter. The couple went to work finding launch partners and hotel partners, signing on the charities, as well as building the platform and securing investment. "It was many layers over many years," she laughs. "It was not an overnight success." And then, still laughing, "I don't believe in overnight success."
She might believe in luck, though, if we consider that luck is "opportunity meets preparedness." In that sense, it was luck that, in 2019, Blotter and Krejci approached Sonoma County Tourism with their idea. As it happened, SCT had just become the world's first Destination Stewardship Organization. For the two young entrepreneurs to arrive, presenting a new and appealing way to encourage and direct sustainable-minded travelers to select, sustainable Sonoma County hotels––and contribute to charities in the bargain––was a perfect coupling of initiative with capability.
Stewardship and sustainability
In 2019, after two years of fire, drought, flood and collateral damage to the local economy, businesses and residents in Sonoma County were traumatized. The last two years, since the Tubbs fire, had been hard and the county needed to rebalance itself.
Tourism, necessary for the local economy, needed to be balanced. Visitors needed to be educated and encouraged to adapt to the attitudes of stewardship that locals were developing. It was also important for visitors to understand what to do during emergency conditions, much as locals do, for the sake of the destination itself. During a drought, for example, residents and visitors must understand and practice conservation. Fire season brings its own challenges and requires that residents and visitors are aware and pay attention to the weather and local warnings and know what behaviors to curtail, such as lighting a fire on a warm, dry summer day, and what to do if an emergency arises. So, the initiative the SCT set out to promote, in 2019, was one of stewardship and sustainability. This means, in short: Treating this beautiful place with care and leaving it as you found it.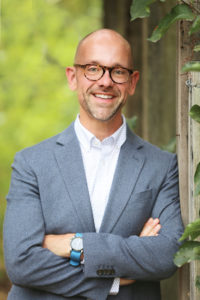 Todd O'Leary, vice president of marketing, explains that to seek a balanced, sustainable climate for tourism, the initiative focused on two ideas. First, to manage the flow of visitors in a way that works for the local economy, and manage the visitor experience by developing and encouraging tourist opportunities throughout the winter and spring months. The county's "off-season" still lends itself to a destination place since its mild Mediterranean climate tends to be lovely, and visitor attractions include business meetings and retreats in beautiful locations along with the usual wine and food experiences. The idea is that visitors think of Sonoma County not just as a place to enjoy in summer or harvest, but year-round.
The second part of the initiative centered around sustainability. Attracting people who value, respect and even can give back to that place. "We know that [residents] are happy to have visitors come here," says O'Leary, as long as they "subscribe to [sustainable values] and want to take care of this place for future generations."
An ideal match
Sonoma County Tourism had just refashioned their positioning statement and put their "sustainable" stake in the ground when Krejci and Blotter made their pitch for the Kind Traveler. It was a perfect moment.
"We had just become a destination stewardship organization," says O'Leary. "It was a key point in our organization's history when we were making a shift to a destination stewardship organization."
The Kind Traveler idea fits in every way. "Their pitch to us resounded even more than it might have otherwise," he says. "We very enthusiastically joined forces with Kind Traveler, and we were their first destination client." And so, the match was made. "Kind Traveler fits very much hand-in-glove with our overarching stewardship and sustainability strategies."
The feeling was mutual, says Blotter. "I can't express how much enthusiasm I have had for the partnership with SCT," she says. "They are just 100% aligned with our destination stewardship initiative. To see SCT taking initiative and being a role model for other destinations is very encouraging."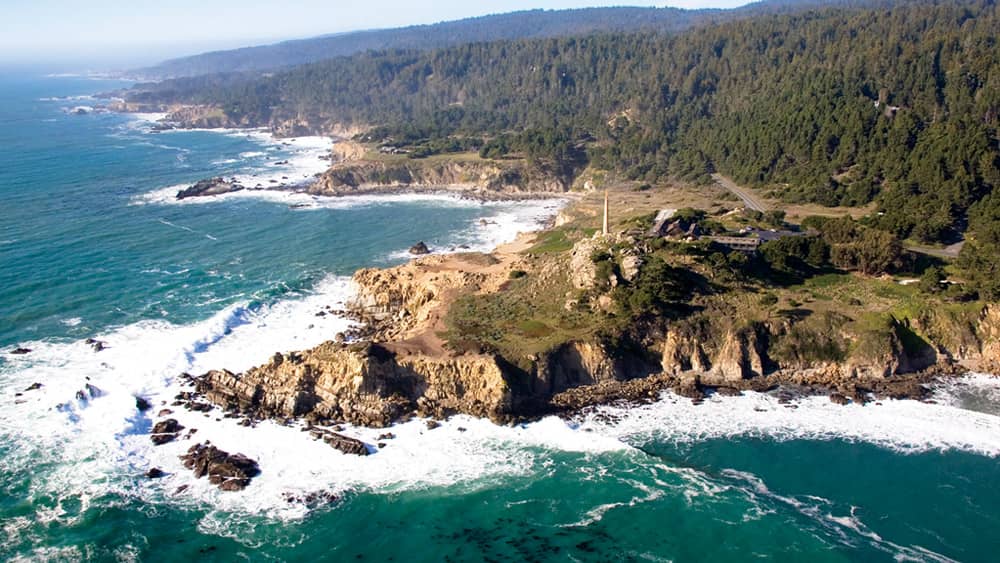 The Kind Traveler involves two programs. "We have a kind destination program that is definitely a more holistic way of growing sustainable tourism, within a destination," says Blotter. "It engages the tourism board, the hotels, and the charities and a destination to all work together on Kind Traveler, and that's a much more holistic path." This is how it works in Sonoma County, but in other counties, visitors can still access Kind Traveler hotels.
"We can onboard hotels in our Kind Hotels program without a tourism board," says Blotter, "But it's much more powerful messaging if we can work with the destination and unify our message and have the tourism board support and agree to the principles and values of sustainable tourism." There again, she is always thinking in her mission sense: It's not just about getting bookings. It's about helping people bring their stewardship awareness to a place where that value is prized; helping them actively give to that place; and helping them to feel good about their experience in a way that resonates more lastingly than, perhaps, a great meal––though that is part of it.
However, sustainability does not work alone. "Sustainability is unique in that it cannot be carried out in isolation," says Blotter. She and Sean continue to work hard to create partnerships and move the sustainability principles forward and educate people on their ideas. One early stroke of luck was their becoming part of the Blue Start-up Portfolio of Companies. Blue Startups is a public-private partnership accelerator program funded by the State of Hawaii, Hawaii Technology Development Corporation, the Tetris Company and private investors.
"They were especially looking for startups that were focused on tourism, sustainability and had at least one female founder," says Blotter. "We were accepted into their tech accelerator and so we had coaching from them for 12 weeks at the end of 2020. They became our first investor."
How does the Kind Traveler work?
The model is that travelers will unlock exclusive hotel rates and perks when they give a minimum of $10 nightly donation to a locally vetted charity that's in the destination they're traveling to or to any charity on the platform. Jessica Blotter wants to make clear that, through that model, 100% of donations from the traveler go to the charity. The traveler receives a receipt for their donation, but the donation is not tax-deductible.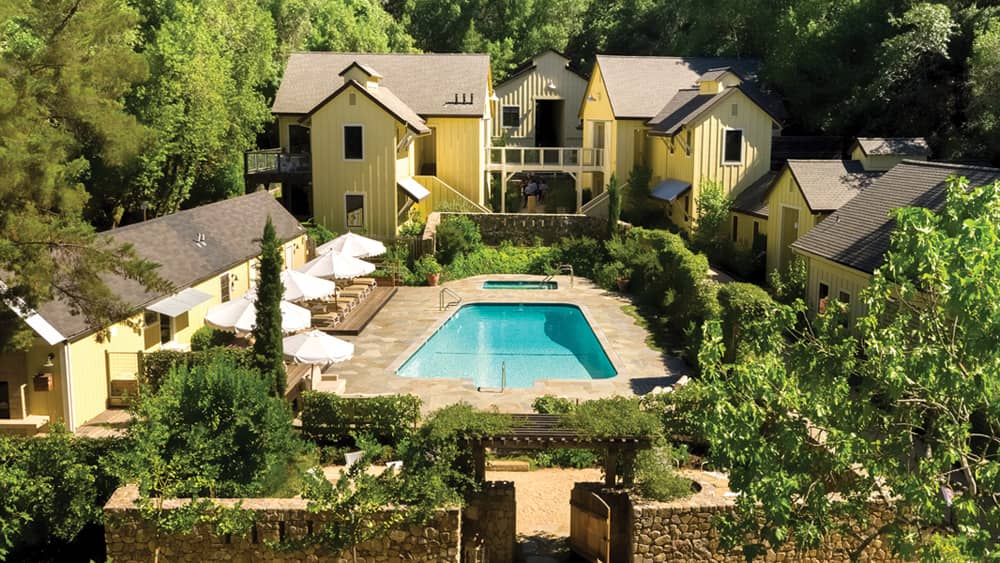 "This is because any time you receive an exclusive rate or perk or anything of equal or greater value it does not qualify for a tax deduction. Kind Traveler distributes the funds directly to the charity and we even cover any processing fees. So exactly what is collected from the traveler is given to the charity." They put contracts in place with every charity to allow Kind Traveler as a Public Benefit Corporation to fundraise and market on behalf of the charity. So, the charity must be in agreement with their model. Then the hotel receives the booking, and they also receive information on which charity the traveler selected and how much was donated.
"We see all our communications through what we call the 'lens of kindness,'" says Blotter. That lens is broken up into four quadrants: environmental sustainability, community impact, animal welfare and individual wellness. "That's really our holistic approach to kindness," she says. "And it's what we look for in all of our efforts. And that really helps guide us as a company, because kindness can really be vague to some people."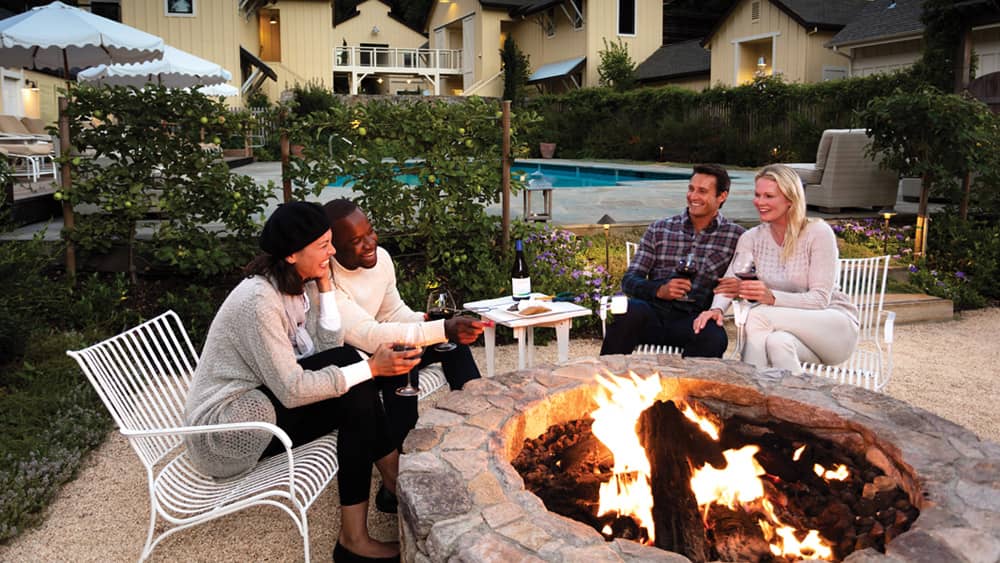 Kindness begins at home
Blotter and Sean consider that being kind to yourself, counts, too. Because kindness toward oneself helps nourish one's ability and emotional aptitude to be kind to other people, including animals and the environment. "When you look at the 1.4 billion travelers that took trips pre-COVID, that can be a force to help the planet or harm the planet," says Blotter. Looking out from that "big, giant perspective" of the travel industry, "it has an enormous opportunity to do good in the world if it's harnessed and responsible."
And even more than that. "This can be a very emotionally fulfilling way to travel, and to feel good about your trip," she says. Perhaps this generous thought goes back to her insight that her happiest times, early in her career, were when she was volunteering and helping animals. The joy of giving kindness. "That's such an important missing piece to this conversation," she says. "It can actually make you happy when you choose responsible and conscious travel decisions. You feel good about it."
Now that the pandemic is at least somewhat receding, maybe it's time to go out and be happy. Go dream of or visit new destinations. This month, their partnership with Visit California will be up on the website, along with new hotels and new stories, all ready for new, travel-hungry, future Kind Travelers to go forth and become new stewards of many treasured destinations.
Stewardship & Sustainability
In Napa Valley, sustainability is "fundamentally in our nature," says Linsey Gallagher, president and CEO of Visit Napa Valley, in an email, recalling the decision 50 years ago to preserve Napa's landscape for its famous grapes and agricultural bounty by creating the Agricultural Preserve.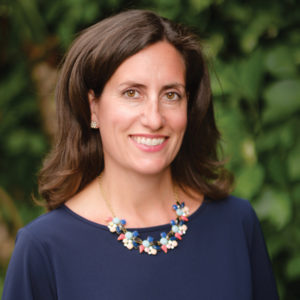 She points out that sustainability is a value that visitors to Napa Valley share, quoting a Booking.com survey in June last year, which found that 83% of consumers believe sustainable travel is vital. The survey also found that, after the pandemic, interest in sustainability has increased but of those who are looking for sustainable options, 50% don't know how to do so. Visit Napa Valley promotes sustainable travel as a part of the Napa Valley visitor experience. "We help inform travelers about sustainably on our website, where travelers can find useful tips on how to be a sustainable traveler, a list of some of our green wineries and the most eco-friendly hotels, and information on conscious transportation."
Booking participating hotels through Kind Traveler, visitors to Napa Valley not only receive the friendly "perks," but a channel through which they can contribute and participate ––to give back–– to the communities they've enjoyed visiting.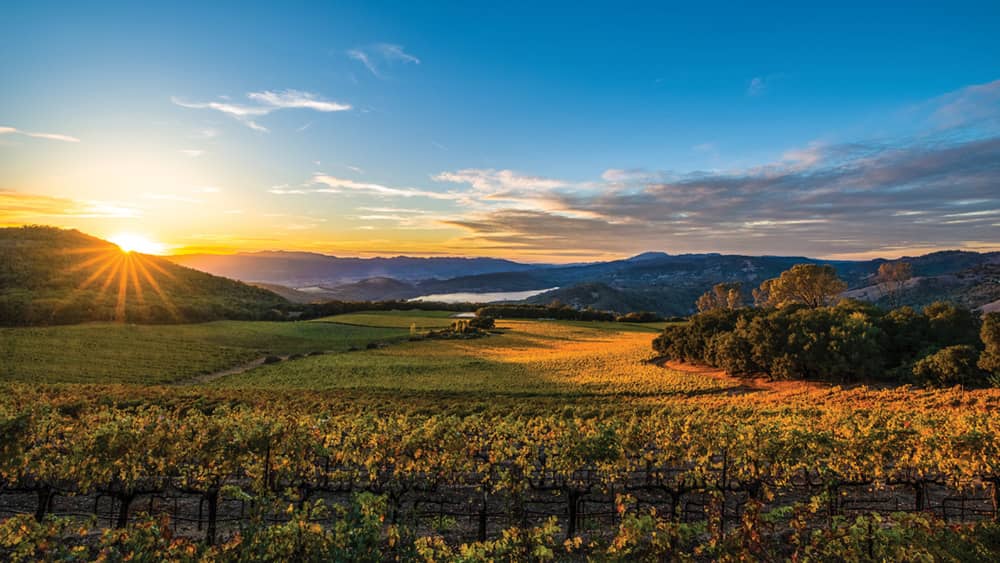 Results & Potential
Though the Kind Traveler was launched in Sonoma County between the end of two major fires and the start of a worldwide pandemic, there is potential for benefit in the partnership between Kind Traveler and Sonoma County Tourism. Here's what's happened since the partnership launched:
Redwood Empire Food Bank. Supporting the largest hunger-relief organization serving north coastal California from Sonoma County to the Oregon border, which response to the immediate needs of people seeking long-term solutions to food insecurity, to date, 600 meals to in-need families have been served.
Sonoma Land Trust. Supporting its mission to protect the scenic, natural, agricultural, and open landscapes of Sonoma County for the benefit of the community and future generations, to date, 38 miles of hiking trails have been maintained in Sonoma County.
Russian Riverkeeper. Supporting its mission to protect the Russian River through education, citizen action, scientific research, and expert advocacy, to date, 7,500 pounds of trash has been cleaned out of the Russian River.
The Flamingo Resort
The Flamingo Resort, located in Santa Rosa, is a Kind Traveler hotel, and Wendi Gelfound, corporate director of marketing for Point Group and SPOKEN, which own and operate the Flamingo Resort and the Sandman, offered their definition of what "kindness" can be in the expression of their core values. These include the following:
Mindfulness to engage guests and each other with integrity and purpose.
Connection to collaborate and trust each other in an energized rhythm of awareness.
Graciousness to serve guests and each other in a respectful and courteous manner.
Discovery to seek ways to learn, innovate and thrive with a curious heart.
In an email, Gelfound wrote: "Earlier in October we hosted a couple for six nights at Flamingo who purchased their certificate through our listing on Kind Traveler's website. The desire to partner with KIND Traveler is rooted in our shared values and tenants of sustainability, wellness, and a commitment to give back to the community where we live and work. We receive about 15 to 20 inquiries per year from our listings, and we are very proud to support their initiative to travel kindly."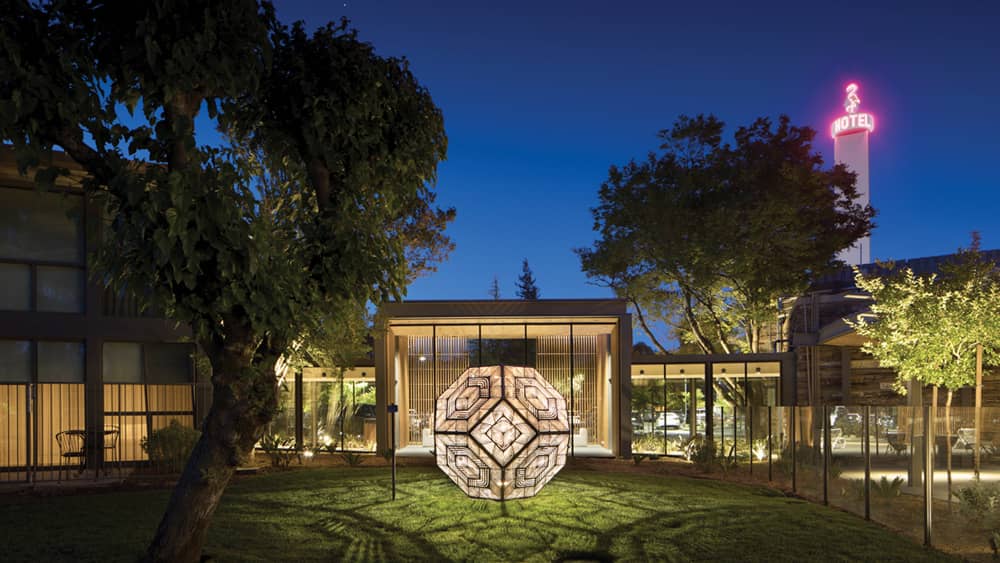 A Website Tour
This month, Kind Traveler 2.0 will launch. "We are thrilled to launch Kind Traveler 2.0, which will include a new website and optimized booking experience where travelers will be even more inspired to give back and make a positive impact during their next trip. The 2.0 launch will include 40 new hotel partners and 15 new charities to create opportunities for Kind Traveler stays in 22 countries. We're thrilled to invite travelers to travel kindly with us and learn about impact opportunities to create a purpose-driven, meaningful and memorable vacation experience."
Those who visit the Kind Traveler website will see right away it's not your usual booking site. It's friendly and appealing. Visitors can choose to "Explore," to check out "Causes," to view "Destinations" or settle in for some "Stories" to see what it's all about.
On the site, you'll notice a box featuring "Editor's Pick." Click and you will discover stories about six "women-owned or women-led" hotels. The page is charmingly designed and lets you know that you're not in for just the facts about the place, or even and the perks you get as a Kind Traveler, but why the editors love them.
As you're finishing the first story, about a gorgeous place in St Lucia, that you would long to go to, for example, the next story appears with a little box for the Redwood Empire Food Bank in Sonoma County. Sure enough, the second story is about the Farmhouse Inn, just a few minutes from Santa Rosa, in Forestville. The story and the layout are so lovely you want to drop everything and go there right now. Even if you live here. While you're reading, you'll see what your $10 per night donation to the Food Bank will do, and you'll learn about the owners' sustainable values. As you browse through the website, you will get a sense of who the Kind Traveler is. You want it to be you. You want it to be the visitor who comes to your town. You'll be happy if the Kind Traveler comes back. For more information, visit kindtraveler.com.