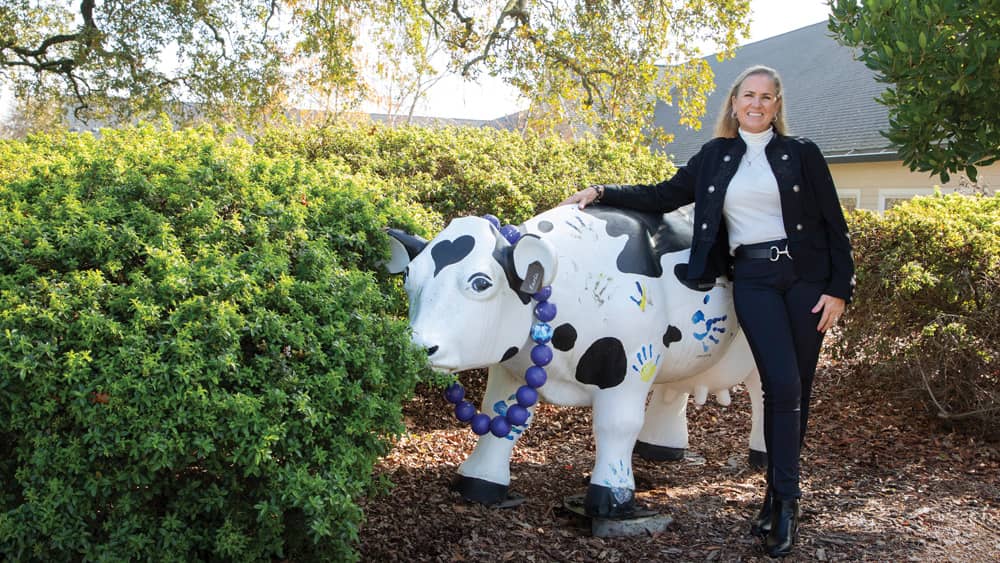 There are nearly 437,000 children in the foster care system in the United States, and 60,000 of those reside in California. On any given day in Sonoma County, there are 50 to 75 abandoned, neglected, or abused children and teens in need of a safe place to live. Many will transition into adulthood without the tools and support they need.
The Valley of the Moon Children's Foundation—a private, nonprofit organization—was formed in 1996 to address the need. Over the years, the foundation has raised $6 million for the construction of a new emergency foster care center, awarded more than $1million in scholarships, supported costs of operating a foster care dental clinic, established a critical needs fund and helped other nonprofits working with youth.
The old Moon
It all began in 1983 when Sonoma County native Laura Colgate visited Santa Rosa's Valley of the Moon Children's Home. Along with her regular duties at Hewlett Packard, Colgate was the company's community outreach person responsible for locating projects needing financial support. "I toured the children's home or the 'old Moon,' as it was called then. Built-in 1975, the foster-care facility had become obsolete. Kids were sleeping on cots in the corridor. It was a heart-wrenching experience," Colgate says.
"At the time I was a single mom with a young daughter. I couldn't believe there were children in Sonoma County who had been abandoned, neglected or abused." That moment proved pivotal for Colgate. It led to 38 years of volunteering and philanthropy, helping youth and others. She served as project manager and executive director of the Family Justice Center Sonoma County, director of Senior Nutrition Services (Meals on Wheels) and has participated in many local efforts to provide for those less fortunate including supporting veterans. Currently, Colgate is president, Valley of the Moon Children's Foundation (VOMCF).
The county, in the process of planning a new emergency foster care center, teamed with VOMCF in a unique public-private collaboration to raise funds for construction. Following 10 years of joint planning, the new 22,500 square-foot Valley of the Moon Children's Care Center opened in 2005. Of the total $22.5 million construction cost, VOMCF raised approximately $6 million. The center is the county's only 24/7 emergency foster-care facility.
"We can accommodate up to 60 residents," says Meg Easter-Dawson, the center's program development manager. "On average, we have about 15 to 20 here at any one time. Most are ages 6 to 18." Infants and younger kids go to temporary foster homes that have specialized skills for working with the younger population.
"Approximately 35% of children entering foster care have unmet dental needs," says Easter-Dawson. The new facility includes a dental clinic. In 2011, VMCC began an on-site program. "Since then over 900 foster children have been provided with 4000 treatments," says Easter-Dawson. Treatments included evaluations, cleanings, fluoride administrations, sealants, fillings, extractions and taking care of dental emergencies. The clinic educates children on the importance of oral care with daily brushing, flossing and a healthy diet. Affectionately known as "Dr. Jack," Sherman, a dentist, administers the program. The costs of operating the clinic are covered by VOMCF and individual donations.
"VMC Foundation has been wonderful," says Easter-Dawson. "Not only have they helped with our dental program, but they've also provided a play structure, TVs, a bus shelter, and furniture. They've covered the costs of field trips and outings, many of the things the children's families would have provided if they had families."
Many would have thought that the foundation, after raising $6 million and its ongoing support of the Valley of the Moon Children's Center, would've taken a well-deserved break. Turned out that was not to be.
Dianne Edwards, County of Sonoma Director of Human Services approached the foundation to consider establishing a scholarship fund to benefit those currently or formerly in Sonoma County foster care. On her retirement in 2006, Edwards requested that in lieu of gifts, monies be donated to a fund to be managed by VOMCF. From that kernel of an idea, VOMCF has awarded $1,150,000 in scholarships to 322 recipients.
"Our scholarships are not just focused on academia, we also encourage students to pursue vocational and trade school education," says Julie Atwood, longtime board member and member of the scholarship committee. "The majority of graduates go into social work, criminal justice and public administration, others into business and finance.
At the awards ceremony in 2021, the 15th anniversary of the fund, this statement from Edwards was read: "Individuals, businesses and organizations can establish a "named scholarship" in any amount from $2,000 and up. Donors can identify the career or educational interest they wish to support and the scholarship name."
At the ceremony, Colgate paid tribute to Edwards: "If you ask Dianne how she had the wisdom, foresight and generosity to request that instead of gifts, the money be used to begin a scholarship fund, she will demur. She will not take credit for this amazing development. She'd rather talk about the true heroes, our scholars, for their bravery, commitment and perseverance to inspire us all."
The following scholars share their stories 
Raymundo Lopez
Michigan State University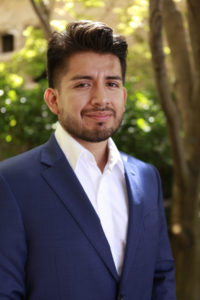 VOMCF scholarship recipient Raymundo Lopez has earned an undergraduate degree, as well as a master's degree. Currently, he's studying for a Ph.D. Growing up in foster care, Lopez could not have imagined any of that in his future. His mother, who struggled with personal matters, was unable to take care of him and his siblings. They all ended up in foster care.
"Unfortunately, my first foster care family did not have the ability to care for us emotionally," Lopez says. "The second family struggled financially and we moved around a lot, so I never felt rooted." Lopez attended six different schools—three elementary, two middle schools and one high school. "School served as a safe haven rather than a learning environment, though I tried my best," he says. "In my junior year, my foster mom Lorena, and Eimar, my social worker, sat me down and talked about going to college. I am thankful to them for encouraging me to focus on only one sport and to attend tutoring sessions."
Lopez was accepted to Sonoma State University (SSU). "Moving from Southern California and transitioning from high school to college was difficult," he says. "I didn't have much of a support system. The first semester I ended up on academic probation. The SSU foster youth program helped me get grounded, and introduced me to VOMCF," Lopez says. "I can't thank VOMCF enough for all they've done for me. They are like a supportive family. Not wanting to let them down, I took my studies seriously. For the six years, I've been in the scholarship program, I've consistently maintained a 3.5-grade point average. I went from academic probation to the Dean's List," Lopez says with pride.
At SSU, Lopez worked toward a double major—French and political science. During his junior year, he studied in France. "Coincidentally, the host family I lived with was fostering two young girls, aged 9 and 11. We all bonded through our common experience."
Lopez postponed his return to SSU for a stint in Washington D.C where he participated in a summer program at George Washington University. While he was there, he worked on the political campaign of Mayor Muriel Bowser and received an internship with a tech company involved in digital advertising and political science applied to the real world.
Lopez returned to Sonoma County, graduated from SSU and was accepted at Stanford University. His master's thesis titled "Aire, Tierra & Fuego: Environmental Trauma and Grassroots Mobilization" argues that environmental phenomena act as intervening variables in shaping political and social life. Currently, Lopez is attending Michigan State studying for a Ph.D., focusing on political science. "Political science is viewed by most as being complex. It shouldn't be that way," Lopez says. To address that problem, he's creating a website to simplify political science so that people have a better understanding of how it works at all levels of government and society.
Lopez's advice for those in foster care is, "Have fun and have a good spirit. Life moves very fast. Take it one step at a time. Value your relationships. Share meals with new people. And get to know them. Participate in your community. And don't be afraid to try."
Rian Studebaker
Santa Rosa Junior College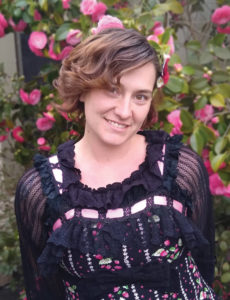 Having a career in fashion is Rian Studebaker's dream, though there was a time when having a career in anything seemed uncertain. "When I was about 10 years old a social worker and a police officer came to my home and took me away to a halfway house. I was completely confused. At the time I didn't realize my mom had issues and couldn't take care of me." From the halfway house Studebaker went live at Sunny Hills Children's Garden a group home in San Anselmo, followed by two other group homes, a foster home for a year, and then a return to a group home.
"When I was 13, I met Gayle, my second foster mom. She was exactly what I needed," Studebaker says. "She was so patient and compassionate. She provided me with just the right amount of structure where I could still be myself." Studebaker wasn't a good student. "Except for the arts, my high school grades weren't good. No one expected me to graduate. Somehow, I managed to pull it off. After high school, I aged out of foster care and dropped into a chaotic void. I couldn't hold down a job."
A friend introduced Studebaker to "cosplay," or costume play, and to Lolita Fashion. There she found her niche. She got into making costumes and even went to Fanime in San Jose, where thousands come from all overdressed as their favorite characters. "In addition to costumes, I am learning to design and make my own clothes. Nothing else I've ever done has given me such joy. It's like creating wearable art," Studebaker says. "I love the idea of replying—when people ask where I bought whatever I'm wearing—I made it myself!' "
Foster mom Gayle introduced Studebaker to the VOMCF program. "I was thrilled and surprised to receive the Creative and Trade Skills Scholarship," Studebaker says. "I am incredibly grateful for their support."
With tuition monies assured, Studebaker enrolled in Santa Rosa Junior College's Fashion Design Certification Program. "The courses are awesome. I'm learning how to design and make clothes, do flat pattern making and next semester is draping. It's so exciting."
Studebaker has come a long way from those early days when she couldn't hold down a job. Now 34 years old, Studebaker has worked as a school bus driver since she was 19, driving special needs kids to class. On Sundays, she handles a variety of administrative tasks for an airport express shuttle service. In between, she takes classes.
"I'm determined to get my fashion design certificate," Studebaker says. Then she plans to start her own business making and designing clothes and costumes and alternative fashion, including alterations. "Someone once said that if you spend your time doing what you love, you'll never work a day in your life. How great that would be!" Studebaker says with a smile.
Alex Crossman
Sonoma State University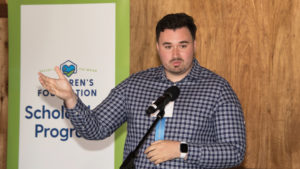 Alex Crossman was 3-and-a-half years old when his parents were arrested for DUI and put in jail. "I remember there always being drugs in the house," Crossman says. He was taken to the Valley of the Moon Children's Center and eventually placed with his grandmother. "She cared about me but was on disability. She could hardly take care of herself," Crossman says. "I lived with her, slept in parks, or stayed in a homeless shelter."
When he was 8 years old his grandmother went to the hospital and a social worker took him back to the children's center. "She told me I'd be there until my grandmother got better." A week later Crossman's grandmother died. "I was devastated," he says. "I had no one." That began a series of living in eight different foster homes, some more supportive than others. "Not many families were willing to take in a teenage boy," he says.
Though Crossman wasn't a big fan of school, he got decent grades. "My biggest challenge came when I turned 18 and was no longer a ward of the state. I was on my own." He'd initiated that shift a few years earlier by moving into Tamayo Village, a transitional housing program. On completing high school, Crossman applied to seven colleges. He got accepted to six, including UCLA and UC Berkeley, but had no money for tuition. "I didn't even have a job. I was more concerned about living day-to-day." A social worker suggested Crossman talk to VOMCF. "I was elated to receive a scholarship," he says. "It was the first time someone believed in me. I couldn't let the foundation down. I had to be successful to pay them back."
Crossman attended Santa Rosa Junior College. "I still had a lot of growing up to do and didn't feel comfortable leaving the area." Now he's a junior at Sonoma State University, majoring in finance. "I chose finance because I noticed a lot of people struggling with that," he says. "I'm good at solving complex problems, so it seemed like a good fit. After graduation, I plan to get my MBA in executive management."
The personable Crossman works six days a week as a store manager at a local ATT store. Currently, he's applying for an internship with a corporation where he can contribute and learn how to apply his academic success in a real-world environment.
Scholar support
In addition to tuition, VOMCF wanted to make sure its scholars had access to the financial support needed to make it through temporary tough times that might interfere with their schooling. "Foster care students don't get the same emotional and financial support that others with parents have," says Katie Condie, executive administrator. "In emergencies, there's no one to call."
Anticipating those situations, the foundation established a critical-needs fund for scholars to cover emergencies that might interfere with their studies. "We've helped out with things like broken laptops, textbooks and unexpected medical bills," Condie says. Historically it has always been difficult for former foster care youth to attend, and stay in college. The pandemic only made things worse. "Last year was tough," Condie says. "Many students lost jobs, housing, and essential support systems. The isolation and pandemic's uncertainty triggered past traumas." When other counseling wasn't available, VOMCF helped with therapy costs.
The foundation has come a long way since Colgate toured the "old Moon" foster care home and recognized a need, and Edwards suggested her retirement gift monies go to starting a scholarship fund. Many in Sonoma County's foster care system have benefited from the foundation's philanthropy. In fact, 322 have received scholarships to study at trade schools, colleges and universities throughout the country. They have gone on to become valued contributing members of their community. VOMCF scholarships provided them with access to a future none of them could have foreseen.
Valley of the Moon Children's Foundation
Title: Scholarship Program
Total scholarships awarded to date: 322
Total dollars awarded to date: $1,150,000
Current Scholars
Number of students at community colleges or trade schools: 14
Number of current scholars in 4-year schools: 13
Number in grad schools: 7
Number of Ph.D.: 2
Total: 36
VOMCF Supporting Other Nonprofits
The following nonprofits also support children and youth in Sonoma County.
Special Advocates for Youth
Special Advocates for Youth, also known as SAY, began 50 years ago as a constructive alternative to juvenile hall for runaway youth. Today the organization provides housing, counseling, career services and mentoring for that population. SAY's helped more than 50,000 youth, aged 5 to 24. Those participating in the program engage in the community through school, work and volunteer activities. Tanya Carvajal, who grew up in the foster care system, serves as SAY's youth crisis program manager. She's also on the board of VOMCF.
In 2005, SAY renovated and repurposed Santa Rosa's vacant Sutter Warrack Hospital into the Finley Dream Center. VOMCF contributed $200,000 toward the cost of renovation. The center houses SAY's administrative offices and provides temporary housing, counseling and job training. For more information, visit saysc.org.
VOICES Sonoma
VOICES Sonoma provides young people aging out of foster care with family-like support, acceptance and accountability. Many have suffered child abuse and neglect, and continue to experience trauma. VOICES works on goal setting and support as participants learn to manage trauma triggers so that they don't lead to behaviors that might prevent them from accomplishing their goals. VOICES strives to cultivate leadership skills to sustain former foster care youth for the rest of their lives. VOMCF has contributed more than $600,000 in the past 12 years to enable VOICE to achieve its mission. For more information, visit voicesyouthcenter.org.
The Valley of the Moon Children's Foundation
How to Help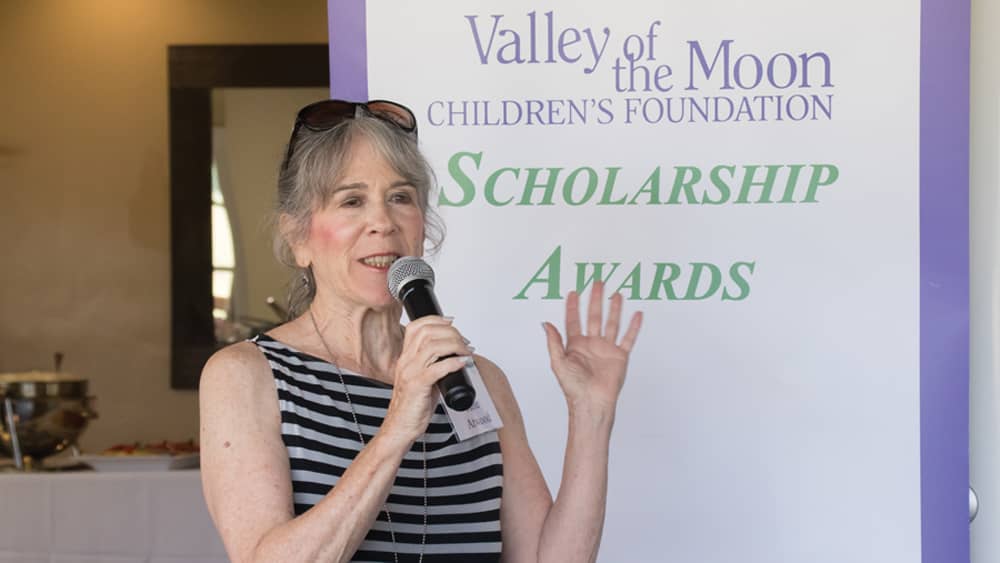 The Valley of the Moon Children's Foundation, the scholarship fund and other area youth-oriented programs have received much-needed support through VOMCF's philanthropy.
"For 15 years, our scholarship program just perked quietly along, starting with students entering Santa Rosa Junior College," says Julie Atwood, longtime board member and member of the scholarship committee. Today, however, the program provides scholarships and critical needs support to students at every scholastic level, ranging from community college to graduate school, as well as to students pursuing master's degrees or doctorates. "At every step of the way, we support our scholars with the sorts of guidance and personal mentorship that parents normally offer," she adds.
Scholars are attending schools such as Stanford and the University of California. "And as parents and corporate leaders know, it's expensive—not just the education, but all life's necessities," she adds. "We are there for them, doing everything possible to ensure their educational and career success."
With the ongoing effects of the pandemic on families and youth, the Valley of the Moon Children's Foundation services is needed now more than ever. For more information or to make a donation, visit vomcf.org.