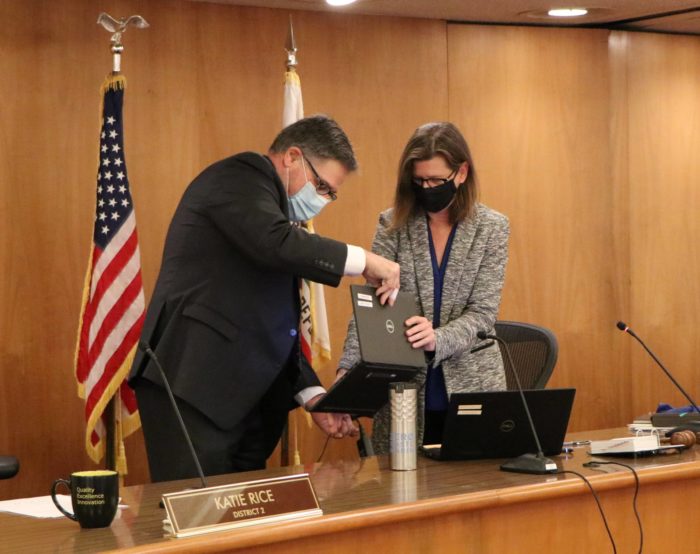 Katie Rice, who has represented the Ross Valley and parts of San Rafael on the Marin County Board of Supervisors since 2012, was voted by her peers to assume the title of Board President for 2022. This will be her third time serving as Board President.
At the January 4 meeting, the first of the new year, District 4 Supervisor Dennis Rodoni handed the gavel to Rice after the official Board reorganization vote – the reverse of what took place in January 2021. Also during Tuesday's meeting, District 3 Supervisor Stephanie Moulton-Peters was voted First Vice President and Rodoni was named Second Vice President.
Rice, a Mill Valley native and a San Anselmo resident for the past 25 years, said, "As difficult as the past two years have been, Marin has shown itself to be resourceful, responsible and truly community-minded. I have no doubt 2022 will bring its own set of challenges, but I have confidence as well that we will rise to those challenges, learn from them, and ultimately be that much more resilient and ready for the next."
Before the reorganization, Rodoni said it was an honor to serve as Board President for the first time and talked about what it was like leading the County during the thick of the COVID-19 pandemic. Rodoni, an Olema resident and West Marin native, has served as a Supervisor since January 2017.
"It has been a very demanding but rewarding year," Rodoni said. "We collectively continued the good work of County government while being challenged at every step. In the end, we did the work, many times in new ways with success and pride. … I am proud of what we achieved in 2021."
As Board President, Rice will run the Board's meetings, work with county staff to set meeting agendas. The President speaks for the Board once the Board has acted on policy or other matters.
The Board meets most Tuesday mornings in the Marin County Civic Center's Board chamber in San Rafael. During the pandemic, meetings are conducted hybrid style – in person at the chamber but also via videoconference, increasing public engagement opportunities. Meeting start times are usually 9 a.m. but are subject to change. Occasionally agenda items are heard by the Board in the early afternoon and special workshops sometimes begin at 5 p.m.
All Board meetings are televised live on Comcast channel 27 in Marin County and streamed live on www.marincounty.org. Videos of the meetings dating to 2005 are archived on the website as well.