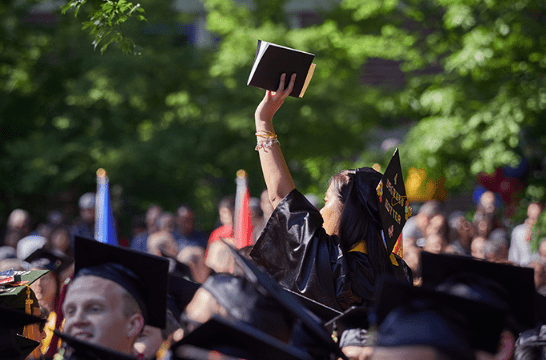 The Santa Rosa Junior College (SRJC) 103rd Commencement ceremony will be held on Saturday, May 28, at 9:00 a.m., at the newly renovated Bailey Field Stadium. This will be the college's first in-person commencement since 2019. SRJC alumna and Rohnert Park Mayor, Jackie Elward, will be the 2022 Commencement speaker.
More than 1,500 students will receive degrees this year. SRJC officials expect to award more than 2,000 degrees, as many students earn more than one degree. The youngest graduate is 18 years old and the oldest is 76. In addition, students will receive around 1,700 Career Education certificates, which will be honored at the 2022 Celebrate CE event on Friday, May 27 at 5:00 p.m. on Bailey Field.
SRJC's 2022 Commencement Speaker, alumna Jackie Elward, was born and raised in the Democratic Republic of the Congo. When she immigrated to the United States in the early 2000s, she found volunteering helped her alleviate culture shock and build community. Being of service led to her start in local politics. She is a member of The California School Employees Association (CSEA) Local 75 and the site representative for the school where she works. She also serves on The City of Rohnert Park's Education Committee and represents District 4. Elward is currently pursuing Bachelor's degrees in Sociology and in Criminal Justice while she and her husband raise their three children. She is a hyperpolyglot who speaks six languages.
"Studying at Santa Rosa Junior College has given me the tools that helped shape who I am today," said Elward. "I am extremely humbled to have been a recent graduate and today a speaker for the 2022 commencement. Passion, determination, and focus along with a solid foundation from SRJC have helped an immigrant like me live the American dream."
The ceremony
The graduation will be held outdoors and no masks, social distancing, or vaccine verifications are required.
Guests must have a ticket to attend the ceremony. There is no charge.
Ticketed guests may access Bailey Field Stadium after 7:30 a.m. Enter through gates at the northeast, northwest or southeast of the stadium.
The ceremony will be live-streamed on YouTube for those without tickets. Watch the event from any device at live.santarosa.edu.
The ceremony lasts approximately two hours.
Please do not bring balloon bouquets, large signs, or noise makers into the stadium.
In the event of inclement weather, the graduation ceremony will take place as planned.
Additional Graduations and celebrations include:
Sawubona Center Black Grad Reception – Wednesday, May 18, 5:00 p.m., Sawubona Black Student Success Center, 360 Pioneer Hall
Latinx Drive -Through Graduation – Saturday, May 21, 10:00 a.m. – 1:00 p.m., Burbank Circle
More information on the 2022 Commencement is available at https://events.santarosa.edu/graduation-2022.
More information on 2022 Celebrate CE is available at https://ce.santarosa.edu/celebrate-ce-2022.