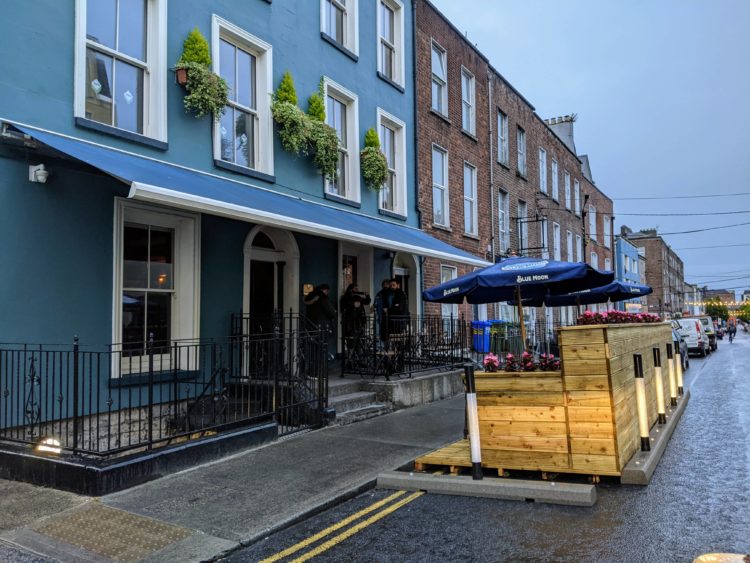 I'm sick of COVID.
I'm not sick from COVID, a crucial difference. I may have caught it in Austin, Texas, in December 2020 before the disease had a name.
No, I'm exhausted with the way the pandemic has turned life upside down, taken the lives of more than 6 million people worldwide, and caused heartaches in ways we've never felt before. It's plunged the healthcare industry into crisis. It's shut down borders, caused shortages of everything from toilet paper to baby formula, and has deepened the split in our country along cultural and political lines.
As I toil on this column in mid-May, the New York Times tells me Marin is 89% vaccinated overall, an impressive number when compared to the U.S. at 66% and California at 72%. But the county's schools are seeing a significant rise in student populations getting sick. And since January 2020, one in every seven Marin residents has contracted the disease and almost 300 Marinites have died.
Businesses have gotten whiplash from changing rules and regulations regarding masks, and even whether they can be open. Additionally, supply chain weaknesses have made it tough on both retailers and consumers as shelves are emptier and goods and services we have long taken for granted are shaky at best.
One of the examples of how COVID has impacted the local business scene is, of course, restaurants, which have struggled as the pandemic has waxed and waned, and delivery of meals and to-go options have grown and contracted.
And then you have parklets.
In Novato, the city is expanding its existing program that gives eateries a chance to expand outdoor seating via the use of parking spaces in the downtown area. In some places in California, parklets have been put up, taken down and put back up again as Covid has morphed and our behavior in spreading the disease has gotten too casual.
Novato learned a hard lesson in managing parklets and regulations as Finnegan's Pub on Grant Avenue built a parklet that offended neighboring businesses and resulted in a legal action that was eventually settled. Since then. other eateries have also done parklets, including Masa's Sushi, My Thai II and Lotus Curry House.
The Novato parklet program would essentially offer restaurants a plug-and-play format. The city plans on some basic design choices and regulations streamlining the process and allowing parklets to be put in place in just months. No more than seven parking spaces per block can be used for the parklets.
Mill Valley is also looking at expanding the use of parklets, but on a seasonal basis as the city says the parking spaces are needed more during the winter, and diners are less likely to want to go alfresco in cold or wet weather. Restaurants would be limited to using two parking spots each under the proposed program, with limitations that include banning roofs and the use of concrete but umbrellas and heaters would be allowed. The city says there are about 30 businesses interested in the parklet program.
Marin moment
Two things in my life truly demand quality, coffee and sleep, which is why this next item pains me.
For years, Royal Grounds at the corner of 4th and B Streets has brewed a serious cup of joe and been a gathering place for those seeking a jolt or a quiet spot to watch the world go by. And Mary's Futons off Highway 101 on Redwood Highway has offered Marinites a place to buy quality bedding and commune with two irrepressible dogs as well as the owner Mary Hughes.
I'm not a coffee geek requiring a half-caf, extra foam soy latte. I just need something strong that will keep my eyelids from closing down once I'm upright, and Royal Grounds always did the job. There was no need to speak another language, a large cup was a large cup. And the folks who ran the place, the Chans, were attentive, kind and ran a spiffy shop. It was a sweet local alternative to a certain corporate entity that's all too prevalent today.
Royal Grounds will close in September because the owner of the Albert Building has decided it wants another tenant. And the Chans, both immigrants from Asia, will need to figure life out without their iconic coffee shop. Downtown will be the worse for losing the Chan's Royal Grounds.
Mary's Futons is also closing, after 39 years in Mission City. The store is certainly well known to locals thanks to Hughes starring in TV spots often featuring her two dogs, Oliver and Tiny.
Covid and the resulting supply chain woes were the last factors leading to the store closing up. As soon as her stock is gone, so is the store.
Bill Meagher is a contributing editor at NorthBay biz and he keeps the wolf from the door as a senior reporter at The Deal, a digital financial news outlet in Manhattan where he covers SPACs, alternative investments, small cap equity and the SEC.