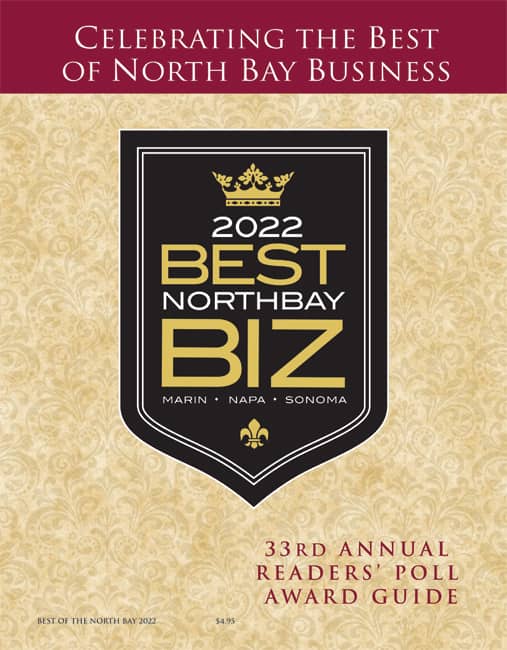 Welcome to our annual BEST Of the North Bay special issue, celebrating the best of the best in business in the North Bay. The organizations in this issue feature wineries, business services, the hospitality and lifestyle sector, the nonprofit sector, as well as leaders in the community.
Our "BEST Of" issue allows us to hone in on those folks who are truly considered superior in their industries. In most fields, being considered "the best" allows for accelerated growth, career advancement across all job levels and greater profitability. And in all cases, it steels the determination of those who compete against these leaders to put in the extra effort and creativity to supplant them the following year.
This is the 33rd edition of the NorthBay biz readers' poll, and we've seen this competitiveness on display each and every year. We're always pleased to see the up-and-comers challenge the status quo and break into our BEST Of list. Most notably, this year we celebrate first-time winners in their categories such as Paradise Ridge Winery (Best Tasting Room); Breathless Wines (Best Sparkling Wine); and Next One Staffing (Best Job Placement Firm). Winning over our readers with a better product, better service, or their version of "better-cheaper-faster" takes remarkable effort. Each of these new winners deserves tremendous credit. Congratulations to each of them.
This year's poll engaged input from more than 3,000 NorthBay biz readers, which translated to more than 60,000 individual votes. More than 1,000 companies and individuals garnered votes, underscoring the depth and quality of the companies doing business in the North Bay. And in many cases, the voting was close. Our congratulations to all winners.
Special congratulations to Brett Martinez and staff at Redwood Credit Union for winning in two categories—Best Credit Union and Best Company to Do Business with in Napa County. RCU is a first-rate organization, and my hat's off to them! Rohnert Park also received special recognition this year from our readers in two important ways. First, the city won Best Business-Friendly City for the third year in a row. And second, the Rohnert Park Chamber won Best Chamber of Commerce, and its executive director, Lisa Basler Orloff, was voted Best Business Community Leader.
And perhaps because our editorial team knows how important a great bottle of wine is to me, they created a "Best Winemaker" category this year to celebrate the art and science behind winemaking. Not surprisingly, our readers have selected an extremely worthy winner.
Growth and change
Growth and change are critical to the long-term success of any business. We've been extremely busy at Amaturo Sonoma Media Group earning the continued support of our readers, listeners and advertisers. At NorthBay biz, plans are underway to widen the scope of the magazine by shedding light on corruption and wrongdoing in business and government. We want to take a more proactive approach in the magazine, as well as on News-Talk KSRO to question business decisions or abuses that impact the trust and well-being of those who live and work in our communities.
We've also been growing our stable of media assets to allow for the necessary revenues and the intellectual talent to grow. As of this month, we now oversee 101 FM KZST, "The Wolf" and other media assets from Redwood Empire Stereocasters.
KZST—"Sonoma County's Radio Station"–has been the most popular station for nearly 50 years. We've asked all of Redwood's employees to join our company, and I'm pleased to announce they've agreed. Even the founder, Gordon Zlot, and his co-owner Tom Skinner have agreed to join us. Their talents are necessary components to these stations' continued success. Equally exciting is to have Brent Farris, KZST's program director and morning personality, remain on the air. More than 89,000 Sonoma County residents listen to KZST each week, and Brent is a critical part of this leadership. This newly-enlarged stable of six FM and AM stations strengthen our leadership in this sliver of the San Francisco Bay Area market.
These great stations bring new opportunities to our listeners, advertisers and the community at large. I pledge to use this elevated consumer reach to improve our charitable outreach and better prepare us when the next natural disaster or adversity befalls the North Bay.
If you have any questions regarding this new direction for our company, you know where to reach me! Write to Lawrence@NorthBaybiz.com.