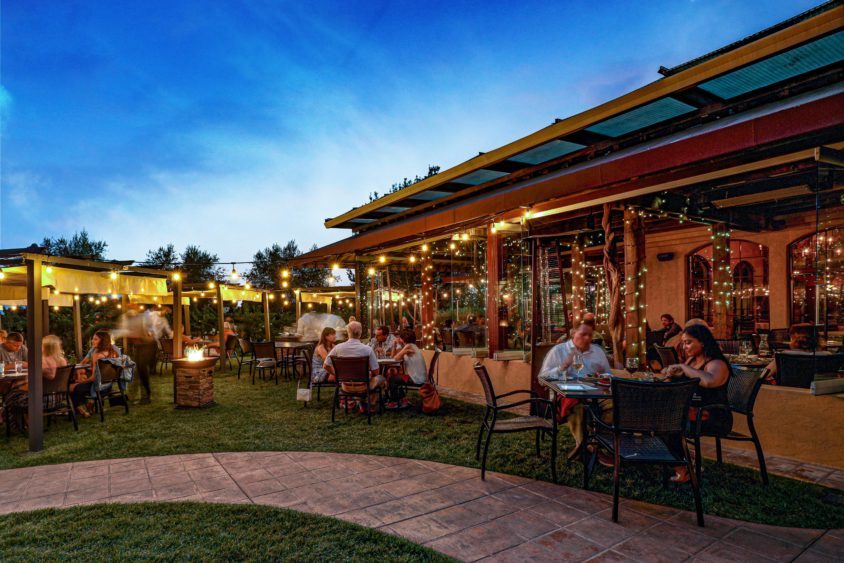 "The restaurant established a standard of excellence long ago and has upheld that legacy ever since."—Tiffany Sedgewick, spokesperson, John Ash & Co.
It's no surprise that John Ash & Co., has been voted Best Business Restaurant again—the restaurant at Vintners Resort in Santa Rosa continues to win the award year after year after year.
The restaurant is one of the longest continuously operating eateries in all of Sonoma County; it opened in 1980 and has been operating at Vintners Resort since 1987. It really was the first local spot to introduce the concept of cooking with seasons, locally sourced foods and produce. One might even go so far as to suggest John Ash & Co. was one of the progenitors of farm-to-table dining. It is also the first Sonoma County fine dining restaurant located on a vineyard.
As spokesperson Tyffani Sedgwick explains, the restaurant is iconic no matter how you slice it. "Sonoma County people who have been here a while—when they think of great food and high-end dining, they think of John Ash [& Co.]," she says. "The restaurant established a standard of excellence long ago and has upheld that legacy ever since."
Today, John Ash essentially is set up as two restaurants in one. Just past the entrance is the Front Room Bar & Lounge, where guests can gather in a more casual setting over drinks and light bites. (Hot tip: Happy Hour here has some real values.) The adjacent John Ash & Co. dining room spans multiple rooms, including two enclosed patios and heated outdoor seating nestled in the property's vineyard. Every seat has a view of the vineyards and the beautiful resort grounds. On a warm summer night, when the vines are in full bloom, you feel close enough to touch them.
The food at John Ash is award-winning, with longtime standards (Hog Island Oysters, Calamari Fritti with Thai Basil Dipping Sauce, and house-made charcuterie) and seasonal specials that highlight the very best produce from the culinary garden and beyond. The wine list is also notable; not only does it feature well-known selections from Napa and Sonoma counties and around the globe, but it also spotlights small-batch local producers.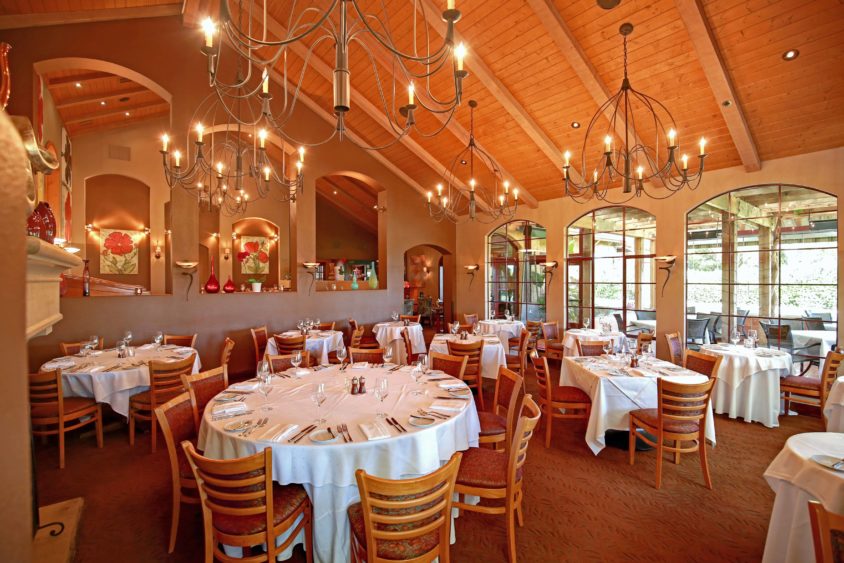 Tables in the 130-seat capacity dining room are comfortable, but private—perfect for talking shop. "Our service teams give guests privacy while at the same time attending to their every need," says Sedgwick, whose formal title is marketing and communications manager. "It's definitely a bit of a dance."
John Ash himself—the chef after whom the restaurant was named eponymously—is no longer in the kitchen, but Executive Chef Thomas Schmidt continues the legacy by bringing his extensive wine knowledge to the table and creating recipes to pair with the award-winning wine list.
The restaurant is set to weather other changes; former General Manager Percy Brandon stepped down after more than 20 years to take a job in the Willamette Valley of Oregon, and Brian Sommer, formerly the GM at The Matheson restaurant and Les Mars Hotel in Healdsburg, has been hired to assume the role at Vintners Inn and John Ash & Co.
Beyond these changes, the team at John Ash & Co., is excited to move past the pandemic and get back to doing what they do best: Serve great meals.
vintnersresort.com/dining/john-ash-co/
[Lead photo courtesy of Loren Hansen and Vintners Resort]