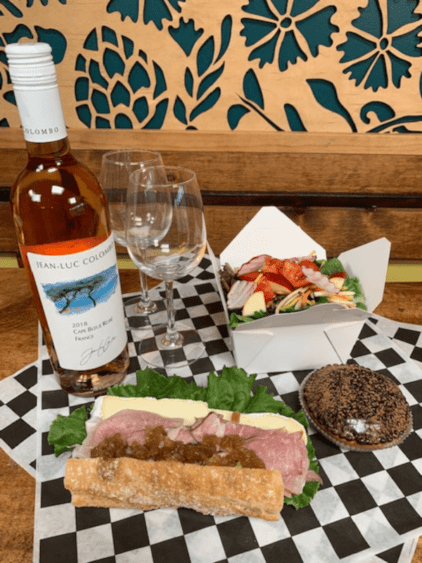 "Providing great customer service is as important to us as providing great food. We have developed a strong bond with so many wonderful people and are very grateful for their trust in our company."—Renee Pisan, co-owner, Chloe's French Catering
About five years ago, there was a popular, French café in northwest Santa Rosa that served croissants, sandwiches and much more. Founded in 2006, Chloe's French Café was owned by Renee Pisan, her husband Alain Pisan and Alain's brother, Marc Pisan. Renee served as chef, Alain was the pastry chef and Marc was the operations manager. Conveniently located inside the Sutter Pacific Medical Foundation building on Airway Drive, Sutter staff, as well as customers from around the neighborhood, often stopped in to order coffee, breakfast or lunch. That thrived for about 11 years. Then, the 2017 Tubbs fire rolled through and affected many parts of the Sutter Building, including the café.
What inspired the name Chloé? Alain and Marc grew up in Provence, France, and in the late 1960s, their parents had opened a pastry shop in the Gulf of St. Tropez. The brothers' family had been artisan bakers for more than a century and it was their parents' mission to keep and use the original recipes that were handed down from their ancestors, using the traditional Provencal patisseries. Alain and Marc's parents also had a delivery truck, which they had named Chloé. They restored the truck and had it shipped to the U.S. once the brothers settled in Sonoma County. Sadly, the 2017 Tubbs fire did extensive damage to the exterior of the café and Chloé perished as a result. Shortly after, the Pisans closed the café and pursued a catering business. Chloé's French Catering opened in late 2017.
Chloé's French Catering serves the greater Santa Rosa area, going as far south as Petaluma and as far north as Geyserville. They require a day in advance notice for ordering and provide casual catering, including breakfast items such as mini savory croissants and a whole quiche; box lunches; hot items, like baguette slices and pasta gratin; drinks; and dessert, including cookies and a tart selection. Renee says about 75% of Chloé's clients are business-oriented; therefore, the Pisans supply many businesses with lunch for their meetings. She adds that since the pandemic put restrictions on buffet-style foods, their boxed lunches are a great option for their business customers.
Chloé's French Catering has always tried to stay active within the community, says Renee, but it hasn't been easy in the last three years. "There hasn't been too much activity going on, but throughout the years we've definitely been involved in the community with donations to various [organizations] like Sutter Health, Canine Companions and many others."
This the second, consecutive year that Chloé's French Catering has won for Best Catering Services in NorthBay biz magazine's readers' poll, and Renee is appreciative of the honor. "It's exciting and we're thrilled," she says. "Providing great customer service is as important to us as providing great food. We have developed a strong bond with so many wonderful people and are very grateful for their trust in our company."
[Lead photo courtesy of Chloé's French Catering]