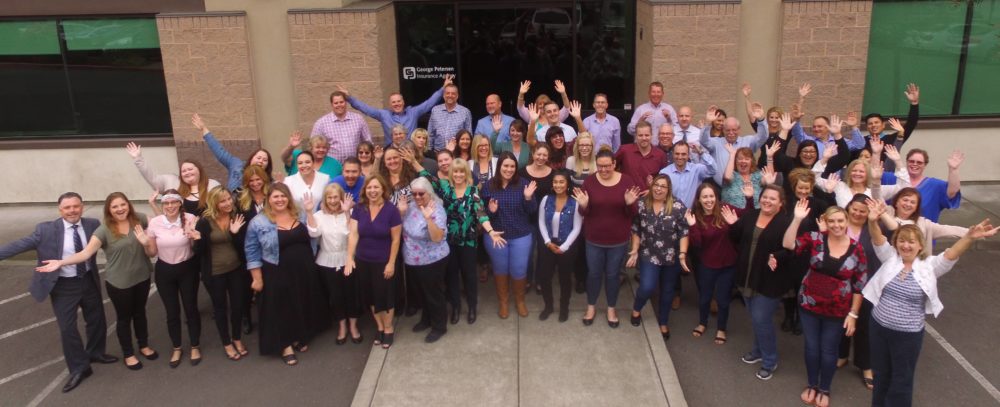 "Our team really cares about our clients, and we spend a lot of time and money on the education of our employees."—Robb Daer, president and CEO, George Petersen Insurance
For more than 85 years, George Petersen Insurance has been delivering exceptional service at competitive prices to serve clients and protect their assets. Founded in 1935, the agency began with protecting the assets of North Coast merchants and business owners in the lumber industry. Today, the agency offers a comprehensive and innovative insurance portfolio to serve clients in a variety of industries, ranging from agribusiness to hospitality to nonprofit organizations. The agency's focus is to manage complex risks with a consultative approach, including insurance development, risk transfer and loss control for companies both small and large.
George Petersen Insurance Agency certainly holds true to their mission, having won Best Insurance Brokerage in NorthBay biz's annual readers' poll for the 10th year in a row. Robb Daer, COO, attributes the agency's success to its hard-working employees. "Our team really cares about our clients, and we spend a lot of time and money on the education of our employees. Our employees are very technical when it comes to insurance products, and they want to do a good job."
Another contributing factor that sets the agency apart from its competitors is that it is locally run and independent. Very few independent agencies are locally-owned, which allows for more flexibility and a more personalized approach to meeting the needs of clients. Regarded as one of the largest and most respected insurance brokerage firms in the North Coast area, the agency has offices in 10 cities in Northern California and takes pride in providing personalized and professional service in the areas of business, personal, life and employee benefit programs.
While the agency strives to provide the broadest coverage at a fair and reasonable price, the task has its challenges. According to Daer, the insurance market has changed due to the risk of wildfire. The agency is a brokerage, and works with insurance companies to find the best coverage for each client. As the risk of wildfires has increased over the past several years, it has become increasingly more difficult to find insurance plans that will cover the damage for a reasonable price. This impacts homeowners, as well as those in the agricultural and wine industries. "We've had 3,000 to 4,000 accounts non-renewed because of fire risk," says Daer. "We've had to market to more clients than normal and premiums are going up." He adds, "Before the Tubbs fire, policy holders might pay $2,000 to insure a $1.5 million house for fire risk. Today, the annual premium might cost between $10,000 to $15,000 to insure the same home, if we can even get coverage."
The BEST OF win is especially validating because it means that clients appreciate the agency and its work, says Daer, despite the challenges of a changing insurance market. "What makes this win feel better is that even though we're delivering bad news to clients, they still support us," he adds.
As for the future, Daer says the agency is looking forward to continuing to support and serve clients, especially now that many pandemic restrictions have been lifted. "I'm most excited that we were able to grow through the pandemic, but more importantly, the community and the business world are getting back to normal," says Daer. " I'm excited to be out in the community seeing all the people we haven't been able to see and continue to grow at a steady pace."
[Photo courtesy of George Petersen Insurance Agency]