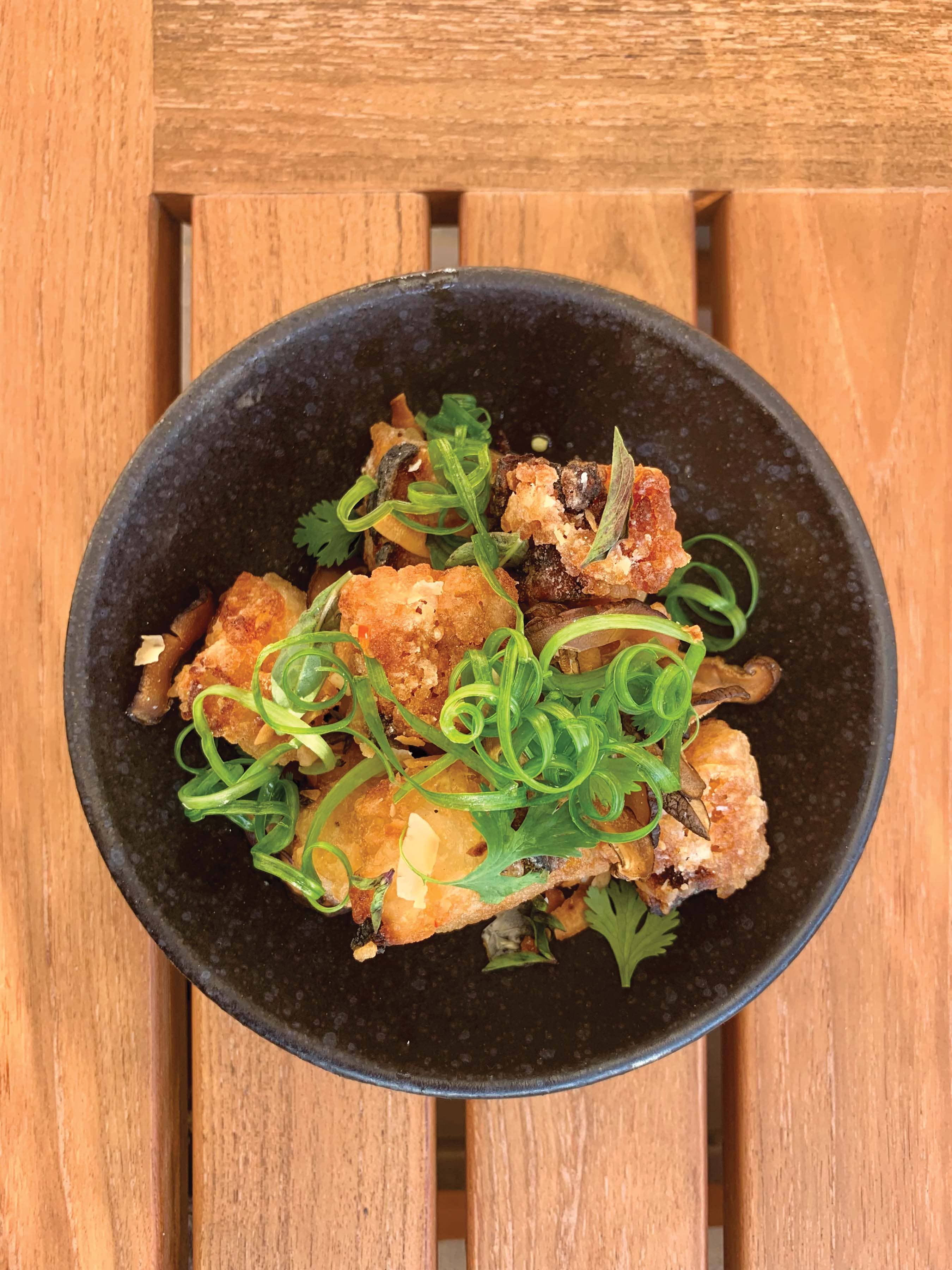 Pull on your cowboy—or cowgirl—boots and get out the Stetson. Stanly Ranch is the latest retreat from the Auberge Resorts Collection, nestled among acres of vineyards and surrounded with sweeping views. Located in Napa Valley, this getaway resort opened in April and offers an experience-driven retreat with a contemporary ranch vibe.
Alex and I arrive at the ranch just before 6 o'clock and a few ranch hands, garbed in jeans, striped shirts and cowboy hats are there to greet guests and direct us to the resort's signature restaurant, Bear, a haute new dining destination. We're seated outdoors where we can enjoy the views. The table is set with linen napkins wrapped in a leather tie, a nice touch that adds to the ambience. Our server for the evening is Ivan Vega. We begin with cocktails and Vega recommends The Golden Pony, a refreshing concoction of rye whiskey, pineapple, mint, walnut bitters and lime. As we sip on our drinks, we study the menu. There's a nice selection of cocktails, aptly named for the location such a Boot Spur, Palamino and Lavender Fields. You'll also find a wine list that offers a selection of vino from Sonoma and Napa counties.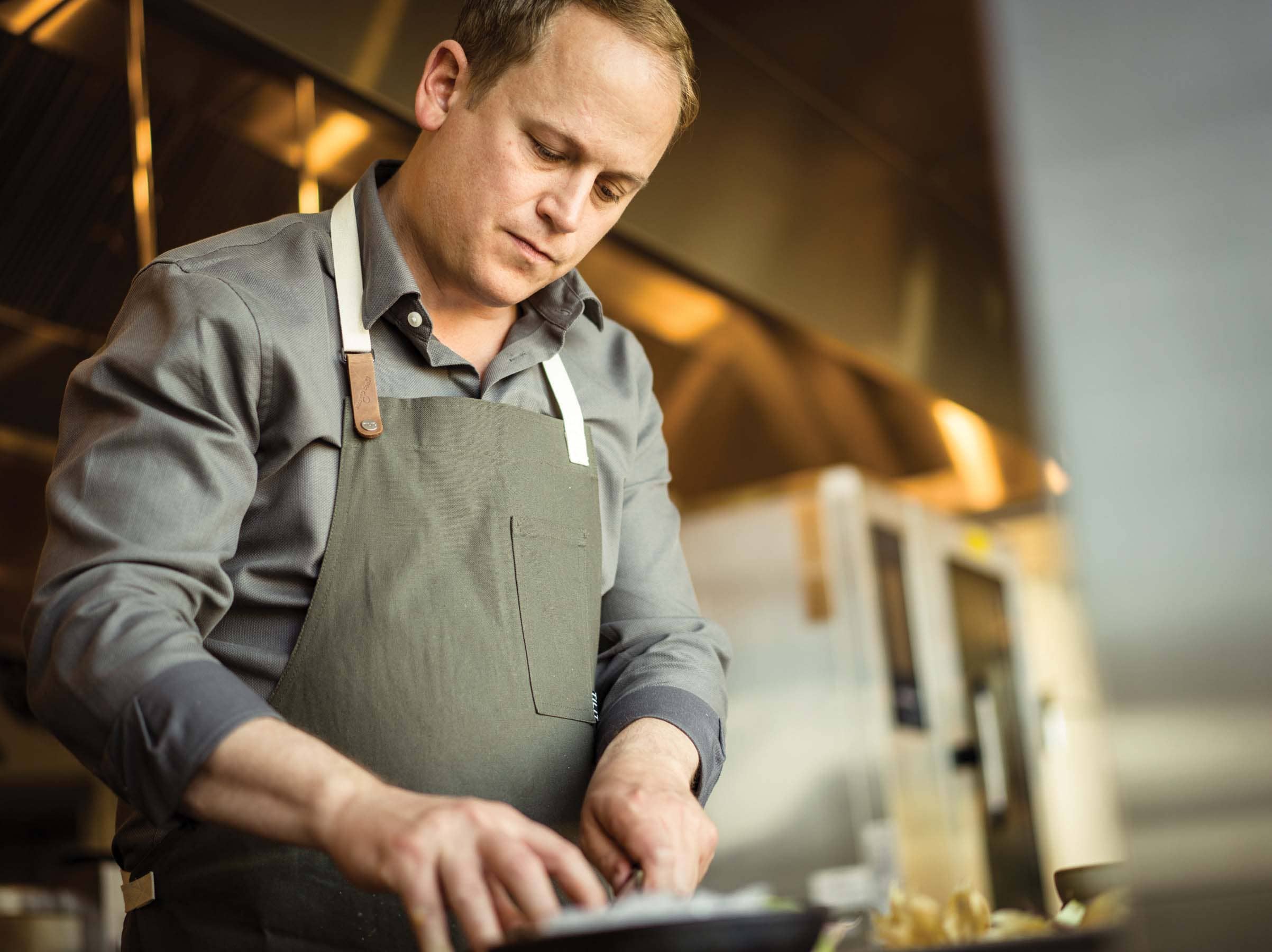 The name of the restaurant is a nod to the grizzly bear on California's state flag, and the menu is an homage to all bears everywhere, thanks to Executive Chef Garrison Price. Word has it that Chef Price likes to point out that there is a misconception about bears and what they eat. As omnivores, they mostly consume seeds, roots and berries, so the menu at Bear is plant-forward, but there's also a good selection of meat and fish.
For starters, we begin with a small, round loaf of sourdough with a crispy, crackly crust and a tender, springy crumb. Served with a side of fresh churned butter and topped with a generous puddle of nasturtium to slather on bites, this is a loaf to dig into and enjoy. Though the nasturtium looks like a puddle of olive oil, it's a nutrient-rich plant with a mild, peppery taste. Manna from heaven. We savored each delicious bite and the subtle sourdough tang.
We also enjoyed the kampachi, also known as yellowtail or amberjack, it's a noted star of Japanese cuisine. Served in a dish with macadamia milk, serrano pepper and garnished with finger lime zest, it's a fresh, light and inventive take on the usual sushi roll. If you're feeling adventurous, try the bison tartare, made with egg yolk and capers. The unexpected ingredient is colatura, the Italian version of aged fish sauce, a rich element that boosts flavor. The tartare is topped with puffed tendon, which is a bit off-putting to some patrons, says Vega, but it adds a nice crunch to the dish and tastes like a chip.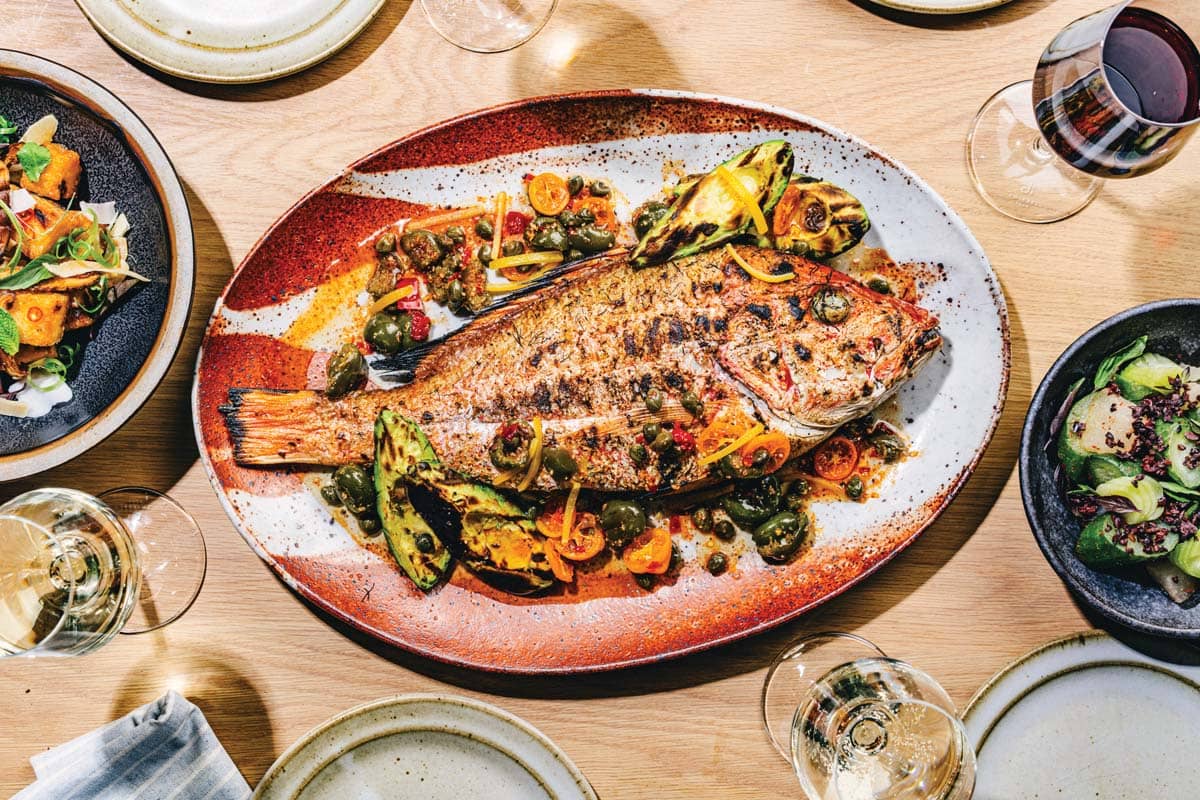 Chef Price helms the kitchen and many ingredients are sourced from the garden on-site, overseen by Nick Runkle, farm director, who cultivates produce that would be challenging to resource. Greens are picked daily, says Vega, and it defines the menu. As for Chef Price's approach to food, he is dedicated to sustainable agricultural practices and bringing each ingredient to its full flavor potential. "Stanly Ranch is about telling the stories of the place and being its steward," he says. "Everything we create in the kitchen [is] a reflection of this approach."
Next, we enjoyed a signature dish—the crispy rice—already a favorite with patrons. Cooked rice is mixed with pickled shiitake, then pressed and cut into cubes and deep fried before serving with a nuoc cham sauce, which is light, salty, sweet and tangy, and topped with shiitake chips and coconut flakes. We also enjoyed the spot prawns, sourced from Santa Barbara and served with sea beans and chimichurri sauce. For the entrée, we sampled the ribeye. A hearty plate of ranch food, the rib-eye is dry-aged and served bone-in and topped with pickled shallots, which adds a fresh, bright note. At 22 ounces, there is plenty to share.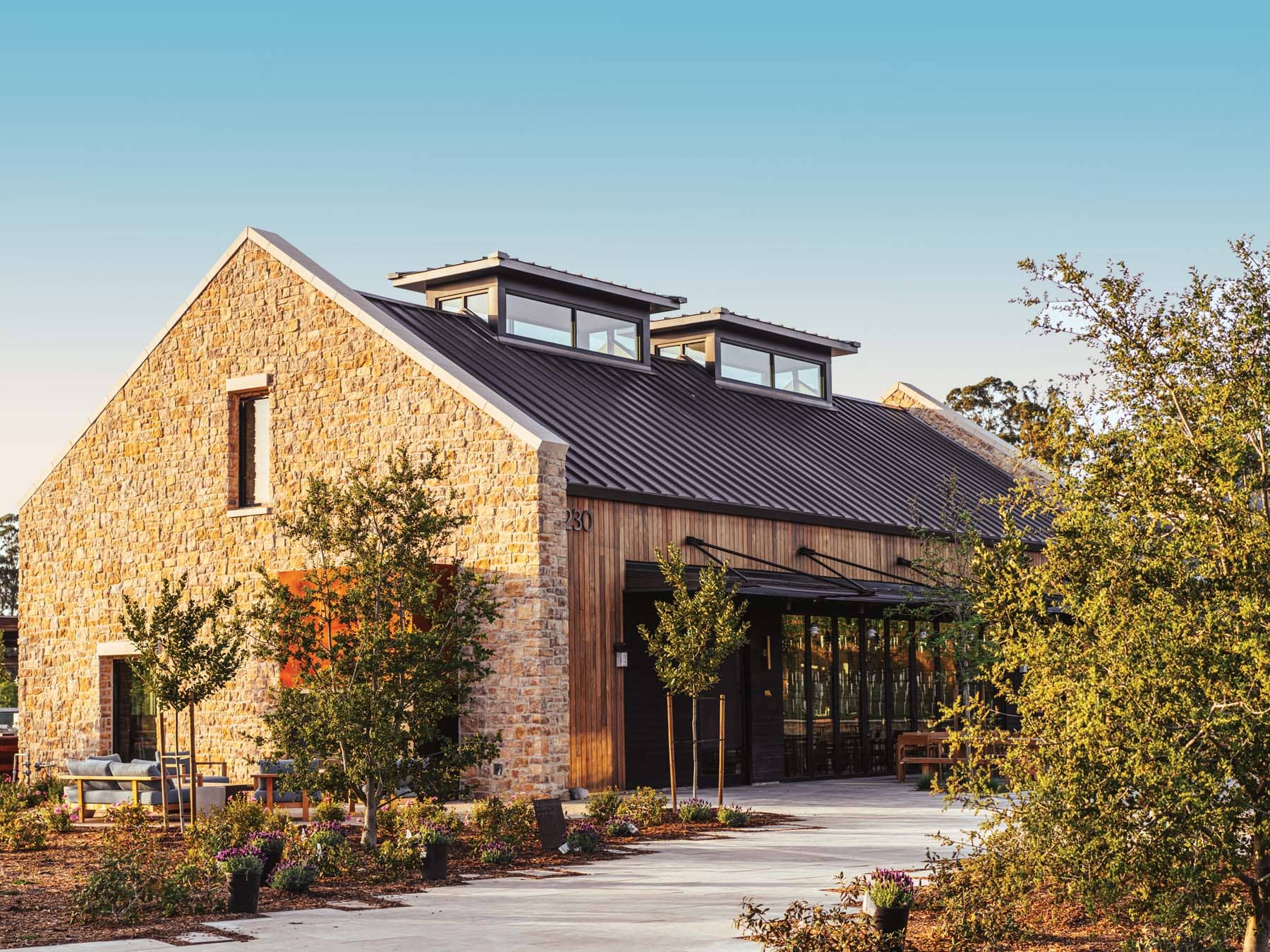 Be sure to end your dining adventure at Bear on a high note. Pastry Chef Harry Flager, who also oversees breads and pastries at the ranch, has created a menu of sweet treats that are thoughtful, unique and delicious. For chocolate lovers, try the dessert made from 9th and Larkin 72% chocolate, a creamy, decadent confection. I also highly recommend the sourdough bread ice cream. Made with yeast caramel and powdered sourdough starters, it's rich, creamy, slightly salty and the crunch from the powdered starter make it all the more addictive. We couldn't stop eating it.
If you're looking for a dining adventure, make a reservation at Bear and prepare for an experience like no other—enjoy the music, the views, the Petaluma Gap breezes and the inventive creations of the chefs and crew. As we lingered over dessert, the sun set on the day, enveloping the ranch in a dusky pink-blue glow with an unforgettable view in every direction that I suspect will keep guests coming back again and again.
Bear at Stanly Ranch
Address: 200 Stanly Crossroad, Napa, Calif. 94559
Phone: (707) 699-6200
Web: aubergeresorts.com
Selections: Wine/Beer/Cocktails; Entrees—$36—$95
[Lead photo by Eric Wolfinger Photography]