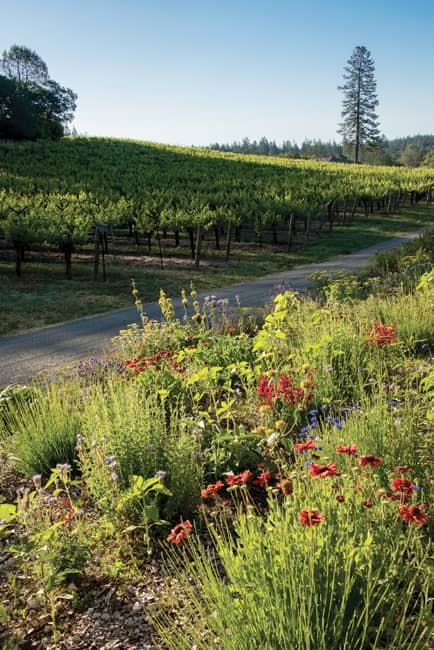 When Denise and Stephen Adams began their search to build a winery in Napa, they had their hearts set on a mountain site. "If you don't have the place or right soils, there's no chance of making world-class wine. It's all about terroir," says Denise, proprietor of Chateau Fonplegade, along with husband Stephen, at a historic winery located in the legendary Saint-Emilion wine region of France, where they've been producing wine for two decades.
The husband-wife team have always had an appreciation for the magic of Howell Mountain, but understood that terroir is the key to great winemaking and they might not find the ideal location. When they found a parcel of land in 2008, their vision became a real possibility. Denise and Stephen had no interest in producing mediocre wines, however, so they reached out to French-American Phillipe Melka, a geologist and famed winemaker, known for producing exceptional wines and invited him to the property. After a two-hour walk there, Melka gave them his blessing and offered to be the consulting winemaker should they move forward. The land included the qualities and elements that winemakers dream about—ideal elevations, an incredible diversity of volcanic soils (including the iron-rich red aiken soil) and a diversity of exposures, thanks to Mother Nature.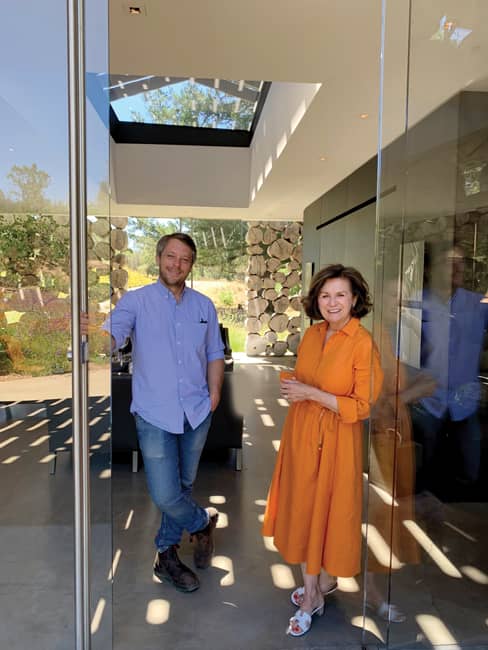 Located in Angwin, guests know they've arrived at ADAMVS (pronounced Adam—us) when they see a shiny black mailbox with No. 501, marking the place to turn onto White Cottage Road. Walking up the path to the Cypress House, Denise and Winemaker Alberto Bianchi, are there to greet me with a generous splash of welcome wine, a 2018 Sauvignon Blanc. A refreshing wine with an unexpected depth and velvety texture, it was love at first sip. It's not extremely varietal, says Bianchi. "The freshness drives its drinkability and plushness," he adds. "It's an Old World Sauvignon Blanc." Word has it that wine maven Karen McNeil, gave it her vigorous nod of approval when she named it amongst the pioneering Super Sauvignon Blancs, a category she recently coined.
The Cypress House is an open-glass room enveloped by a freestanding log-wall sculpture that filters the light and frames forested views. Just steps away from the tasting room is the original ag shed (circa 1900), restored with pressed concrete and transformed into a Wine Library, a jewel box-like cellar and an intimate space for another unique wine-tasting experience.
Next, we climb aboard a vintage 1967 Range Rover to tour the property. ADAMVS is a geographically diverse estate vineyard, situated on 80 acres of land, at the top of Howell Mountain. Only 27 acres are under vine. "That leaves two-thirds of the property wild," says Bianchi. "There's nothing better for biodiversity." As we take the rustic road through the vineyard, the soil transforms into a noticeably richer red, hence the name ADAMVS—a Latin word that means "born from our red earth." And one of those striking moments of synchronicity for the Adamses whose mission was to establish a new benchmark of excellence for Howell Mountain fruit, honoring the terroir.
There is an enchanted quality to this parcel of land on Howell Mountain. Driving past rows of vines and insectory gardens with wildflowers in shades of orange, purple and blue, one half-expects to encounter a garden nymph or fairy sprite. Instead, we stop to visit the chickens and enjoyed an unexpected (and delightful!) meet-and-greet with the resident donkeys—Buttercup and McGee—both eager for attention, their warm, soft snouts pressing against the fence, hoping for apples. (Bianchi promises to return and share an apple with them later, and somehow, I knew they understood.)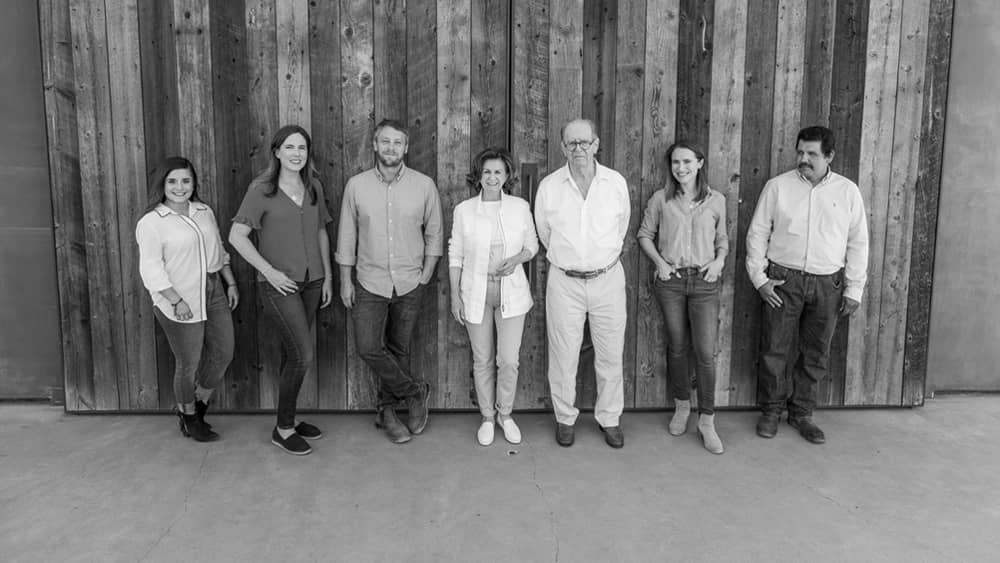 After a quick tour of the barrel room, we head back to Cypress House to continue the tasting experience. We begin with the 2016 ADAMVS Cabernet Sauvignon TERES. Aged 6 years, it offers lovely lush aromas of ripe, wild blackberry and sage. A full-bodied wine, it's a seamless integration of structure, balance and depth. "This is a bold Cabernet that dances in the glass," says Bianchi.
I ask Bianchi about his winemaking philosophy. "Wine is a live matter and the biodynamic concepts come with it. The imperfection of nature makes it perfect," he says. "A perfect wine is fully expressing the place, and making wine come alive is part of the process. When you drink it, it's an experience that's irreplaceable."
Finally, we enjoy a pour of the 2016 ADAMVS Cabernet Sauvignon QUINTVS. An elegant wine with notes of wild flora and a seductive, mineral-laced umami backbone, it's a wine I could sip all day long.
If you're looking for an elevated wine-tasting experience, make a reservation at ADAMVS. Enjoy the magic of Howell Mountain, its breathtaking views and the exquisite wines "born from our red earth." A wine tasting experience at ADAMVS, brings another Latin phrase to mind—de caelis, "from the heavens." Don't hesitate to bring your kids, and even your pooch. They can frolic outside on the property and visit Buttercup and McGee. Be sure to bring apples.
At-A-Glance
ADAMVS
501 White Cottage Road N.
Angwin, Calif. 94508
(707) 965-0555
info@ADAMVS.com 
Hours: Open Daily
By appointment to current allocation list members.
Tasting Fee: $150/per person
Wines Available: 2018 Sauvignon Blanc, 2016 ADAMVS Cabernet TERES, 2016 ADAMVS Cabernet Sauvignon QUINTVS
Reservations: Required. Join the wait list at adamvs.com or visit info@ADAMVS.com.
Picnics: No.
Did You Know?
Pioneers of biodynamic farming practices—both in France and the U.S.—Denise and Stephen Adams believe in farming with integrity and passion. This year marks their 12th anniversary as a certified biodynamic winery. "The vineyard is the heartbeat of what we do," says Denise Adams, co-proprietor with husband Stephen at ADAMVS in Napa and Chateau Fonplegade in St. Emilion, Bordeaux France. "We embrace innovation, but believe there's no substitute for experience and the human touch. Organic and biodynamic certified vines are hand-tended a minimum of seven times a season. Our Cabernet Sauvignon wines capture the essence of great vineyards and reflect the artistry of the individuals who tend the land and make the wine."
[Lead photo courtesy of ADAMVS]