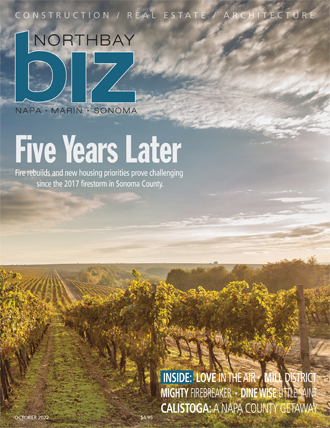 Does it seem that things are moving faster in your organization than perhaps ever before? Are you in a post-pandemic mode of picking up the pieces the lockdowns caused while advancing new initiatives to make up for lost time?
If your business is sensitive to interest rate increases and future uncertainty, this must be a particularly difficult time. Housing starts throughout the North Bay and around the country have reversed direction from just six months ago. Commercial real estate projects, particularly office space for white-collar professionals has all but ceased. Yet the demand for housing for middle- and lower-income residents has skyrocketed.
Jen Klose, CEO of the noprofit organization Generation Housing—also known as Gen H—believes that more than 16,000 families are in search of affordable homes. It's widely understood that the wait list for government-aided "low-income housing" now exceeds 30,000 in just one of our three counties. (It's bad in each county, but chances are it won't surprise you to know that I'm referring to Sonoma County.)
These opposing forces of supply and demand put North Bay real estate, construction and development industries in a difficult spot. Bullish plans to expand during the final months of 2021 are now made uncertain in a rising interest rate environment.
Sure, prospective homeowners talk about the asking prices of the homes they are interested in buying. But the greater truth is that homeowners have always calibrated their ability to own a home based on the monthly mortgage payment they can afford. In this rising interest-rate environment, more of that finite mortgage payment goes toward interest instead of principal. In other words, home prices will have to come down for buyers to afford paying the monthly interest payment.
This month's issue
As usual, our longtime editor-in-chief, Karen Hart, has assembled loads of industry specific knowledge and updates into this month's "Construction, Real Estate and Architecture" issue. Our cover story this month, "Five Years Later" by Jean Saylor Doppenberg, takes a look at the progress that's been made since the firestorm of 2017. It was a catastrophic experience that underscored the vulnerability of residents across all socio-economic levels, as well as the consequences to a community already stretched to the limits with a serious lack of housing.
Since the firestorm, great strides have been made in fighting fires. In the story "A Revolutionary Approach" by Bo Kearns, learn how a game-changing product—Mighty Firebreaker—lowers the risk of property loss from wildfires, arson and accidental fire without harming people, animals and the environment.
In other news, change is underway at NorthBay biz. Regrettably, this will be Karen's final issue for us as editor-in-chief, as well as for Advertising Manager Blake Bascherini. One's decision to leave magazine publishing surprised the other. Karen is joining Sonoma County Winegrowers as director of communications and strategic programs, while Blake is changing directions and (coincidental to our issue's theme!) joining the construction industry as superintendent at Camp Construction Services in Santa Rosa.
Our longtime senior graphic designer, Anne Schenk has been promoted to become our new art director, replacing David Brawley. We wish each of you the very best in your new roles!
That's it for now. I hope you enjoy this month's issue. In the meantime, be well and care for those around you. It's always good to hear from you—reach me at Lawrence@northbaybiz.com.
p.s. So many of you have inquired as to the recovery of our company president, Michael O'Shea. While he's suffered some physical setbacks, his progress continues, and his positive energy will soon fill our hallways.