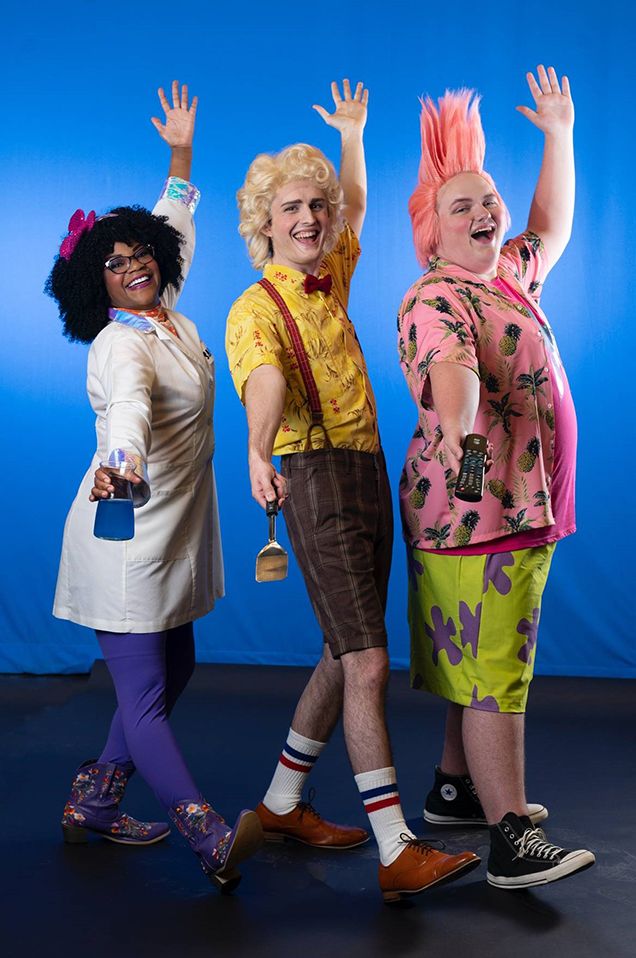 Adapted from the iconic Nickelodeon series SpongeBob, the Santa Rosa Junior College (SRJC) Theatre Arts department will perform "The SpongeBob Musical," beginning Nov. 18. Patrick, Sandy, Squidward and all of Bikini Bottom face total annihilation–until a most unexpected hero rises to take center stage. With its dazzling costumes, spectacular production numbers, and cheeky humor, this delightful undersea musical is sure to appeal to all ages.
The production features SRJC Theatre Arts major Samuel J. Gleason in the title role of SpongeBob Squarepants. A graduate of Santa Rosa High School's ArtQuest program, Gleason says that he auditioned for nostalgic reasons, having grown up watching the Nickelodeon series. He added, "I love stage, film, and voice acting, so I thought this show would be perfect for my training. The animated series was one of my earliest voice acting influences. Getting cast as the main character is super surreal for me, since I used to imitate him all the time as a kid."
Actor Calvin Sandeen is a re-entry adult student, having already earned a degree in economics and finance from Cal Poly. Now pursuing his Theatre Arts Acting Certificate, Sandeen says of his role, "I had no idea I would be cast as the smallest character in the show—Sheldon J. Plankton—considering I'm 6'6" and 250 lbs! Regardless, I love playing the villain!"
The role of Sandy Cheeks, an aquatic-loving squirrel-scientist, is being played by Phoebe Pruitt. A recent transplant from North Carolina, Pruitt is now pursuing acting at SRJC because it is one of three careers she wanted to accomplish when she "grew up." She says, "My children grew up watching SpongeBob. Keeping it real, he was my babysitter most mornings after working nights. After watching the movie, I fell in love with the role of Sandy!"
Theatre Arts major Aidan Pryor plays the television-and-sofa-loving Patrick Star. A recent graduate of Analy High, Pryor says that he loves musical theatre and that "The SpongeBob Musical" is his favorite. Of playing Patrick, he says, "I love this type of comedy and I love all of the voice acting that I get to do and all of the great music that I get to sing!"
The show is directed by SRJC faculty member Reed Martin, with music direction by Nate Riebli, choreography by Alyce Finwall, and vocal direction by Mark Kratz.
The show runs November 18, 19, 23, 25, 26 and Dec 1, 2, 3 at 7:30pm and Nov 20, 26, 27, Dec 3, 4 at 2pm, in the Burbank Main Theatre.
Tickets $20-$25
Online at theatrearts.santarosa.edu
By phone (707) 527-4307
By email SRJCBoxOffice@santarosa.edu