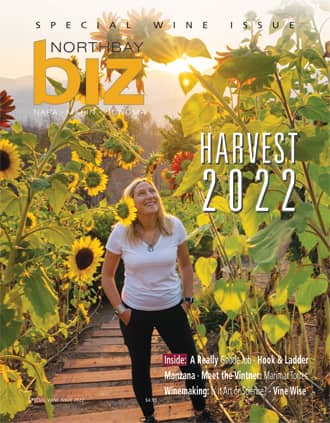 Welcome to our Harvest issue for 2022! Associate Editor Summer Young and her stable of talented writers and designers have assembled a great collection of harvest-related stories for you. Stories range from how art and science play into the winemaking process on page 56 to a fascinating review of some of the most sought-after Chardonnay brands on the planet.
Our Tim Karl writes about all things Napa and transports us to Calistoga to profile a growing boutique wine brand with French roots and a very 'Frenchy' name, Picayune Cellars. Founder, winemaker and owner Claire Ducrocq Weinkauf is a native of Auvergne, France with a Chilean wine degree and harvest stints in both St. Emilion and the Côte du Rhône. Her vast background has influenced her unique selection of wines, from Rosé to Pinot Noir and other delicious red blends. Indeed, Claire's capable of creating "a little bit" of everything at Picayune Cellars.
Bill Foley, Matt Gallo, Jean-Charles Boisset and Gina Gallo—Rick Tigner sure has his peers in the wine industry. But no one has more fun building great wine brands than Rick. He'll convince you that indeed "wine flies when you're having fun" as you read "A Really Goode Job" story on page 30. To fill just one single job opening, Rick's team has repeated a winning recruitment formula to draw resumes and videos from thousands of job-hungry prospects around the country to their Murphy-Goode brand. And of course, this effort raised the stature, prominence and appeal of the brand at the very same time!
I hope you learn as much as I did about the luxurious nature of excellent Chardonnay from Cerrissa Kim's expansive story on page 44. Chardonnay is truly a "noble" grape with the lineage, quality and ubiquity bestowed upon only the most important varietals for fine winemaking. As such, the world's most expensive white bottles are Chardonnay wines, known as White Burgundy in France. Choosing the most selective brand and vintage might set you back $15,000 to $18,000 per bottle! But thank heavens you don't have to sell your car to enjoy great Chardonnay here in the North Bay. Cerrissa describes several of the best-in-class bottles that won't break your bank account.
Finally, I ask you to do something special just for yourself. Grab a comfy seat and pour an extra tall glass of wine. Make it a glass of something special as you read this year's collection of "Dream Dinners" from a few of the area's most productive and creative winemakers on page 39. Each shares a story of his or her vision of a dream dinner, seated alongside a lifetime friend or a historical figure of their choice. Of course, this meal is paired with some of the world's most notable wines. Read. Sip. Repeat!
My sincere thanks to our crew at NorthBay biz for their diligence and tenacity in publishing our magazine this month; I'm blessed to have them on our team.